Top 10 Lightweight Travel Trailers for Small Cars
Lightweight in the world of travel trailers means: economic, environmentally friendly and morally right, see presentation of models that can be towed by even small cars  ...

In the past, finding an ultra-lightweight travel trailer that could be pulled by a smaller car or truck was a difficult task.
Today, economic stress combined with rising gas prices has increased the demand for smaller, more lightweight travel trailers.
Answering market's demand, manufacturers are becoming more interested in creating a variety of these small trailers.
As the result today you can find models to suit just about any budget and what is more important, almost any car regardless how small it is – be it compact, economy sedan, small SUV….
Now, the world of RV-ing does not have an "entry-barrier" in the shape (and $$$) of heavy-duty pick-up truck or a large "Hammer-like" gas-guzzler.
On this page, we've gathered the 10 best lightweight travel trailers you can buy today.

#1 - Taylor 8' Lil El
Small, lite and has most of what you may need... Taylor 8ft Lil-El model

At only 700 pounds dry weight, this small travel trailer can easily be pulled by car. The dinette easily converts to a double bed, while there is also an overhead cabinet bunk. The kitchen area can be outfitted with several appliance options and has plenty of counter space. Your washroom can also be customized in this model, and the company can offer a number of layouts.

#2 - A'van Weekender
A'Van Weekender - small, ultra-lite yet has everything you may think of ...  just look at this innovative design of the "Slide-out" kitchen

This teardrop shaped travel trailer weights only 850 pounds, so it can be towed even by a small car. The entire back opens for easy access to the interior. For additional storage space, the ceiling also lifts up. Once you get where you're going, the Weekender can be set up in under a minute. If you choose the Adventure Pack upgrade, the trailer will come with a slide out kitchen.

#3 – Airstream Basecamp
Airstream Basecamp: Stylish, lite and multipurpose - can serve as a toy-hauler or camping trailer

Airstream trailers have a reputation for durability. These sturdy trailers have an ultra-modern and cool style, and have still managed to stay under 2,000 pounds. The Basecamp features a set of double doors in the rear that open up with a cargo ramp that can fold down. This allows you to fit in an ATV or motorcycle. The ability to have a travel trailer that doubles as a toy hauler is extremely rare and desirable. There is also an attachable tent option for additional space once you're settled in.

#4 – Cikira RV Cruisin' Lite
That is how you can "cruise lite" with Cikira travel trailer

The 13 FD Cruisin' Lite trailer from Cikira is excellent for individuals and couples who want the comforts of home in a lightweight travel trailer. While it is one of the heavier models at 3,100 pounds, this trailer is also one offering very large choice of options. Choose from eight floor plans offering everything from bunk beds to full bedrooms and bathrooms. The overhead and below-seating storage space ensures that you can carry everything you need.

#5 – Microlite Wazat
Microlite's Wazat: Two large side-doors, access to the "kitchen" from the back and a lot of space...

The Wazat from Microlite is a somewhat teardrop shaped trailer. At only 759 pounds for the 4x5 model and 857 pounds for the 5x5 model, these trailers were made so that they could be pulled by any car. They offer sleeping space for two adults, rear galley with interior access, and extra-aerodynamic all-aluminum construction.

#6 – Utilitoy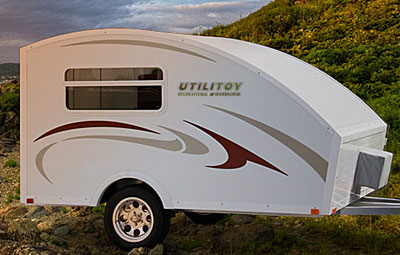 Thanks to elegant lines it beautifully blends with nature

The Utilitoy lightweight travel trailer can be used as both - a camper and a toy hauler. Though it doesn't come with amenities such as a kitchen or bathroom, it does give you your choice of configurations. Choose between a single queen bed with a forward lounge area, or the full sleeper mode that turns the entire camper into sleeping space. An optional LCD TV can be installed for entertainment on those rainy nights.

#7 - Prolite Mini 13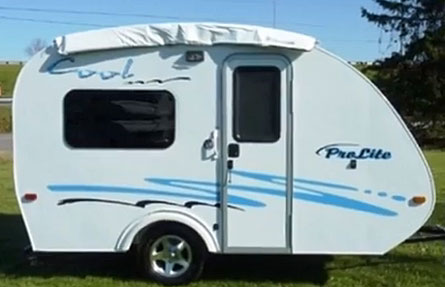 Pro-Lite Mini 13 is really cool!

The Prolite Mini 13 is only 950 pounds, but offers some of the features of a much larger trailer. Able to sleep four people, it features front and rear double beds, fridge, and two-burner stove. For those chilly nights, this trailer is also equipped with a 16,000 btu furnace.

#8 – Tab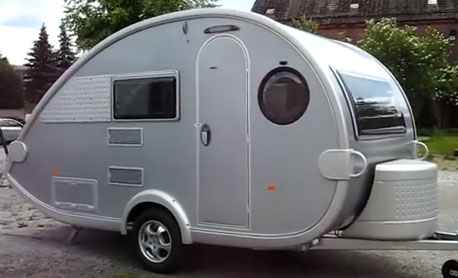 T&B Teardrop Travel Trailer: Style, Elegance, Economy and Comfort

The Tab teardrop shaped trailers weigh only 1,360 pounds, but offer a range of choices. The Clamshell model features a rear kitchen, seating, plenty of storage, and an optional bathroom. Options include 12V refrigerator and ac/heat pump.

#9 – Sidekick Trillium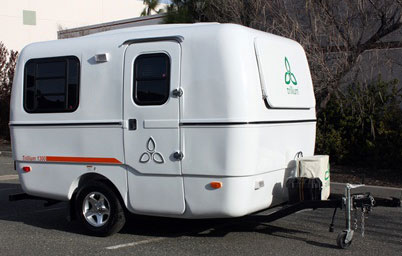 Latest model of Sidekick Trillium 1300

The 2014 Sidekick Trillium weighs only 1700 pounds for the 13 foot model. The Legend package includes amenities such as 2.8cf fridge, rear table shelf, roof mounted solar panels, cable TV hookup, and lined under seat compartments. Additional options include exterior shower and crank out awning.
#10 – Safari Condo Alto
It's absolutely amazing - and its roof is (silently) raising-up to make more headroom!

This teardrop travel trailer weighs only 1,635 pounds but features a very innovative design that allows for up to 8 feet of headroom when the roof is raised. The galley is on one side, and the trailer has a small bathroom opposite the galley. The dinette can also convert into the bed. Multiple windows give you the feeling of being in a much larger space.

 About Us / Privacy Policy / Resources
Go to: Pop-up Travel Trailers and RVs

or to: Top-10 Lightweight Travel Trailers,  Benefits of Lightweight Travel Trailers