Top 5 Coleman RV Air Conditioners
Coleman manufactures some of the finest RV Air Conditioners  covering wide range of cooling powers and profiles; here is the presentation of top five models.

Coleman, a well-known RV air conditioner manufacturer, has been present in the market for a very long time, which is a major reason behind their solid grasp on that market.
With the course of time, they have improved immensely on their products and are currently one of the most prominent brands in the RV air conditioning segment.
With a number of models, Coleman provides plenty of options for RV campers to satiate their Air Conditioning needs.
As have been told in the above mentioned paragraph, Coleman offers a wide range of RV Air Conditioners, among which, the most prominent of them are mentioned below:

---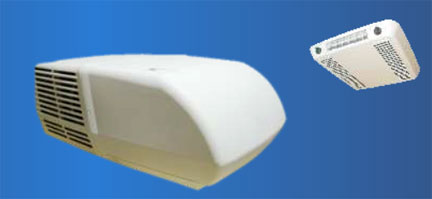 Coleman Mach III Plus:

Being touted as the world's finest RV Air Conditioner, Coleman Mach III provides great value for money when it comes to cooling RVs. The overall power of this Air Conditioner is 13,500 BTUH, which means that one can install it in any kind of RV. Moreover, its effective pricing is another factor why it is such a revered Coleman RV Air Conditioning Model.
Some of Coleman Mach III Plus' major features are listed below:

2 speeds fans
Very light-weighted, just a mere 108 lbs
115 volts of AC power
Easy installation
2 years of warranty on parts

Furthermore, you can also install additional heat strip of 5600 BTUH capacity to provide your RV a very warm environment in those chilly days of winters.

---

Coleman Mach 8 Air Conditioners:

 Available in the capacities of 9,200, 13,500 and 15,000 BTUH, Coleman's all new Mach 8 air conditioners are characterized by lowest profiles in the industry. It is fitted with twin motors that allow it to derive the same cooling efficiency on low as well as high speed operations.
A notable feature of Coleman Mach 8 AC is that its airflow is very quiet, which allows for very peaceful and comforting sleeps. Being molded on a fiber glass base pan helps it to be more durable, which is further strengthened due to its low weight. It weighs only 90 lbs, which makes it one of the lightest low profile RV Air Conditioners.
As far as cooling capacity is concerned, it can even operate under extreme weather conditions (like for example hot dry desert climate) to provide a great cooling. Like other RV ACs, it is also available with a 6000 BTUH heat pump for warming up your winters.

---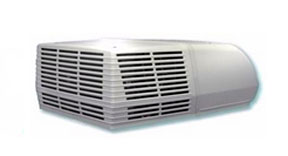 Coleman Mach I Power Saver:

It does not matter that you are looking for an Air Conditioner for your home or RV, in many cases all you are concerned about is low power. If that is what your objective is, then Coleman Mach I Air Conditioner will be an apt choice for you.
Its draws low current as compared to other ACs what allows it to work pretty well with small generators. Its compressor rating is 12,690 BTUH, which also plays a great part in it running well and provides utmost cooling despite low power consumption.

---
Coleman RV Air Conditioning Mach 15:

If you are in need of a great cooling output within a very nominal input power, then Coleman Mach15 RV air conditioners may be your preferred choice. It provides quite a chilly environment with its 14800 BTUH of capacity. It achieves quite high efficiency thanks to the special design increasing the air-flow.
Indeed, the ducted cooling system in high-end RVs requires increased air flow and Coleman Mach 15 provides just that. Just like Mach III, Mach 15 is also available with an optional heat strip of 5600 BTUH capacity to provide the much needed warmth in the winters.
Some of Coleman Mach 15's major features are listed below:

Light weighted
Operates on 110 volts
2 speed fan for increased air flow

---
Coleman Polar Cub:
Another great RV Air Conditioner in the low profile range is Coleman Polar Cub. It uses latest air cooling technology considerably improving efficiency. It is quite light weighted with an overall capacity of 9200 BTU. Its aerodynamically styled shrouds provide all weather condenser coil protection.
It also boasts of a condensate water removal technology that prevents your RV to get discolored. This will be certainly appreciated by those who have previously suffered from vehicle discoloration due to faulty RV Air Conditioners. Another great feature of this AC is all new vertically mounted motor along with its 17 inches oversized fan blade; these two innovations have helped the Coleman Polar Cub AC to efficiently and quickly transfer maximum heat from the vehicles.

All in all, Coleman Polar Cub is a very great value for money Air Conditioner for your RV.

---
Coleman Marine:

Marine air conditioners are designed basically for yachts and motor boats to provide the relief against the blazing heat. Although they are designed for boating environment they can also very well work in RVs. In fact being rugged helps them to withstand even off-road conditions without any impact on their durability.
Their improved cooling efficiency is due to its powerful 13,500 BTUH capacity; also, its coil has raised fins creating turbulence while transferring the heat, which results in increased cooling capacity. All in all, it has the capacity to make the scorching summer a lot less uncomfortable in your RV.

Mentioned above are some of the best Coleman Air Conditioners for RVs. All of the Air Conditioners are different in one way or the other from each other but all of them work very well in providing a chilling atmosphere in the RV, which is what they designed for.

 About Us / Privacy Policy / Resources
Go to:  Pop-up Travel Trailers and RVs