5 Top Lightweight Hard Side Campers
Higher fuel economy, increased durability without compromising quality, esthetics and comfort is offered by RV manufacturers in light-weight versions of hard-side campers.. 

Lightweight seems to be a word of a day, but certainly it will resonate for years.
More and more environmentally conscious and "pocket-limited" customers are "switching" from backpacking and tent-camping to more "advanced" forms of vacationing.
And "lightweight" seems to have almost similar meaning as "organic" in food industry.
Higher fuel economy, increased durability without compromising quality, esthetics and comfort – all of these is offered by most RV manufacturers in light-weight versions. 

Canyon Cat by Palomino
        Palomino campers have always been designed to be lightweight and easy to tow. However, the Canyon Cat, the newest from their lite-weight line, goes above and beyond what the original campers offered. The Canyon Cat comes in 12 different floor plans, each designed so that every inch of space is used to offer comfort and convenience. While it is smaller than a typical camper, the Canyon Cat makes up for it in weight: The lightest model (12RBC) is only 2,812 pounds. And, at such a light weight, it's surprising to know that each model is 8' wide, spacious enough for the perfect camping adventures!

Ultra-Lite by Forest River Rockwood
Ultra-LIte model 2703WS

           The Ultra-Lite line by Forest River has 19 floor plans. The design on ten of those plans includes a v-shaped nose, which makes it easier to tow. However, just because these trailers are built with a focus on being lightweight doesn't mean Forest River skipped out on the amenities. Each Ultra-Lite comes with electric awnings, three slide outs, and frameless windows. The interior is just as luxurious as the exterior, with Corain counters, real wood cabinets, and stainless steel appliances. A little heavier than other options, all floor plans are 7,500 pounds or under, this is still the perfect option for light luxury.

Lance 1575

       At 2,655 pounds, the Lance 1575 was built compact and light, perfect for those who want to adventure off the beaten path. The Lance 1575 sleeps four, which is uncommon in these smaller models. However, this model is able to be spacious and light by being very conscious about what materials were used to build it. Instead of using wood, the Lance 1575 uses Azdel, a polypropylene and fiberglass panel, for sidewalls. And beautiful, but light, material is also used for the cabinets and frames inside the camper. This gives the trailer a cozy feeling, made more relaxing by the idea that towing is so much easier with the Lance 1575.
SolAire Ultra-Lite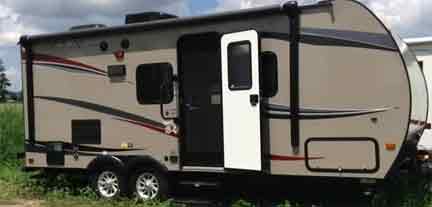 Coming in three different floor plans, the SolAire is one of the lightest options for its size on the market right now. The three options and 19 floor plans range from 3,850-5,015 pounds. This extremely modern trailer has become popular for its barreled ceilings, which give the interior an airy feeling, while offering more storage capacity. Inside, the Ultra-Lite feels exactly like a home away from home, with a spacious kitchen, fabric window shades, and a large pantry.
Keystone Bullet Premier (32BHPR)
     At 34'9" long and 7' high, the Keystone has everything a true camper needs, but at a weight of only 6,180 pounds. Not only is this lightweight option packed full of beautiful features, it can also sleep 10 people comfortably. It contains a dinette that converts into a bed, a bunk bed, a slide out bed, and a large queen bed. But people won't want to sleep with all the awesome amenities the Keystone offers, like its entertainment center, plush lounge furniture, and relaxing lighting.

 About Us / Privacy Policy / Resources
Go to:  Pop-up Travel Trailers and RVs