Travel-Lite Falcon 21RB
2017 Top Lite Trailers
Living-Lite 2017 Falcon F-21RB travel trailer is a modern, lightweight and stylish camper, attractive floor-plan and features makes it ideal for get-away vacations for family with kids…
      Travel Lite Inc. located in New Paris (Indiana) entered the RB business in 1998 with the goal to design and manufacture ultra-lite campers. 

Initially, company's portfolio included only lightweight Truck Campers, since 2012 however the business was expanded into Travel Trailers.
Currently the family of Travel Lite's Falcon travel trailers includes five models: F-20 Eclipse (smallest and lightest one with dry weight of 2,480 lbs)), F-21RB (sort of enhanced "get-away" design), F-22RK (more bedroom and kitchen space at the expense of bath) and F-23RH (toy hauler) and F-24BH (bunkhouse).
On top of Falcons, the Travel Lite also offers the line of Express and Idea TTs.
       For this presentation of 2017 ultra-lite travel trailers we selected the model Falcon 21RB. It seems to meet most of our criteria, correspondingly:
Dry weight below 3,000 lbs (Lite enough to be towed by most popular 6 cylinder vehicles)
Functional layout and set of features offering most of what is expected to find in this class of get-away vacation campers
Modern, stylish and "wind-cutting" design  incorporating present-day trends seen  in RV market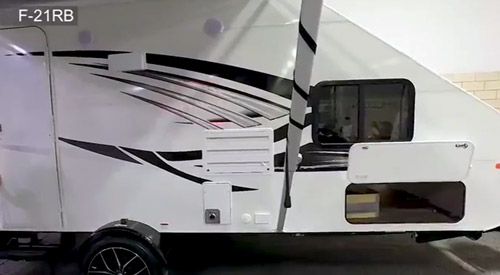 Living-Lite's Falcon 21RB Travel Trailer
   and its layout
Now - please do not be confused. For the lack of good pictures of the F-21RB, below we show its Twin Brother Falcon F-20 (same shape)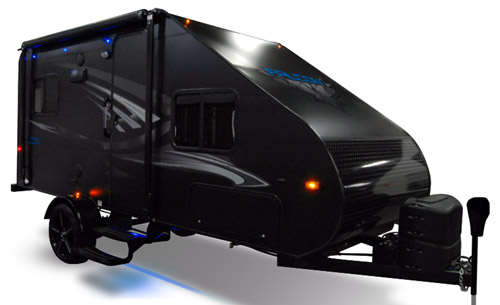 Warning: This is F-21RB's smaller sibling Falcon F-20 Eclipse. It is about 1 ft shorter, weights about 400 lbs less (no slide-out) and no walk-in bath (very tight space with shower and toilet). But - seen from the outside it is the "Twin Brother". The only visible difference is the location of the entrance door in the middle of the camper.
  The Falcon 21RB is the newest addition to the line of Travel Lite's RVs and as the result there is still no much information disclosed.  The first striking impression is its stylish, streamlined shape significantly reducing aerodynamic drag and friction. Given the fact that the Falcon 21RB can be towed by many family cars it's not only an impression, but the promise of smooth towing and good fuel economy at higher speeds. 
It's the front-bed/rear bathroom layout with one slide-out housing the dinette booth. The queen-size bed is placed along the front wall. This automatically limits the access to the bed to just one side. While it may seem inconvenient for those accustomed to walk-around beds, this particular arrangement opens significantly more space for the galley and the rear bath.  It's hard, but reasonable compromise for the trailer less than 21 feet long (it's overall length including the tongue). The bed comes with pillow-top mattress, bedspreads and pillows. 
"Bedroom" - queen-size mattress and sliding windows
    Two slider-windows (one on each side-wall) not only make the area bright but also allow the access of the fresh air. 

       It may be also worth to note that as the result of camper's shape, its frontal area taken by the bed does not have full-standing height. 
Galley with aluminum-framed tempered-glass doors
View from the "bedroom" - behind the galley visible (from the left): Multi-purpose storage w/double doors and entrance to the bath. What cannot be seen is the entrance door just behind the last kitchen cabinet (area marked by the skylight)
      The galley is quite generously furnished. It includes 2-burner stove-top and stainless-steel single bowl sink with high rise faucet sharing (or rather entirely taking) the solid-surface countertop. The cooking area comes with a stainless-steel hood, dedicated light and electrical exhaust vent – all attached under an overhead cabinet. The latter houses a large, built-in stainless-steel microwave oven.  
     The storage space seems to be generous given the small size of the camper. It includes under-the-stove and sink cabinets and next to them full height dual-door cabinets. Although not visible from the outside - behind some cabinets' doors you will find hidden drawers on ball-bearings guides. Farther (towards the sleeping area) there is a large, raised, 3-way, 5 cubic feet, stainless-steel refrigerator with an internal freezer.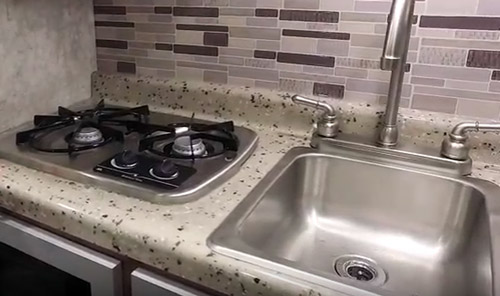 Stove and sink take almost all space on the countertop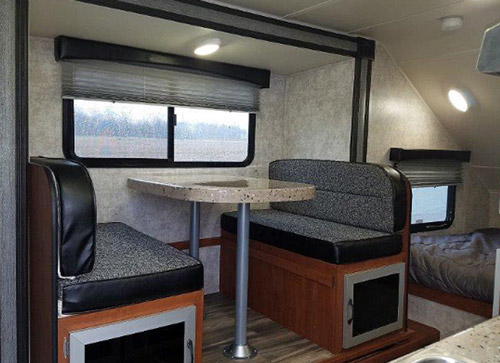 ... so here comes dinette. It's truly "multipurpose" serving as "work-space", dining table, sleeping place and storage (under the benches) 
    The street-side slide-out houses modest dinette with two benches. It provides enough of space for two persons but it's a bit harder to see four persons sharing the booth.  In fact, the dinette can be converted to an extra sleeping place for two (I assume children) so having four at the table may be reality. 
This also raises the question of the working space.  Let's face it, as neither the stove nor sink are flush-mounted, it will be quite difficult (but not impossible) to improvise any kind of cover opening much needed "working space" in the galley. It seems that this possibility should be seriously considered by the factory, because in small travel trailers there is no room for wasted space. It is just too "costly". The bottom line is – as in most campers of this size the dinette table is the only available working space.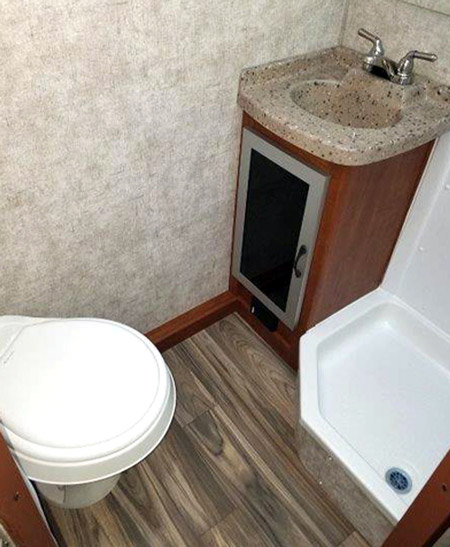 The walk-in bath is certainly a bright spot of the camper (and it's not only due to the skylight). It includes shower with curtain, foot-flushed toilet and much needed vanity with molded countertop including sink as well as mirror on the wall.  It also houses large full-height wardrobe and full-height multipurpose closet (although the latter is accessible from camper's main area). 
As it should be expected, the interior space is quite tight. However the cherish-wood cabinetry fronts, aluminum-framed tempered-glass cabinetry doors, stainless-steel appliances as well as brightness (skylight and windows) the interior looks very elegant…. 
      The exterior power awning offers more open living space. With the help of pass-through storage it should be possible to carry some camping gear (folding chairs and table) to make it enjoyable. 
Two tongue-mounted LPG tanks and deep-cycle batteries (more than in this class of campers) should provide enough of energy in "out-of-grid" environment.
The Falcon F-21RB is too "fresh" on the market to know its price-tag, but from what can be seen it will be available for about 19k$.
Specifications
---
Overall length

Exterior width

Exterior height/ w/AC

Interior height

Dry weight

Hitch weight

GVWR

Cargo capacity

Fresh water tank

Grey water tank

Black water tank

LPG

Slide-outs

Awning

Sleeps

20'8" (1)

101" (2)

104'/117"

75"

2.840 lbs (2)

295 lbs

?

?

31 gals

30 gals

30 gals

2 x 20 lbs

1

1

2 (4)
(1) Includes tongue
(2) Includes fenders
Construction
Chassis: ?
Body: wooden (?) frame w/high grade rolled aluminum skin
Exterior: High gloss gel-coat
Front: 40' Diamond Plate protection
Windows: Frameless 
Wheels: Aluminum rims /18" high performance tires
Connector plug: 7-way harness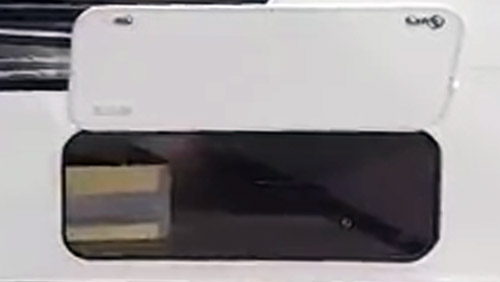 Exterior pass-through storage
Standard Interior Features
Queen-size bed w/under-bed storage
Pillow-top mattress w/bedspread and pillows
Galley (2-burner stove w/hood, built-in microwave, 5 cu.ft. fridge, single-bowl stainless-steel sink w/high-rise faucet, backsplash)
Cabinetry (Cherry Fronts, aluminum framed tempered glass doors, hidden-drawers)
Walk-in bathroom (shower w/curtain, vanity w/sink, foot-flashed toilet, mirror)
Solid-surface (Granicote) Countertops (galley, bath, dinette table)
Skylights (bath and entrance)
Power vents (bath and interior)
Furnace (18k BTU?)
6 gallons DSI gas/electric water heater
Monitor Panel (water level in fresh/grey/black tanks and aux battery charge, water pump, water heater switches)
Storage (large Wardrobe, Multi-shelf Closet and Pantry – all full-height), under-the-bed box, under-the-benches storage and (exterior) pass-through.
Standard Exterior Features
Power awning
Leveling jacks
Electric brakes
Dual Battery tray (tongue-mounted)
Deep-cycle battery w/battery charger
Alarms/Detectors (LPG, smoke, CO)
2 x 20 LPG bottles w/cover (tongue-mounted)
Pass-through storage
2-steps entrance w/bleu safety light
Chrome Bezel Exterior Lighting
Shore Power connection
Options (?):
Exterior Shower
CD/AM/FM/MP3 Stereo system
Power tongue jack
Air Conditioner (roof-mounted)
Extra battery
Note: The series of Falcon travel trailers was just introduced to the market at last's year Fall-time RV shows. It seems that the manufacturer (Living-lite) does not come yet forward with finalized plan for standard features, packages and options. 

This is the "fresh" presentation from the RV show (December 2016)
Summarizing: The just coming on the market 2017 Falcon 21RB travel trailer seems to be ideal for get-away vacations. It is ultra-lite, super-aerodynamic, easy to maneuver and towable by most 6-cylinder cars.
Thanks to its attractive floorplan and features it should provide comfortable vacations for family of two w/children or ideally – just for two. Needless to say, that its streamlined shape will guarantee good fuel economy and also "Public attention" (the latter will make you proud but may cost you some "privacy".

Note:  Check with the manufacturer and / or authorized RV Dealer for the up-to-date list of features, options as well as latest specifications. These written above may not be accurate and certainly are subject to change by the factory. We are not responsible for any inaccuracy, the above text is provided only for the general information.
This review was written based on publicly available information for the benefits of the community of RV-ers. We do not receive any gratification or financial benefits from RV manufacturers, dealers, and any other promoters of RVs. 
We are NOT involved in sale and/or retail of RVs!
---