Polydrop Travel Trailer
Ultra-Light RVs
Polydrop KJ-20 is an ultralight travel trailer, its futuristic shape underlines new trends while excellent insulation and off-road option makes it ideal for escape from daily life....

            The story of Polycorp trailers seems to be quite familiar. Searching for their own "private mobile space" but unhappy with models available on the market, Mr. Kyung-Hyun Lew and his wife Jien Cha decided to design their own trailer. So far, nothing new, all of us already heard such stories, however what was quite unusual in this one and what evidently made a visible impact on the design comes from the fact that both designers (Mr. Kyuang-Hyun and Mrs. Jien) are architects at the time freshly graduated from the Southern California Institute of Architecture (Los Angeles).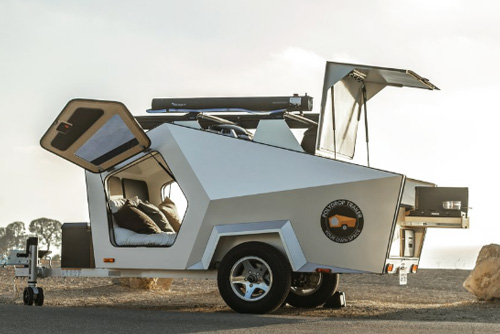 First thing most of us will pay attention to is Poludrop's polygonal shape
In this case, their own architectural preferences were a "game-changing" factor. Frankly, while initial assumptions (lack of adequate models) may be debatable, the fact is that Polydrop definitely offers something architecturally new – clearly distancing it from the pack. The name "Poly-drop" reflects a modernistic, multidimensional geometric shape with many "angled-sides" (prefix "Poly"). However, its overall shape shows deep roots in the traditional concept of "Teardrops" (hence the suffix "drop").

The basic version K-17
       The first prototype of Polydrop appeared on California's roads in 2017. It was clearly a very minimalistic design visibly contrasting with sort of luxury seen in similar size, upper-end trailers. In the next 2 years subsequent models underwent several modifications combining Mr. Lew and Mrs Cha's visions but also personal "road" experience from out of town escapades with Polydrop behind their 4-cylinder towing car.

           Certainly, during that time, Polydrop's strikingly unusual shape was the main subject of discussion by bystanders. Some were seeing similarities to Taxa Outdoors travel trailers, some with inclinations to science-fiction were seeing rolling "Spaceship". In fact, overall shape and "gull-wing"-style, struts assisted side doors could contribute to such ideas.  But I guess when recently Tesla revealed its Cybertruck, everybody seems to agree (at least from the futuristic style point of view) that these two – Polydrop trailer and Tesla's truck are the perfect match.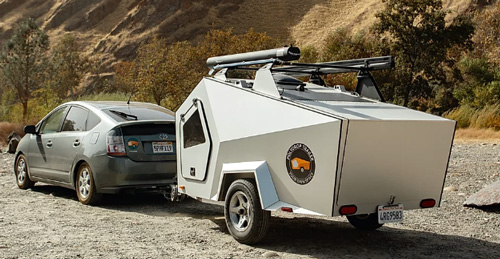 Fully loaded Polydrop KJ-20
Fast-forward to 2020: The Polydrop Inc. (co-founded by Mr. Lew (CEO) and Mrs Cha) is introducing 4 models of travel trailers, correspondingly K-17, K-19, K-20 and KJ-20.  Their distinctive design offers more than just a futuristic-angled geometric form. The other important characteristics are:

Ultra-lightweight design
      Traditionally trailers with weight in the range from 1,000 lbs to 2,000 lbs are considered as lightweight. Depending on features, the dry weight of Polydrop models is in the range from 900 lbs to 1,250 lbs (first prototypes were weighting just 760 lbs). 
Such "feather-like" weight is the result of good design and engineering process. Trailer's frame is made entirely from aluminum. The body (cabin) is a combination of plywood and FRP (Fiberglass Reinforced Polymer) enveloped in thin aluminum (or FRP) skin. Note that FRP is one of the strongest construction materials (its strength is matching that of steel, but it's lighter). It does not warp, it's corrosion, UV, rot and mold resistant and almost maintenance free. It has good thermal characteristics (high R-value) so it also acts as an insulation. 
The outcome is clear – the Polydrop can be hitched to almost any popular 4-cylinder car (well, that's the goal, however, before making commitment, remember to carefully check towing specifications of your car).
At this moment we should mention that designers made all efforts to bring the Polydrop into towing range of most popular family cars. With this goal in mind, Polydrop equipped its trailers with hydraulic disc brakes - function that opens wider the towing range of many family cars. Note that this unique braking system is "autonomous" so it does not require any assistance (hook-ups) to the towing vehicle. Also, depending on needs it can be easily disabled (switch on tongue's hitch).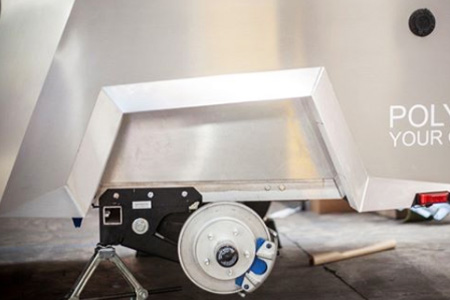 Hydraulic disc brakes
Some of the best thermal insulation
         Both - Mr. Kyuang-Hyun and Mrs. Jien quickly realized that the "freedom" to escape the hectic city life (what BTW was one of the reasons to design the Polydrop as their "Portable Private, Space") is severely limited by cold temperatures. They solved the problem by outfitting the Polydrop with one of the best thermal insulations in the RV industry. The layer of EPS rigid foam insulation in some places reaches the thickness of 8.7 inches. On top of that the trailer is equipped with a heater (forced-air system) controlled by a thermostat. It's the standard feature in all Polydrop models although it's use may be limited by the access to the grid. 
Nevertheless - thanks to these standard features, Polydrop trailers belong to the class of all-weather RVs.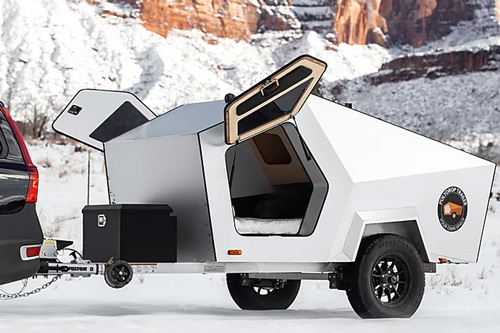 You can see in the opening how thick are side walls. Obviously, neither the snow nor low temperatures can prevent you from enjoying the trip....
Off-road capabilities
          Our freedom to escape the daily city life takes new dimensions when we leave asphalts and take roads less-travelled instead. For obvious reasons, at best these will be dirt roads. Good news is that to accommodate off-road driving, Polycorp offers an optional "Lift Kit" providing 15" ground-clearance (205/75/15" tires) and stronger (2,000 lbs) suspension. In fact, the independent Timbren suspension not only greatly helps to handle potholes on no-mans land, but also makes highway driving noticeably more stable and smoother.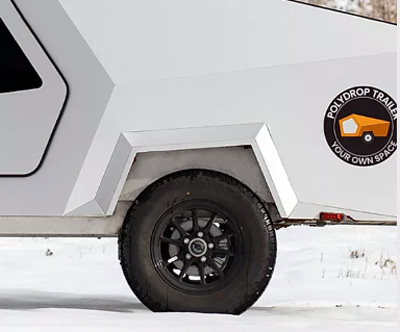 Optional Lift-Kit gives you "green light" for off-road driving
 .... and it seems to be a breeze :-)
Interior design
          Polydrop represents the "minimalistic" concept of RV-ing. Some say, it provides everything you may need on the road, but not more, but in my humble opinion it is still an overstatement. The truth is that Polydrop targets a very specific group of RV-ers – nature and peace lovers, those that going out of the town will gladly leave luxuries behind. In other words, no TV screens, no tons of often "useless" stuff, that some apparently cannot live without….
Like in most Teardrops, the interior of Polydrop is just a sleeping space. Yes, it's comfortable thanks to the large 5.5" thick (48" x 75") foam mattress and warm interior finish. Three cubbies at the front (above the legroom) make all available storage space you will have when hitting the road. If it's not enough, your car's trunk is your last chance. 
The overall impression however is quite positive. Light-colored pine plywood finish gives pleasant natural touch while black leather pads are adding contrasting accents. It seems however, that in new models the pine-finish was replaced by FRP (Fiberglass Reinforced Polymer). Yes, it's an easy to clean and almost maintenance-free solution, but unfortunately, with it, part of the charm and "warmness" was lost (the latter just "emotionally", because the robust insulation will still do the job). Door windows are equipped with dual-purpose covers – they offer privacy but also extra thermal insulation.
At the front, just below the cubbies you will find the control panel with switches for LED lights, heater, ceiling fan, thermostat as well as 12V-outlets and UBS charging ports – all powered from a battery fed by 100W Solar Panel installed on the roof. Well, by most standards – it's not much!
That's all you will have in your "bedroom". not much, but comfortable and stylish
One more view confirms that to access the Control Panel you will have to abandon your comfortable position....
Kitchenette
            The rear kitchenette in Polydrop's basic version (K-17) is just a working and storage space. Large countertop with drawers, narrow cabinet and slide-out space for cooler may inspire you to equip the empty-space according to your imagination and/or needs. Few overhead LED lights built-in to the hatch promise to make it "usable" even in the darkness. But the truth is that the rear galley with no built-in fixtures is a sort of help-yourself rustic solution. Nevertheless, it is not a wasted space - it can be used as a much-needed exterior storage trunk. 
           Much better impression makes the kitchenette offered in fully loaded KJ-20 model. It should not be surprising given the fact that letters "KJ" suggest more involvement in its final "touch" by Mrs. Jien (K-stands for Mr. Kyuang-Hyun while J- for Mrs. Jien). You will find a 2-burner cooktop, Dometic refrigerator, small sink with access to fresh water and an extended worktop. Full functionality although still in the minimalistic version fitting into narrative that "small (and simple) is beautiful". Two water containers with the combined capacity of just 3.6 gallons will hardly meet more than just short-term cooking needs. The concept of hand water pump may seem to be outdated, but in this case, it will help to minimize the waste of water.
Galley: Difference between basic (left) and fully-loaded (right) models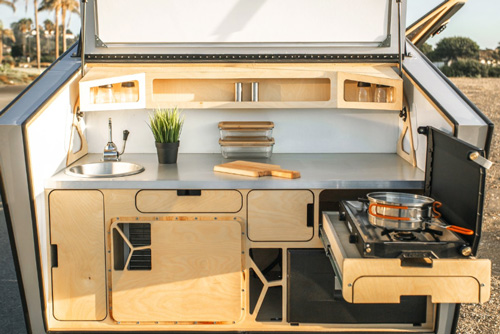 Galey in Polydrop KJ-20 is quite impressive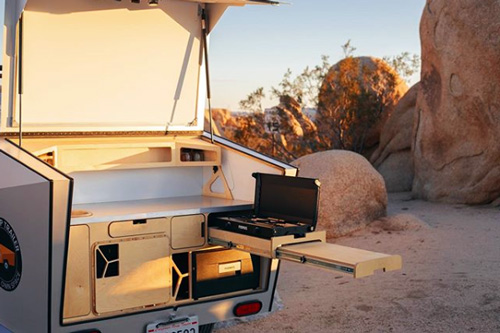 Here with extended slide-out worktop
        The fully loaded KJ-20 version comes with a 5 kBTU A/C unit, roof rack, awning and Roadshower 4S. The latter holds 4 gallons of water heated by the sun (weather permitting). Trailer is also equipped with 4 security cameras (with infrared capabilities) so in the safety and warmness of the bed, you can monitor the situation outside (if needed). 
Polycorp trailers come with an A-frame mounted box housing a battery and (in K-20 & KJ-20 versions) on the side of the box you may also find shore connector for 110Vac power (presumably, the box can also house a battery charger and/or inverter).
Note that even 2020 models still represent a sort of "transition" from series of prototypes to fully commercialized units. It means that you may still expect some changes to specs and available features.
On the negative note – the location of the control panel at the legroom side of the bed is quite uncomfortable (difficult access from the "horizontal" position in the bed). Remotely controlled panel from a phone application will certainly do the job. In the current version, it seems that all switches are controlled manually!  

Specifications
---
Parameter


Overall Exterior length (1)

Max exterior width

Max exterior height

Interior length

Interior width (max)

Interior height (2)

Dry weight

Tongue weight

Ball height (3)

GVWR (AWR) (4)

Ground Clearance (5)

Freshwater tank

Grey water tank

Sleeps

K-17

12'5"

65.6"

63.6"

75.3"

48"

42.5"

900 lbs

80 lbs

18"

1,200 lbs

15"

N/A

N/A

2

KJ-20

12'5"

65.6"

63.6"

75.3"

48"

42.5"

1,250 lbs

160 lbs

18"

2,000 lbs

15"

2 x 1.6gals

N/A

2
---
1. Includes A-frame w/tongue
2. Without the mattress 
3. With standard 13 wheels
4. Determined by suspension
5. With optional Lift Kit
Construction
Frame: 4' x 8' Aluminum w/ A-type tongue
Shell: FRP and Plywood w/FRP skin (K-17) or 1/32" aluminum skin (KJ-20)
Insulation: up to 8.7" thick EPS rigid foam (walls), Polyiso (roof)
Suspension: Timbren Independent
Wheels: 175/80/13 Tires (205/75/15" optional)
Brakes: Titan Hydraulic disk-type (autonomous, can be disabled)
Coupler: 1 7/8" or 2"
Connector: 4-way flat
Galley: Rear w/upward opening hatch-door
Note: Polyiso (Polyisocyanurate) is a rigid foam insulation. It has one of the highest R-values (about 6.5 per inch) among insulation materials available on the market , however, as it turns out, its R-value decreases at lower temperatures (when it exactly matters). It also acts as a vapor-barrier and fire retardant and has low GWP (Global Warming Potential) – in other words can be considered as "green". Polyiso is largely used by the construction industry, however mainly on exterior sides of buildings.  To minimize (eliminate) the effect of off-gassing, it should be covered by a protective layer.
Interior
Plywood or FRP-finished walls w/black leather trim 
3- storage sections (cubbies) w/hidden LED lights
Mattress (48" x 75" x 5.5")
Insulated window covers
Rear Galley (K-17)
Drawers
Storage cabinet
Slide-out space for Yeti Tundra 35 Cooler 
Large countertop  
4- LED lights
FRP/Wood finish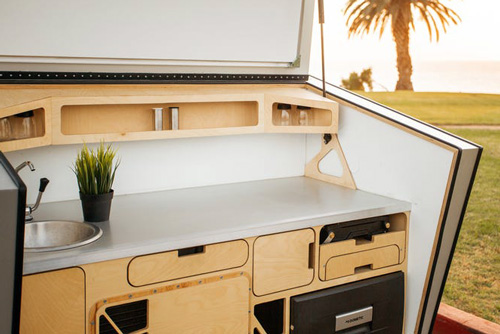 Large counter-top offers a lot of work-space
Rear Galley (KJ-20)
(additions or modifications to K-17 standard)
Dometic CD20 Fridge
Pull-out 2-burner stainless-steel cooktop
Stainless-steel sink w/faucet and hand water pump
Pull-out extra worktop
Spice rack
Two water tanks (combined capacity of 3.6 gallons)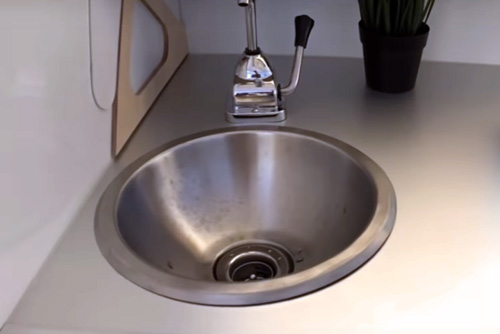 Sink with hand-operated water pump
Electrical
Control Panel (interior LEDs, thermostat, two 12V Cigar Lighter Outlets and UBS charging ports)
100W solar panel w/Regulator-Charger
12V battery 
Forced-air heater (full HVAC in KJ-20).
Shore connection
Roof-mounted Fantastic Fan
Kitchenette LED lights
LED Tail lights
Gull-wing doors add "space-like" components into anyhow futuristic design
Exterior
Gull-wing doors w/struts assistance
Battery box (A-frame mounted)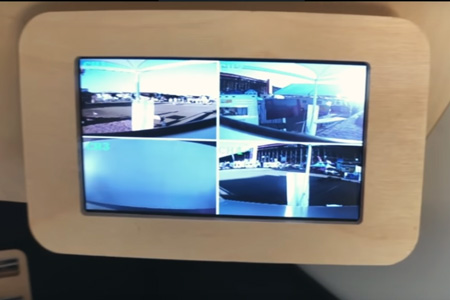 View from 4-video cameras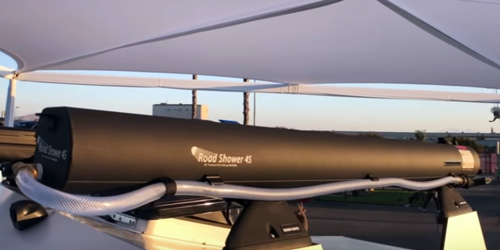 Polydrop KJ-20: Road Shower 4S
Extra features in Fully-Loaded KJ-20
Full HVAC with thermostat (Heater, 5 kBTU Air Conditioner)
Dometic fridge
4-channel security cameras w/ Monitoring Screen
Roof Rack
Sunseeker Awning
Road Shower 4S
Safety
Although not directly indicated by the manufacturer, we assume that all Polydrop trailers are equipped with relevant Alarms/Sensors and fire extinguisher.
Here with deployed awning
Options for all models (if not included as standard features)
Roof-mounted rack
Rhino-Rack Awning (49 sq.ft) w/integrated drop-down poles
Road-Shower (sun-heated 4 gallons of water)
Lift-Kit (15" ground-clearance with 15" black-rims, 205/75/15" tires and 2,000 lbs Timbren suspension)
Enjoy the trip :-)
Summarizing – Polydrop Inc. designed a series of compact travel trailers offering comfortable private space for sleeping. By definition, the ultra-light design puts clear limitations on set of standard features, but in return, makes Polydrop trailers towable by typical, 4-cylinder family cars, what was the main design goal. Very good thermal insulation offers the opportunity to enjoy all-season RV-ing while optional off-road capabilities allows for exploration of Mother Nature. However, clearly minimalistic design (even in fully loaded KJ-20 version) does not make it straightforward. In other words, Polydrops trailers are not for everybody…. 

To have an idea – approximately, 2020 versions of Polydrop trailers are priced as follows: K-17 at 14.5k$, K-19 at 15.5k$, K-20 at 18k$ and KJ-20 at 20k$.

Go back to: --> Top Small Travel Trailers
All pictures are property of Polydrop Inc.
Note:  Check with the manufacturer and / or authorized RV Dealer for the up-to-date list of features, options as well as latest specifications. These written above may not be accurate and certainly are subject to change by the factory. We are not responsible for any inaccuracy, the above text is provided only for the general information.
This review was written based on publicly available information for the benefits of the community of RV-ers. We do not receive any gratification or financial benefits from RV manufacturers, dealers, and any other promoters of RVs. 
We are NOT involved in sale and/or retail of RVs!