Tracer Breeze Travel Trailers Ultralight Primetime RVs
Ultralight Primetime's Tracer Breeze travel trailers come in 7 floorplans with plenty of living space and features that can satisfy even demanding RV-ers.
       Prime-Time Manufacturing headquartered in Wakarusa (Indiana) is a division of Forest River Inc. - US's largest manufacturer of recreational vehicles. 

           Out of its impressive line of towable RVs including Travel Trailers, Fifth Wheels and Toy Haulers, for 2019 presentation we selected the series of Tracer Breeze ultralightweight travel trailers. The line offers 7 floorplans ranging in length from 22'11" (19MRB) to 34'6" (31BHD). Interestingly, despite such wide range of dimensions and coming with them features, all models have pretty much the same GVWR varying between 7408 lbs to 7555 lbs (exception is the largest, 2-slide-outs model 31BHD with GVWR of 7635 lbs). 
Primetime's Tracer Breeze model 22MDB
Primetime's Tracer Breeze model 25RSB

           The company's goal was to offer a series of large, super-lite RVs within the towing range of many popular crossovers and mid-sized SUV. Following this objective, Primetime designers pretty much fixed the maximum permissible weight of fully loaded Breeze trailers trading the numbers of individual Dry Weight (Unloaded Vehicle Weight) with Cargo Carrying Capacity (CCC). As the "positive" side effect, all Breeze models are built on the same axles and suspension lowering this way the overall cost for the benefit of both – manufacturer and customers.

Note that, the high value of the Gross Axle Weight Rating (GAWR) allows families to benefit the large margin for the "human" load when on the campground but at the same time keep low vehicle's weight when on the road (when passengers in the towing car). In fact, within the Breeze series the CCC varies from around 3,300 lbs (model 20RBS) to only 1,335 lbs (model 31BHD). As the results, there is a chance that models with high CCC ratings can be towed by your already owned car (with lower towing ratings than trailer's GVWR), provided the careful planning for cargo (1).
(1)- If you opt for this solution, make sure that it is legal in your state to tow the trailer with higher GVWR (but lower actual weight)  than the towing rating of your car.
         All Tracer Breeze models have walk-in wet bath, six models have at least one slide-out unit (the largest model has two), the main sleeping space is either the Murphy-Sofa of Queen-size bed (the latter comes with the privacy wall and door). Bunk beds and collapsible dinettes offer plenty of extra sleeping space, so it is right to say that most of the models are designed for large families. And what is also very beneficial - some models are equipped with exterior kitchen (at best furnished w/ fridge, sink with water and grill) offering very practical extension of the living space to outdoors.  
For the purpose of this presentation we selected two Breeze models: correspondingly 22MDB (the only model without the slide-out) and for comparison 25RBS (one of only few models without the bunk-beds, but with the Master Bedroom and more comfortable living space).
Model 22MDB: Interior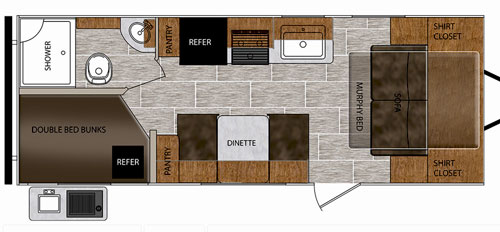 22MDB: Floorplan
       The main sleeping area with Murphy-bed is located at the front-end of the camper (next to the entrance door). During a day, it is converted to the lunge area with comfortable sofa and handy side tables. The Evergreen queen-size foam mattress with quilted bedspread may not be a perfect "dream-come-true" sort of thing, but certainly comfortable enough to have good sleep and dreams .
Note two storage hanging cabinets w/mirror doors on each side of the walk-around Sofa/Murphy-bed, and availability of power and USB outlets.
In the center you will find a galley (street-side) and across (on the curb-side) - dinette. Kitchen is surprisingly well-equipped (as for this size of camper). Hooded, 3-burner stove with an oven and cover, built-in microwave, large single-bowl sink with all-metal high-rise faucet and lid. The latter makes the otherwise modest working space impressively large. The window brings not only potentially nice view on the surrounding nature, but first of all fresh air and light.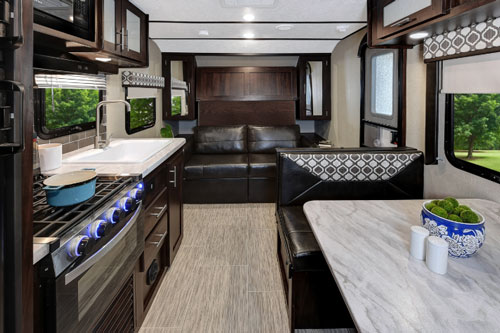 Tracer BReez 22MDB: Interior with Murphy bed set as sofa (above) or bed (below)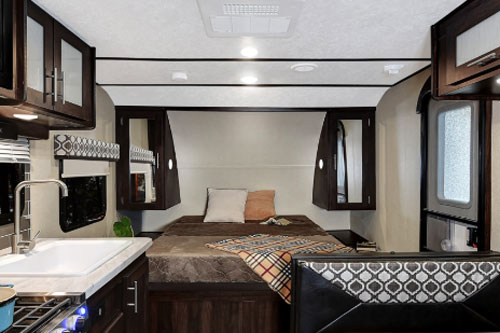 Overhead and below the sink cabinets with shelves and drawers provide decent storage space, but there is also small pantry next to the dinette adding extra storage space. The large, 2-doors refrigerator completes the kitchen. The dinette booth can be converted into the sleeping place for two, but given the availability of 2 bunk beds, most likely this option will not be used too often!
            Despite the limited space and affordability (read it – reasonable price), manufacturer did everything to make camper's central section residential-like looking. Solid wood core cherry-finish cabinetry, brushed nickel hardware, residential seamless counter-tops matching dinette's table, glass stove lid w/LED accent lighting, plated shades (to name only the most important elements) make the center area very pleasurable.  
On the back-end of the camper there is a walk-in bath with shower (protected by the curtain), vanity (sink w/cabinet, linen and medicine cabinets,) toilet w/foot-flush as well as skylight and power exhaust fan. It's quite tight area, but still – decent enough so you have some space to move. 
Finally, on the left corner there are two bunk beds. They will perfectly serve as sleeping quarters for kids (each level has its own window), or as the large and easily accessible interior storage space.
Tracer Breeze 22MDB: Kitchen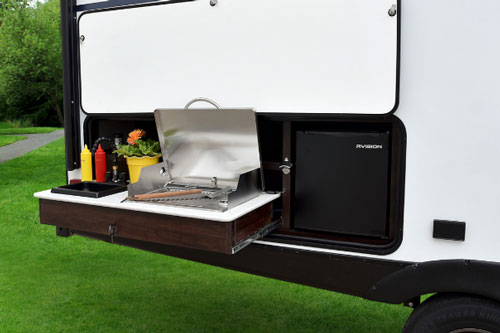 Model 22 MDB: Slide-out cooking center
         The standard LED TV and AM/FM/CD/DVD Stereo w/Bluetooth and HDMI make the "Entertainment Center", although understandably it will not be in a "dream" residential-type arrangement. While you can comfortably enjoy the music from the "lounge" (or outside), the TV is installed at the back of the camper, so basically you can watch it from the dinette's seats. However, assuming, that you are on the RV-adventure trip to explore the beauty of the Mother Nature rather than to see the "manufactured" picture of the World on the TV screen, it may not be the biggest problem.
Entertainment center is next to the dinette
While the interior living space in the model 22MDB is limited (nothing surprising for campers without slide-out unit(s)), its dry weigh of only 4,367 lbs is really a "breeze" given model's considerable length of 25 ft 6 inches. 

Model 25RBS: Interior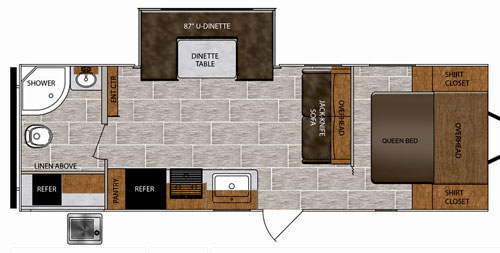 Tracer Breeze model 25RBS: floorplan
          The most important difference between the two models is the available space. The model 25RBS is substantially longer (29'1") and includes a slide-out unit housing the U-shaped dinette (street-side). It comes with the private bedroom separated by the wall w/sliding door from the remaining part of the camper.  While the standard TV is still mounted at the back of the camper, the bedroom wall has all necessary wirings for the optional TV screen.
In the central area (on the opposite side of the bedroom wall) there is a Jack-Knife sofa. It can be used as a lounge corner (although there are no "supporting tables' around, for let's say magazines, books or cup of coffee or glass of wine! However, being closer to the TV screen, for those "hard-to-die" TV-aficionados, it provides much more comfortable conditions to watch favorite programs. Obviously, it can also serve as an extra sleeping place for two. The overhead cabinets above provide extra storage space.
Model 25RBS: bedroom offers the privacy
Model 25RBS: interior (dinette and Entertainment Center)
Model 25RBS: kitchen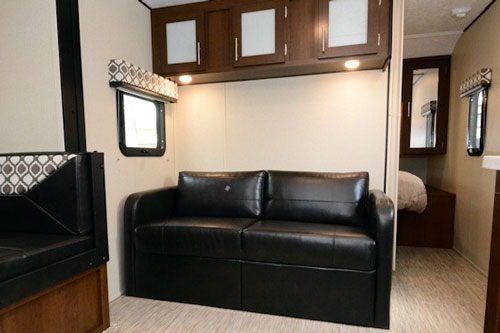 25RBS: Jack-Knife sofa and extra overhead cabinets on the wall separating bedroom from the living area
Other changes compared to the model 22MDB:
Next to the fridge, full-height pantry offering ample storage space for kitchen stuff!
Generous bathroom with an extra linen cabinet, hooks and plenty of space to move around
No bunk beds (but thanks to the extra sofa, if needed, you still have possibility to sleep up to 6 persons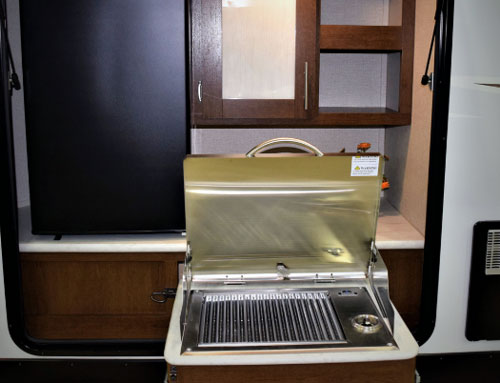 Model 25RBS: Slide-out kitchen with grill, fridge and cabinets, however the sink with hot/cold water did not make its way into the design
Both models: Exterior 
       The most notable exterior features are slide-out kitchen and large power awning. The kitchen includes a sink with hot and cold water, grill and small fridge (the model 25RBS does not have sink, instead it offers a storage cabinet). Weather permitting, together with the 17 ft long power awning (19 ft in 25RBS) and exterior speakers it's a large, well-equipped picnic and outdoor living area. These features (standard in most of Breeze models) clearly differentiate they from competition.
The pass-through storage with oversized doors can handle a lot of camping gear including folding chairs and table(s). With its 1" thick doors w/magnetic latches and motion-sensor activated light, the pass-through storage is 24/7 ready to use.
Other worth to mention exterior features are: 
Standard spare tire with carrier (attached at the back of the trailer)
Exterior shower with hose,
Friction-hinge entrance door
LP Quick Connect
Solar, back-up camera and cable/satellite preps.
Tongue-mounted molded-fiberglass cover for 2 LPG tanks
Hitch (front-cap) lights
Enclosed and heated holding tanks and underbelly.
In fact, the Prime-Time Tracer Breeze travel trailers are designed for operation over "much-longer" season. The decent thermal insulation (R11 side-walls, R14 roof and floor) as well as mentioned enclosed underbelly and heated tanks allow for RV-ing in temperatures below the freezing point. In fact, the roof is designed to withstand the snow load. 
The ducted, forced-air heating and A/C cooling system is controlled with wall-mounted thermostat.
Tracer Breeze travel trailers: enclosed underbelly
Construction:
      All Tracer Breeze travel trailers shells are made as bonded aluminum structures (laminated aluminum-framed walls, floor and slide-out(s)). This so-called "Eternabond" construction is light, corrosion-free and offers high mechanical strength. Note that the one-piece TPO Roof is fully walkable! Shell's exterior is made from seamless fiberglass, while front's Diamond-plate provides protection from stones and debris. The dual Dexter Axles (coming with 5 years warranty) assure not only smooth towing on the road but also good load capacity.
White exterior with black graphics. LED-lighted awning as well as dark-tinted frameless windows give these trailers very modern look (the tinted windows – also privacy).
As the manufacturer states: They are so light in weight, that they do not have to be light on features! In fact, the Tracer Breeze trailers have more residential-like features than other similar size travel trailers.
To see technical Specifications as well as features:

Continue: --> Tracer Breeze Specifications and Features
or go back to: Top Ultra-Lite Travel Trailers
Most pictures: Courtesy of Prime-Time Manufacturing Inc.
Note:  Check with the manufacturer and / or authorized RV Dealer for the up-to-date list of features, options as well as latest specifications. These written above may not be accurate and certainly are subject to change by the factory. We are not responsible for any inaccuracy, the above text is provided only for the general information.
This review was written based on publicly available information for the benefits of the community of RV-ers. We do not receive any gratification or financial benefits from RV manufacturers, dealers, and any other promoters of RVs. 
We are NOT involved in sale and/or retail of RVs!