Used Fifth Wheel Camper Parts
Basic of used fifth wheel camper parts - what to buy and where

In a hurry?

Wheels and tires
Wheels and tires are probably some of the most relevant parts of fifth wheel campers.
Such campers need special tires and wheels that can support their weight.
If you use your camper trailer quite often, changing the wheels and tires regularly is very important.
Windows and doors
Most fifth wheels have a door with a window and four or six windows. A lot of people choose to change the windows to dark ones made of a special safe glass that provides privacy but it lets a lot of light in the camper. Used windows for fifth wheel campers can be easily purchased, although if you want to change all the windows, you have to be careful that they are all the same in the end.
Interiors
Fifth wheel campers come with elegant and often luxurious interiors. If you buy a second hand fifth wheel camper, you can find that some of the interior parts are damaged. Used parts for fifth wheel interiors such as sofas, tables, cabinets and so on can be found in most RV stores.
Water tank
Fifth wheel campers have usually two water tanks, one for fresh water and one for gray water. Both of them are located underneath the frame of the camper. Occasionally they have to be changed because of leaks caused by elements.
Awnings
Awnings are parts of fifth wheel trailers that provide shade and shelter from rain. Since they have a pop out system most of the times, they can brake easily. Awnings can be found in most RV stores in different sizes.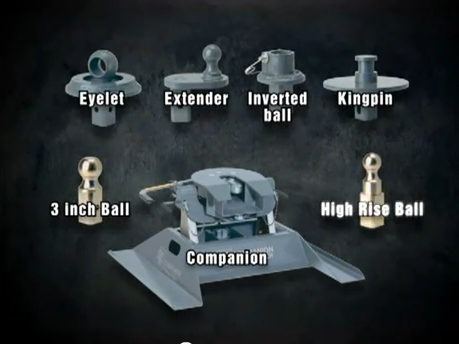 Examples of hitches for a 5th wheel camper
Hitches
Break controls and hitches can come in very handy. Hitches for fifth wheels are especially important, since these camper trailers are attached to your car or truck in a different way than most other travel trailers are. If you want to make sure that you won't have problem while you are towing your fifth wheel, change the hitches as often as possible.
Steps and ladders
Fifth wheel camper trailers are quite big. They come with steps to help getting out and getting in easier, but they can be often broken due to over-usage. There are many types of porches, steps and ladders that you can buy second hand for a good price. The best steps are adjustable and they can be folded and unfolded, this way they don't require a lot of space.
Where to buy used fifth wheel camper parts:
RV Wholesalers
RV Wholesalers has a great selection of RVs and RV parts from manufacturers from all around the USA.
http://www.rvwholesalers.com
RV Basics
This shop also offers you further information of other stores and dealers that sell RV parts such as fifth wheel camper parts. If you want to find the best store in your area, this website will help you. http://rvbasics.com/techtips/rv-salvage-replacement-parts.html
Camping World
This website has almost anything that is related to RV. They have both new and used RVs and RV parts for fifth wheel campers and more. They also have stores in more states, so it is worth to check out their website if you prefer to buy parts for your camper offline. http://www.campingworld.com
Fifth wheel hitch installation

Visitor's Story

Everyone from time to time everyone likes to save money, and used fifth wheel camper parts are just the way to do it.
If you need used parts you can look at various websites to find affordable parts. Most parts have been tested for reliability and in some cases refurbished or rebuilt.
This is not only done for camper parts but also for car parts, it is the same thing. Say you have a generator and it stops working, you take it in and buy a new one while leaving the old one behind, usually for a discount on the new one, the dealer then pays someone to rebuild the generator making it sell-able again for a discount price.
Back in time, this was a popular way to buy used parts. If you happen to live or travel to Alaska or Alabama, you might not find a dealer that does something like this, but you can always look online for used parts.
One thing to remember about buying parts is the size of your 5th wheel, is it a 31 or 24 foot trailer and is it a 8 ft width or wider. This normally applies when looking for air-conditioning, heating and covers for the 5th wheel. When looking for parts, you also need to provide the year. If you have a 2004, a 2003 part might not be the right fit.
The used fifth wheel camper parts are everywhere. In some cases, 5th wheel campers that have been in an accident with severe damage might go to the camper scrape yard where they take the parts and recycle them.
This is where you can find some affordable used parts. You could look under camper salvage yards or recreational salvage yards to finds dealers in used parts. You can find many different parts in these types of salvage yards.
 About Us / Privacy Policy / Resources
Find Here Worldwide Beach Camping Parks Directory