V1 XPCamper
Off-Road Truck Campers
Off-road truck-campers made by XPCamper combine modernity and stylishness with comfort, user-friendliness and sturdiness so much needed in out-of-civilization environment....
        It took Mr. Marc Wassmann several long years to materialize his dream of an ideal camper for off-road adventures.

Indeed, given his high expectations (reliability, practicality and comfort), firm list of non-negotiable requirements (it takes a lot of effort to understand what we really want!) and well-known German strive for excellence, it was not an easy task. However, thanks to his resilience, with the "little help" of his wife (professional graphic designer taking responsibility for stylishness of the final product), few years ago the first V1- camper left the doors of the Grass Valley (CA) based manufacturer XPCamper.
The V1 XPCamper belongs to the class of truck campers. It was Mr. Marc's conscious decision offering future owners good level of flexibility to use their trucks for a daily business (huge advantage compared to van-campers mostly spending time parked on the driveway). 
At first, for many of us off-road capabilities of truck-campers seem to be determined by the truck itself. While to some extent it is true for all off-road RVs (you need an all-terrain 4WD to take off-the-beaten tracks an off-road travel trailer), it will be great mistake to ignore importance of truck-camper design goals for such demanding travel conditions.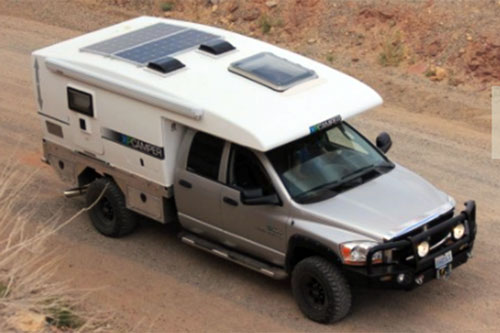 XPC-V1 in travel configuration (on the roof you can see two solar panels, 2 vents and skylight)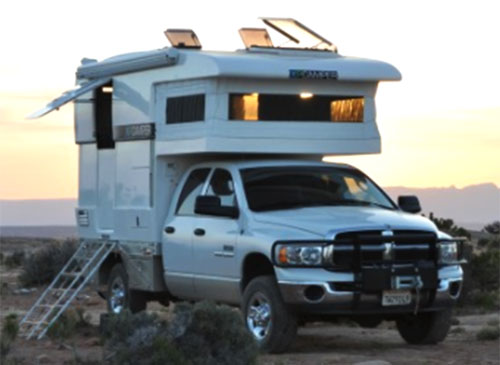 ... and here in the camping configuration
The XPCamper took this task very seriously setting the following design goals:

Robustness
      Off-road driving conditions induce mechanical stresses seriously challenging the integrity of camper's shell and chassis.  Frequent shocks, twisting forces, dynamic overloads cause fatigues of materials and as the result - cracks, broken joints, fissures etc.. This in turn leads to infiltration of rain water, dust and ultimately damage of the structure. The "destruction" process is farther accelerated if camper's components are prone to rust, rot, mildew….
To limit the impact of all-terrain driving conditions XPCamper's shell was designed as monocoque, seamless unit. It's made as a sandwich of foam-core enclosed between layers of gel-coated carbon-fiber-reinforced fiberglass. The final result is a lite, sturdy and weather-resistant body.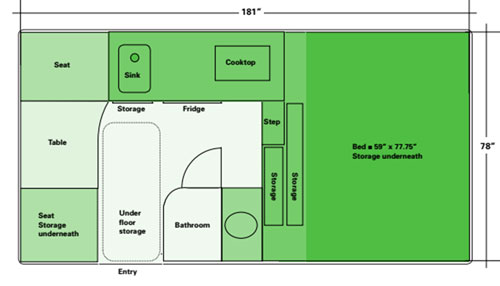 XPC-V1: Floor-plan
Weight 
         With its dry weight of about 2,250 lbs, the V1-XPCamper is designed for 1-tonne full-size flatbed trucks. It's a surprising achievement given the size of the cabin and generous standard features.
Note that lite weigh not only contributes to better fuel efficiency, but also expands the pool of candidate trucks for the job. 
Setting-up the XPC-V1 truck camper :-)
Low Profile
        Requirement of low profile for off-road campers is not that much determined by need of good aerodynamic shape. While the performance on a highway it is still a valid argument, the low profile is necessary to provide good clearance when "navigating" around trees, branches, narrow passages etc… In fact, in many cases it will be about ability to "go or not go" farther down the path.
Unfortunately, any off-road truck camper has "built-in" disadvantage compared to off-road trailers. Sitting on the truck's bed it is located higher above the ground than the trailer. In order to offer comfortable interior headroom within hard-shell boundary when camping and at the same time keep low profile on the road, V1- XPCamper is equipped with pop-top hard-shell roof.  At the touch of the button (remote control) in few tens of seconds the roof smoothly moves approximately 3 feet up providing 6.5 feet of headroom. It's worth to mention that pop-top roof solution also lowers center of gravity of the truck. It's one of the crucial parameters of all-terrain RVs determining their stability on uneven paths.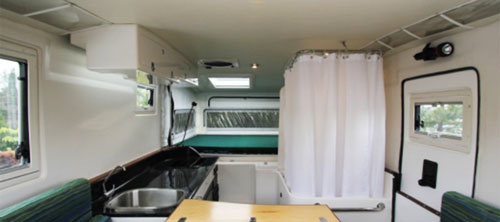 Interior with unfolded shower cabin 
Thermal Insulation
         Closed-cell structure of the foam core making the shell has several advantages. On top of excellent strength, low weight, very low water absorption (so no rot) it has also good thermal properties. This, together with dual-pane windows throughout, makes XP Campers suitable for expeditions into various climate zones.
Well – almost! This is because the side-walls of the cabover section are made from the marine-grade, waterproof canvas. They are protected from weather elements when the camper is closed, however when exposed in an open configuration, walls with zippered windows do not make any thermal barrier. This still does not disqualify XP Campers from being used at freezing temperatures. As the matter of fact, the manufacturer offers three soft-panels that can be easily attached on the interior sides of the canvas walls. The goal is to provide additional thermal insulation in the bedroom (secondary effect is morning's "darkness" because for better thermal effect the panels also block windows).
It should be noted, that forced-air diesel heater with 3 outlets in the living/sleeping area can guarantee comfortable temperature profile in the camper. 
The hot-air outlets are also placed in storage and water compartments, however due to the fact that camper's plumbing does not have dedicated thermal protection (heating mats) XP Campers are not recommended for RV-ing when temperatures permanently fall below the freezing point. 
Energy autonomy
        Needless to say, how important for off-road campers is the sufficient supply of energy. The truth is - When far from the grid you can count only on yourself (in this case XPCamper). To makes things even more difficult, XPCamper designers decided to exclude the use of LPG. This was not the blind decision, but rather the conscious one given the fact that there are many restrictions regarding propane tanks (ferries, tunnels etc…). 
So: vital "functions" of V1-XPCampers run on electricity and diesel (the latter may be also used by truck's engine making it "easier"). However, if needed, the company offers a large, titan fuel tank (option).
Regarding electrical power, each V1 XPCamper comes with a set of AGM batteries (300 Ah capacity) and 2 x 160W roof-mounted solar panels plus supporting systems (110V/12V converter, battery charger, inverter etc…). And in case of "encounters" with civilization (grid), XPCampers are also equipped with 30A Smart Plugs.
If these standard energy features are not sufficient, optionally the capacity of 12V batteries can be doubled to 600Ah and more solar power added.
Few notes: For many of us, RV-ing without propane gas may look impossible. But this is just because we do not recognize the benefits of diesel. Forget gas-burner stoves, modern diesel cooktops are not only much more practical and safer, but also very elegant (See X100 Webasto stove with its stylish ceramic flush-mounted plate).
It's also worth to note that popular models of 3-way RV refrigerators (LPG/110Vac/12Vdc) for refrigeration use an absorption-effect. The weak point of absorption-type refrigerators is that they have to be level (mission impossible in an off-road camper). In contrast, XPCamper models exclusively use compressor-based fridges. Yes, they need electricity to run, but tey Do Not have to be level.  

Track Tray (here with raised side panels, opened side storage compartments and rear slide-out storage
Truck Requirements: Flatbed
          The company also offers especially designed Truck Tray system. It replaces the standard truck bed providing customized solid base for the XPCamper as well as extra features. These include: 4 side storage compartments, spare tire carrier, protection of rear truck window, rear bumper w/storage (fishing roads…). 
The Truck Tray system comes with fixtures allowing for easy installation/removal of the XP camper. It is also equipped with detachable fold-down side panels so once the camper is removed and side panels re-installed, the truck is ready for any daily business.
Traditional slide-in truck campers have entrance door at the rear side (access from the side is impossible due to shapes of standard beds). Flatbeds do not have these limitations so entrance door(s) can be located on the side of the camper (for safety reason curbside). This solution opens other possibilities like for example installation of the rear rack for bikes…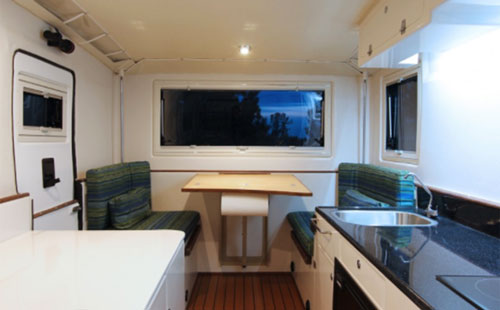 Interior: view from the front at galley and dinette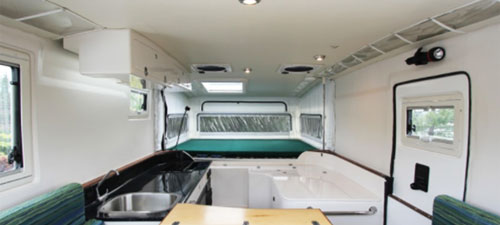 Interior: View from the back at galley, shower compartment (here folded) and front bedroom
Comfort and Practicality
      Comfort was definitely one of the top design goals and frankly the V1-XPCamper will not disappoint. 
It's not only that the camper is spacious given its small size (main cabin length just under 9 ft). It is an example of truly meticulous design and engineering job fitting into limited space very comfortable bedroom (queen-size bed), modern kitchen, bath (with cassette toilet and shower), dinette (if needed, convertible to dual-size bed) and plenty of storage space (around 10 cu. ft combined). But it's also about every detail that seems have the purpose, making things easier, safer, practical, more comfortable and what's also important - elegant.
      Very stylish kitchen with black countertop, matching flush-mounted cookstove plate and stainless-steel sink seems so inviting for "cooking party".  The hands-free faucet operated by touching the pad adds to the list of innovative features. Under-bed storage is not just one more box to "stuff" as seen in most campers. It is a "highly-organized" space with several smaller boxes allowing you to quickly find what you need. Gas-struts assisted access makes it also easy and practical in use on a daily basis.
Another example of "ingenuity" is the insect screen installed in entrance door. The screen consists of two half-doors allowing you to "walk-through" without using hands to open them. They will then return back and snap into nominal position thanks to magnets.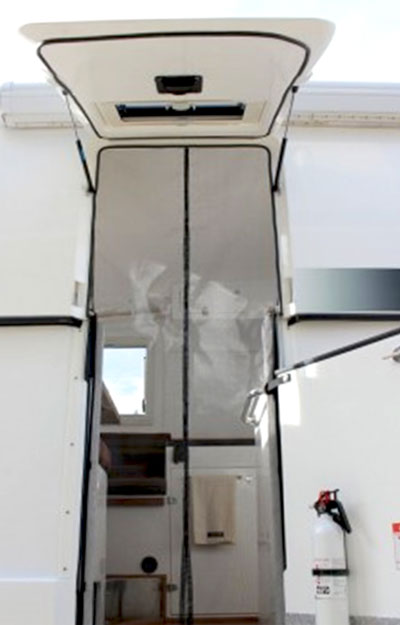 Magnetic (self-locking) screen doors
Specs
V1- XPCamper
---
Overall Length (1)

Overall interior length

Cabin length

Exterior width

Interior width

Height closed

Height opened

Overhead

Dry Weight (2)

GVWR (3)

Fresh Water Tank

Grey Water Tank

Diesel Fuel Tank

Sleeps

15'5"

15'1"

8'9"

84"

81"

56"

90"

78"

2,250 lbs

-

80 gals

23 gals

3 gals

4
---
1. Includes cabover
2. Configuration with standard features
3. GVWR is determined by the truck
Construction
Body: Monocoque,
Shell:  Sandwich of foam core and layers of fiberglass reinforced w/carbon fiber
Hardware: stainless-steel screws, hinges etc…
Finish: gel-coat
Colors: white (int/ext) 
Standard features

Interior features:

Floor: marine-grade vinyl
Headliner: marine-grade w/storage pockets
Magnetic screen on entry door
2 Large dual-pane windows (rear and side)
2 small dual-pane windows (kitchen and door)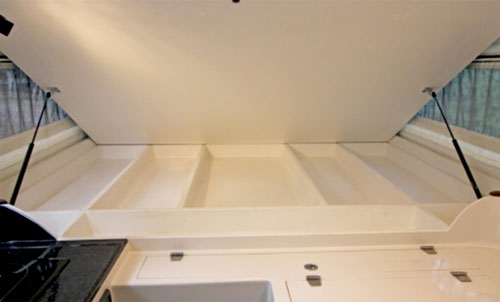 Well- organized under-bed storage
Bedroom (Cabover)
Queen-size bed (59" x 77.5") w/foam mattress and fibric cover
Under-bed storage w/boxes (struts assisted opening)
LED reading light
Storage pockets
Large skylight w/lights, insect net and sunshade
Canvas sidewalls w/ large windows, built-in mosquito screens and shades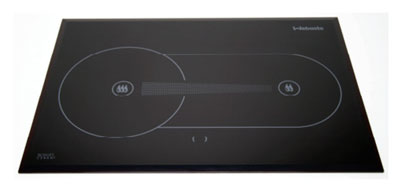 Webasto X100 diesel cooker (top heat plate)
Source: Webasto.com

Kitchen
Diesel cooktop (X100 Webasto)
Fiberglass countertop w/water catch (black)
Flush-mounted stainless-steel sink w/faucet
4.3 cu.ft marine-grade fridge w/freezer (12V compressor)
Overhead cabinet w/LED lights
Storage cabinets w/drawers
Towel holders (including paper towel one)
2-way fan over galley
All hardware stainless-steel
Dinette 
3-stage telescopic table, 
foam-seats with fabrics (one w/storage)
Marine-grade hardware (hinges, latches…)
Bath
Shower w/single-handle faucet
Cassette toilet C402
Toilet paper holder
Teak Grate floor
Shower curtain
Retractable clothing line
Water
80 gallons heated water tank
2-stage Doulton water filtration system
23 gallons heated grey water tank
Tanks' Water level monitors
Johnson water pump
Marine-grade hoses
Exterior shower
Climate control
Dual Diesel air heater (w/3 outlets in cabin, 2 in storage, 1 in water bay) and water heater (Webasto)
2 reversible ceiling fans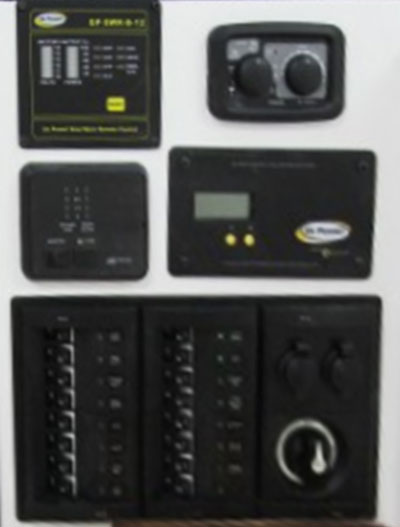 Power Control Panels (located next to the fridge)
Electrical
2 x 160W solar panels w/30A controller
300Ah, 12V Battery (2 x 6V units) w/ quick-disconnect, battery charger and monitoring system
1kW Magnum pure sine-wave inverter
120Vac/12Vdc/ outlets (int/ext)
USB charging ports
Shut-off switch/Breaker
LED lights throughout (including storages)
30A Smart Plug for grid connection 
Plug for connection with vehicle's electrical system
All-electric Roof Lifting system XPQuad w/self-locking mechanism and remote control
Options
 Presentation of the XPC-V1 camper
Truck Tray (highly suggested)
Flatbed deck w/LED lights (option)
Storage (4 under-body boxes, slide-out drawer, rear bumper)
Slide-out steps
Hardware to install/remove the camper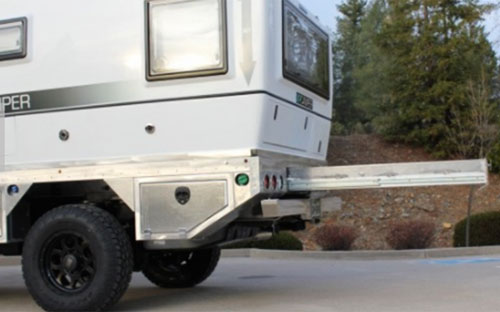 Truck Tray: adequate departure angle is one of the requirements for off-road campers
Other Options (here the most important ones)
Microwave
Awning
Air-compressor w/tank
Rear flood lights
12,000 lbs winch w/rope
Thule roof rack
Large Titan Diesel tank
       Well, the V1-XPCamper is a real treasure for those ready to take unbeaten paths. It seems that the only problem may be its relatively high cost. Good news is that recently the factory released also smaller and less expensive model XPC- V2 targeting midsize trucks. And the company also works on a slide-in version of the truck camper XPC-V3 designed for standard pickup-trucks (no flatbed requirement).

Go back to: --> Review of Extreme Off-Road Campers
or: --> Off-Road Campers: Requirements
Unless otherwise indicated, all pictures are courtesy of XPCamper
Note:  Check with the manufacturer and / or authorized RV Dealer for the up-to-date list of features, options as well as latest specifications. These written above may not be accurate and certainly are subject to change by the factory. We are not responsible for any inaccuracy, the above text is provided only for the general information.
This review was written based on publicly available information for the benefits of the community of RV-ers. We do not receive any gratification or financial benefits from RV manufacturers, dealers, and any other promoters of RVs. 
We are NOT involved in sale and/or retail of RVs!