Varieties of Motorcycle Trailers
Let's see what industry offers for motorcycle aficionados – traditional campers, cargo trailers, caddy, loading ramps……

Motorcycle Camper?
Need a camper for your motorcycle? 
Yes, it's possible.  Those such as the Solace model from the USA Trailer Store can make camping a pleasure.  It goes from towed, ready to go status…
…to set up and ready to camp is just five minutes. 
It has 6' 7" clearance in dining area, an air-conditioning port, and air conditioner stand included. 
While only 19 square feet when closed up, it blossoms into 72 square feet of dining and sleeping space inside when opened. 
The trailer includes the swivel coupler for towing and is only 20 lbs of tongue weight!  Of course it includes the full sized inflatable mattress, dining table, cooler and cooler rack on the tongue (accessible from inside through a zippered slot), LED taillights, and provides ~16 cubic feet of storage space when closed up.  All that in a 350 lbs package!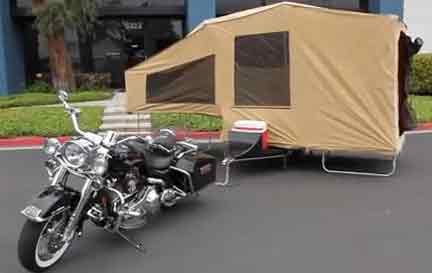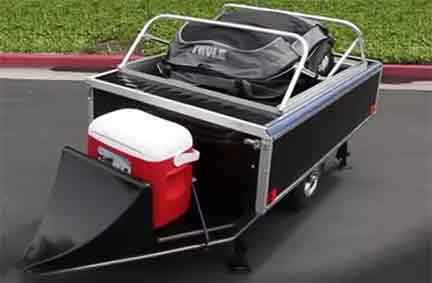 Solace Motorcycle Camper trailer in ready to use and folded configurations

---
Still too big?  The 250 lb MiniMate camper from Kompact-Kamp-Trailers  has 6' 4" of headroom, room for two adults, 15 cubic feet of storage, LED taillights, and can even be towed by a medium sized bike.  It sets up in just 2 minutes!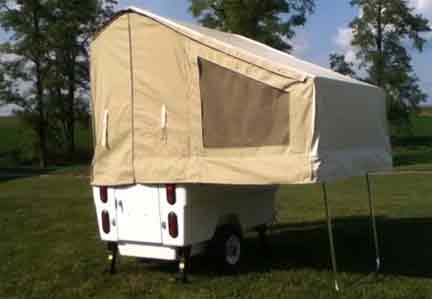 ---
Maybe You Just Need Cargo?
    Although the units above are pretty sleek, you may just prefer your own personal tent and you need a place to carry it.  Or perhaps you simply need to transport cargo from point A to B.  The units from 1motorcycletrailers.com represent only a small fraction of the available models, which you can select from to either match your bike, or contrast from it.  Whether you like aircraft aluminum or fiberglass, you can find exactly what you need.  Small units provide at least 11 cubic feet of storage space and are so light, riders claim to forget their presence altogether while moving.  Many come equipped with an extra-luggage rail on top so you can carry even more.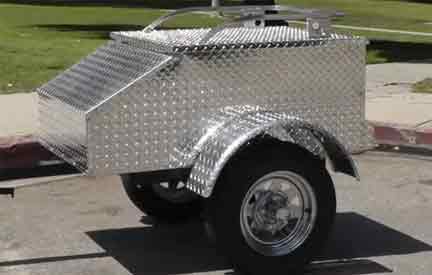 ---
Transporting Motorcycles
    If you ordinarily ramp your bike into the back of your pickup, there is a powered ramp where you drive the front wheel into a cup-like holder, strap it down and then it's electrically towed up the ramp.  Once it passes the balance point it self-levels and slides into the rear of the pickup, secure and ready to travel.

Don't have a Pickup?
    A big bike and a small car usually don't mix, but a Stinger fold up trailer is a great solution.  Only 180 lbs., but can haul a much heavier bike.  Secure, easy, one person operations.

---
What about Caddy?

Is even that too much?  How about eliminating the trailer completely and just going for a Caddy that attaches to your trailer hitch?  These little gizmos are the ultimate in convenience.  You lower it to the ground level, strap in the front wheel, and raise it back up to traveling position.  Check with your dealership to make sure your bike can run with the rear wheel on the ground in neutral, and if so, this is your baby!
---
Want to keep it Out of the Weather?
    Maybe you need something that can tote around a bike or two, but keep it out of the weather.  Stealth may have the solution for you, or USCargo and their product line, both equipped with motorcycle transportation packages. However these are trailers that have to be towed by the car!

Hopefully in here you've found the information you need.  Now let's get on the road!
 About Us / Privacy Policy / Resources
Go to:  Pop-up Travel Trailers and RVs
or to:  Motorcycle Campers