Vistabule Travel Trailer
Small Travel Trailers
      The concept of teardrop travel trailers dates to the 1930s. The post-WW2 economic boom improving roads infrastructure as well as growing "appetite" for travel led to their popularity through the mid-'50s. While all teardrop trailers shared the characteristic shape of free-falling Tear (or Rain)-drops, their size, and weight reflected the power of popular American cars (at those times mostly limited to about 100 horsepower). 

Late 30's – original teardrop camper (Source: History of the Teardrop Trailer (Aeroteardrops.com)

But nothing lasts forever. Not surprisingly, starting from the late '50s, the growing wealth of the nation brought an end to the era of let's face it – "minimalistic" designs of teardrop trailers. Suddenly, "Bigger" was associated with "Better". Larger and more powerful cars made it possible to tow heavier loads, demand and expectations did not seem to have limits totally changing the RV industry.

     It took years till the combined effect of nostalgia, growing eco-consciousness, demographic changes (extended life expectancy) led to the new way of thinking that may be expressed by "Small is Beautiful" and "Good Enough" means exactly what it means. Well, Teardrop Trailers are back!
These days several manufacturers offer a wide selection of teardrop trailers. However, indifference to the '40s, now their designs address the needs of specific social groups – mostly young couples without kids, choosing adventure over luxury (sort of tent on wheels), as well as senior citizens with similar mentality but expecting some level of comfort. And that's the perfect niche for designers of teardrop travel trailers.
Given the limited size (space) of teardrop trailers, their design is not straightforward. Frankly, it requires not only engineering skills, but also "out-of-the-box" vision combined with a love for camping, and let's face it – a good dose of art to make the small area comfortable enough, "warm", yet practical.
The classic shape of traditional teardrop campers
 Above - NuCamp TAB320
Below: Timberleaf
     So here comes Mr. Bert Taylor – a Bachelor of Fine Art and Sculpture degree, with long practice as a designer of furniture and cabinetry. In 2011, he founded a sort of "garage company" Vistabule. 10 years later the small factory located in St. Paul, (Minnesota) is well-recognized for designing and manufacturing "luxury" teardrops.
The iconic shape of the Teardrop trailer closely matches the natural shape of free-falling tear (or rain) drop. Well, while such a shape has clear nostalgic value, it also has some limitations when it comes to practical aspects of interior design. Recognizing these limitations, Mr. Bert Taylor proposed a sort of "upside-down" (or maybe more descriptive – "Reverse") configuration where the "tail" of the drop makes the front of the trailer.  
Vistabule camper – "Reversed teardrop" concept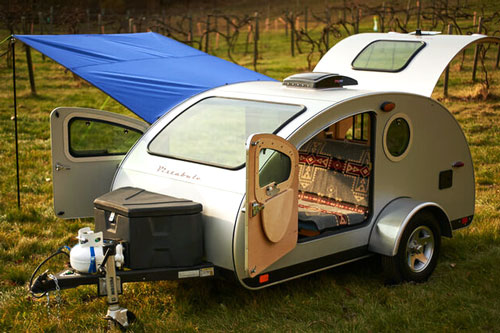 Vistabule: commercial version

Novelties
          With the body (cabin) length and width of correspondingly just 10ft and 5ft, the Vistabule teardrop camper cannot compete with any modern big rig. The fact is that teardrop trailers represent a different world – a practical, easy to tow, easy to venture into nature, easy to meander along town's streets, but also low-cost means to explore the surrounding world. By "definition", they are the next step from tents, providing very limited (to some - too claustrophobic) sleeping space, usually small, dedicated storage, and a very "basic" kitchen. The Vistabule however, took this "tent on wheels" concept to a much higher level. The "reversed teardrop" design offers few extra advantages:
Traditionally, in teardrops, the galley is located at the rear-end of the camper and it is accessible from the exterior (yes, there are exceptions like NuCamp TABs). The reversed shape offers substantially more room at the rear-end of the Vistabule camper, so the kitchen can provide more storage area and be better equipped.
 Moving the storage compartments (floor-to-ceiling headboard) to the back of the camper (high headroom area) allows for increased storage capacity. But at the same time, this layout frees the camper's front allowing for the installation of the panoramic window. Together with the 2nd large window in the rear hatch and large pass-through as well as side doors and portholes windows, the Vistabule interior offers an unusual for this class of trailers "open feel" with the "touch" of surrounding nature and stargazing opportunity…. It's amazing how this concept changed the typical "small container box" primarily designed as a sleeping shelter into a truly "living" (and sleeping) area to enjoy!
Thanks to abundance of windows you may wake-up morning with "million dollars view" in front of your eyes.
Source: "Vistabule Teardrop Trailer Review – A Classic Retro Camper Design" by Trigger (RV Supply Co)
Above: the headboard compartments open (bed in the folded-out configuration).
Below: Bottom compartments closed
Construction:
           Vestibule's shell is made from plywood, partially as part of the tradition, but also because the wooden interior creates a warm and friendly ambiance, to some extent alleviating the feeling of "tight space". The shell is mounted on a powder-coated steel frame (although the manufacturer also offers an option of 100 lbs lighter aluminum frame). Interestingly, the exterior is covered by sheets of painted aluminum (available in 8 colors) instead of popular these days composite materials. It seems to be a conscious decision to "pack" modernity into a "vintage" (plastic-less) design, but it's also worth mentioning that it is a low-maintenance finish. No wonder that some see similarities of Vestibule trailers to iconic designs of Airstream trailers. The reversed "teardrop" design also improves aerodynamics on high-speed highways, although frankly, for this size of the camper it will not be the major eco-contributor (the most important factor is "Small" (or "Good Enough" if you want, compared to the luxuriousness of big rigs).
Cabin
         The cabin is closely matching the size of the queen-size bed (precisely 58.5 × 78 inches). What's interesting, however, is that the sleeping space can be quickly (and easily) converted into a sort of "lounge" area. With the help of a spring-assisted mechanism, the bed slides back to a cozy couch providing extra space. But that's not all – the floor-to-ceiling headboard gives you easy access to what you may need. Flip-up door tables, collapsible sofa table, and the large pass-through to the galley help you to organize "indoor" life (in other words access to drinks, appetizers, snacks, etc to keep socializing going 😊…. ). Not even mentioning the available space (table) for games, computer work, entertainment and so on….
Interior dome and reading LED lights as well as a bunch of USB and 12Vdc ports are fed by 115 Ah AGM battery (optional reduced-weight Lithium is available) and 110Vac outlets (if connected to the grid) supporting requirements of modern life.
In both – day (couch) and night (bed) configurations, the large panoramic front window and doors windows offer visual contact with nature, while in the night - stargazing opportunity (you can sleep facing either camper's front or rear end). Opened doors or pothole windows will fill the cabin with sounds of nature (under the protection of mosquito screens).
In couch configuration, you will find access to two large storage bins on the floor. They are spacious enough for camping chairs, but also dry food, clothes, and any other items that do not need instant access (no access when the bed is open). Note that the easily accessible and sizable storage space for clothes, personal items, and "stuff" that you may need on a 24/7 basis is offered by headboard cabinets and shelves behind the couch.
The roof-mounted 10-speeds, 2-way Maxx Fan w/remote control helps to accommodate interior air temperature and its freshness according to your needs, while two large side doors provide easy in & out access.
Sofa w/table (lounge configuration) in contact with surrounding nature
On the floor visible 2 storage compartments 
At each door you will find practical (and sizeable) flip-up table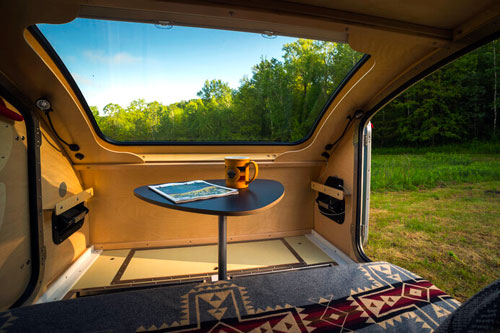 Thanks to panoramic window and wide side doors, being inside, you still stay in "direct" contact with surrounding nature
Galley
          A lifted upwards rear hatch offers access to the field kitchen at the same time offering shelter from weather conditions (scorching sun but also rain). The optional hatch bat wings provide extra protection from side winds and rain and are highly recommended.
The galley in its basic (standard) configuration may surprise you with the number of cabinets, shelves, pull-out drawers, cooler storage, and in general – organization of the space. Top cabs are ideal for spices, bottles (good wine helps to relax, but you may also need oil… 😊), as well as utensils, cups, dishes….
Under the counter space offers general-purpose storage space (cabinets w/sliding doors). While it may satisfy aficionados of "rustic life", the upgrade from the list of available options greatly increases the level of comfort. The sink w/ faucet, sprayer, and filter as well as 9-gallon fresh and grey water tanks, 2-burner drop-in cooktop with glass cover, 11 lbs LPG tank (front-mounted w/supporting system), 6-drawers cabinet combo, slide-out cutting board, pull-out cooler, portable refrigerator w/freezer gives you chance to transform rustic galley to a quite well-equipped kitchen.
A large pass-through to the cabin not only helps to socialize "in the company" of drinks and snacks but also makes it easy to serve larger meals inside of the cabin in the case of bad weather. BTW - the pass-through window is so large, that when towing, you may be able to see the road behind the camper.
Optional Hatch-Bat wings provide extra weather-protection
Standard upper part of the galley (the "bending" lamp just above the pass-through is an option).
Galley (here with optional sink and cooktop and cutting board)
Options
       The options can be chosen on an individual basis, although for the clarity, manufacturer sorter them for Interior, Galley, Climate Control, and more general – Trailer Options, (you can individually cherry-pick those you consider as necessary). While there are few aesthetic-oriented options designed to match individual "tastes", most options are clearly contributing to improved functionality, safety, and comfort of the trailer.
Off-road/Off-grid
          The basic version of Vestibule trailers is not specifically designed for challenging off-road adventures. However, thanks to sturdy 2,200 lbs torsion axle (largely exceeding the trailer's fully loaded weight), 205/75R14 wheels, and 10 inches of ground clearance (off-road option versus 8" for the standard), it can easily navigate unpaved paths. As an option, the nose and fenders may come with an "invisible" 3M rock guard!
The pre-wired solar installation (Zamp) is part of the standard package. The list of options includes a 90W portable panel and/or 130W roof-mounted panel. It's not a lot, however (with a fully loaded battery) you can extend the off-grid time for few more days having enough energy for lights, phone chargers, and computer.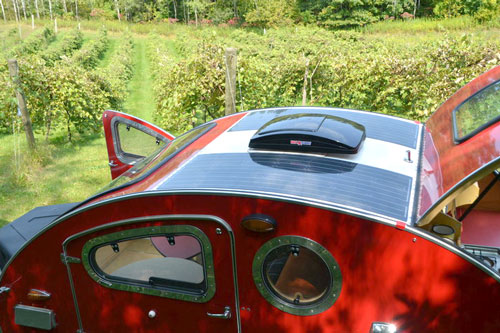 Optional roof-mounted solar panels
Specifications
---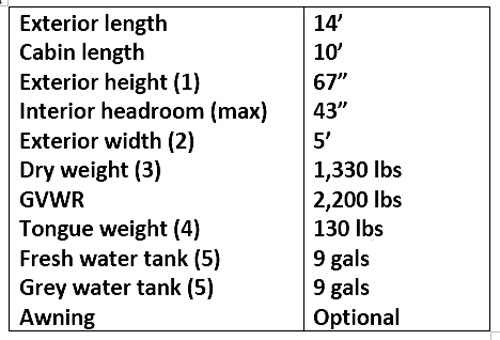 ---
1. From ground to the top of fan cover
2. With fenders 6' 10"
3. Fully loaded – approximately 1,700 lbs
4. Standard (basic) version; about 160 lbs with propane tank
5. Optional
Construction:
Frame: Powder-coated steel (optional, lighter aluminum frame)
Shell: plywood 
Exterior finish: 0.040" painted aluminum
Interior finish: Wood (blonde-hued Baltic birch
Axle: Torsion  (Pioneer Rim & Wheel)
Coupler: 2" ball hitch w/ Demco EZ-Latch
Wheels: ST205/75 R14 w/chrome lug nuts & hub covers
Ground clearance: 8" (10" as Off-road option)
Galley counter height: 40"
Windows: Safety glass (front), tempered glass (rear)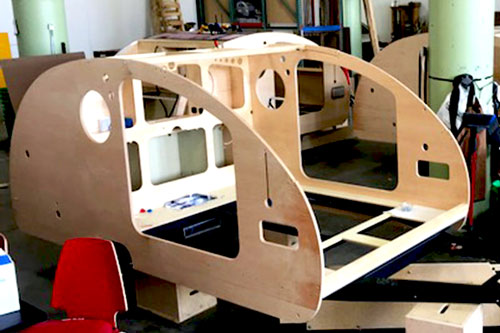 Vistabule shell (production stage). Source: "Vistabule Trailer Update" - Edward M. Huff)
Standard Version
ST205/75 R14 wheel w/chrome lug nuts & hub covers

Interior
Convertible sofa bed w/4" mattress (sleeping area 58.5" x 78")
Front window w/shade
Door and porthole windows w/ shades (operable w/sliding screens)
Pass-through w/sliding screen
Flip-up door-mounted side tables
Collapsible sofa table
Front ventilation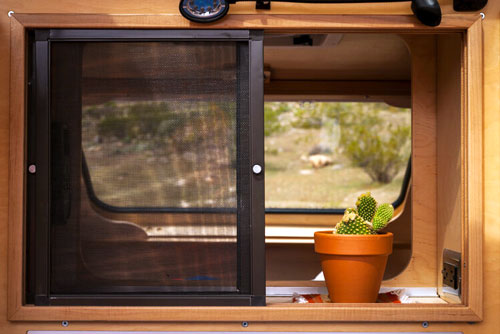 Large pass-through window sliding w/insect nets
Ventilation
Galley
Laminated galley counter with sliding doors below
Galley-top cabs (spices/bottles/silver/cups/dishes)
Large pass-through to the cabin w/sliding screen and shades
Galley dome light
USB, 12 volt & 120Vac outlets (120ac only when connected to grid)
Galley's power bar
Electrical
120Vac shore connection
120Vac/10A battery charger
2 dome lights & 2 reading lights
10 speeds, 2 way Maxx Fan w/remote
2 exterior porch lights (above doors)
Solar prep (Zamp connector)
115 Ah AGM Battery (option – Lithium battery)
120Vac to 12Vdc battery charger
Typical cable for shore connection (above the Zamp solar connector)
Exterior
Ark XO350 tongue jack
Mini spare tire, mounted under A-frame
2 x large doors w/compression latches
Porch lights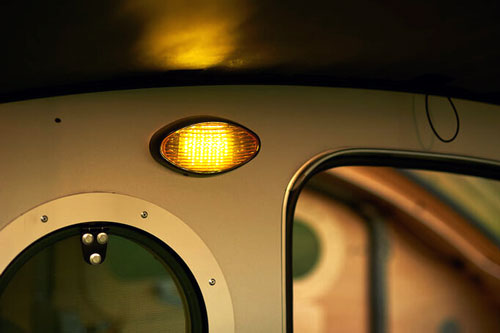 Porch lamp (here also visible part of the opened awning)
Storage
2 x under bed storage compartments
Headboard (floor-to-ceiling w/3 x cabinets and upper shelves)
Tongue-mounted storage box
Front storage compartment with lift-off lid (optional)
Under-the-floor deep storage compartments (here opened)
Options
Interior
Stargazer package (cabin front reading light, dual USB outlet, device shelf)
Mood lighting (selectable color LED lights in headboard openings)
Overhead sofa table light (directional)
Front storage compartment with lift-off lid 
Blackout honeycomb shade (replaces standard light-filtering shade)
Froli sleep system (surface mounted springs under mattress)
Here with an optional awning: Side windows open (they come with shades and insects nets)
Galley
Two burner drop-in cooktop w/glass cover
9 gals Fresh water tank, pump, and filter with sink, faucet, and sprayer
9 gals gray water tank 
Pullout cooler cabinet (center) + 3 drawer with cutting board (right)
6 Drawer cabinet combo (wide center + narrow right with cutting board)
Powered Cooler (30W Dometic CFX)
Portable freezer/refrigerator - installed (12/24V DC, 120V AC)
Hatch bat wings & door window shades
Adjustable galley light (directable light for night cooking)
Hatch bag set with mirror 
11lb propane tank, regulator and propane hose system
Custom countertop laminate choice
Set of drawers
Climate Control Options
5k BTU air conditioner (requires shore power)
Furnace (requires propane system)
Trailer
Premium exterior color 
Aluminum frame (100 lbs lighter than standard steel one)
Electric brakes
ARK XO350R (Ratcheting) Jack Upgrade
3M invisible rock guard (nose and fenders)
Lithium-Ion battery package (100 Ah LiFePO4)
Zamp portable solar panel (90 Watt)
Custom side awning
Rooftop solar panels (130W)
Black tongue box for exterior storage
Tongue mounted 2-bike rack
Starter Kit (collection of useful trailer accessories)
Teardrop cover
Autobrake (Proportional brake controller-installed in trailer)
Optional portable solar panels (here also visible full size of the rear hatch doors creating the shelter)
Once Bert Tylor was overheard saying: 
"I wanted to take the cave on wheels and turn it into an observatory on wheels," he says. (source: St. Paul Pioneer Press, Dave Orrick).  In fact, he achieved his goal.
Keep in mind, however, that the Vestibule teardrop trailer is designed for campers, not for RV-ers! It offers the level of comfort exceeding expectations for this class of RVs and still has all advantages of small (compact) travel trailers – lightweight, easy to tow by most cars, and easy to store in the typical garage, 
Unless otherwise indicated the pictures are property of Vistabule.
Go back to : --> Best Small Travel Trailers
---
Note:  Check with the manufacturer and / or authorized RV Dealer for the up-to-date list of features, options as well as latest specifications. These written above may not be accurate and certainly are subject to change by the factory. We are not responsible for any inaccuracy, the above text is provided only for the general information.
This review was written based on publicly available information for the benefits of the community of RV-ers. We do not receive any gratification or financial benefits from RV manufacturers, dealers, and any other promoters of RVs. 
We are NOT involved in sale and/or retail of RVs!