Wide Path Bicycle Camper
Wide-Path Campers (Denmark) offer a hard-wall, folding-out campers for pulling by bicycles; lite, compact for travel, unfolded they offer tight "shelter' for 2....
        Danish Wide-Path Campers (privately owned company recently acquired by Thomas Møller Pedersen) makes some of the smallest expandable campers. 

         They are designed in few versions – for towing by small cars, motorbikes and the most interesting for us – for pulling-behind bicycles.   While the shape and folding-out concept are shared by all three versions, they differ when it comes to chassis (suspension and wheels), body strength, features, payload and ultimately – weight.
The bicycle camper shell is made from strong, UV-resistant, semi-insulating foam. For travel, the rear half-shell folds-in over the front one creating the compact, about 5ft long structure sitting on two bike-type wheels.  For camping, the rear shell can be almost effortlessly folded-out by pulling it manually from the rear. The set-up process takes no more than 3 minutes (similarly as the folding-in). The whole structure weights just under 100 lbs (extras and cargo will change this number). 
Wide Path bicycle camper in folded-out (camping) configuration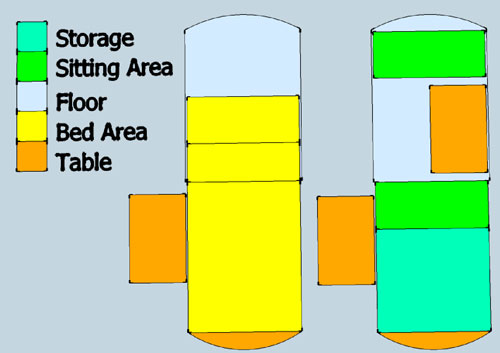 And its floor-plan: set for the night (bed) and set for the day ("dinette w/two seats and table) 
       When unfolded, camper's interior offers roughly 9ft long and 3.2ft wide living space. Two "seats" with folding table in between offer enough of space to eat meals. While there is enough of room to prepare simple breakfasts, meals need "exterior kitchen" and obviously favorable weather conditions. You have to keep in mind however, that the main purpose of the WP-Camper is to provide the shelter and sleeping place.  Five adjustable stabilizing legs make the camper stable when folded-out.
While interior provides enough of space for 2 persons to comfortably seat, eat, play games (what else you can do in a rainy day) etc… it is highly questionable if it can sleep two. The bed's length (78 ¾") is certainly more than needed however the width of just 35 ½" will make you feel like a squeezed sardine in a box. So, while the manufacturer claims that the Wide-Path bicycle camper is designed for two persons, it may not be the case (it will be very personal decision).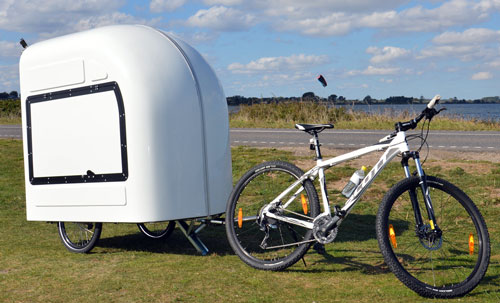 When folded-in for travel it is a "compact box"....
       Towing 100 pounds behind the bike (more with all extras and a camping gear) can be a difficult task even for hard-to-die bikers (especially in hilly areas). At the buyer's request, the factory can install the dual pulling arm for two bikes. While it will greatly help to pull the camper down the road, it leaves a big question mark when it comes to sleeping two persons (see above). Another suggested option is a "little help" of electric-engine assisted e-bikes. In a sunny day, the optional Solar Package probably can address energy needs of an e-bike (normally it is designed to feed LED lights, vent fan and few USB ports for charging phones).
In fact, the Wide Path Campers offers several optional packages making the biking trip more comfortable. The most useful seems to be the Kitchen Package offering exterior kitchen with 1-burner ethanol stove, cooking and dining sets. table and all sorts of "kitchen tools". The Luxury Package (as its name suggests) offers more comfortable bed, while the Outdoor Package extends the living space (awning and 2 folding chairs). Needless to say that the mentioned above packages are especially designed for WP bicycle camper, so they are extremely lite! 

Interior is roomy enough for sort of "dinette" for two persons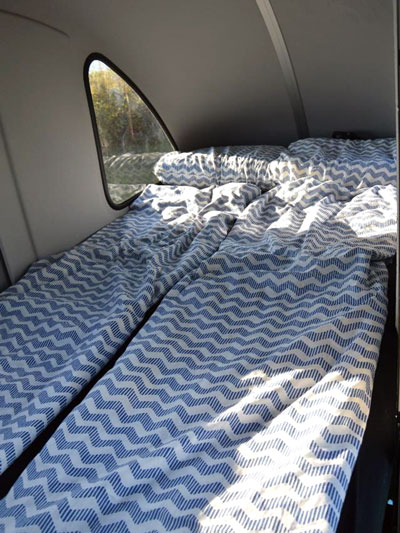 However you look at it - the bed is narrow, but if you do not have what you like, you should like what you have. In other words - enjoy roof above the head for two :-) 
Specifications
---
External Length (road config).

External Length (camp. config)

Exterior height

Exterior width

Floor over ground height

Interior overhead (1)

Dry weight

Max. payload

Storage capacity (2)

Bed size

Interior space

4.9' (1.5m)

9.4' (2.85m)

69" (1.75m)

38.2" (97cm)

19.7" (50cm)

56" (142cm)

99 lbs (45kg)

?

10.5 cu.ft (300 l)

35.5" x 78 ¾" (0.9m x 2m)

28 sq.ft (2.6 sqm)
---
1. At the peak
2. Storage volume is not the real limit, it is rather the weight of stored "stuff".
OK, time to see it "in motion" and I'm sure after watching this video you will say: Wow! :-)
Construction
Shell: Hard walls from semi-insulating foam w/shiny UV-resistant finish
Design concept: two manually folding in/out half-shells
Windows: clear, shatter-free polycarbonate
Floor: water-resistant plywood
Standard features
Sitting area convertible into bed (35.5" x 78 ¾")
2" thick cushions (used as mattress when seats converted into bed)  
Under-bed storage (10.5 cu.ft)
Nightstand
Interior dining table (19.5" x 29.5")/(50 x 75cm) 
Ventilation slot (front)
5 Stabilizing legs (2 front, 2 rear, 1 central)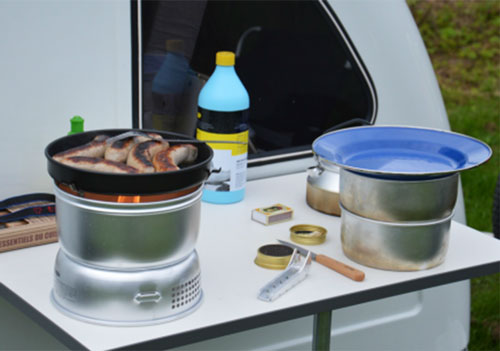 Optional Kitchen Package seems to be very useful!
Options
Awning (6.5' x 7.9') w/2 carbon-fiber poles
Optional Packages:
Luxury Package (4" thick cushions, Throw pillows, Table cloth)
Outdoor Package (outdoor table, 2 lite camping folding chairs, 
Kitchen Package including: 1-burner Ethanol Stove, Cooking Set (pots, pan, kettle and spoon), Enamel Dining Set for 2 (cutlery, cups), knives set, chopping board, dishwashing bowl, lite Cooler Bag, Folding Water Container (2.1 gallon), broom & dustpan
Solar Package (47W panel w/regulator, 12V/24Ah lite battery, 4USB Ports, LED Light, Ventilation Fan, Power switch w/indicator, Control Panel) 
See --> Review of Bicycle campers
All pictures are courtesy of Wide Path Campers
Note:  Check with the manufacturer and / or authorized RV Dealer for the up-to-date list of features, options as well as latest specifications. These written above may not be accurate and certainly are subject to change by the factory. We are not responsible for any inaccuracy, the above text is provided only for the general information.
This review was written based on publicly available information for the benefits of the community of RV-ers. We do not receive any gratification or financial benefits from RV manufacturers, dealers, and any other promoters of RVs. 
We are NOT involved in sale and/or retail of RVs!
---