Wildcat Maxx 242RLX
2017 Fifth Wheel Campers
Wildcat Maxx 242RLX fifth wheel is a mid-size half-ton camper designed for up to 4 persons; lite, easy to maneuver it is well equipped for 4-seasons vacations...
       Wildcat started production of RVs in 1992. Their fifth wheels and travel trailers are known for unique floor-plans and long list of options. In recent years the company was acquired by the Forest River Inc and now is part of this large RV Group.

From the Wildcat Maxx "Half-ton" series of fifth wheels for this presentation we selected the smallest model - 242RLX.  Let's make it clear from the beginning – it is a "medium-class" camper quite far from high-end luxurious models.  But the 242RLX has many strong points that can make it an interesting choice for many owners of pickup-trucks starting their RV-ing journeys of for those already on retirement and looking for affordable traveling. 
       With its length of 28'3" and dry weight of just 7,678 lbs it can be towed by any full-size pickup truck. While regarding length and weight certainly we could find comparable models, what makes the Wildcat Maxx 242RLX different is its very unique (and interesting) floor-plan.
Wildcat Maxx 242RLX fifth wheel camper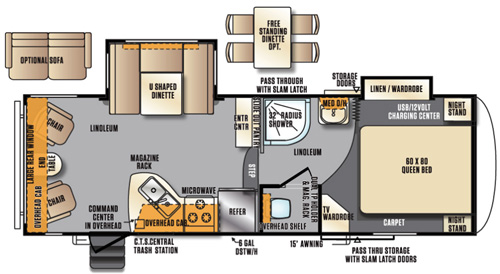 and floor-plan
     In its basic configuration, the camper is designed to provide comfortable living and sleeping for 2 persons. The bedroom combined with vanity and shower forms a "Mini-Suite" that feels more spacious than it really is.  On the other hand, optional free-standing table with chairs (in place of standard dinette) gives more "residential-like" accents into the living area.

      The Wildcat Maxx 242RLX camper has two slide-outs. The one in bedroom houses the wardrobe, while the second one in the living section includes the dining corner (U-shaped dinette as the standard feature).  Interestingly – the camper has one more slide-out, but this time fully internal one. It is the slim pantry sections "hidden" behind the Entertainment Center and accessible when pulled out. This is just one (but not the last) example of uniqueness of Wildcat designs.

Master Suite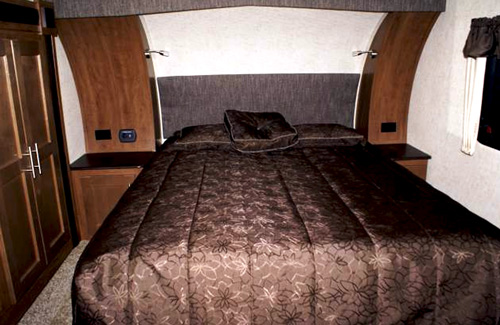 Bedroom (note that the left nightstand is wider than the right one)
Bedroom: slide-out wardrobe (note lack of mirror doors)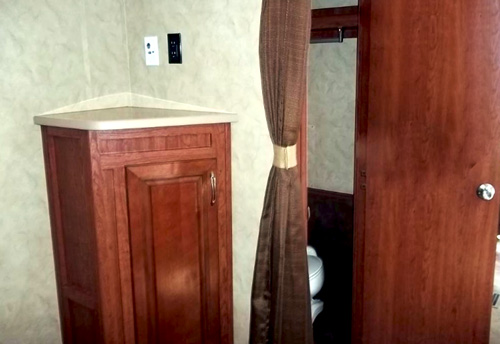 Corner wardrobe with place for TV (see cable hook-up and 120Vac receptacle)
      The walk-around queen-size bed with pillow-top mattress and bed spreads is part of the standard features. Two nightstands on both sides of the bed offer space for what you may need late evening (books, magazine), or early morning (cup of freshly brewed coffee). But thanks to USB/12Vdc charging station as well as 120Vac receptacles you can also bring here your computer, iPAd or phone to keep "connection" with the outside world. 
      The slide-out wardrobe offers two sections – one larger for hanging cloths with a shelf below and second one narrower only with shelves. But that is not all when it comes to storage. The stand-alone corner cabinet adds more room for "stuff", but also offers space for small flat screen TV (the cable hook-up is right there). And as expected, the bed's box offers a large storage space that thanks to gas-struts is so easily accessible that can be used even for things you may need on the daily basis.
Wooden finish on the front-wall brings an elegant accent to the sleeping section.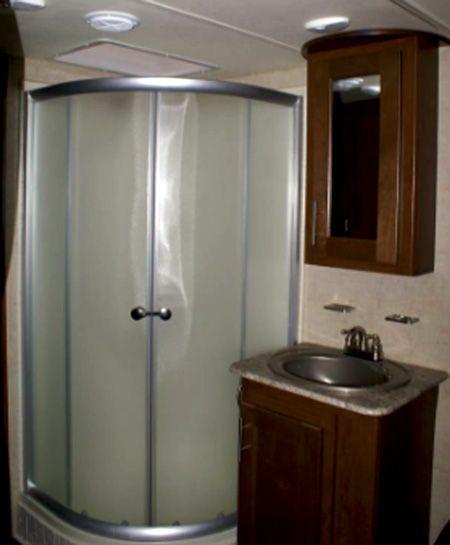 Bath: radius shower, vanity, medicine cabinet (see holders above the sink)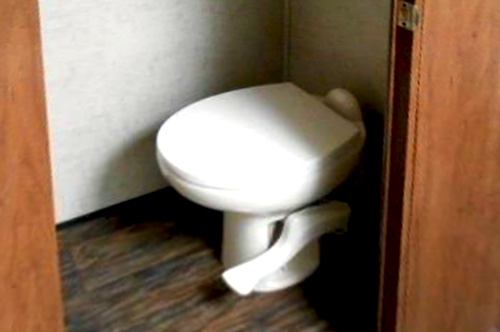 Private Toilet
      The Master Suite includes the stylish radius shower cabin with sliding glass doors, skylight, vanity with sink and medicine cabinet with mirror doors.  This extra space shared with the sleeping place makes the front section more spacious and frankly, it is the fact, not just the feeling. Worth to note are small details like soap-dish and tooth-brush holders on the wall above the sink, dual towel racks… nothing special, but very practical and not always available in medium-size campers. 
The private toiled is located across the shower. It includes the porcelain, foot-flushed toilet and built-in wooden dual toilet paper holder with magazine rack (really nice solution)!
      The sleeping section is separated from the bathroom by a sliding curtain, although in "two- person scenario" there should be no many reasons to use it. But no worry - the Master Suite is separated from the kitchen and living area by assuring full privacy sliding wooden door.
    And one more important note: the Master Suite has full stand-up height (with exception of the area close to bed's headboard due to the aerodynamic curvature of the front-cap).
Kitchen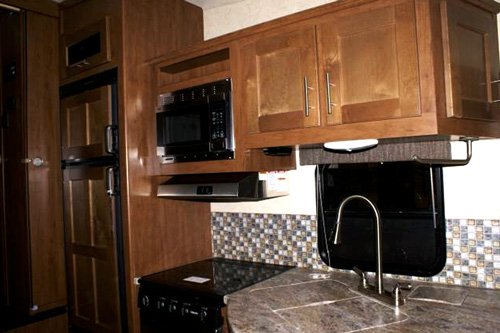 The galley (here the sink with cover)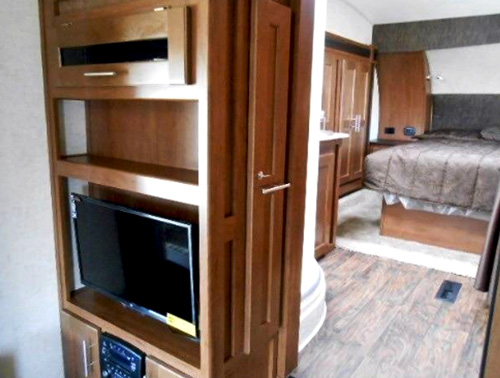 The pantry slid-out is visible behind the Entertainment Center (below pulled-out)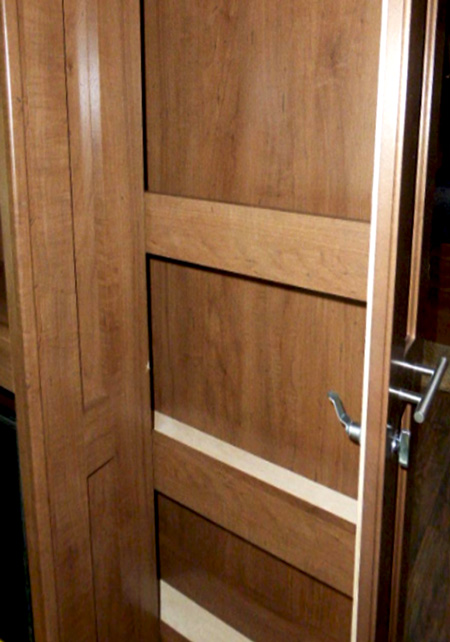 The galley (located on the curbside of the camper) makes an integral part of the living area – altogether slightly larger than the front Master Suite. Equipped with stainless-steal appliances, hardwood door cabinets and Corian-like looking countertops it makes an elegant component of the living space.
The galley includes 3-burner range with hood, microwave oven and 2-way refrigerator with freezer. The large standing cabinet with sink and drawers as well as overhead cabinets may not offer too much of space, but nevertheless, it should be more than enough for two (or family of parents with small children).
Matching countertop's surface sink cover increases the working area dominated by high-rise faucet with pull-out sprayer. The window facing the countertop with sink (and so working space) can be only highly appreciated. And there is cleverly designed pantry hidden behind the entertainment center. It is a sort of "sliding-out-door" with shelves- pockets making it an ideal place for all kind of kitchen supplies and ingredients (spices, sugar, pasta and the list can go on….

Living/Entertainment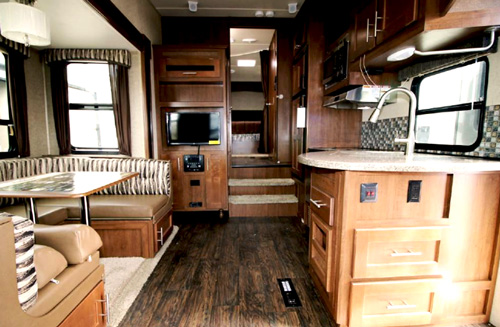 Wildcat Maxx 242RLX - interior seen from the rear end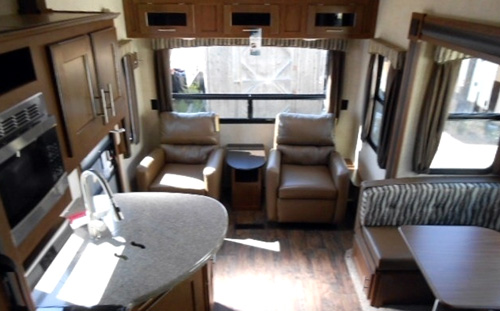 and here the view from the kitchen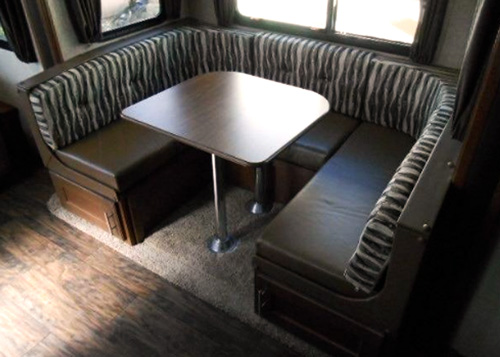 Dinette take all space in the main slide-out
      Due to camper's small size it is difficult to clearly identify the living area. It is all integrated with kitchen and the dining section. However the rear part of the camper has all you need to comfortably serve the meals, relax (reading, watching TV, listening to the music, playing favorite games or working on computer). The standard configuration offers two deep lounge chairs/recliners at the back with sizeable table with magazine rack in between.
The U-shaped dinette (housed in the deep slide-out) is considerably oversized providing seating for at least 6 persons. So it's actually a "multipurpose" area not only for meals but also for any kind of work or games  if needed. Understandably, you will find precious storage space under the benches and in overhead cabinetry. 
     If you need more "residential-like" ambiance, the dinette can be replaced by an optional free-standing table with chairs. But frankly, this 242RLX fifth wheel camper is more practical with oversized dinette than with the free-standing dinner table.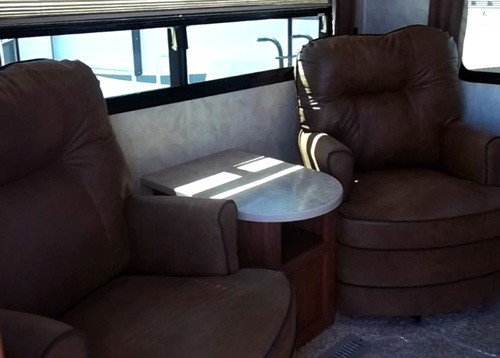 Small, but nice "lounge-corner"....
or an optional sofa-bed
     The rear lounge chairs offer not only a lot of comfort. They make a charming, somehow "isolated" from the rest of the camper relaxation corner. However if more sleeping space is needed the chairs can be replaced by an optional tri-fold "hide-a-bed" sofa. Well, it's something for something – you will miss the "privacy & soft ambiance" of the lounge-corner, but gain the extra bed for children.
The entertainment center is located on the opposite side facing the Master Suite bath. The cabinetry includes the 27" HD TV and typical stereo set combining "everything" (it means today's standards CD/DVD/AM/FM/USB/Bluetooth and probably HDMI as well as speakers!).
The large panoramic windows makes the rear area bright during the day, LED lighting throughout and plated shades offer what you need for evenings and nights.
Exterior

      The 15 ft wide electrical awning with LED light strip is a standard feature. It extends your living space into the nature (provided you wisely selected your camping place). Nevertheless, in good weather conditions it's a nice place to be. The large pass-through storage certainly gives you opportunity to carry camping equipment (folding chairs, table, bbq etc…) to set-up the outdoor room. Music from exterior speakers will make it more pleasurable (although be wise – give also chance to "Sounds of Nature"…).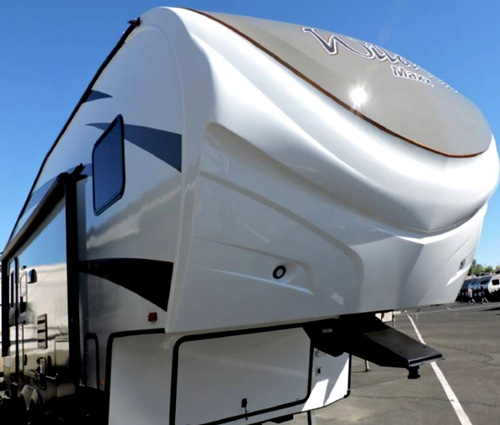 Standard 15ft wide electrical awning (here in closed configuration)
More "Pros"
       As for the mid-size camper designed for basically 2 persons (eventually with kids) the 242RLX has oversized water tanks. 87 gallons of fresh water and matching size of grey and black tanks offer a remarkable "out-of-civilization" autonomy. The standard solar prep is the first (but important) step towards energy autonomy upholding the claim of considerable "out-of-grid" autonomy (note also 2 x 30 lbs LPG tanks).
Another important feature is the standard ClimatechTM Cold-Weather All Season Package allowing you to plan (and enjoy) your vacations regardless the season of the year. The standard extra rack on the camper's back (with load of up to 250 lbs) helps to take some "bulky" stuff but use it only when needed (remember that "More", does not automatically mean  "Better").
Some "Cons"
We certainly understand that the Wildcat Maxx 242RLX is not the luxurious camper, and especially, due to its small size and weight some "compromises" and "corner-cuts" are necessary. Few things however may be easily changed at apparently no cost.
The entrance steps: today's standard is aluminum with anti-slip grip and LED lights. Wildcat's steel steps look really outdated and most likely are less safe (or led "friendly").
Pass-through storage: In many fifth wheel campers (even higher-end ones) this storage is obstructed by water/sewer pipes. It is also the case of the Maxx 242RLX, however due to its smaller size it is even more important to make it "more user friendly". We also noticed that the pass-through storage door is not opening upward like in most modern campers, but from right to left. Obviously the upward opening with slam-latch lock is more space and safety oriented solution.
The wardrobe in the Master Suite does not have mirror doors. As we know, mirror is an essential tool for our 'better-halves" but more seriously – mirrors make the tiny space brighter and feeling larger. So it is something to consider. And another "shortcoming" - no sliding door, in the current version opened doors take a lot of space!
The last one – cabinets' handles (especially kitchen's cabinet drawers next to the entrance door and in bedroom's wardrobe doors) are too big, sticking out too much. Given the tight space in Maxx 242RLX camper (but this claim will be valid for all campers), you can easily heart yourself when moving too close to the mentioned cabinetry and closets.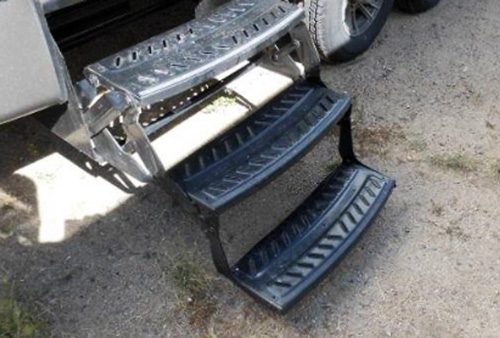 Entrance steps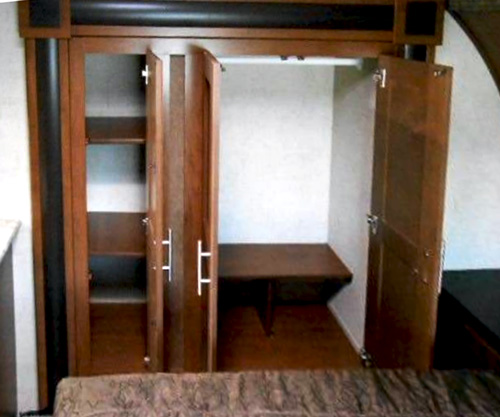 Open wardrobe obstructs movement....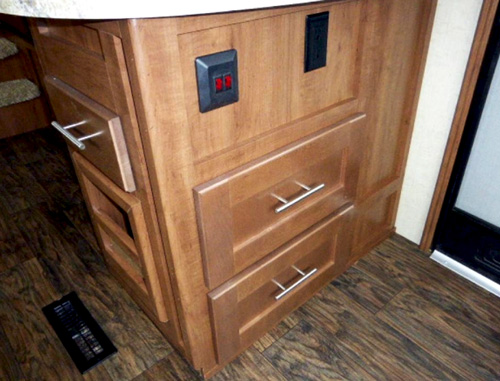 See how handles are obstructing free movement (actually you can hurt yourself)
Specifications
---
Exterior length

Exterior height w/AC

Exterior width

Interior height




Dry weight

Hitch weight

GVWR

Cargo capacity

Fresh water tank

Grey water tank

Black water tank

LPG

Slide-outs

Floor-plan

Awning size

28'4"

12'2"

96" 

?

72" slide-out room

7,678 lbs (1)

1,224 lbs

11,384 lbs

3,706 lbs

87 gals

79 gals

39 gals

2 x 30 lbs

2

Rear living/front MB Suite 

15 ft
(1) - standard features
---
Construction
Chassis: HD steel I-beam
Body:  welded, aluminum-framed with 2" thick Alumacat vacuum bonded fiberglass laminated walls
Cap: fiberglass, gel-coated
Roof: 5" roof rafters (16" OC), 3/8" decking with One-piece Alpha Super Flex membrane
Floor: 5/8" seamless decking (main), 1.5" plywood decking (slide-out) 
Axle: dual, E-Z lube
Insulation:  ClimatechTM Cold-Weather All Season Package (includes enclosed, heated underbelly and high R-value thermal insulation)
Wheels: Aluminum rims, R15 tires (optional R16)
Interior: vinyl decorative wall boards
Turning radius: optimized for short-bed trucks
ClimatechTM Package (Standard feature)
Underbelly:  R-38 Astrofoil with R-7 fiberglass and 12V heaters under each tank 
Floor:  R-38 Astrofoil plus R-7 fiberglass
Ceiling and Front/Rear walls":  R-38 Astrofoil and R-14 fiberglass
Side walls (including slide-outs) /raised upper deck: R-10 blovk-foam
Slide-out Floor: R-38 Astrofoil 
External Storage:  heat ducts
Attic: Vented (removing summer heat/winter moisture)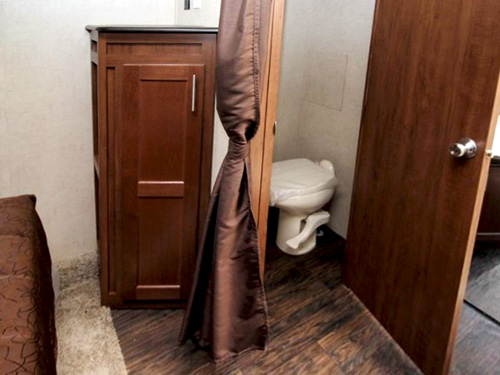 Private Toilet with doors, also visible the curtain that can be used for privacy (separates the sleeping space from the bath)

Bedroom
Queen-size walk-around bed (60" x 80") w/under-bed storage
True Serta pillow-top mattress
Bed spreads
Two nightstands
Linen/Wardrobe slide-out
Corner wardrobe
USB/12Vdc charging station and 120Vac outlets
Reading lights
Carpet floor
Roof vent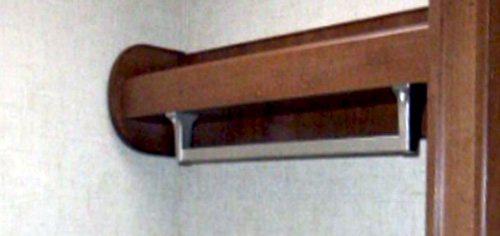 Coats rack in the toilet (sounds strange, but in fact there is a lot of free space there)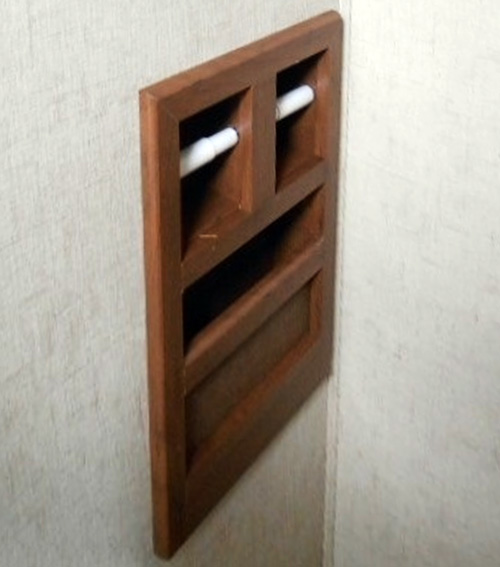 Toilet paper holder with  magazine rack
Bathroom/Toilet
Radius shower cabin with sliding glass doors
Vanity w/sink 
Wooden medicine cabinet w/mirror
Skylight (above the shower)
Power Vent fan
GFCI Receptacle
Towel racks
Porcelain foot-flushed toilet (private room)
Built-in wooden dual toilet holder w/magazine rack
With covered sink, there is a lot of working space in the galley
Kitchen
3-burner 22" range w/hood (light and vent)
2-way, 8 cu. ft refrigerator and freezer
Microwave
Dual-bowls stainless-steel flush-mount sink w/covers 
High rise faucet w/ removable sprayer
Wooden cabinets doors/drawers with full-extension steel ball-bearing guides
Solid-surface countertops
Pantry (interior slide-out)
Living area
Two lounge-chairs/recliners with table in between (or optional Tri-fold /Hide-a-bed sofa
Extra-large U-shaped dinette with storage under (or optional free-standing table w/4 chairs)
Overhead cabinets
Large panoramic windows
LED lights
linoleum (vinyl) flooring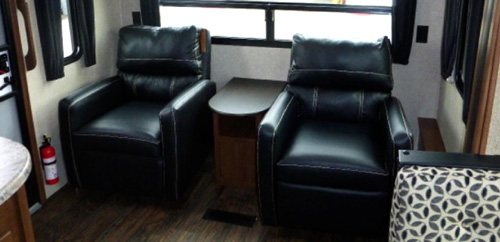 Another version of the lounge chairs
Entertainment
27" LCD-TV
CD/DVD/AM/FM/ AV system w/Bluetooth and USB
Surround-sound speakers  
Exterior speakers
Satellite and Cable TV hook-ups
TV antenna w/booster
Interior features
LED lighting throughout
Stainless-steel appliances
Shaker-style real hardwood cabinets w/hidden hinges
Plated night shades
Slider windows at ends of slide-outs
Floor:  Glued, residential Trekk linoleum / carpet with Stain Guard
Coat rack
Tinted glass windows
Finish: wood/wallpaper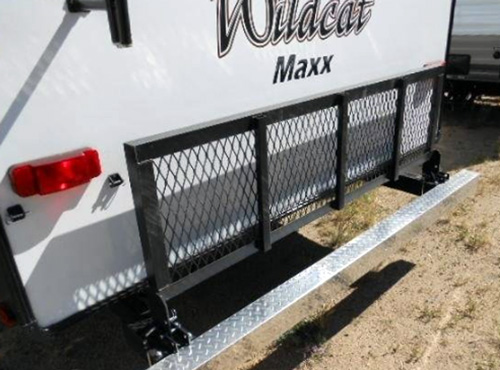 Rear rack helps to carry bulky items
Exterior features
15ft electric awning w/LED light strip
Roof ladder
Pass-Through stotage
Slam latch baggage doors
Rear rack (250 lbs cargo capacity)
Universal Docking Center (city water, black tank flush, cable/satellite)
LPG tanks w/storages
Climate
35k BTU furnace /ducted
13.5k BTU Air Conditioner
Vented attic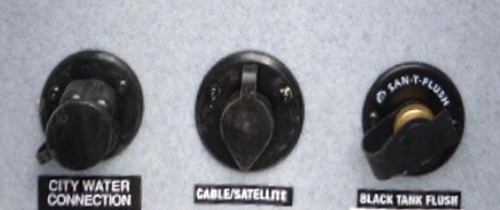 Universal Docking Center
Water
Extra Large and heated fresh/grey/black tanks with level gauges
10 gallons DSI Water heater (electrical)
Black Tank flush (UDC)
City Water (UDC)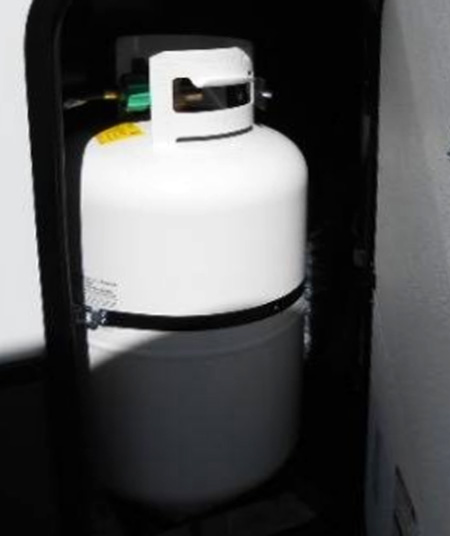 There are 2 LPG tanks - each in an independent storage
Electrical
Roof-mounted solar prep
Backup camera prep
Complete interior/exterior LED
Battery Disconnect Switch
Touchscreen Remote Control Unit (slide-outs, awning, ….
Command Center w/Monitor Panel
USB/12Vdc charging stations 
GFCI 120ac receptacle (bath)
120Vac outlets 
Auxiliary battery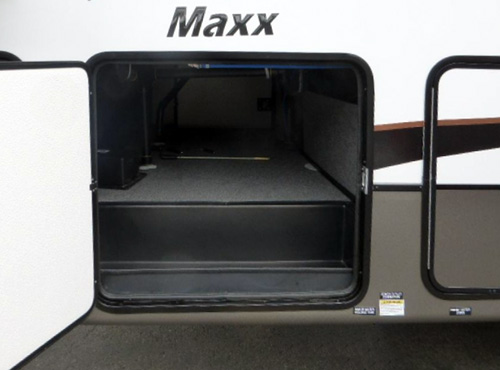 Pass-through storage (note that the door opens on the side)
Safety
Backup camera prep / (optional camera)
Fire Extinguisher
Alarms (CO, LP and smoke detectors)
Emergency exit
Spare tire
Options
Free-standing table w/ 4 chairs
Rear-mounted rack with 250 lbs load capacity (option)
Solar panels 200W (up to 400W)
Backup Camera
R16 wheels/tires
4-point electric auto-leveling
15k BTU ducted roof A/C
50 A service
Corian counter-tops
Dual-pane windows
Keyless entry
Summarizing: The 2017 Wildcat Maxx 242RLX fifth wheel camper is a nice, practical and affordable solution for those already owning one of popular pickup trucks. It's light, easy to maneuver and given its mid-size it is well-equipped to offer comfortable all-seasons vacations for couples (2 or 2+2)…. In its basic version you can find new 2017 models selling for around 32k$.

See more fifth wheel campers at: --> 2017 top Fifth Wheels
Note:  Check with the manufacturer and / or authorized RV Dealer for the up-to-date list of features, options as well as latest specifications. These written above may not be accurate and certainly are subject to change by the factory. We are not responsible for any inaccuracy, the above text is provided only for the general information.
This review was written based on publicly available information for the benefits of the community of RV-ers. We do not receive any gratification or financial benefits from RV manufacturers, dealers, and any other promoters of RVs. 
We are NOT involved in sale and/or retail of RVs!