ORM Wind-River-280RLS
Luxury Travel Trailers
Wind River 280RLS travel trailer from Outdoors RV is a prove that luxury and wilderness can meet (and live) together when you take your camper off beaten tracks….
      Outdoors RV Manufacturing started operation in 2009 when Ron & Sherry Nash purchased Fleetwood Travel Trailers plant in LA Grande (OR). 

That sounds – like just yesterday, however for future customers it may be important to know that they did not start this "old-new" RV business from scratch. Being already owners of Northwood Manufacturing (Arctic Fox & Desert Fox RVs), together with the management team they brought to the new company over 300 years of experience in RV business…
And that experience combined with the location in NW US close to Canada where the Mother Nature is still preserving its "virginity" prompted them to design and manufacture RVs for outdoor, off-road, off-grid and all seasons conditions. The company's name "Outdoor RV" not only promises that, it also obliges….
      Currently ORM manufactures series of Glacier Peak (5th wheel), Black Rock, Creek Side, Timber Ridge, Wind River and Blackstone travel trailers. The last two series represent luxurious travel trailers of which we will present here the model Wind River 280RLS.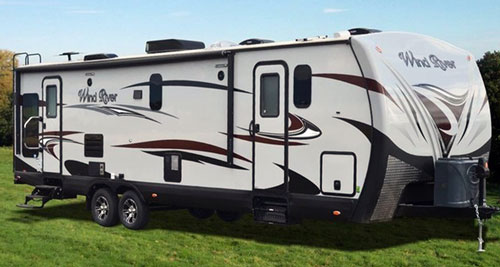 Wind River - model 280RLS
       It's the model with front bedroom, central kitchen and rear lounge layout (the last two making the living area). Designed to enjoy "Outdoor experience like no other" (which means for off-road conditions) the Wind River 280RLS offers two entrance doors. It seems to be clever idea to have the private entrance to the Master Bedroom area and the common one to the Living Room and Kitchen (think about the mess on the floor when you come from the meeting with the Mother Nature)…
As a real off-road and 4-season travel trailer, the Wind River 280 RLS has fully enclosed underbelly. It allows for installation of floor's thermal insulation (layers of fiberglass) and protection of water tanks and pipes from freezing (heating pads). Unclosed underbelly also provides protection from road debris (especially important when you leave behind highways and start driving on dirt roads). And an extra bonus is better aerodynamic profile (in other words better fuel efficiency when driving at higher speed on highways).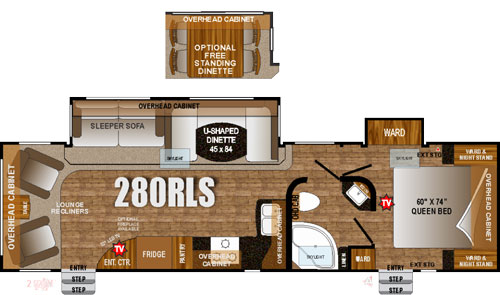 and its floorplan 
Improved overall thermal insulation (R-29 equivalent roof, R-15 walls and slide-out floor), Thermal Pane windows as well as Diamond Plate front cap protection from road debris make this camper well prepared to bring "residential-like" luxury into wilderness.   

Bedroom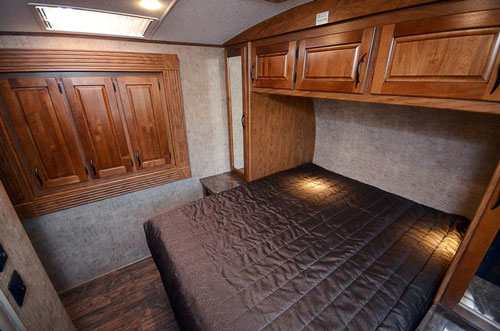 Bedroom with its generous queen-size bed, side wards with night-stands and main ward in slide-out
Elegant French door marks the entrance to the Master Bedroom
       The bedroom includes the walk-around 60' x 74"queen-size bed with comfortable "Dream Soft" pillow-top mattress. Contrary to often used approach of placing the bed in the side-out, here the bed takes the front of the trailer. Instead, the extra ward is located in a small slide-out. While the trailer is wide enough to offer room for wards and night stands on both sides of the bed and generous overhead cabinets along the front wall, certainly this floor configuration makes the Master Bedroom a bit confined.  Another negative aspect is the lack of an "opening to the outside". Just one small window combined with another one in the entrance door and the skylight - are not up to change this picture. 
Under the bed storage and an extra ward located next to the outside door nicely add to the overall storage space (especially the latter is very handy).

So what's the possible gain of such floor configuration? Probably it is "thermally" better for 4-seasons campers and mechanically stronger for off-road adventures.
On the positive side – the beautiful French door with eight glass panels leading to the living area adds much expected residential touch.  Also as expected from the Master Bedroom – there is a private entrance to the bathroom (the downside – it should be rather the sliding door instead of outward opening hinged one).
The bedroom comes with TV prep installation (power, cable) - I'm not sure it can be a substitute for the colors, shapes and sounds of the nature, but just in case if you need it – it's there.  
Bathroom

Bathroom: elegant vanity w/medicine cabinet (above) and shower (below)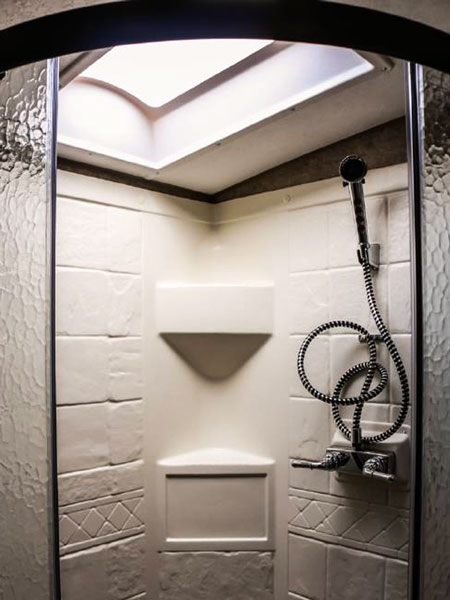 The radius shower cabin with the overhead skylight is the central point of the bath.  Next to it stands the porcelain toiled with foot flush. The vanity with sink and medicine cabinet are in the opposite "rounded" corner, between two doors (one leading to the master bedroom and the second one to the living area). The wall-mounted hair dryer is certainly a nice and very practical addition;  together with decorative lights they make the bathroom look like a familiar place…. 

Kitchen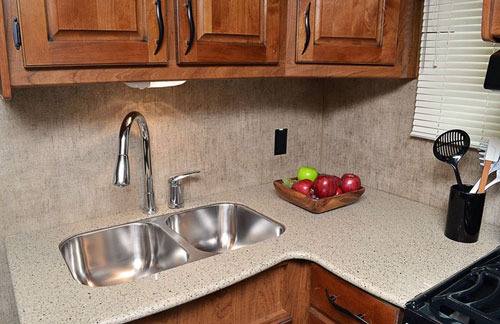 Kitchen - stainless steel sink with single levier, high-rise faucet
Kitchen even with standard dinette is so inviting.....
      L-shaped galley takes the central part of the camper along the curbside wall. It starts with an under-mount dual bowl, stainless-steel sink with high-raise single-levier faucet and pull-out spray. It's located against the bath wall and truly looks like taken from the residential kitchen. The 22" glass-sealed 3-burner range with oven as well as hood with light and exhaust vent is located along the exterior wall. Below the oven there is an impressively large "pot & pan" wooden drawer.  Above the range, in one of overhead cabinets you will find the large microwave. The next, to the right there is a pantry and 8 cu. ft refrigerator. The latter with its hardwood panels beautifully fits into the style set by mountain chestnut black-glazed cabinetry.  The counter-tops and back-splash are finished with elegant (and robust) LG (Corian type) surfaces. 
On the opposite side to the galley there is a U-shaped dinette with 5" thick cushions. Under the benches on both sides of the table are large drawers providing always needed storage space. It's comfortable and frankly "multi-purpose" as it can be used not only for serving meals, but also for playing games, some work (whatever it is). But let's face it - the dinette usually does not have "residential" charm. Recognizing this fact, the company offers as an option the free-standing table with 4 chairs (and storage). And believe me – it changes a lot, may be even meals will taste better, but for sure with the help of a bottle of wine and candle, they will be more romantic. 
Lounge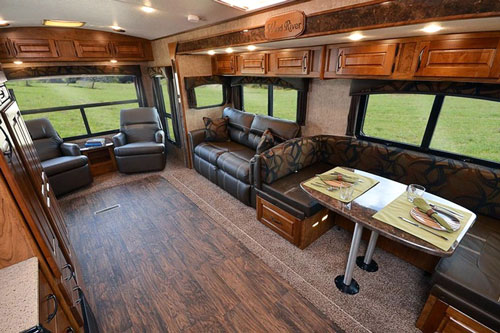 Wind River 280 RLS: Living space
Recliners across the entertainment center
       The lounge is located at the rear-end of the trailer. It has dedicated entrance door separating the theater seating (two leather recliners) from the entertainment center. The latter includes 32" LED HDTV w/Jensen Bluetooth CD/DVD and home theater sound system. The "hide-a-bed" sofa is on the driver side of the trailer sharing with dinette the large slide-out.  Radius vaulted ceiling with its extra headroom and "friendly" shape, skylight as well as "walls of panoramic windows" make the living area looking large, spacious, and extending far beyond the walls! The electrical fireplace adds warmness and charm during long chilly evenings….
Well, that's what you expect to find in a well-designed all-seasons travel trailer. And you can live this experience in the middle of unspoiled nature thanks to robust off-road design. 

Jensen CD/DVD/Stereo
Exterior

     First of all let's make it clear (as it may not be so obvious) – the furnace and "climate-designed" interior as well as "mountain extreme" features are standard (since 2015)! One would say "No pain, just gain"…… 
Of course in "friendly" weather and "environmental" conditions it may not matter that much.  That's when you can simply reach to the nature outside of the protective walls and windows.  Can you "visualize" the extra-large adjustable-pitch power awning opening at the touch of the button (wireless control).  Certainly it is place to be to get more "close and personal" with the Mother Nature!  And keep in mind – this Wind River 280RLS travel trailer has two entrance doors, so you can stay outside longer without "encroaching" into someone's private space!
      It's worth to note that 280RLS standard version is not designed for extreme conditions – those more adventurous may need some options like for example "Mountain Tough" ones.  The Diamond-plate pass-through storage floor protection (replacing typical vinyl or carpet) allows you to load to this external storage a lot of "heavy" stuff with no worry that you will destroy the floor. Similarly a very practical option is the rear receiver – it will allow you to attach the bike rack. Is there something better than long bike rides along narrow paths in the forest? 

Roof-mounted solar panel with extra wiring for up to 500W of extra solar panels
Solar prep next to the front entrance is ready for portable solar panels
The extra Solar combined with large water tanks offers required autonomy in "out-of-grid" conditions. 
What about ToyLock system – sure you can leave all the outdoor stuff in the hands of Providence (or Destiny), but in many cases it will be smart to protect all these chairs, table(s), perhaps bbq grill …. (and the list can be longer) by a 50ft long metal cable. It's a simple but efficient way to discourage most of thieves. 
     Those with more adventurous spirt (and ideas) may need the true Off road features (Back-Country X4 Package) offering off-road wheels and much better suspension….
      Bottom line you should keep in mind – the Wind River 280RLS travel trailer is an extension of residential-like luxury into wilderness. With Wind River you may still find yourself in the proverbial "Middle-of-nowhere" , but you can be sure, it will not be a "rustic nowhere", but rather the elegant, charming, stylish and warm one.
Specifications
---
Overall length

Overall width

Overall height




Interior height

Dry weight

GVWR




Cargo capacity

Hitch weight

Fresh water tank

Grey water tank

Black water tank

LPG tank

Slide-outs

Sleeps

34'8 (hitch/rear ladder)

?

10'11" (with A/C)

11'0" (Back-Country X4 option)

6'11"

8,050 lbs

9,995 lbs

11,000 lbs (Back-Country X4 option)

1,945 lbs

1,150 lbs

80 gals

40 gals

40 gals

2 x 30 lbs

2

4 (6 w/dinette)
---
Construction:
Frame: Custom-cambered w/integrated A-frame section
Walls: Rugged 2" bonded aluminum frame, fiberglass w/foam insulation hard-walls, high gloss Lamilux 4000 fiberglass finish w/UV protection
Cap: HD enclosed fiberglass w/led lights as well as Diamond Plate & Armor Guard
Slide-outs: 2 (lounge and bedroom ward) w/ laminated fiberglass floor
Axles: Dual, heavy-duty (GVAR 5200 lbs/each) w/shock absorbers
Suspension: Flexible, rubberized equalized system), 
6 lug, easy-lube hubs w/off-road brake system
Roof: radius-crowned from 5/8" exterior-grade plywood, full walk-on w/ladder
Underbelly: Fully enclosed and heated (option)
Insulation: Triple-layered roof insulation (R-15 Astrofoil plus 2 x R-7), R-15 slide-out flor, 2" fiberglass/foam sandwich)
1" thick insulated external compartments doors (option)
Windows:, Thermal Pane, tinted, frameless 
Layout: Front bedroom/Rear lounge
Aluminum wheels (tires size - 225/75 R15
Exterior pass-through storage (note aluminum frame)
Interior features:
Vaulted radius ceiling
Mountain chestnut black-glazed cabinets' doors and drawers
Full extension metal drawer guides
Day/Night shades (lounge and bedroom)
LED lights
12V UBS charge stations (Bedroom and kitchen)
Digital thermostat 
12V Triple charge station for iPhone and iPods 
LPG/CO2 Detectors
All-in-One Universal Command Center
Kitchen
Norcold 8 cu. ft. refrigerator w/hardwood panels
22"Glass-sealed 3-burner Range/Oven with cover w/under-range "pot & pan" drawer
Under-mount 2-bowls metal sink w/solid LG covers
Metal high-rise faucet 
LG (Corian-type) countertops w/backsplash
Microwave
U-shaped dinette w/5" thick cushions and XL under-bench storage drawers (optional Free-Standing table w/4 chairs and storage)
Bedroom
Queen-size bed w/under-bed storage 
"Dream Soft" pillow-top mattress
8-panel glass French door 
Overhead cabinetry
2 side-wards w/mirror doors and night tables
Slide-out ward
Private entrance door (outside) 
Private door to the bathroom
Remotely-controlled MaxAir fan w/electric rain cover
Skylight w/thermal insulation and shade
TV prep for ceiling-mount unit
Bathroom
Radius (or pentagonal) shower cabin w/overhead skylight
Porcelain toilet w/foot flush
Vanity w/ sink 
Medicine cabinet w/vanity lights 
Wall-mounted hair dryer
Remotely-controlled MaxAir fan
Lounge
Two recliners
Hide-a-bed leather Sofa
Skylight w/thermal insulation and shade
Fireplace
Entertainment
12V, 32" LED HDTV w/Jensen Bluetooth CD/DVD 
Home Theater Surround Sound System
TV Antenna
Cable wire-prep (bedroom)\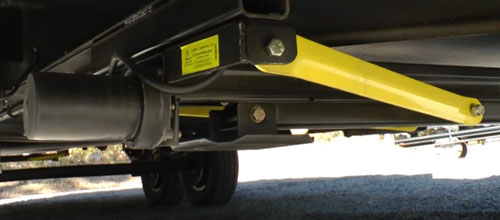 Power jack
Exterior features
Atwood power 3,000lbs tongue jack w/LED light
Power stabilization jacks w/wireless remote control
15" rugged mud-flaps
LED lights
Porch lights w/wireless remote control
Small, roof-mounted solar panel w/wire-prep for up to extra 500W roof panels
Speakers
Front pass-through storage w/2 lights (optional Diamond-Plate floor protection)
Magnetic external compartments doors catches
Adjustable-pitch power awning w/rain dump arm and wireless remote control
Door-side solar port
HD fiberglass propane tank cover
Aluminum entry handle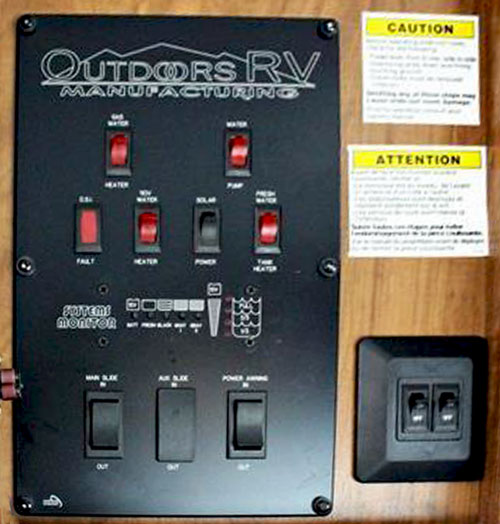 Control panel
Climate control:
Eco-friendly, roof-mounted low-profile Coleman A/C
Ducted main floor
35,000 BTU Furnace
Remotely-controlled MaxAir fans (lounge and bedroom)
Electrical

Wireless Touch Pad for remote control (awning, slide-outs, stabilization jacks, porch lights)
All-in-One Universal Command Center
Interior /Exterior LED lighting including porch, steps and storage lights
Roof-mounted solar panel w/extra ports for additional panels 
Exterior solar connector for additional portable solar panels (next to the front storage)
Battery w/ disconnect switch
Bullet reading lights (chairs and bedroom)
Shore power connection w/detachable power cord
Water
10 gallons LP/110V water heater
12V fresh water tank heat-pad
Fresh/Grey/Black water tanks
Black tank flush
External shower connections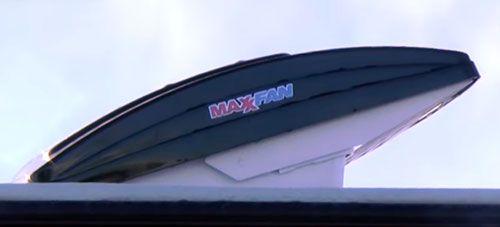 MaxFan electrical rain cover
"4-Seasons Climate" package (mandatory)
Thermal Pane windows
Triple-layered roof insulation (R-15 plus 2 x R-7)
R-15 insulation (attic, slide-out floor, underbelly and water tanks)
Unclosed and heated underbelly
1" thick thermal insulated exterior compartments doors (storage, shower)
35,000 BTU Furnace
Norcold Cold Weather kit (enables fridge operation down to 0 degF
"Off-road" Package (mandatory)
Custom cambered off-road chassis
HD shock absorbers
Rugged integrated A-frame
Rugged Armor guard protected bumper
HD 6-lug 5,200lbs axles w/off-road brake system
15" rugged mud flaps
"Tough" cabinetry
Exterior-grade plywood floor and roof decking
Friction-Hinge entry doors
Spare tire w/carrier
Options:
Bedroom, ceiling-mount 12V LED HDTV w/DVD
50 A service w/pre-wire for bedroom A/C
"Off-grid" Solar Package (1 x 160W or 2 x 160W) 
Free-standing Dinner table & 4 chairs w/storage
Wireless backup camera
Bedroom carpet
Backup lights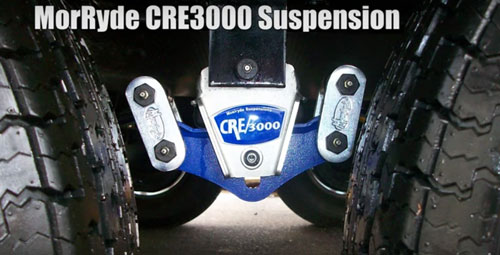 Part of the Back-Country X4 Package: MorRyde 3000 suspension
Optional ToyLok
Mountain Tough Options
Armor Shield Package (tread lite aluminum entry steps, Diamond Plate pass-through storage floor protection, weather guard awning shield…)
Back Country X4 Package (16"/235 tires, MorRyde 3000 rubber suspension. Monroe Off-Road shocks. HD Shackle Kit, HD 4000 lbs Atwood Tongue Jacks)
Mountain Storage System (rear 2" receiver hitch & ToyLock System w/50ft cable)
As a closing sentence let's quote Outdoor RVs management team:
We want you to enjoy an Outdoor experience like no other!
Go to: --> Luxurious RVs
---