Winnebago Hike 170S
Small Travel Trailers
The Hike 170S travel trailer is an altered version of Minnie Drop 170S adapted to an active outdoor lifestyle and off-road adventures.  
         After more than 60 years of operation, Winnebago Industries Inc. (Middlebury, Indiana) became one of the most recognizable names in the RV industry. The company designs and manufactures a wide range of recreational vehicles including motorhomes, travel trailers, fifth wheels as well as boats. Some of the newest products introduced on the market are series of Hike travel trailers of which for this presentation we selected the smallest model - Hike 170S.

Winnebago Hike 170S Travel Trailer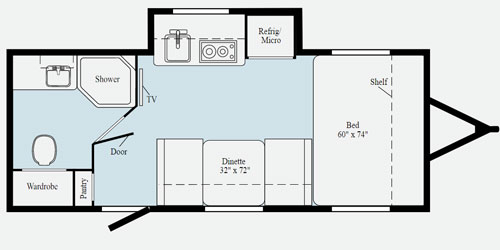 ... and its floor-plan

        Those familiar with Winnebago's RVs may remember the Minnie Drop series. The model Hike 170S is an altered version of Minnie Drop 170S adapted to an active outdoor lifestyle and challenges of off-road adventures.  
Both 170S models (Minnie Drop and Hike) share the same floorplan, although their dimensions slightly differ. The Hike 170S is a bit shorter (20 '7.5 ") and narrower (7'9") compared to Minnie Drop (correspondingly 21' length and 8.0 'width). The limits on the exterior width are imposed by the "Exoskeleton" - a massive, powder-coated web of pipes entwining the shell. It allows for secure attachment of camping gear (bikes, kayaks. You name it!). Furthermore, the exoskeleton provides a "platform" around the shell to climb off the ground to facilitate the loading and unloading of the gear. It also provides a sort of shell's protection from mechanical damage in an off-road environment.
And if this is not enough, the rear receiver allows for the installation of an extra rack for bikes.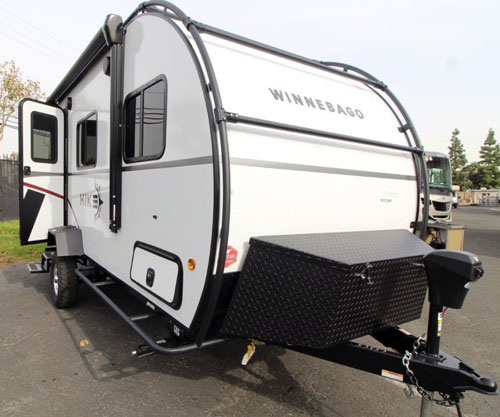 The shell of Hike 170S is built from aluminum and Azdel (as an insulation layer) with a fiberglass finish. The one-piece fiberglass roof offers much-needed structural continuity promising a long life. The frame is NXG-engineered from High Strength Low Alloy (HSLA) prime steel. It's the technology used for the production of strong, light-weight frames for towable RVs (travel trailers, fifth wheels wheels).
The Hike 170S comes with an adjustable ground clearance designed for off-road adventures. However, if preferred, the adjustable Dexter axis can be lowered by about 3 inches to offer better on-road towing conditions if off-road journeys are not your priority (note that an adjustment process is not a sort of "push the button on your mobile phone ", but rather quite laborious). The single-axis comes with 235 / 75R15 off-road tires on aluminum rims covered by powder-coated fenders.
Adjustable suspension 
Two exterior storages and the large tongue-mounted powder-coated box offer ample storage space (the latter houses up to two 20lbs LPG tanks, up to two batteries, and still have an extra room for "stuff" (whatever it is).
          Thanks to the good quality thermal insulation, Hike 170S off-road adventures can be extended to seasons with freezing temperatures. Azdel offers a good thermal barrier for walls and roof, while the floor is protected by an enclosed and heated underbelly. Note that such design also provides mechanical protection from gravel and debris for otherwise exposed components (tanks, plumbing, etc.). According to the manufacturer, the insulation of Hike 170S is freeze-proof! The standard 18 kBTU heating system can keep the interior at comfortable temperatures.
Powder-coated front box
Source: Broadmoor RV

Interior layout
     As mentioned earlier, the Hike 170S floorplan is almost identical to its older "brother" Minnie Drop.
The main sleeping space with a queen-size bed is located at the front-end of the camper. The overhead shelf for personal items, reading lights, USB ports, and 110Vac outlet as well as two opening side windows - that's pretty much all you will find there. The Hike 170S is designed for 2 people, so there is no curtain separating the "bedroom" from the remaining part of the camper. The extra sleeping space is created by converting the dinette to a small bed for a kid, so the lack of privacy should not create any problems.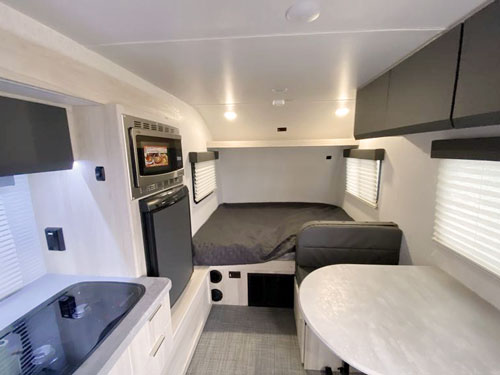 Interior: the sleeping area at the front-end.
Source: RV Supercenter (Tea, SD)
Slide-out module: Galley
Source: Great Alaskan Holidays

The central part of the camper houses the slide-out galley and (on the opposite side) the dinette with two benches. The kitchen is equipped with a 2-burners cooktop with cover and stainless-steel sink (also with cover). Unfortunately, when the sink and cooktop are used, there is no much countertop space for the preparation of food. For that, you may have to use the dinette table. On the right side of the slide-out module (next to the galley), you will find the 2-way fridge with a freezer and a convection microwave.
Galley's cabinets with deep, fully opening drawers as well as overhead cabinets should guarantee the basic functionality of the kitchen. If needed, the 13 inches deep overhead cabinets all along the dinette make easily accessible storage that can also be used for kitchen stuff. Note that at the rear side of the camper (next to the entrance door) there is a dedicated pantry. When it comes to interior storage - you will find a wardrobe in the rear bath. Due to the location, it may not be handy, but it's sizable (another limitation may come from is potential humidity characteristic for baths with shower.
Note that under both dinette's benches there is also a large storage space although it will be hard to say that it is designed for daily-use stuff!
Slide-out module and the galley are finished in wood.
        The rear dry bath is quite roomy. Shower cabin w / curtain, vanity w / sink, mirror and medicine cabinet, plastic toilet w / pedal flush, mentioned earlier wardrobe (behind the toilet), ceiling fan, and a comfortable amount of space to move around! Frankly, when it comes to small-size campers, it exceeds expectation, but understandably it's required for off-road journeys…

      The Hike 170S comes with a 10 ft power awning with LED strip light. It creates an outdoor living space (do not forget that the Hike model was designed for aficionados of nature). The LP-quick connect under the tongue-mounted box allows you to install a BBQ (note that the exoskeleton has almost unlimited space for camping gear like folding tables, chairs…). So, the only limitation can be either your imagination or (on the "harder" side) - cargo limits (see specs below).
      Note that in the road configuration (slide-out in) the interior keeps its functionality. You can access not only the rear bathroom but also the dinette, galley, and sleeping area. And when it comes to the galley, it's not that you can "somehow" squeeze yourself on the way to bed for a little afternoon nap. It is fully usable, so you can easily access the fridge, sink, cooktop, and dinette to prepare and consume simple meals.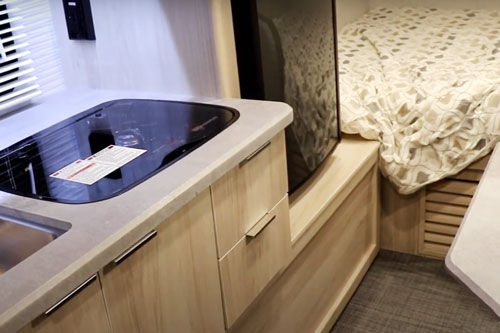 Bed side and galley: free space in road configuration (slide-in) 
Source:  The Air Force Guy RV Reviews & More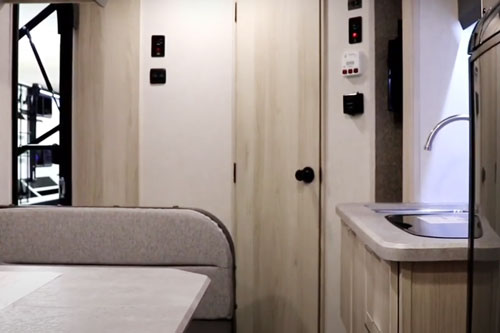 Dinette and entrance: free space in the road configuration (slide-in)
Source:  The Air Force Guy RV Reviews & More

Specifications
---
Overall Exterior length

Exterior width

Exterior height

Interior headroom

Dry weight

GVWR

Hitch weight

Freshwater tank

Greywater tank

Blackwater tank

LPG

Sleeps

20 '7.5 "

7 '9 "

10 '2 "

6 '5 "

3,260 lbs

4,200 lbs

400 lbs

31 gals

25 gals

25 gals

20 lbs

2 + 1
---
Construction
Frame : NXG-engineered from HSLA (High Strength Low Alloy Prime Steel)
Body : Aluminum / Fiberglass sidewalls w / Azdel, one-piece fiberglass roof,
Insulation : Azdel (walls & roof), Radiant foil (freeze proof)
Floor : vinyl
Axles : Single (Torflex Dexter), w / adjustable clearance
Wheels : Aluminum rims, 235 / 75R15 off-road tires
Brakes : Electric drums
Underbelly : Enclosed and heated
Slide-out : One, power-retractable
Layout : Front bed, rear bath
High clearance for off-road adventures
Interior Features
Wardrobe (located in the bath)
Overhead cabinets (galley and dinette booth)
Screen door
Wardrobe (bath)
Source: Broadmoor RV

Sleeping area
Queen-size bed (60 x 74)
USB Charging Stations
110Vac outlets
Reading Lights
Storage shelf
2 x side-windows w / nest and privacy shades
2-burner cooktop w / lid (here opened) and sink
Source: Broadmoor RV

Flush-mounted sink w / cover
Source: Broadmoor RV

Fully opening drawers
    Broadmoor 

Pantry (next to the entrance)
Source: Broadmoor RV

Kitchen / Dinette
Drop-in 2-burner cooktop
3.2 cu.ft Dometic 2-way refrigerator w / freezer
Convection Microwave
Stainless-steel sink w / cover
High faucet
Overhead fan
Overhead cabinets
Standing cabinets (drawers w / Full-extension ball-bearing guides)
Dinette w / bench seats convertible to bed (32 x 72)
Pantry
110Vac outlets, USB charging ports
Wireless phone charger
Windows (galley and dinette)
Fragment of bath
Source: Broadmoor RV

Bath: Medicine cabinet
Source: Broadmoor RV

Bath
Shower w / curtain
Zinc
Plastic Toilet w / pedal flush
Mirror
Medicine cabinet
Roof-mounted power fan
GFCI 110Vac outlet
Towel bars
Entertainment
Flat-screen TV
AV System AM / FM / CD / DVD / USB / Bluetooth
Interior / Exterior speakers
Retractable TV antenna
WiFi prep
Satellite Prewiring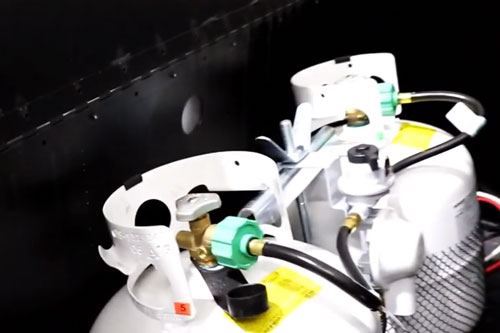 Tongue Box: Two LPG tanks w / automatic switchover
Exterior Features
10ft long Power Awning w / LED lights                      
Power tongue jack w / wheel
4 x leveling jacks (manual)
Powder-coated exterior rack system (exoskeleton)
Large powder coated LP / Battery / Gear Storage Box
Rear Receiver / Hitch
Entrance by assist handle
Steps
powder-coated fenders
Wireless phone charger Connex (kitchen countertop)
Source: Broadmoor R

Electrical
Shore power hook-up w / detachable power cord
Power Converter
Battery (?)
USB Ports (bedroom, dinette)
110Vac outlets (bedroom, kitchen, dinette, bath)
Wireless phone charger
LED lights
Roof-mount solar prep
Ventilation fan
Water / Plumbing
6 Gallons gas / electric DSI Water Heater w / bypass
Water pump
Enclosed tanks (fresh, gray & black)
LPG - 2 x 20 lbs tanks w / automatic switchover, interior installation, and exterior LP quick connect
Exterior water hook-up,
Blackwater tank flush,
Exterior shower w / hot & cold water
Climate
Furnace (BTU) 18k  
13.5K Low Profile Roof A / C
Freeze-proof insulation
Dinette: Under-bench storage (one of two)
Source :  Broadmoor RV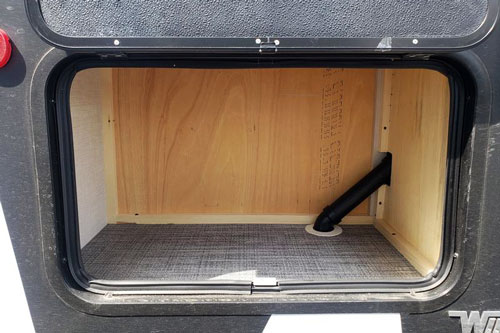 One of two (smaller) exterior storage compartments
Source : Broadmoor RV
Larger exterior storage compartment
Storage
2 x Under-bench storages
2 exterior storage compartments w / magnetic catches for doors
Overhead cabinets (galley, dinette)
Wardrobe (bath)
Pantry
Shelf (bedroom area)
Tongue-mounted box
Safety
Fire Extinguisher
Alarm Detectors (Smoke, carbon monoxide, propane)
Backup camera prep
Rear side of the Hike 170S travel trailer
Source: Great Alaskan Holidays
What means "Winnebago"
          Those interested may appreciate information where-from came the name "Winnebago". Well, it's the name of the Native American Tribe who lived along the Fox River (Wisconsin). This name was given to them by "outsiders" and literally means "People of Muddy Waters" (at those times, the Fox River was muddy). In this sense, some may see this name as a bit derogatory. The truth is that the people named by us as "Winnebago" called themselves Ho-Chunk (which means "People of Big Voice").
Go back to: -> Small Travel Trailers
Unless mentioned otherwise, pictures are courtesy of Winnebago.
Note:  Check with the manufacturer and / or authorized RV Dealer for the up-to-date list of features, options as well as latest specifications. These written above may not be accurate and certainly are subject to change by the factory. We are not responsible for any inaccuracy, the above text is provided only for the general information.
This review was written based on publicly available information for the benefits of the community of RV-ers. We do not receive any gratification or financial benefits from RV manufacturers, dealers, and any other promoters of RVs. 
We are NOT involved in sale and/or retail of RVs!