Winter Camping Gear
Winter camping gear includes among others tent, clothes, sleeping bag, cookware…. chose them wisely because they will be your best friends on your winter adventure

Tents:
The purpose of the tent is to provide a place to sleep and shelter from wind, cold, rain and bugs.
But as much as protection from weather elements, tent should also give you the priceless feeling of camping under the stars.
Tents come in different shapes, sizes, shapes and styles as well as prices so basically everybody should be able to find the one that addresses all his/her needs.
On top of buyer's individual requirements, good tents should meet general criteria like:
Lightweight structure (especially important for backpackers),
Good quality materials (That includes waterproof, weather resistant and durable fabrics, robust floor secure zippers, sturdy poles and stakes…..)
Easiness to set-them-up and fold-down.

Summarizing: The tents should be strong enough to withstand extremities of nature. Keep in mind that in the wilderness and anywhere in the Middle of Nowhere, the reliable tent is your best friend!  So the camper must look for strong, sturdy, dependable and waterproof tents.

Preferably (depending on your needs), you may also consider tents with:
Vestibule attached to the entrance (good for storing your camping gear, shoes etc…
Adequate internal height to allow "close-to-standing" position. It definitely helps especially during bad weather when you are forced to spend more time under the tent's "umbrella".


Interesting option for adventurers: 4-seasons military tent made by North Face (here shown with the vestibule). It belongs to the class of Extreme Cold Weather Tents (ECWT) -not easy to find, but rewarding as you may expect :-) 

 Tents can be purchased from a number of different retail stores, both online and offline. Although camping tents can be purchased for rates starting from twenty or thirty dollars, definitely the rule "Cheap is Expensive" applies also to tents (and it can be a "brutal" experience).
Besides the tent, campers should take along a tarp (tarpaulin) for additional protection from rain and winds but also sun exposure. For that purpose the tarp may be hung over a tent. Quite often the tarp is also placed under the tent. It greatly prevents the tent from getting dirty on a wet surface (rainy days).
Good addition to the tent may be Screen House providing shelter for dining and lounging. For the obvious reasons (extra weight) for backpackers it is only suggested when you expect to camp in mosquitoes and black-flies infested areas.

Clothes: For successful and enjoyable winter camping clothing is more than important. Good clothes should be able to:
Trap the body heat to prevent even slightest risk of hypothermia, 
Prevent the "internal" vapor from condensing,  
Prevent cold wind and rain from infiltrating


Well, let's listen to the professional: Presentation of Marmot Winter Layering system by mountain guide Keith Garvey

In other words, good clothes must protect the camper from external weather elements and at the same time create close to natural "breathing" environment for the body. Honestly, it is not an easy task!
The types of materials that are acceptable for winter camping are wool, synthetics, plastics and down. Gloves, woollen socks, headgear and thermo-wear are essential for winter camping.
It is always advisable to wear layers of lighter clothing instead of one chunky jacket. This allows one to adjust well the amount of insulation and thus the warmth. Wearing a beany or woolly hat to bed helps one retain warmth in the winter nights. While going to bed camper should wear the base layer of clothing while keeping the dress to be worn on the following day inside a secured (hermetic) bag or box. Obviously the last things you want to see when waking-up next morning are wet clothes.
And believe me – if something can happen, it certainly will, so you can count on the fact that your clothes left unprotected will absorb water from the humidity hanging in the air. 
Presentation of best winter sleeping bags

Sleeping bags: Sleeping bag is another essential camping gear. For summer time one can make with light sleeping bag, but winter is no joke.
Your sleeping bag must be able to keep you warm.
As the rule of thumb your sleeping bag must cater to all types of weather characteristic for winter. It is also a good idea to take along with the sleeping bag a sleeping pad or an air mattress (unfortunately the latter is usually heavy) and a decent pillow. These additional sleeping gears will come in handy if the ground of your campsite is not leveled.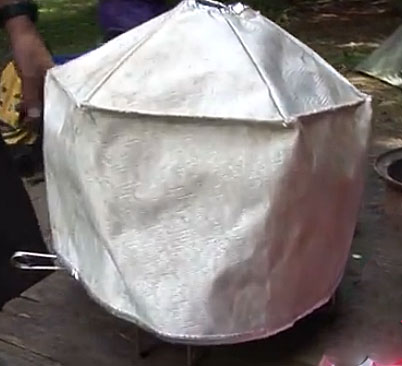 "Beauty" of the Outback Oven: heat diffuser (more uniformly distributes heat over the pan) and Heat Enclosure - preventing the hot air to "follow the wind"

Cookware: Pots and utensils are not the biggest issue, however the stove is. In most cases it will be your only source of warm/hot meal and drink. For obvious reasons you camping stoves must be energy efficient (unless you want to carry extra load with you). Good example of such unit is an Outback Oven. On top of being lightweight oven's main benefit is reduced fuel consumption because heat is contained around the pot rather than dispersing quickly into the air. The fact is that Outback oven can reduce fuel consumption by 25%!
Another important oven's point is the stability of its base when cooking on snow.  The base should not sink in snow eventually tipping oven over (and with it taking down your hot meal).