Air Conditioner for Pop up Camper Trailer
In most cases air conditioning units for pop up campers are optional items, but can you really enjoy vacations without it?

Since pop up campers are small and lights, an air conditioner already installed on them is not so common.
Most pop up campers come without one and if you want to have cool air for the summer you have the find the right air conditioning unit for your vehicle.
It is relatively easy to find the right air conditioner for your pop up camper. There are more options that you can choose from: there are portable air conditioners, rooftop units and regular room air conditioning units. For a pop up camper the best choice is either a roof mounted unit or a small portable air conditioner.
Most air conditioning units for RV (recreational vehicle) work efficiently on all models of pop up campers, because they are powerful enough to keep the camper cool even when it is very hot outside and there is no shade to park the car in. The three most popular air conditioning manufacturers are Dometic and Coleman, but Jayco and Fleetwood also have great quality air conditioning units for pop up campers.
When you are looking for the most suitable air conditioner unit brand for your pop up camper, the most important figure to look for is the BTU. BTU means British Thermal Units, and the numbers usually vary between 5,000 to 18,000, for a pop up camper trailer up to 15.000.
This number determines the quality and strength of the air conditioner, the higher the BTU is the stronger the air conditioner is. For a bigger pop up camper trailer you need a stronger unit to keep the air cool. Usually the price of an air conditioner also rises with the BTU number.
The easiest way to find the right air conditioning unit for your pop up camper trailer is by multiplying the square foot area of the trailer by 35. If you want effective airflow don't buy a unit which has a BTU lower than 7000. Air conditioning units for pop up trailers are not so expensive, they are usually between $200 and $1500 depending on their type and the BTU.
Types of air conditioner units for pop up campers
Portable Air Conditioners
The newest air conditioning units are the portable ones. They are also very convenient and easy to use, and they require the least effort from you in order to have cool air. They have wheels and they can be placed anywhere you want, they can be easily moved from place to place.
They vary in size, but they often resemble a small box that you fill with ice and connect to electricity in the camping area. They also have fans to keep the air moving inside the pop up camper.
Their benefit is their cheap price, such air conditioners don't require a lot of investing. The fact that they are small and light also makes them popular, you won't add to the weight of the camper with such a unit.
Their fallbacks are that they cannot provide the desired coolness in very hot weather, since they are less strong than the more traditional units.
Their BTU is usually around 7000. They are small and they don't have enough power to cool the hot air down on extremely hot weather. Koolair and Frigidaire are two well known companies that makes portable air conditioner units.
Another type of portable air conditioning units are the ones that are mounted on the window. They are secured on the window of the pop up trailer, and they come with a guide, so you can easily do the mounting yourself.
It is relatively simple to mount them; by being mounted on the window they are at the right height to give enough cool air. While they are less powerful as the rooftop models, they can cool down a middle sized camper. They are stronger than the smaller, wheeled portable air conditioning units.
Rooftop air conditioners
The best rooftop RV air conditioners are made by Dometic or Coleman. They are suitable for pop up campers and other recreational vehicles as well. They are high capacity units with heat pumps, which are either ducted or non-ducted. The standard roof top units are mounted on the top of the car, and they have a duct that enters through the roof of the vehicle.
Roof top air conditioners resemble a box which is mounted to the top of the trailer, and connected to the rest of the parts on the ceiling, inside the camper. Thus they are made of two parts, one outside and one inside.
Their pros are that they are efficient and powerful, you will have cool air inside even in hot climates and very humid summer weather. Their multiple fans keep the air circulating, cooling off again and again the hot air that enters when you open the door for instance. The newest of the rooftop air conditioners have a minimal sound, which makes them the top choices for campers.
Their cons are their high prices compared to the more simple and less powerful air conditioner units. The medium price for such a device is around $800. They also require some skill when they are installed, a bit of work that usually requires a professional.
Coleman air conditioners
Air conditioning units for pop up campers made by Coleman are the most popular air conditioners.
They are powerful with no less than13,500 BTU. With such a conditioner you also get warranty at least for a couple of years, but often a limited lifetime warranty as well. Their major benefits are reliability and convenience, they can be easily installed. They have large evaporators and condenser coils which increases their effect.
There are more types of Coleman air conditioners, but most of them are light and small enough to fit perfectly on a pop up camper. They are made for standard roof openings and can be mounted as a rooftop unit on the car.
The Coleman Mach 15 unit is the ultimate air conditioner for recreational vehicles, which will also fit for a pop up camper. The Polar Cub is another model with a nice design which ideal for smaller campers such as a pop up camper. Another smaller unit is the Mach 3 PS, which works with less power, but it can cool down a middle sized camper.
Dometic air conditioners
Dometic air conditioning units are slightly cheaper than the Coleman units, but almost as powerful and reliable as the former.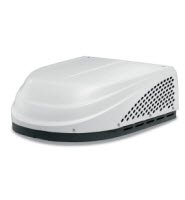 They are strong enough to cool down a pop up camper trailer of any size. They are available available in two capacities: 13,500 BTU and 15,000 BTU.
They fit a 14" square opening, just like the standard air conditioners for RV.Dometic is best known for the Dometic's Quiet Zone Ducted Air System. This type of unit drives cool air directly into the duct, which has powerful cooling effect in any pop up camper trailer.
From Dometic Duo-Therm is another well known product, made for standard openings to fit on any pop up camper. These air conditioner units have 13,500 BTU of cooling and also a very quiet fan that provides air rotation.
---
Friend's Story:
The best thing in accessories is the air conditioner for pop up camper trailer travel. There are some states that this can come in handy when visiting.
Texas and Tennessee are two states that having air conditioning in your camper makes it pay for itself.
You always want to be comfortable when relaxing and enjoying the outdoors.
The air works as well as an indoor air conditioner and you only pay the campground fee for electricity. When you're camping in your trailer during real hot weather it is sometimes so hot you just need to get out of the hot air and cool down.
Night time can also be a great time for an air conditioner for pop up camper trailer. This will allow you to be comfortable while sleeping. This also helps keep the humidity down inside the camper.
Like with everything a camper can be customized to feel just like home. I like the Coleman camper I have for traveling and camping.
The air conditioner for pop up camper trailer is an absolute marvel for us avid campers. I'm not actually sure when they first came out with them, but it sure is a treat for me.
Air conditioner for pop up camper trailer allows the cool feeling all summer long even when camping. My wife and I were in Utah last summer when we had many friends coming over to cool off a little bit. The temperature reached 102 degrees in the shade. We didn't want to go swimming or move anywhere for that fact, so we just had people stopping by all day.
I'm sure a lot of campers went out and invested in air conditioner for pop up camper trailer after that summer. My wife and I woke up feeling cool and refreshed, while some of our neighbors where a little edgy from being so hot all night. So not only are house air conditioners a popular summer appliance, but so are air conditioners for campers.
Jayco and Fleetwood also have air conditioner for pop up camper trailer available and can be installed locally or you can do it yourself. The entire project will definitely pay off the next time you are camping and find yourself a little over heated because of the hot weather. And believe me there will be days that the weather is hot and sticky, making you long for an air conditioned room. The camper is the best place for that.
The idea camper has not only air conditioning for your camper, but also a heater. There many different type of AC units and heating units available for pop up campers. The makes and model can very between dealers and distributors. The best way to decide on the right one is to probably check the consumer reports as to the best quality air conditioner for pop up camper trailer.

Before opening up your camper after being shut down for the winter months, you may want to check the heater and air conditioning units to ensure they are operating correctly. This should be done for all your appliances and accessories. You don't want to find a problem later on when you're camping some where else.
The best rule is to always be confident and prepared before heading out on your first excursion of the season. This will have an impact on whether you enjoy yourself or have a bad time.
I like to call it preventive medicine for your camping health. So go on out and enjoy the season, but don't forget the air conditioner for pop up camper trailer you'll be glad you invested the time and money.
 About Us / Privacy Policy / Resources
Go from Air Conditioner for Pop up Camper Trailer to Pop Up Campers Trailer Home