American Camper Tents
American camper tents are lightweight, designed for camping and hiking with easy set up, and take down
Let me make it clear from the beginning – no good news for fans of American Camper Tents.
The company that used to be located in Lenexa, Kansas went out of business!
As the result - not only no more new tents, but also no support regarding old ones so no instructions, manuals, replacement parts etc…
 If it happens that you are owner of one of tents that was sold under the name American Camper Tents, then now you are on your own.
 Also, if you are tempted to buy on E-bay one of used American Camper tents, be aware that you may be asking for problems. So despite often tempting prices (as usually there is a reason for that) think at least three times before pushing the button Enter!
 American Camper Tents were inexpensive consumer tents and outdoor gear manufactured by variety of "nameless" factories under the common brand name. They were designed for an average, not demanding user going for camping few times a year. (in other words not for "heavy duty" use!).
 For most American Camper tents frequent set-ups as well as exposure to unfriendly weather will lead to a visible and progressing wear and tear….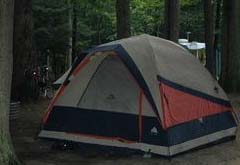 Example of an American tent
At the time of availability you could buy them in the network of discount and department stores (for example JCPenney….) 
 Inexpensive does not mean bad quality, however the general rule applies to everything including tents:
You get what you pay for.
 And this is still quite an optimistic statement, because in reality you get even less than you pay for (a middleman also needs part of the pie) .
 However the reality is that on the secondary market there are still many mainly used American Camper Tents. Unfortunately there is not that much support including spare parts, set-up instructions etc….
 For sure, those "handy" with some experience in tent-camping can get around without major problems. Different models of tents including different manufacturers share many similar details so although it may take some time to set-up an "unknown" tent for the first time without the manual, once you succeed, it will be a routine.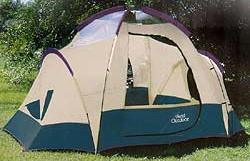 The major obstacle is usually related to poles – especially those missing.
First of all figuring out what is missing is already a headache. 
But once again, if we accomplish this step there is big chance that we can find similar (if not exactly the same) poles in specialized shops (for example Sport Authority) and then eventually adapt them to your needs.
These problems are mostly related to large, multiple-room cabin-type tents.
These problems are mostly related to large, multi-room cabin-type tents.  
Majority of freestanding tents share very similar hardware and techniques of setting up, so most average campers can easily figure out what is missing, what is needed and let's call it shortly - "how to"….
Used tents are usually damaged "here and there", but as most tents are made from the similar type of fabrics (sort of coated nylon), it should not be the big deal to buy the universal repair kit and fix holes.
 Important things to know before you buy the tent.
How and when mostly likely you will use your tent. For example there will be different class of tents for trekking (backpacking), for winter hiking, for car camping, for wilderness…
How many persons will sleep in the tent. Unless it is for car camping or wilderness, do not buy for more than you need, because each pound counts!
How often you will use it during the year (frequent users may decide do buy heavy-duty tent)
Would you like to be able to stand-up in the tent (for such comfort you need a dome-type tent) or just to crawl-in and sleep.
Is Freestanding the must (most existing tents) or you can accept Not-Freestanding tent (usually cabin-type with multiple rooms, requiring a lot of stakes and ropes to keep it standing).
What "extras" would you like to have….
 That should bring you to the following choices of tents:
Family tents. These are large tents for several persons. It will be either Dome type of tent (one big room, usually freestanding, easy to set-up) or a Cabin type tent (several rooms, needs more time to erect and most likely not freestanding),
Backpacking tents (small, lightweight, easy to set up and carry),
All-season tents. These are more heavy-duty and designed for all-weather conditions including the extreme winter (thicker walls to provide better thermal isolation, design preventing snow accumulation etc…),
Outfitter tents. These are heavy-duty, designed with many extras to provide necessary comfort for long stays in the wilderness.
Regardless of what is your choice, you should pay attention to:
hardware (metal parts are usually more robust than plastic counterparts, but unfortunately heavier!).
walls' fabrics and finish as well as rain-fly (should be light, durable and waterproof).
floor (must be durable, abrasion resistant and waterproof).
vents, windows and screening (even in rainy time you still need the fresh air inside of your tent, and fine screening to keep insects out)
poles (they should be interlocked)
security (fabrics should be impregnated with fire-retardant)
easy handling (separate bags for tent, poles and stakes)
 The waterproof design should be confirmed by users! Please note that waterproof fabric does not necessarily give you waterproof tent. Please search for opinions regarding given manufacturer and/or given class of tents because most likely they will share the same materials and production techniques.
 Important tips to remember when using your tent:
Make sure that the area under the tent does not contain any rocks and any other sharp debris. It is not only about the comfort of sleeping, but also about integrity of your tent's floor.
if possible spread the tarp under the tent (easy task for freestanding ones). The tarp will help to keep clean your tent (especially in "rainy weather") and provide extra protection from sharp debris (if any).
Do not store your tent folded in the carrying bag before drying in out on the sun.
---
Visitor's story
The camper tents are placed on the ground and set up with rods or poles and sleeps up to six people if the size is right.
The tents come in different shapes and sizes.
The tents have come a long way since the standard tents.
Back in 1990 and 1991, I had a chance to camp out with some kids, through a church group.
The kids had a great time sleeping in the tents and the rainy days kept us inside doing other things.
The room depends on the size of your tent. The throw open dome tents sleep two people comfortably, while some of the other tents have separate sleeping quarters and a sitting area. Over in Maine and Maryland, you see quite a few tents around the campgrounds, more for the kids then the adults. The pop camper trailer is the main camper, but kids do like their own space.
The tents come in canvas or nylon and are treated to repel water. The ideal tent also has a metal slipper closure instead of a nylon slipper which may become worn and require replacing.
The tents make a great way for people to get back to nature and learn what it was like in the early days before RV's and pop up trailers became so much more popular.
The American camper tent also could mean the tent part of a truck camper. These tents usually require opening up and extending out with poles from the truck.
They do make for nice camping tents and are generally used by hunters and other groups for weekend camping. If you have a pop up trailer, you might still carry along a tent camper for ground set up if you have kids or a truck tent camper so they have privacy.
 About Us / Privacy Policy / Resources
Go from American Camper Tent to Pop Up-ing Home
Pastime Camper
/ The 4x4 Campers / Double Decker Motor Home / Camper Trailer Australia / Snugtop Campers / American Camper Products / Restored Pop Up Camper / Ultralite Campers