The 4x4 Campers
If the 4x4 campers sound right for you, look for one at a truck and camper show
There are some people who love the thrill of adventure on a trip and while traveling on uneven paths you will need a tough vehicle that can really provide you a real comfort and relaxed position.
For such trips, 4x4 campers are highly recommended to use because these vehicles are equipped to overcome challenging rocky and muddy terrains.
They are considered to be the best option for traveling uneven, unpaved, dirt roads providing you the feeling of relaxation, comfort and luxury in combination with safety and reliable travel.
4x4 campers are four-wheel-drive vehicles where the power goes into all four wheels in order to make a movement rather than just the front or rear wheels. With this option, these campers are very practical for off-road driving or passing by snowy roads.
Designed for off-road driving, with large and aggressive tires, overbuilt suspension which is much larger than standard vehicles, overbuilt axles and transmission for treacherous driving, lifted bodies to clear obstacles such as rocks, they have become very popular among adventurous camping fans. If you intend to go for an extreme off road driving, the vehicle with a winch system that will allow you to pull the camper out of dangerous situations would be a perfect choice.

Let's see what a 4x4 Camper is up to... here an example of the Bremach Xtreme camper....:-)

There are many advantages in traveling with 4x4 campers. The most important advantage is that these campers are capable of handling any kind of terrain with comfort and safety. Furthermore, they have a good high driving position allowing for much better visibility of the road and its surroundings, in a way increasing the safety of driving. That's why going on a trip with 4x4 camper can be very exciting considering the fact that with these vehicles you will be able to access even remote places thus having more adventure-filled trip.
The design of the 4x4 campers can vary drastically starting from camper vans to larger trucks. The interior features may vary also but often they include the most common camping necessities like cooking stoves, lighting, sleeping quarters, sinks, showers, toilets and so on.

... and this is a "must to see" - The beautiful presentation of the 4WD Earth Roamer Camper on the extremely scenic but less traveled roads across the USA....
It's inspiring and opening totally new dimensions to the RV-world....

The size of these campers may vary greatly. While some models are designed to accommodate more than one adult person, some are quite small and have space for just one person. The sleeping area usually includes a fold–out mattress, but sometimes they can have a pop up roof where sleeping space is placed. In some cases, you may find a bench seat folding down flat for sleeping. Larger models may include showers and toilets, stoves, sinks and other amenities.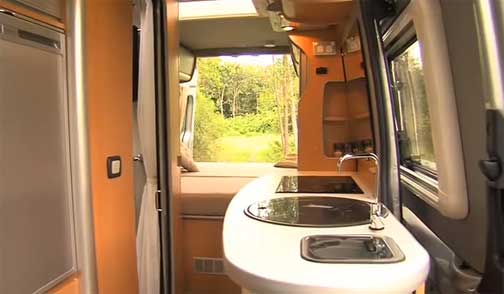 Inside view into Mercedes-Benz Sprinter 4x4 motor-home proves not only that these RVs have all you may need on the trip but that they are very elegant.....

All in all these 4WD campers give more secure traveling specially on rough terrains and all the off road traveling enthusiasts who enjoy trips on dangerous road should choose these campers because they provide not only safe driving but quite nice amenities and features inside the camper.
---
Visitor's story....

If you ever have a chance to see any 4x4 campers you should have a look at the inside.
They are not your typical campers, but they are great for off road driving and camping in the wilderness.
The camper allows you to add a canopy in order to have some protection from the sun.
The entire experience allows people to get out and enjoy some camping while still having some room for expanding. Unlike the pop up trailer, these campers supply people with many different options for traveling.
Whether you choose an older model such as a 1988 or a 1989, you will have some great experiences and more than likely want to upgrade to a newer model that offers more room and luxury. There are the Ranger, Drifter and the Freelander camper vehicles that allow for fun off roading and wilderness adventure.
I would think the last time I saw a 4x4 get together was in Louisiana or maybe Kentucky, but the people got together, talked about their experiences, and shared stories with all of us about the times they have spent in these camper types. You have a refrigerator, portable shower, water tank and so much more to enjoy the outdoors.
If the 4x4 campers sound right for you, look for one at a truck and camper show. These campers are popular and should be around for a long time to come.
Everything the camper needs with some extras added in to allow for a comfortable camping adventure. You can rent these campers or buy them, either way you will have a place to eat and sleep while out in the woods along with a shower, so you do not have to be constrained to a campground with facilities.
Look for many more of these campers around as people take to the road for adventure.
 About Us / Privacy Policy / Resources
Go from The 4x4 Campers to Pop Up-ing Home