Antique Camper Trailer
Antique camper trailers are also known as vintage campers....

Campers from the 1940s to 1960s are considered as antique campers.
They are true classics and offer particular look that many people enjoy.
Moreover, they give the owner a feel of past, evoking nostalgia of the old times…
 That's why most people decide to buy them. Vintage camper trailers are often made of wood or aluminum frame. They are not too expensive although when restored and in good condition their price can be significantly higher. 
Since they are built to be aerodynamic and light, smaller vehicles may tow antique campers. The first trailers of this kind were equipped with amenities such as plumbing and electrical systems while later models enjoyed also conveniences like refrigerators and some models even have complete kitchen.
Lot of people, who are great lovers of camping and admirers of an old style look decide to buy these types of trailers in order to repair them, restore them and enjoy their outstanding old appearance. Aside from the antique look of the campers, some people decide to purchase the unit because their value increases over time.
When you have decided to purchase one of these wonderful old trailers, the best place to search for them is the Internet. There are many web sites offering used antique trailers and some of them offer a service of restoring such campers. Many people decide to buy them, restored them and then to re-sell them to the vintage campers fans. So when buying such trailers the first thing you must pay attention to is the condition of the camper and whether it is worth buying and restoring because sometimes finding spare parts for them can be a real hassle.
One of the most popular antique type trailers is the Air Stream, being the most expensive on the market at the same time. These trailers made back in the 1930's were made mainly of wood. Only later manufacturer replaced wood with aluminum. When put on the quality scale, they were very high ranked. Even today, Air stream trailers are widely recognized as high quality campers.
You may not believe it - this is one of the oldest Air Stream trailers (year 1935)  still on the road :-)....

Another famous and not less popular antique type of camper trailer is Avion which was produced back in 1955. It was high quality, lightweight recreational vehicle with an exterior of anodized aluminum. Even today Avion vintage trailers can be seen on the road attracting attention wherever they appear. However as they are no longer in production, they are very difficult to find on the market.
Owning one of the old antique type of camper trailers may be a great fun and they can provide you a great camping experience specially if trailers are maintained properly and with good care. Just imagine the attention your vintage vehicle will get at the campground, and how much enjoyment you will have showing it off.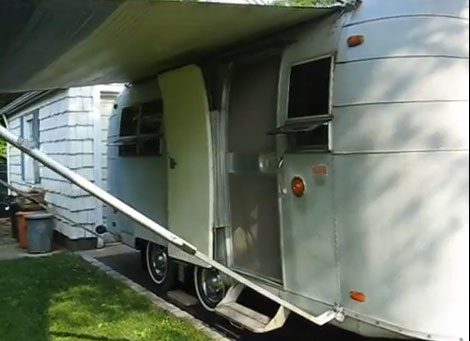 Survivor - 1969 Avion T-22 Travel Trailer

---
Visitor's story......

If you are looking for an antique camper trailer under the year of 1987, you might want to look around for sites that offer these types of camper as a restoration project or one that was restored previously.
The campers might be old but with some work, they end up looking just as nice and as comfortable as the newer models.
If you look at a 1988 and an antique camper restored, you might have a hard time choosing which one that is right for you.
The vintage campers come from the 40's, 50's and 60's and have been around for so many years you can find one that you may like the way it is now or fix it up to look a little more modern as far as accessories.
The vintage pop up trailer tows as nice as the modern day campers, although some may be a little heavier because of the older type of materials used.
Virginia (VA) and Vermont (VT) have some dealers of antique campers and they sell them as projects or finished restorations. Of course, if you buy one that is already restored, you will pay more money than if you buy one that needs to have the work done.
Think about the cost and the time you need to invest before choosing a project camper or a finished camper.
The antique camper trailer has many advantages over the newer models as it was made durable and of materials unlike the fiberglass used today.
If you are lucky enough to find some people selling these types of campers from their front yards, you may get a great deal and with some hard work and a few hours to fix everything up the way you want it, you will find yourself with a special little pop up trailer.
 About Us / Privacy Policy / Resources
Go from Antique Camper Trailer to Pop Up Campers Trailer Home