Avalair Vintage Travel Trailer
Avalair travel trailers were manufactured for a brief time in the early 1960s and there are very few models surviving to this day.

But during its prime the brand was popular because of its sturdy built, glistening exterior and state-of-the-art interior design.
The manufacturing of trailers of Avalair Corporation was carried out in its factory at Baroda, Michigan.
As the name is a queer combination of Avion and Airstream, Avalair was truly a "child" of both of these famous brands (although it was looking more like Avion trailers). 
Avalair was very solidly built - the frame had a center rail, instead of the usual two.
13-panel front, with a beaded panel edge gave it a real machine-age look.

1963 Avalair Vintage Camper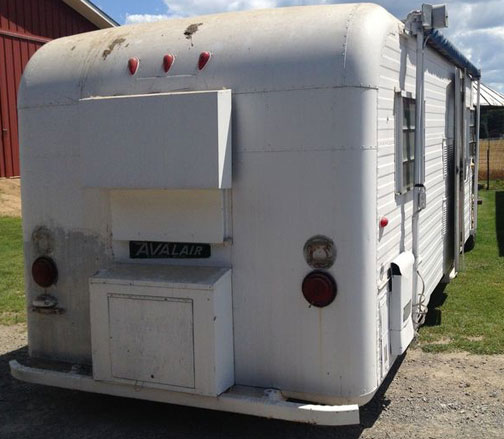 Model 1963 - Availar Travel Trailer

The interior of the 1963 Avalair pays attention to details providing comfortable living space (cupboards, appliances, cushions, curtains etc….). It has 110V electric connection for internal lighting. The retro trailer comes with an awning, large stainless steel water holding tank and heating system. The refrigerator and stove/oven are running on gas. For greater camping autonomy, the trailer comes with two propane tanks. The trailer had many windows for free movement of air and also for viewing the external scene while on the move.

Avalair Mark II
This model trailer had a length of 17 feet. It came with a life time guarantee (at least the publicity claimed so). The trailer was compact, feather light, and had an aircraft like construction. It was fully self-contained. The interior was built to ensure maximum comfort for the travellers.  Facilities included bath, toilet, water pressure, water heating system, water holding tank, 4 cubic feet gas refrigerator, 3-burner gas range. There was a comfortable bed, a duvet as sofa, 4.6' large wardrobe and many overhead cubicles.
Here it is: Mark II in all its beauty with "improvised" external AC
Source: http://theadventuresofavalair.blogspot.com/

The exterior walls from acrylic-coated aluminum gave the trailer a lasting beauty along with an excellent resistance to weathering, good exterior stain resistance and protection against abrasion and marring. This type of exterior cleans easily and provides good formability.  The sale price of the Mark II was $7595 at the time of its introduction.
 About Us / Privacy Policy / Resources
Go to: Pop-up Travel Trailers and RVs

or to: Top-10 Vintage Travel Trailers,  Popular Vintage Travel Trailers