Popular Vintage Travel Trailers
50's and 60's was a golden era for travel trailers; post-war spirit and enthusiasm for outdoor activities lead to production of many rare, today still popular vintage travel trailers....

The period from 1950's to 1970's represents golden years for American trailer camper enthusiasts.
To match the yearning to explore, many new industries started rolling out camper trailers of various shapes and sizes.
There were teardrops, canned-hams, travel trailers, motor-homes and even multiple bedroom villas on wheels.
The manufacturers paid tribute to the outdoor spirit of men and women by rolling out newly designed RVs which aimed for the ultimate comfort and convenience to the campers.
Besides the top names like Airstream, Shasta, Avion and Forester, there were many more manufactures who wanted to capture their market share by offering new frills and attractive features. As a result of this keen competition, the camper trailer industry was bustling with enthusiasm.
And now, few decades later, the interest for these vintage trailers is soaring again. People want to make their own personal trips to the past and revive nostalgic memories by riding the retro campers restored with the latest comforts and technology.
The ten brands of camper trailers included in this listing are Serro Scotty, El Jay, Vagabond, Oasis, Richardson, Aljo, Lakewood, Travelez, DeVille and Rancho.

1962 Serro-Scotty travel trailer in its original shape ......

Serro Scotty

Manufactured by Serro (Scotty) Travel Trailer Company in Irwin PA from 1957 to 1997, the Scotty trailers were mostly canned ham type travel trailers. Starting with teardrop, Scotty trailers grew to include 13 foot and 15 foot trailers. Over the years Scotty gathered a bunch of avid enthusiasts for whom the trailer became a life style.
For more details see: Serro Scotty Vintage Travel Trailers

---
ElJay

ElJay trailers were manufactured by Eljay Mfg. Co., Winchester, New Hampshire during the period of time from 1950's to 1960's. The trailers were designed and built for fast travel on rough roads. As per the company's claim these trailers were "insulated against New England weather, and time tested by hundreds of users."
For more details see: ElJay Vintage Travel Trailers

---
Vagabond

Vagabond Coach Mfg Company in New Hudson, Michigan started producing trailers in 1931. Vagabonds had a great run from their introduction until the 60's with their big size home on wheels which were promoted as highly liveable, towable and durable products.
For more details see: Vagabond Vintage Travel Trailers

Restored 1950 Vagabond Travel Trailer
Source: http://www.vintagetrailermuseum.com

---
Oasis

Oasis trailers were manufactured by Donhal Inc. at their plant in Bellflower, CA. The production lasted from 1957 to 1969.
More you will find at: Oasis Vintage Travel Trailers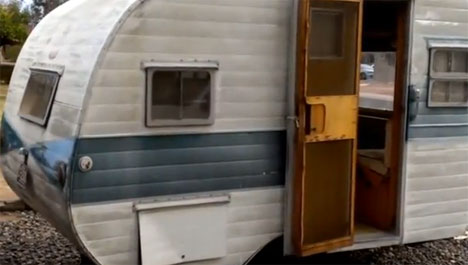 One of the first on the road: 1957 Vintage Oasis Travel Trailer

---
Richardson

Manufactured by the company Richardson Home Corporation based at Elkhart, Indiana. Richardson trailers came in various sizes, ranging from 22 to 43 feet. The have the characteristic for those time shape of canned ham. In 1955 the company introduced a rare two-story model.
For more details see Richardson Vintage Travel Trailers

---
Lakewood

Lakewood trailers were manufactured by Lakewood Industries located at Artesia, California. The company saw success of its productions in the 50's and 60's.
See details at Lakewood Vintage Travel Trailers

---
Aljo

Aljoa family travel trailers were manufactured by C.T.McCreary in his simple establishment at Watts, California in 1945. Subsequently the name of the trailers was changed to "Aljo" following a legal suit by a company manufacturing a similar sounding product. The trailer enjoyed great popularity in the 50's and 60's.
More details at Aljoa Vintage Travel Trailers

14ft refurbished vintage Aljo travel trailer in original shape and colors matching original design.

---
Traveleze

Starting producing trailers since 1931, Traveleze enjoyed pioneer's status in the art of trailer making. The company was founded by Kenneth Dixon in LA.
Find details at Traveleze Vintage Trailers

---
DeVille

Catolac Corporation, 9573 East Garvey Boulevard El Monte, California manufactured DeVille trailers. DeVille mostly concentrated on building small canned ham design trailers.
More at DeVille Vintage Travel Trailers

It's  amazing - Serro Scotty before and after renovation work

---
Rancho

Rancho Trailers, Inc. was established in Salt Lake City in 1958 by LeVern G. Miner. The company produced trailers from 1958 to 1987.
Find more at Rancho Vintage Travel Trailers

---
You may also want to see other brands of travel trailers that that in the past gained the fame and  popularity among outdoor enthusiasts like for example:
Aladdin Vintage Travel Trailers
Alma Vintage Travel Trailers
Chinook Vintage Campers
Kit Vintage Travel Trailers
New Moon Vintage Travel Trailers
Avalair Vintage Travel Trailers
Schult Vintage Travel Trailers
Comet Vintage Travel Trailers
Comet Vintage Travel Trailers

Today some these rare models that survived effect of time and weather are coming "back to life" thanks to our love, attachment to the past or let's call it - nostalgia.
They may not provide all the "whistles and bells" of modern travel trailers, they may not provide the luxury and comfort so much sought by many in the pursuit of "happiness", but certainly they provide charm and warmness we so often miss these days in our crazy, hectic lives.....
---
 About Us / Privacy Policy / Resources
Go to: Pop-up Camper Trailers and RVs
or to: Top 10 Vintage Travel Trailers