Barbie Camper
The beauty and elegance of a Barbie camper.....

Believe it or not, Barbie campers have been around since 1970.
Since then, the style of these campers hasn't really changed. 
Only four different styles have appeared: a box type van, a longer motor home style, a pick-up truck camper style and vehicle with a pop up camper trailer.
These toys are ideal fun for kids since they come with so many accessories that it would be very hard to believe that some kid doesn't like it. In addition to this, these campers are perfect not only for indoor but also for playing outside.
The Barbie campers are providing a comfort of home.  Each camper is packed with pop out tent complete with bug netting in order to keep bugs away.  Also there is a sleeping bag and a fold out bed that provides comfortable sleeping. Besides, these campers also include a wonderfully designed full-sized kitchen for preparing meals.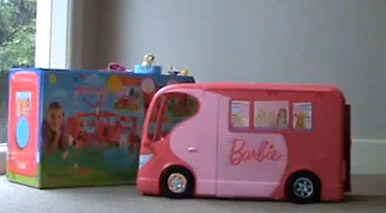 Here it is: Barbie Camper (and as expected in pink!)

The kitchen is so functional that it may surpass the luxury that real kitchens have. With several shelves, a refrigerator, a stove-top, and an oven for cooking, kitchen in such campers are amazingly attractive that any woman would like to have one in her own house.
And if you like to have lunch outside, you can set table and chairs around the fire pit which are also included. Another great feature these campers offer is outstanding bathroom with shower cabin and toilet. In order to make your kids' playing more realistic, the camper set includes live sounds that imitate the rustic outdoors, crickets chirping. Even the sound of sizzling bacon can be heard.
Since campers for Barbie are all made of plastic, they are very easy to clean. You only have to wipe them out with a damp cloth and you don't have to worry that you may destroy the interior appliances because they are also made of plastic.
And now let's follow Barbie on her camping trip :-)

The most popular and sought after model of campers for Barbie is Barbie Glamour camper, which comes in pink and has over 30 accessories. This camper is actually a van consisting of a number of rooms, a bathroom and a full size kitchen. In the kitchen, there is a stove, which will sizzle like real food being prepared. The bathroom has a flushable commode. And for additional fun, the camper comes with a campfire and sleeping bags.
The campers are available in various models, so kids may choose either 70s or 80s vintage models or the modern pink camper van, which every girl will adore.
This stylish toy is a perfect addition to your girl's toy collection.
Most parents think that these campers can serve as educational toy for their children because such toys may teach young girls how they may spend their free time.
Also playing with Barbie campers not only urges their creativity and imagination but also they learn practical skills, which they will surely need in future life.
If you have ever considered buying a Barbie camper for your child, it is surely a perfect gift for a birthday or Christmas. Honestly, you can't find a girl who won't be amazed with such extraordinary present.
---
Visitor's story.......

The Barbie Camper is another toy from the Barbie stables meant specifically for small girls.
The camper toy was released in the year 1970, eleven years after the birth of Barbie. Now that would make Barbie too young to drive the camper, but nobody would mind that anyway.
Since its inception, the camper has not gone through many modifications. In fact, the four distinct styles of campers that the company came out with are still intact today, without any major changes. The long motor home, the box type van, the truck camper and the popup camper trailer are the four distinct models that the company came out with.
Girls can have a lot of fun with these toys, going on imaginary vacations with their future family. Just as modern campers come with a lot of accessories, these toys too have their own version of various accessories and features. This would make children have hours of fun with these toys both outdoors as well as indoors.
While the older version of the toys came with sliding doors to remove or place Barbie inside the camper, the latest models allow full access to the interiors of the camper. Some models even have a folding table which can be put up to serve meals to Barbie.
The toy campers are made of durable plastic and cleaning them requires just wiping with a damp cloth. The decals are plastic coated and so would not be erased by wiping and cleaning. The various accessories that come with the Barbie Camper offer a very realistic experience of having a camping adventure. These accessories even have intricately made parts such as stove knobs and shower handles which heighten the sense of realism. The camper toy from the makers of Barbie is a great gift for any small girl. For more information, visit Barbiecamper.org


Beth Sutherland, NH
 About Us / Privacy Policy / Resources
Go from Barbie Camper to Pop Up Campers Trailer Home