Best Lightweight Teardrop Trailers
Teardrop campers are some of the most "nostalgic" RV, but these days they also resonate thanks to modern designs and comfort – here are our pics of best models for 2016.....
         Teardrop travel trailers were some of the first designs on the roads starting what with time became the tremendously popular concept of active "recreation".
In our modern society, it offered an opportunity for city-dwellers" to leave the "environment of concrete and asphalt" and reach the nature.
After countless number of modern RV designs representing the best of our contemporary vision of "best", "modern" etc , the time came to bring the past back to the present.
Several companies took this task very seriously resurrecting the old idea into the realm of our modernity. 
Note: Detailed reviews of the newest lightweight travel trailers you will find at:
--> Review of travel trailers under 1,000 lbs 
Little Guy Teardrop MyPod M@x
      Little Guy Teardrop Camper Trailers (the company from Ohio) are the most identifiable, economical and modern teardrops on the road today.
Today the Little Guy company makes several models of teardrop trailers belonging to the series: MyPod, OffRoad, T@G, T@B, Little Guy and Silver Shadow. 
By definition, all these campers belong to the class of economic, lightweight, easy to tow campers that allow nature lovers to explore the secrets o our Mother Nature. Easy to manoeuvre, designed for off-road conditions, they can easily follow you on your path of discovery along new unbeaten paths.   
From the impressive collection of teardrop travel trailers, for presentation we selected the model MyPod M@x.  The camper's shell is made 100% of fibreglass attached to aluminium frame. With its dry weight of only 580 lbs and tongue of 70 lbs the MyPod M@x can be towed by small family cars.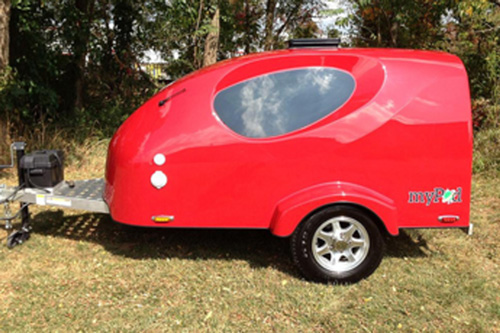 MyPodM@x Teardrop Camper - external view (above) and its interior 
Despite of its small size the camper offers decent sleeping conditions. The door at the back of the camper leads into full or double-size bed area with two side windows and 52"x 76" mattress. Standard features include 12V/110V power, 19" Entertainment center, 3-speeds "Fantastic Fan", window shades. And an AC. All lights are modern LED-based designs. There is still some room for storage. The Gravel Guard layer protect the body from the damage (or rather and accelerated wear & tear" process when driving on dirt-roads.  
The MyPod M@x will come in White, Silver, Black, Blue or Red color
And the Little Guy factory tour.... 
Specifications:
Exterior length 

Interior height

Interior width

Exterior height

fender-to-fender width

Gross weight (GVWR)

Dry weight

Tongue weight

11'7" (139")

3'1" (37")

5'0" (60")

5'2" (62")

6'0" (72")

2200 lbs

580 lbs

70 lbs
Camp-Inn 550 Ultra
      The Camp-Inn is another company specializing in designing and manufacturing teardrop-like campers. (actually the trailers are built by Petenwell Industries LCC in Wisconsin). Its production portfolio includes three series of these "little" campers bringing back the past into modern-day reality and expectations. 
These are correspondingly: series of Models 500 (smallest with one door and side windows), Models 550 (medium, front and side windows and one door) and the largest one – Models 560 with two doors and panoramic front window as well as side windows.  For this presentation we selected model 550 Ultra.
It represents an original Camp-Inn's teardrop design with distinctive front windows and "teardrop"-shaped side doors. While undeniably it is inspired by the "remote past", the 550 Ultra represents a very modern trailer and a step above the Classic Model.. Solid plywood, marine grade hardware, aluminium, urethane-painted exterior, insulated roof, full-length protective gusset are only few details that make this camper robust and well protected against weather and road conditions.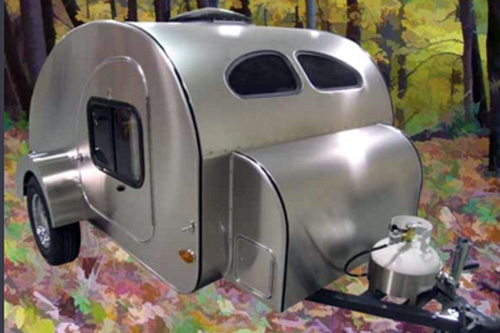 Camp-Inn model 550 Ultra teardrop camper
     Queen-size sleeping area and two access doors make this trailer easily accessible and comfortable. Interior cabinets, convenience shelves, coat hooks and underfloor storage provide plenty of room for "stuff". The kitchen with stainless-steel countertop, backsplash and sink, dining table, cooler stand, cabinets and drawers offers decent cooking conditions not only for a morning fresh coffee but also for more "complex" meals. A birch interior gives a warm vintage feel to the cabin enhanced by chrome lights, sweeping door handles and other details of the interior design. No wonder that happy customers often refer to this model as the 
Specifications:
Body length 

Total length

Body width

Body width w/ fenders

Interior cabin height

Trailer height

Gross weight (GVWR)

Dry weight




8'(+1ft with front storage box)

11'11"

5'0'

6'6"

3'8"

5'1"

-

850 - 1240 lbs (depends on options)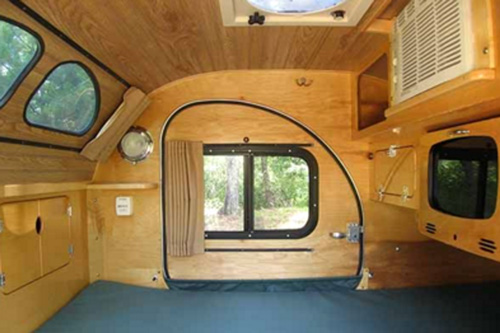 Interior view
External features:
Door steps
All-aluminium exterior
Insulated roof
Stainless-steel fenders
Roof fan
Underfloor storage
Urethane-painted frame
Levelling jacks
Propane tank (11 lbs)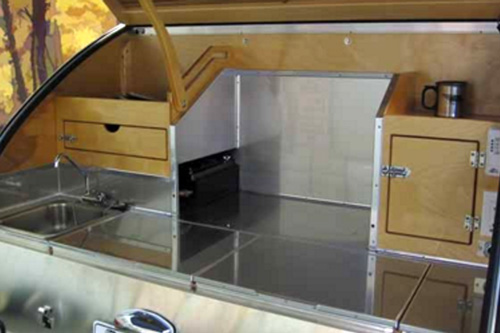 Rear-located kitchen
Interior features:
Queen-size sleeping area
Two side doors
Elastic door skirts
Cabinets, shelves and coat hooks
Stainless-steel countertop, sink, table and stand
Propane stove (2-burner)
LED lights
AC (GFI-protected) and DC outlets
Water and LPG and Electricity
8 gals fresh and grey tanks
Propane tank
City water and LP hook-up
Water-tank monitor
15 Amps 110V power connection
72 Amps-Hour Battery w/autocharger
McKenzie Cozy Cruiser
       Cozy Cruiser is a manufacturer of teardrop travel trailers designed with goal to provide fun and comfort for adventurous and nature-loving persons. These campers are engineered following the simple philosophy – Deliver comforts without all the burden of big RVs and trailers (in other words - "Simple and small is beautiful"). The company is owned and managed by John and Richard Egli (both have over 50 years of experience in the RV industry) and operates from Springfield (Oregon)
The line of products includes the following models: Willamette (basic), McKenzie (standard), and three deluxe models correspondingly available Rogue, Columbia and coming soon Umpqua.
       McKenzie Cruiser is the standard level Cozy Cruiser with more advanced features than the basic model Willamette. The roomy interior includes queen-size bed for two adults, wooden cabinets, drawers and counters and table with folding leg. Delux roof vent provides ample air circulation. The exterior kitchen galley offers basic functionality (2-burner stove, Coleman cooler, shelf and drawers…). 
McKenzie Cozy Cruise teardrop trailer
Specifications:
Overall length 

Body length

Exterior  height

Interior height

Interior width

Fender-to-fender width

Gross weight (GVWR)

Dry weight

Tongue weight

12'6"

9'6"

5'6"

3'10"

4'11"

6'7"

-

1250 lbs

130 lbs
Interior
Standard features:
Two tables w/folding leg
LED in/out lights
GFCI protected outlet
Deep cycle battery
Wooden cabinets, shelves and storage space
Compact outside kitchen (2-burner stove and cooler)
Roof vent
Exterior kitchen at the back of the trailer
Special features:
15 Amp power connector
Two Propane bottles
Optional packages (Solar, Subwell and Roof-rack and Umbrella) helps to customize the trailer to individual needs.
Vistabule Teardrop 
       Vistabule Teardrop travel trailer is a newcomer in an overcrowded market of camping trailers. The company started design and production just few years ago in 2011, but its models already gained some "traction" among nature lovers.
The sleeping and living area is the size of queen-size bed, by all accounts quite small compared to standard trailers. However the big panoramic window offering "openness" into the nature helps to overcome the claustrophobia. Indeed, the so-called "cab-forward" design provides vistas that probably no other teardrop trailer offers.
Large floor-to-ceiling headboard with drawers and sliding doors provides a lot of space from clothing and "stuff". Sofa-bed design with friendly folding mechanism, and collapsible table offers much required "living" (or "relaxing" space) in the trailer.
Side windows in the doors and large porthole windows besides have screens so can be opened (pop-up at the touch mechanism) without the risk of bugs. 
     The kitchen has plenty of room for "cooking" gear (pots, pans, utensils, food, wine,  etc…). Sink with running water, pull-out 2-burner stove and fridge (optional) offer all you may need for "culinary" exercise" while the convenient "pass-through" between the kitchen and the cab makes easy to serve and share meals when ready. The basic package is a bit "modest" (although meets most requirements for comfortable camping). The long list of options helps to customize the trailer according to individual needs.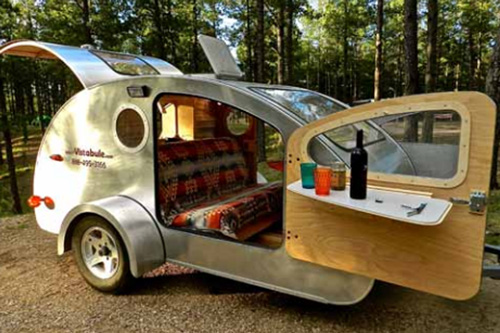 Vistabule Teardrop Camper Trailer (sofa configuration)
Specifications:
Total length 

Body length 

Exterior width

Exterior width w/fenders

Exterior height

Interior height

Weight w/(gear, water..

Dry weight

Tongue weight

Road clearence

Bed size

Fresh water tank

Grey water tank

14 ft

10 ft

5 ft

6'10"

5'7"

3'7"

1520 lbs

1240 lbs

160 lbs

11"

58"x 78"

9 gals

9 gals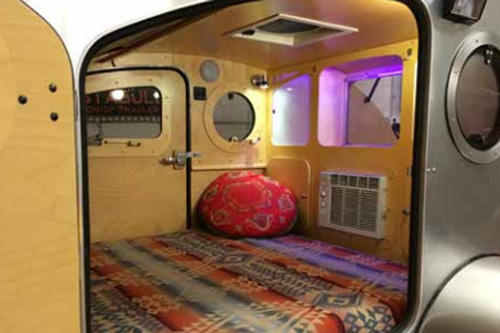 Interior (bed configuration)
Basic features:
Queen-size sofa-bed with storage
Swing-out and pop-up tables
Privacy screens
2-burner cooktop
10-speed fan
Storage for clothing and gear
Pass-through opening with screen
Interior and exterior lights
12V, 110V outlets
City water and 110 power plug-ins
110V Battery charger
Aluminium shell
Kitchenette
Kitchen with sliding-up "rain-protection" cover
Options and Add-ons:
Propane tank
Fresh water tank w/ sink, faucet, sprayer, pump and filter
2-way Refrigerator 
Cabinets
Grey water tank
5000 BTU AC
Propane furnace
Electric heater
Electric brakes
Stabilizers
and much more….
Mount Massive Teardrop
       Colorado Teardrops Trailers was founded in 2014 and is located at the Rocky Mountains foothills in Boulder (Colorado). Today the company offers four models of teardrops- correspondingly: Basecamp (lightest model), Canyonland (off-road model), Mount Massive (model for young family with kids) and Custom Worx (customized model mostly for small business delivery services).
      Mount Massive teardrop is the largest model from the series of Colorado Teardrops trailers. It has enough room for family with children or grandpas with grandkids vacations (or if you wish for family with large dogs adventure trip). The cabin includes queen-size bed and two bunk beds converting into a sofa. Insulated underfloor storage together with shelves provides enough of space for all kind of stuff (clothing, gear etc.…). Understandably, the kitchen galley is really "massive" with room for coolers, water, stove and cabinets for food, utensils, casseroles, pans, plates and whatever you may need for "hungry" family. As the matter of fact with the room for charcoal, fire wood and camp stove the cooking process can be quite exciting!
The tough suspension and off-road tires allows you to drive Mount Massive on unbeaten tracks pulling it with mid-size SUV.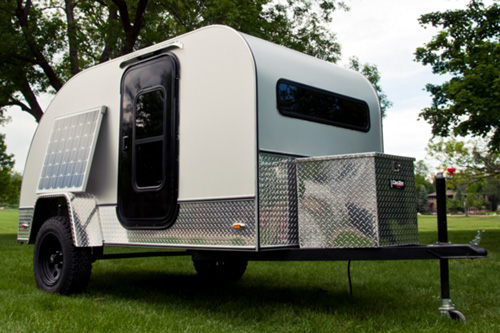 Colorado Teardrops' camper - model Mount Massive
Specifications:
Total length 

Body length 

Exterior width

Cabin width (inside)

Exterior height

Interior height

Dry weight

Tongue weight

Road clearence

Bed size

14'1"

10'6"

82"

60"

82"

56"

1430 lbs

220 lbs

18"

60" x 78" (queen)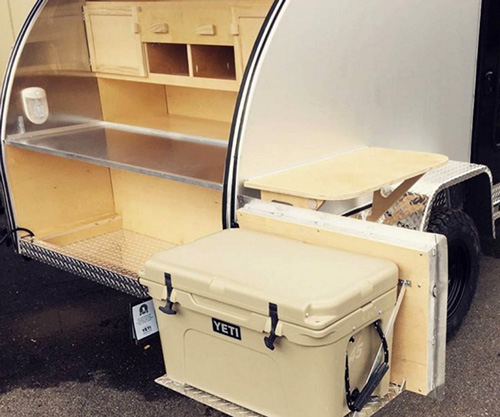 Kitchen with attached Yeti cooler
Large selection of upgrades offers almost unlimited possibility to customize the camper.
Power package:
Solar Add-on
80W solar panel
Charge controller
20ft power cord
Other options:
Front cargo rack
Trailer tongue toolbox
Water tank with hand pump
5' x 7 ' mini screen tent attachable to the camper side
Double galley slider
Spare tire
Go back to:
--> Review of travel trailers under 1,000 lbs 
--> Lightweight Travel Trailers
Note:  Check with the manufacturer and / or authorized RV Dealer for the up-to-date list of features, options as well as latest specifications. These written above may not be accurate and certainly are subject to change by the factory. We are not responsible for any inaccuracy, the above text is provided only for the general information.
This review was written based on publicly available information for the benefits of the community of RV-ers. We do not receive any gratification or financial benefits from RV manufacturers, dealers, and any other promoters of RVs. 
We are NOT involved in sale and/or retail of RVs!
---