Boat trailer
What exactly you should know if you are considering buying a boat trailer....

Boat trailers are specially designed to carry, launch, retrieve and sometimes to store different types of boats.
There are various types of boat trailers as there is lot of different types of boats. All these boat trailers differ in style, shape and price of course.
Generally there are two basic types of boat trailers. These are bunk and roller.
The main difference between these two boat trailers is how you will load and unload your boat in shallow water.
A bunk boat trailer is ideal for the boater who will mostly load and unload the boat in deep water while on the other side roller boat trailer is preferred for loading and unloading boats in deep water. Also combination bunk-roller boat trailer may also be found.
Such boat trailers are the most expensive because both technologies used in producing bunk and roller trailers are used in manufacturing bunk-roller boat trailers. Also there are skiff trailers and pontoon trailers. Skiff boat trailers are for carrying small, lightweight boats and sail boats, while pontoon boat are used for activities on protected waters.
Boat trailers are made of galvanized steel and aluminum. Galvanized steel is rust-resistant but is not impermeable to decay. On the other side aluminum boat trailers will not rust but will corrode into a fine white powder.
When purchasing a boat trailer, there are a few tips that you must pay attention to. That is carrying capacity and tire diameter-it is better to select a trailer with tires that are large in diameter. Also it is very important to buy a boat trailer with "drive-on" capability which allows you to drive your boat onto the trailer. A boat trailer with lights that have been sealed against water will be a smart choice. When you buy quality boat trailer, that will save you plenty of money and time because it will allow you to travel with your boat to the desired destinations.
There are a great number of boat trailer manufacturers in the U.S. Some of them are: EZ Loader, Loadrite, Shorelander, Magic Tilt, Venture Trailers.
Magic Tilt has been producing quality boat trailers since 1953. They are dealing with aluminum and galvanized steel boat trailers designed for salt water. Over the past several years they have made the Custom Aluminum line trailers which launch and load more smoothly than bunk trailers.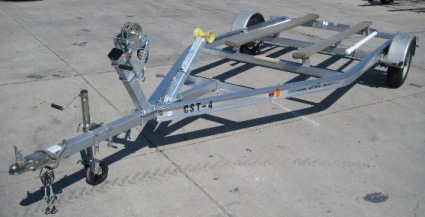 An example of the boat trailer
(Courtesy of Magic Tilt  - http://www.magictilt.com )

EZ Loader began making boat trailers in 1953. They are famous worldwide producing adjustable, custom and European type approved boat trailers.
Adjustable series boat trailers are completely adjustable which allows trailer to match a great number of boats of different age, size or hall design. Most models from this series are made in galvanized steel, black or white powder coated steel or aluminum finishes. Capacities of these boat trailers range from 600lbs to 15500lbs and fit boats from 10' to 38'.
Custom trailers have welded frames and are designed to fit the specific boat model. Models of custom boat trailers are available in custom painted steel, aluminum, or tuff coated finish. Capacities of custom boat trailers range from 1800lbs to 10000lbs for boats 16' to 30' long. However, custom welded trailers are limited to boats that are not over 7 years old.
European trailers are the only trailers approved for use in the European markets.
Venture Trailers manufactures quality and very functional boat trailers, which allows you to easily load and unload the boat. These trailers can handle all types of watercraft including skiff trailers for craft from 15 to 21 feet in size and pontoon boats with a load capacity up to 40000lbs.
---
Visitor's story...

Boat trailers are possible as diverse as boats themselves.
If you are planning of moving your boat then you need to do a research about which boat trailer will be the best for your boat. Of course, you could also use it as storage. There are a lot of styles, shapes and prices. Boat trailers mainly divide in two types – bunk and roller.
Even though the bunk is considered to be superior for aluminum boats, most boats can support both types of trailers. This style of the boat trailer allows the boat to float onto the trailer. Another fact which is useful is that a roller trailer is preferred if you will load and unload your boat in shallow water.
Still bunk trailers are cheaper than roller ones. It uses rubber and/or polyurethane rollers for easy of launching and loading a boat. However, you could use a combination bunk-roller trailer and take the benefit of the best of both technologies at the same time.
If you are about to buy a boat trailer then one of the oldest and largest boat trailers manufacturers which you should consider is Magic Tilt. Another really large boat trailer manufacturer is SBS. Also pay notice to R.M. Trailers and McClain Trailers.
 About Us / Privacy Policy / Resources
Go from Boat trailer to Pop Up Campers Trailer Home