Sherpa Camper Specs
BRS Offroad
Sherpa trailer is a unique combination of ruggedness and elegance with all what is necessary for memorable off-road adventures
This is continuation of the detailed description of Sherpa off-road travel trailer - a unique and probably one of the best in its class of "go-everywhere" campers.... If you missed the first part, please go first to:
--> Sherpa Off-Road Camper: Part 1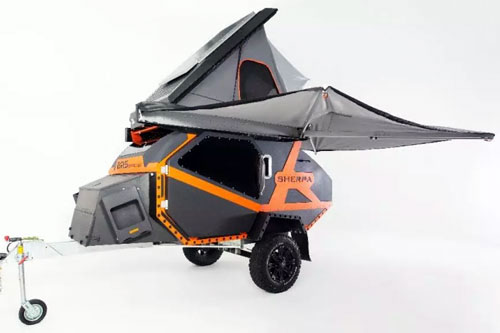 BRS Offroad Sherpa "go-everywhere" camper
Energy/Water Autonomy
         The reasonable level of energy and water autonomy is an essential part of requirements for off-road RVs.  From this point of view, the Sherpa camper certainly will not disappoint you. 
a) Electrical energy
            The camper comes with a 200W/24V roof-mounted solar panel. If the optional RTT is also part of the package, the solar panel will be installed on the tent's roof, so when unfolded (tilted-up), it can catch more solar energy.
Note that higher voltage also contributes to the overall conversion efficiency as it lowers the distribution losses (lower currents). 
The whole electrical system including Solar Panel, 125-Ah lithium battery, 12Vdc-40A DC/DC converter (w/independent inputs from the solar System and a towing vehicle), 12Vdc -20A AC /DC converter (battery charger) as well as Control & Monitoring System comes from Enerdrive. We are emphasizing this fact, because the lifespan of deep-cycle batteries heavily depends on an intelligent control of the charging process. Having the whole electrical power system from the same manufacturer guarantees its optimal operation (charging and discharging). 
          The electrical installation of Sherpa's camper includes 12Vdc cigarette outlets, USB ports, reading lights, Main Control Panel and light switches, thermostat, 2 exterior lights, kitchen light, rear video camera (in a small "wing" right above the rear kitchen), wireless door locking system (also works manually) , tailgate lights, coupling tow-connector, shore plug etc…
Note also the 21" HD TV with DVD Player and Fussion CD/Stereo System with 2 speakers. While probably they are not essential for successful escapades to wilderness, we have to mention them for the completeness of the description.
The battery, converters and controller are housed in the front toolbox.
b) Fuel
In contrast to typical RVs, Sherpa does not use the LPG gas. The main reasons seem to be:
higher probability of leaks in LPG installation due to exposure to dynamic loads and mechanical stresses caused by off-road driving conditions. 
prohibitive weight of LPG tanks
       Instead, Sherpa's manufacturer offers alcohol-run stove in the kitchen and diesel Air & Water Heater. The diesel tank (together with the heater) is housed in the front toolbox. Two Jerry-cans holders for 5.3 gallons (20 liters) tanks are attached to the exterior walls of the toolbox.
Dometic Origo: 2-burner, stainless-steel, free-standing stove using alcohol fuel (Source: Dometic)
c) Water 
        The Sherpa camper is equipped with 53 gallons (200 liters) Water Bladder tank (note that such tanks need an electrical pump to fill them back with water).  It's located underbelly, right above the suspension, protected this way from accidental damage. The water is pushed out by the pressurized air and fed to a pull-out hose for the use in the rear kitchen. It is also available at the tap near the front toolbox for the shower.
As expected, Sherpa does not have neither grey nor black water tanks (you may need your own cassette toilet). 

Sherpa in action....
Off-road design
                  The robust structure with well-defined arrival and departure angles, visibly significant (although not clearly specified) ground clearance and large all-terrain BF Goodrich KO2 tires promise good towing performance on any terrain. The XT Cruismaster, independent, trailing-arm coil suspension with twin absorbers rated at 5,730 lbs (2,600kg) is a standard feature, however its higher rated "air" ATX version especially designed for off-road racing is available as an option (ATX stands for All Terrain eXtreme).
Other important off-road factors:
Hitch equipped with an off-road DO35 coupler (instead of traditional ball). High articulation in all directions offers excellent maneuverability in challenging terrains with more than 90 degrees pulling angles. The dust cup (fitted when the coupler is locked) keeps dirt out guaranteeing the smooth operation and longevity of the hitch. Note that the DO35 coupling comes also in a version with a handbrake. 
Side windows as well as doors are sealed from dust
Lightweight design minimizes dynamic load on suspension and towing vehicle which is especially important on bumpy paths.
Impressive energy and water autonomy (much needed in an off-road environment). 
DO35 coupler w/dust cap
Storage
               It's true that Sherpa does not offer an abundance of dedicated storage space. Two larger cupboard cabinets on the rear wall with deep shelf above, two small storage compartments behind the backrests and two cubicles under the bed-head panels is all you can count on. The shelf can hold larger containers and bags, but all combined cupboards and cubicles have only capability of larger night-tables. They will certainly serve well for all kinds of handy personal items, but can be hardly used for clothes, linen, towels etc…
The big front toolbox houses major components of the electrical and water/space heating systems. You can also squeeze there some small items, tools etc … but certainly not the larger camping gear.  The locker located under the toolbox is mainly used for spare wheel and accessories like wheel blocks …
Given the fact that the Sherpa camper has significant cargo capacity (1,235 lbs/560kg in fully loaded version), manufacturer offers the clip-off matt that covers the mattress. Thanks to this dirt-protection, Sherpa's cabin can be used for carrying larger camping gear like camping folding table, chairs, RTT's ladder (obviously when in transit). And if you ever wondered why Sherpa's doorways are so big, then this is one of the answers!
Critics may say that during off-road adventures you rarely settle in one place for longer, so it implies frequent loading/unloading process but frankly – adventure wouldn't be called this way if you travel on the back seat in a Cadillac with a cocktail bar in front of you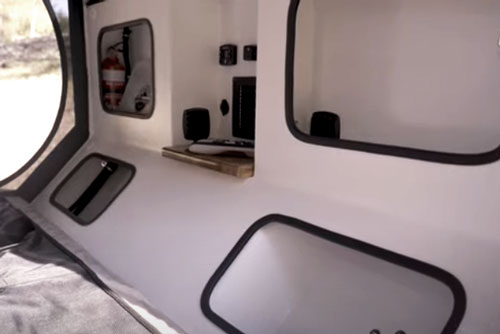 Storage compartments behind the backrests and bed-head panels (here removed for the presentation). Source: Hemax - Camper Australia)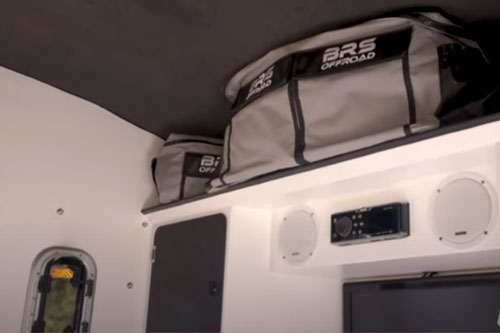 Storage shelf and below the left-side storage cabinet (Source: Hemax - Camper Australia)

Specifications

---
Overall length

Body length

Exterior height (1)

Exterior width

Folded RTT height

Unfolded RTT height

Dry weight (2)

GVWR

Payload

Tongue weight (3)

Fresh water tank

Sleeps (4)

14.6' (4.5m)

12.5' (3.8m)

8.2' (2.45m)

6.9' (2.1m)

Front: 8.3" (21cm), Back: 9.8" (25cm)

63" (peak)/(1.6m) at peak

1,940 -2,293 lbs (880-1040kg)

3.527 lbs (1,600 kg)

1,235 lbs (560kg)

200 lbs (90 kg)

52.8 gals (200 l)

2+2
---
1. With the roof-top-tent and solar panel installed (without the roof-top-tent - 7.4' (2.25m)
2. Depends on options
3. Approximate value is 10% of the actual weight including dry weight, water, fuel, cargo etc…) 
4. With an optional RTT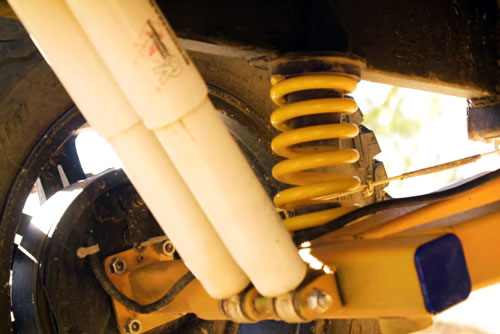 TX Cruismaster suspension
Cruismaster's DO35 coupler (here the version with a handbrake). Source: Cruismaster
Construction
Chassis: Main Beam from hot-dip galvanized-steel extending from the hitch the rear end (RHS profile: 6" x 4" x 0.16") combined with welded aluminum ribs sub-chassis
Shell: Lower Body: 1" thick sandwich structure of insulation and 0.12" thick marine-grade CNC-cut aluminum alloy skins; Upper Body: 0.8" thick one-piece composite honeycomb core structure with fiberglass outer skins – both integrated in monocoque-like structure. 
Stone-guard: Raptor Liner coating
Suspension: Rated 5,730lbs (2600kg) XT Cruisemaster independent coil w/twin shock. A higher performance ATX version is available as an option.
Ground Clearance: Large with Arrival and Departure angles
Axle: Single, independent 
Wheels: 17" x 8" CSA Raptor matt-black alloy rims w/BF Goodrich K02 all-terrain 265x65 tires  
Brakes: 10" Dexter electric, drum
Towing Coupler: DO35 (off-road)
Awning: Alu-Cab wrap-around (270 degrees)
Windows: Plexiglass 
Class: Teardrop Trailer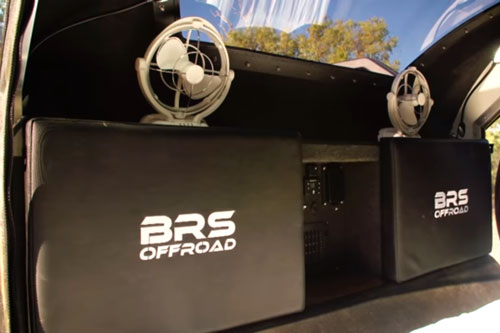 Two backrests on the front wall w/storage compartments behind
Interior features:
Queen-size foam mattress (6" thick) w/zipped cover 
2 x Bed-head panels (removable)
Panoramic star-gazing front window
2 x opening tinted side windows w/swing-out dust protection
21" HD TV screen w/DVD Player
Fusion AV755 CD stereo w/2 speakers
2 Storage cabinets
Storage Shelf
2 x Upholstered backrests w/storage
2 x Sirocco fans
Protective clip-off mat across the mattress (allows for storing camp-gear in transit)
Zipped insect screen on doorways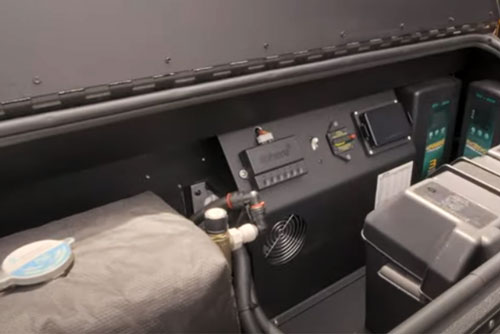 Toolbox: Water/Air heater with a diesel tank on the left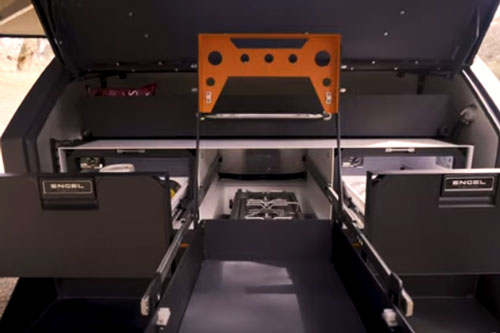 Rear kitchen (Source: Hemax - Camper Australia)
Rear Kitchen
2-burner, stainless-steel, free-standing, Dometic Origo stove (alcohol fuel)
Dual (2 x 8 gallons) refrigerator drawers (Dometic)
Silicon Washtub and pull-out hose w/hot & cold-water
53 gallons water bladder tank
Eberspacher Diesel Air & Water Heater (located in the toolbox)
Slide-out pantry w/individual compartments
Fold-down food prep bench
LED Light bar (2 ft long)
Exterior Features:
Front toolbox (tongue-mounted) 
2 x 5.3 gallons (2 x 20l) jerry can holders (front-mounted)
Fuel Tank (housed in the toolbox)
Spare wheel locker
Tongue Jack-wheel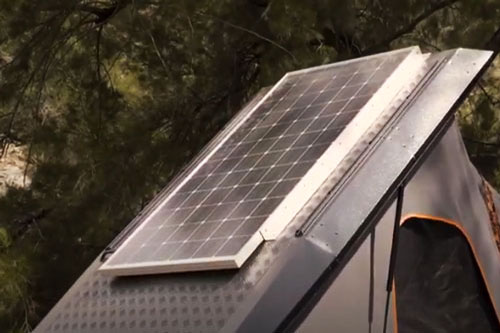 Tent's roof-mounted 200W/24V Solar Panel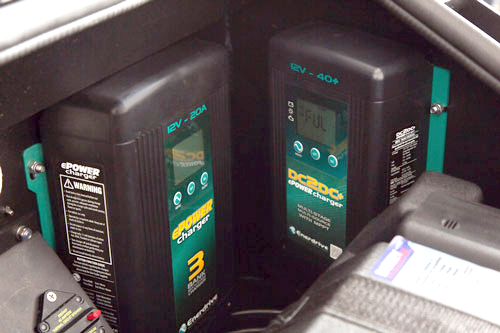 Enerdrive's 40A DC/DC converter and 20A AC/DC battery charger

Electrical:
125A B-Tec Lithium battery
High efficiency 200W /24V solar panel 
40A Smart DC/DC converter w/Control & Monitoring system
20A AC/DC Battery Charger
Battery Monitor Panel
4 x USB ports (4.8A load each)
2 x 12V cigarette outlets
2 x 12V fans
Interior lights: 2 x flex Reading
Exterior lights: 2 x side lights, kitchen light bar, trailer tailgate lights
Wireless door-locking system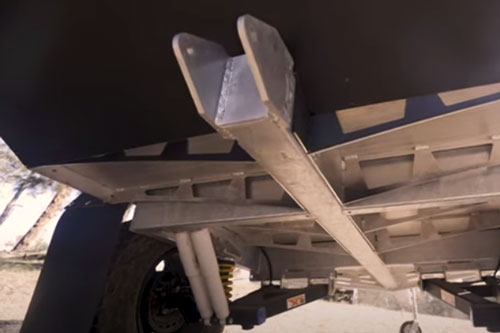 Rear recovery point at the end of the chassis' central beam (Source: Hemax - Camper Australia)
Safety:
Electric drum brakes
Rear video camera
Spare tire
Rear Recovery point
Smoke Alarm & Fire extinguisher ?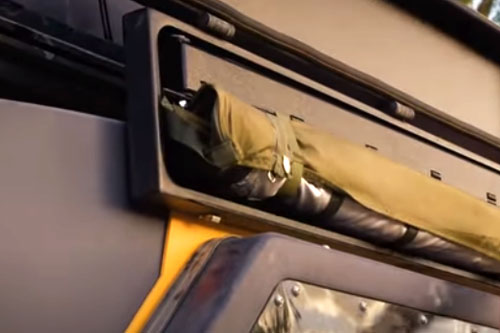 Shower ensuite (here still folded in the box attached above the door
Options:
Roof Top Tent (Alu-cab model).
ATX Cruisemaster Air suspension 
Quick Pitch Ensuite (3ft x 3ft canvas shower room)
Handbrake
Summarizing: As expected, this Australian-designed and made BRS Offroad Sherpa trailer is ahead of the pack in its class of small, "go-everywhere" campers. The truth is that its designers were able to come out with a robust, in many aspects innovative and comfortable model. Thanks to impressive energy and water autonomy, it can take you for off-grid adventures. Thanks to its stylishness and elegance of exterior finish, it will attract RV-ers attention. Given that fact that it is also well-equipped, it will offer comfort making your vacation a memorable experience.
       While the Sherpa is truly unique and, in many aspects, ahead of competition in the class of small off-road campers, it's quite expensive (about 66k in Australian $ (about43k$ US)). Also, its availability on North-American markets is still a work in progress, although it will happen, hopefully sooner rather than later, because it's an outstanding Extreme Off-Road model.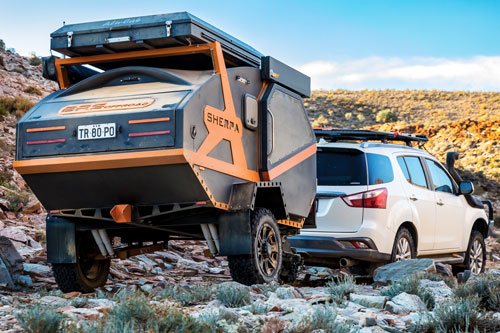 BRS Offroad Sherpa: The true "go-anywhere" travel trailer....
Go back to: --> Extreme Off-Road RVs
or to --> Sherpa Off-Road Part 1
Note: Do not confuse Australian BRS Offroad Sherpa trailers with the US-based manufacturer SherpaTrailers (located in Libby, Montana). 

Unless otherwise indicated, all pictures are courtesy of BRS Offroad
Note:  Check with the manufacturer and / or authorized RV Dealer for the up-to-date list of features, options as well as latest specifications. These written above may not be accurate and certainly are subject to change by the factory. We are not responsible for any inaccuracy, the above text is provided only for the general information.
This review was written based on publicly available information for the benefits of the community of RV-ers. We do not receive any gratification or financial benefits from RV manufacturers, dealers, and any other promoters of RVs. 
We are NOT involved in sale and/or retail of RVs!