Sherpa Camping Trailer
BRS Offroad
Sherpa off-road trailer is designed based on best experience from Australian Outback: rugged but also stylish, light and small but able to sleep a family of 2+2… 
            Outdoor Adventure Rule: "If an RV is good for Outback, it is probably good enough for you" (Tanner Garrity).

       Well, that's probably the best advertisement you can think of for Australian manufacturers of off-road RVs. It's not difficult to figure out why – while in the Western Hemisphere you may have to use a magnifier to find an unspoiled oasis of Nature, In Australia, it's just the opposite – you may have to carefully scan the map to find roads. Given the fact that the Outback spans about 70% of the Australian Continent, the local RV industry has a perfect (and natural) area for live testing, and at the same time an immense data base from RV-ers sharing their experience from off-road adventures. And these are main ingredients of successful design and manufacturing of all-terrain RVs.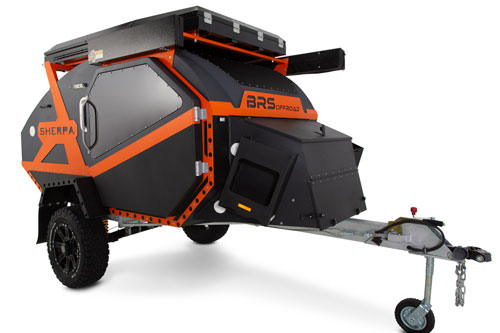 Sherpa camper: Above in a road configuration, Below in a camping configuration.
Source: Unless otherwise indicated, all pictures are courtesy of BRS Offroad 
       The perfect example of an advanced but also well-matured and sturdy design can be Sherpa off-road travel trailer by BRS Offroad (Redhead, NSW, Australia). Well, as mentioned by company's owner Mr. Ben Souter – robust models start with an initial set of tough design goals. In fact, they were quite ambitious: 

Hard-shell trailer with minimum of canvas (they do not offer sturdiness required for extreme off-road models);
Robust, well-configured model that will be able not only to "go everywhere" but also to come back in a good shape.
Well-equipped to offer good level of comfort (quite important when you are in the middle of nowhere)
Limited dimensions: height restricted by typical residential garage doors (about 8 ft/ 2.4m), while overall size by challenges of off-road conditions (obviously smaller is better),
Suitable for the family of 2+2 with off-ground sleeping space, 
Lightweight, easy to tow, well-within towing limits of most popular off-road vehicles (the goal was under 2,000 lbs /900 kg for fully loaded version)
Affordable (minimum of foreign components is one of elements of the cost's equation) 
Most readers will agree that it was a daunting task because most of these requirements are conflicting. Well, let's see what came out of the factory doors:

Sherpa Camper - chassis
Chassis
        Chassis (and bodies) of all-terrain vehicles must withstand countless challenges constantly faced in the wilderness: driving on rough nature paths, crossing water, enduring huge dynamic loads and twisting "omnidirectional" forces, surviving weather elements …. . Obviously, the tricky part of the design is how to make it within the limits of a reasonable weight. 
Addressing these issues, BRS Offroad came-up with an out-of-the-box solution. They use a single central beam (RHS profile of about 6" x 4" x 0.16") extending from the hitch to the rear end of the trailer. This Rectangular Hollow Section made from the hot-dip galvanized steel, supported by welded lateral wings provides much needed sturdiness to the frame. However, to minimize the overall weight, the remaining part of the chassis is made from marine-grade 0.2" thick aluminum ribs. In fact, it's a sort of sub-chassis welded to the base of the shell. 
Sherpa Camper: Very Large doors allows for easy in/out access and help to store larger camping gear for transit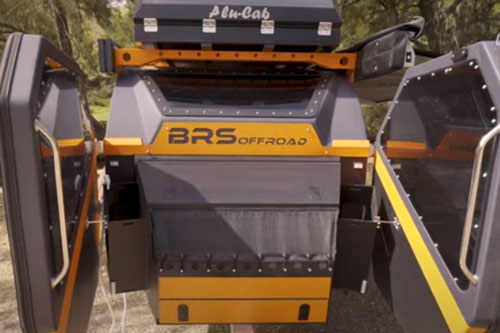 Front-mounted Toolbox and locker
Source: Hemax "Camper of the year 2019"
Body (Shell)
        The body of Sherpa's trailer is a combination of classic curved teardrop-shape (upper part) with strong octagonal accents enforced by mandatory arrival and departure angles (bottom part). While it has the rigidity of the monocoque structure, technically speaking it is made from two totally different pieces. The bottom part is built as a 1" thick sandwich from 0.12" thick marine-grade alloy sheets and a layer of insulation in between. The upper body is made from the composite honeycomb structure covered on both sides by the fiberglass skin. The 0.8" thick upper structure offers good insulation (R-factor) and weights only mere 121 lbs (55kg).  Both doors are made using the same technology.
All Sherpa trailers are painted with Raptor Liner in matte black and bright orange colors. Apparently, the colors are non-negotiable, in fact their stylish combination seems to be a sort of "trademark" for Sherpas.  Note that the Raptor Liner is a scratch and stone-resistant coating, super tough, durable, and weather-resistant (UV, moisture, extreme temperatures….). BTW- in US it is often used for protection of pick-up trucks' beds.  
Elimination of traditional stone-guard protections like diamond plates or "rubberized" surfaces shaves off a noticeable amount of weight helping to keep the Sherpa trailer under the weight limit of 2,000 lbs.
Note: It may be too early to call victory, while Raptor Liner will certainly protect traditional RVs, time will show that it is good enough for extreme off-road conditions!

View on the rear wall: Two large cupboards on the sides and the Entertainment Center (Stereo and HDTV)
Features
         While most nature lovers pay less attention to "residential-type" comfort when on the road (in this case when "off-the road"), meeting essential needs and some level of comfort is necessary, especially in an out-of-civilization environment.  From this point of view, Sherpa may even exceed some expectations! 
The relatively small travel trailer transforms from the compact tow-configuration to a family-camping arrangement in about 10 minutes. The side doors open wirelessly, a 270 degrees Alu-Cab awning once deployed creates much needed weather-protected outdoor kitchen and living space. Interior is more than just a sleeping space. Disproportionally large doors openings make it easily accessible and with the help of panoramic star-gazing window - bright (note that doorways can be fully zipped with insect mesh so doors can be left open when camping).
In fact, designers come up with several features making this confined space as much as possible friendly. You will find here the 21" HD TV with DVD player, Fusion/CD stereo with speakers, supporting USB and 12Vdc charging ports as well as reading lights.  Two upholstered backrests on the front wall offer more comfortable sitting positions. Twin Sirocco fans above help to circulate fresh air when needed (note that two small, dark-tinted side windows can also be opened for cross ventilation). 
        The bed with 6" thick queen-size foam mattress and two padded removable head-panels takes all available floor space. The mentioned earlier panoramic star-gazing window above the bed heads (front side of the trailer) virtually opens the enclosed interior into outdoors or at least makes such an impression and certainly feeds imagination during starry nights (available curtain can be used to achieve the complete darkness).
Star gazing window above the bed-head and twin fans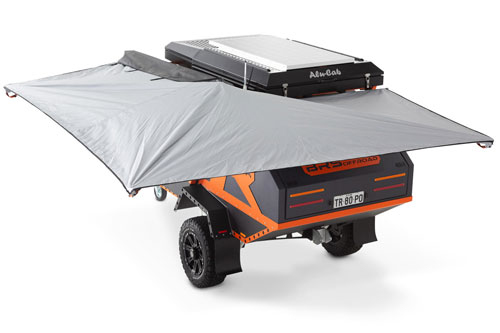 Alu-Cab wrap-around style self-supporting awning
Two cabinets on the rear wall, shelf above and some space behind the backrests is basically all when it comes to interior storage space. Not much, but probably enough for personal stuff! 
               The wrap-around style awning covers the rear kitchenette and the passenger side of the trailer. It's a self-supporting structure even in breezy conditions, although when necessary, the central pull-down leg can be deployed to provide extra support.
The driver's and front sides are left open and that's for valid reasons. The front needs exposure for the star-gazing window while above the driver-side doors you may find an optional (but very useful) Quick Pitch System. It's truly amazing to see how this small, hardly noticeable box housing a canvas ensuite can be quickly unfolded to create a 3ft x 3ft shower and/or change room. It is accessible from the interior of the trailer (if the door was previously opened) or from the outside. The shower has to be attached to a dedicated outlet in the front box.
The shower room is open to the sky (it's assumed that eventual rain should not prevent you from taking the shower). It may however limit its functionality as a "privacy room" (changing, toiletry etc..).
           The tongue-mounted box is one of basic elements of small travel trailers. Typically, it is used as much-needed storage for camping gear and everything else. In Sherpa's case, the front cone serves rather as a sort of "Toolbox" housing essential systems - battery, converters, fuel tank, air & water heater etc… (more on that below in the subsection dedicated to Energy).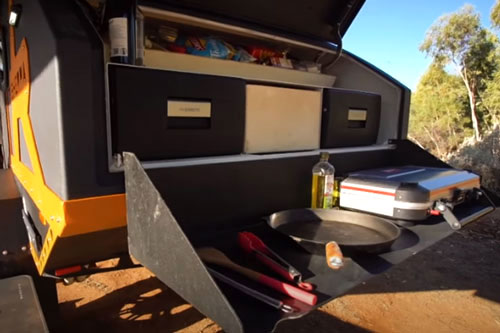 Kitchenette: working space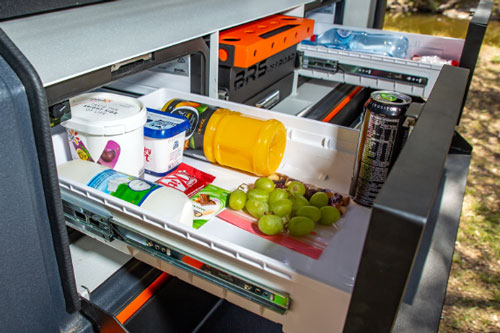 Fridge drawers (Source: Hemax)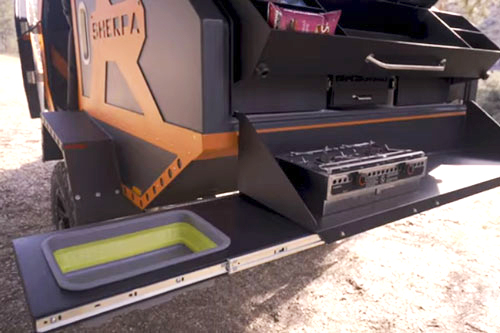 Slide-out silicon Washtub (Source: Hemax)
Kitchenette 

    In a typical teardrop trailer scenario, an outdoor kitchenette is located at the back under the tilt-up hatch. Well, that's pretty much all that Sherpa shares with competition. It does not have the typical built-in combo cooktop/sink module. Instead, Sherpa comes with a portable 2-burner camping cooktop using a denatured alcohol as the fuel (old-time scouts may still remember these devices). The novelty is also a fridge – here in the form of 2 separate Engel fridge/freezer drawers on each side of the galley (each having capacity of about 1cu. ft). 
The galley-wide pull-down pantry with several compartments and centrally located drawer (between two refrigerated ones) offer space for food supplies and eventually some pans, pots, utensils, plates…. The fold-down tray serves as the working space (it's also the place for the cooktop when used). Lateral slide-out houses a silicone basin with a hot & cold-water access (it seems that some details are still being worked out by the manufacturer). The large, water bladder-type tank with a capacity of almost 53 gallons feeds the kitchenette and side shower. The rear kitchenette is fully covered by the awning, dedicated light allows for late evening operation! 
Alu-Cab Rooftop Tent
Tent access ladder (most likely it will be replaced by a folding-one).
Roof-Top Tent
              The rooftop tent (RTT) is an option offered for families with kids (although frankly, many parents will be afraid of night "trips" down the ladder for physiological needs). BRS Offroad offers a tilt-up hard top, canvas-sided tent manufactured by an Australian company Alu-Cab (version of their Expedition RTTs). Thanks to aluminum substructure it is one of the most robust RTTs on the market, matching this way the design goals of the Sherpa camper. In the folded-down road configuration, it has a low, smooth highly aerodynamic profile reducing wind noise and fuel consumption. The reinforced aluminum roof can carry extra loads on racks (in the Sherpa case, it is used for solar panels). Despite the extra weight, the roof opens almost effortlessly thanks to assisting struts. Out of three entrances, one located on the driver side is used as a door, while the remaining two as windows (this is solely determined by the configuration of the wrap-around awning preventing the access by the ladder). All entrances have insects' nets, while the rear one (right above the kitchen) has a sloped weather-protection roof so it can be kept open regardless of the weather. The tent's roof is larger than the tent itself, offering this way additional protection from rain (at least at the moment of entering or leaving the tent). The soft-wall fabrics made from rip-stop canvas is waterproof and UV-resistant.
Tent's floor and roof are insulated with closed-cell Polyethylene foam. It certainly cannot match the comfort of insulated (and heated when necessary) Sherpa's cabin, but undeniably it helps to keep the interior warmer and minimize the condensation process. The 3" thick, high-density foam mattress with zipped cover and wall mounted storage pockets should satisfy the basic needs (comfortable sleeping and little room for cloths). Let's face it – RTTs are mainly designed as sleeping spaces (although as we know, kids can easily transform them into an "entertainment centers"). BTW - originally, the Alu-Can Expedition tents are equipped with 2 LED reading lights with flexible necks, it is not clear however if Sherpa camper has a dedicated hookup to the main 12V battery system.
      Note that if you do not opt for Alu-Cab RTT, Sherpa's roof is strong enough to carry camping gear (kayaks, canoes, bikes etc.), although it may partially obstruct the solar panel.

Summarizing – you can count on 6.9 x 4.3 feet sleeping space, 4.75 ft high at the tilted-up end (all interior dimensions). 
RTT: Weather-protection room over the tent's window
Notes: The Sherpa camper is sometimes erroneously classified as a hybrid trailer because it is combining the hard-walls cabin with the canvas-based rooftop tent (RTT). Note, that this term applies to hard-walls RVs with permanent tent sections (usually in pull-out versions), while the Sherpa is equipped with an optional RTT that can be easily removed. 
Please continue on the next page (Energy and water autonomy, Off-road design, Pros & Cons, as well as technical specifications
--> Next Page (Sherpa Off-road Specs)
Or go back to: --> Extreme Off-road RVs
Unless indicated otherwise, all pictures are courtesy of BRS Offroad
Note:  Check with the manufacturer and / or authorized RV Dealer for the up-to-date list of features, options as well as latest specifications. These written above may not be accurate and certainly are subject to change by the factory. We are not responsible for any inaccuracy, the above text is provided only for the general information.
This review was written based on publicly available information for the benefits of the community of RV-ers. We do not receive any gratification or financial benefits from RV manufacturers, dealers, and any other promoters of RVs. 
We are NOT involved in sale and/or retail of RVs!