Your Headline
Brudder EXP-6 represents the new class of "Go-Anywhere" Extreme off-road travel trailers; robust but luxurious, lite, agile, energy self-sufficient, designed for roughest possible terrain...
      In the previous page we discussed the characteristics of the Australian-made Bruder EXP-6 off-road travel trailer. Given its outstanding technical specifications, robust, modern construction, impressive suspension and very comfortable if not luxurious set of features, our conclusion was straightforward: it belongs to the new class of Super-Extreme Go-Anywhere RV. It will gently but surely follow your towing vehicle, whenever you decide to go.
If you did not start from the first page please go to: --> Bruder EXP-6 Extreme RV before you continue to specs and features.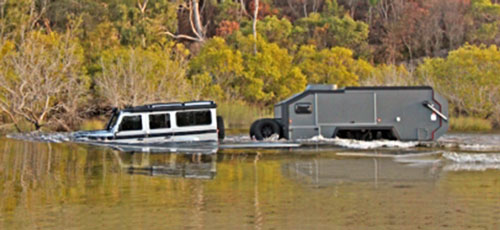 If you wouldn't see it, you wouldn't believe it: so here it is Bruder EXP-6 crossing water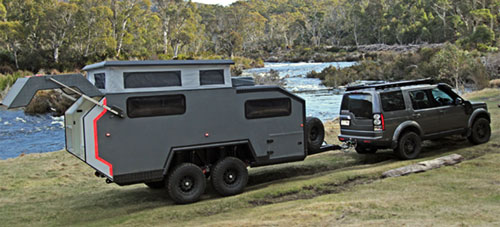 ... then after crossing the water is is ready for camping :-)
       There is not much negative, one can say about Bruder EXP-6. So we had to try hard to find some weak points:
It seems that the Bruder EXP-6 is "saturated" with electronics allowing for control and monitoring of almost every trailer's function. While it can be attractive and helpful (especially after long and exhausting day in the wilderness), it somehow stays in contrast with the modesty and sheer simplicity of the surrounding Mother Nature we intend to explore.
Similarly, the TV seems to be an example of an "over-design", because certainly the last thing a "seasoned explorer" would like to do in the middle of Nowhere (or actually in the "Heart of the Mother Nature") is to watch a soap opera or listen to "news" that may happen to be fake…. Let's face it – one of the main reasons you want to explore the Mother Nature is to move from the Fake World into the Real One (but it's just my personal opinion).
Another negative aspect of such high level of "high-tech" in go-anywhere RV is the reliability of components. Regardless of their certainly high-quality, as Mr. Murphy pointed out – "If something can go wrong, it certainly will" and we can only add – most likely it will happen suddenly and in most difficult situations! 
So let's summarize the previous page on this video
Specifications (1)
---
Overall length

Box length

Exterior width

Exterior height

Exterior height with raised roof

Interior headroom

Dry weight (2)

GVWR

Tongue weight

Fresh water (3)

Grey water

Black water

LPG (4)

Sleeps (5)

22'

16.4'

75,6"

83.5"

95 3/4"

?

3,700 – 4,365 lbs

?

?

53 gallons

?

?

None

4 (6)
---
1. Unfortunately, not all data is available
2. Depends on the features
3. Higher capacity available as an option
4. Trailer does not have appliances running on LPG. However if needed for your own needs, you can attach an LPG bottle on the tongue.
5. Four with sofa converted into bed for 2 (needs optional features to sleep up to 6 persons)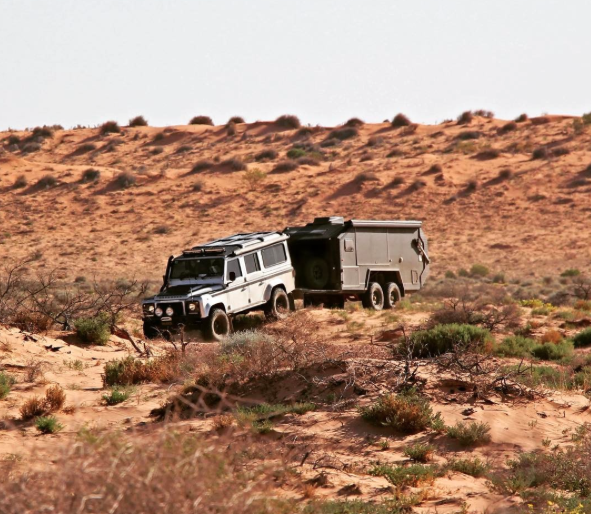 for Bruder EXP-6 off-road means no road!
Construction:
Chassis: Fully welded and sealed 5" x 3" x 0.16" rails, protected by chip & scratch resistant layer
Shell: Honeycomb Composite (0.8" thick walls, floor and roof) installed on separating from the chassis rubber-mounts 
Insulation: R-5 equivalent 
Roof: Pop-up (12") w/electronically controlled lifting system)
Protection: Front stone guard
Suspension: Bruder 3L Air - Load sharing or fully independent (operator-selectable), fully adjustable w/remote control (smartphone & tablet compatibility), 8 x vertical shock absorbers, 
Axle: Dual ("on-fly" convertible to single front or rear axle)
Brakes: Electric for all 4 wheels w/"Press-button" handbrake, (available as disk or drum)
Wheels: 285/75/16 w/6 studs alloy rims (can be customized to fit those of towing vehicle)
Coupling: McHitch 50mm (other hitches are available)
Windows: Double-pan, tinted, w/reflective blinds and built-in mesh
Entrance: electrically-controlled rear door w/built-in insect screen
Electrical connector: 7-pin round plug w/high current (50A) Anderson Plug
Rear side of the Bruder EXP-6 from the left: exterior storage, entrance w/fold-down step then exterior shower w/vanity !
Interior features
Queen-size bed w/ innerspring mattress (60" x 80")
Interior kitchen (induction or diesel-powered ceramic cooktop, stainless-steel sink, filtered water tap, storage cabinets)
Bathroom (flush toilet, shower, vanity w/retractable sink, and next to it toiletry and towel storage cabinets, Medicine/First Aid cabinet)
Dinette w/swivel table
Sofa convertible into bunk beds for 2
Water heater (diesel)
Furnace (diesel)
AC (roof-mounted)
HD-TV w/DVD/HDMI/USB and Bose Sound system
2 adjustable fans
Storage space (under-bed, wall cabinets, overhead, rear)
Compressor w/pressure tank
Exterior features
Exterior kitchen w/ fridge & freezer (optional), storage, working space, fold-down table, pantry and access to induction cooktop and sink …)
Exterior shower w/vanity compartment
Power side-awning
Power "Hatch-awning" (made by opening-up rear hatch)
Storage (tongue-mounted box, rear and side compartments including large pass-through one)
Jack wheel
Here you can see some details: ceiling window in the main bedroom area, low profile roof-mounted AC unit and behind the pop-top roof covered by slim-line solar panels
Electric
225 Ah Lithium Battery
400W roof-mounted slim-line solar panels
2,000W Inverter
80 A 240V/110V battery charger
50 A DC charger
4 x 12V (Cigarette) outlets
Interior/Exterior LED lights including LED Torch lights
8 x USB ports
2 x 240V/110V outlets
Battery Management System (touch screen with smartphone control)
EXP-6 Monitor System (smartphone-controlled)
Water/Plumbing
53 gallons fresh water tank
Dual Water filter w/exterior outlet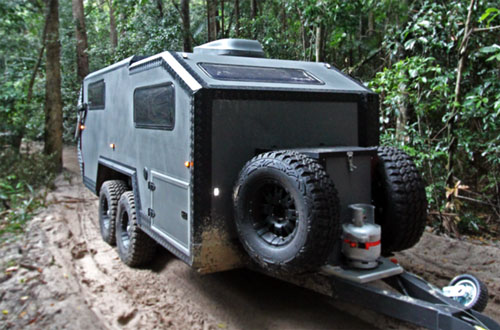 Spare wheels (one optional), storage box  and an LPG bottle (not needed by Bruder in its standard configuration)
Safety
Spare wheel (2nd is an option)
Rear winch and recovery points
Snorkel pressurizing system 
Options
600W Solar Panel Pack
450 Ah lithium battery pack
Washing (laundry) machine
Generator (as per customer request)
Spare wheel
Motorbike rack
Bicycle rack
Surround Sound System
Coffeemaker
GPS tracking system
Arctic Climate Pack w/R-10 equivalent insulation
Under-floor heating
Lockable firearm storage
Rear recovery winch
Optional washing machine perfectly fits into rear storage compartment 
Additional options considered by the manufacturer are: Satellite phone, Emergency Tracking System (EPIRB), Water Filter System…. 

Summarizing: When it comes to ability to drive across rough terrains, in the tandem of Bruder EXP-6 and towing vehicle the latter will be the limiting factor (regardless if it is renowned Landcruiser, Ranger etc..). The truth is, that the Bruder EXP-6 is designed to follow any path the tow vehicle can explore.
          It seems that thanks to its uniqueness and off-road characteristics Bruder EXP-6 deeply stirred international community of RV-ers. Taking this into account, the company offers models adapted to meet country-specific regulations and provides a shipping service. So far Bruner EXP-6 models have been shipped to North America, Europe, Russia and Middle East, but I guess it is just the beginning….
Go back to the beginning of the article (first page):
--> Bruder EXP-6 Extreme Off-Road Travel Trailer
see the review of other off-road RVs:
--> Review of Extreme Off-Road RVs
or check most common characteristics of of-road RVs:
--> Off-Road RVs
All pictures are courtesy of Bruder
Note:  Check with the manufacturer and / or authorized RV Dealer for the up-to-date list of features, options as well as latest specifications. These written above may not be accurate and certainly are subject to change by the factory. We are not responsible for any inaccuracy, the above text is provided only for the general information.
This review was written based on publicly available information for the benefits of the community of RV-ers. We do not receive any gratification or financial benefits from RV manufacturers, dealers, and any other promoters of RVs. 
We are NOT involved in sale and/or retail of RVs!