Bruder-EXP-6 Travel Trailer
Super-Extreme Off-Road RVs
Brudder EXP-6 is an example of new class of "go-anywhere" Extreme off-road travel trailers; robust but luxurious, lite, agile, energy self-sufficient, designed to follow any towing vehicle...
       Rugged, harsh, wild terrain requires at least matching (if not exceeding) terrain's challenges "go-anywhere" type of RV. Usually only "military-grade" expedition trucks can meet such difficult and very demanding requirements, but their "exorbitant" initial and maintenance costs made them out of reach for most RV-ers. 
That's where two Australian brothers of German origin Toby and Dan Bosschieter saw the opportunity to come-up with their own design of an off-road RV with the goal to meet the following requirements:
Bruder EXP-6 with easiness moves over an uneven terrain

  ... and its layout
It should NOT limit abilities of a towing vehicle itself to cross harsh tracks (or as the matter fact no-tracks areas)
It should have high reliability and be "strong enough" to withstand harshest driving conditions 
It should offer high level of adaptability to road/no-road conditions and easy control of its features
It should offer excellent "off-grid" capabilities 
It should offer good level of comfort in "out-of-civilization" environment 
      Well, brothers' good engineering sense, as well as experience learned on numerous escapades into wilderness of Australian Outback combined with expertise acquired during years of development of military vehicles greatly paid-off.  After about year and half of R&D efforts (by all accounts remarkably short time), the final product-  Brüder EXP-6 travel trailer left the Brisbane's factory doors (Note that the name "Brüder" means "brother" in German so it symbolizes joint efforts of funding brothers Toby and Dan in this project).
The Bruder EXP-6 belongs to the class of medium-size "go-anywhere" off-road RVs. However, due to its outstanding AT capabilities combined with equally amazing (as for this class of vehicles) level of comfort (if not luxury), Bruder seems to create its own class of Super-Extreme Off-Road RVs.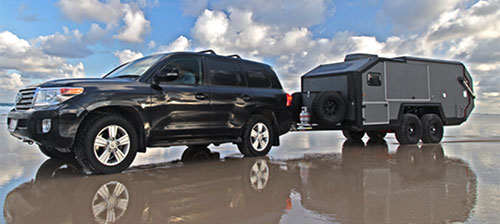 This gives you an idea about the size of the Bruder EXP-6 off-road travel trailer compared to the towing vehicle
       From the outside, Bruder EXP-6 looks like a heavily-armored, military vehicle with an extra underbelly protection. In reality, despite its "military-like" shape and colors it is surprisingly lite (given its size), agile, versatile and certainly very comfortable. The only characteristic shared with military vehicles seems to be its sturdiness. 

Suspension
         Suspension is really an example of first of all imagination and then engineering skills. It comes with two axles and features an independent Air Suspension System that can not only very effectively but also "softly" deal with obstacles in the most demanding terrain. Eight vertical shocks absorbers reduce the impact of "violent" encounters with the terrain.  
But there is more: the suspension system can be switched from fully independent (crucial for off-road driving) to load sharing (beneficial for higher speed on-road driving). The generous 12" of wheel travel offers ability to adjust suspension level to one of the following modes: "Highway", "Off-road" and "Extreme height" (maximum ground-clearance). It is accomplished thanks to Multi-link Air Suspension System (sort of air-bags controlled by an on-board air compressor). 
 As if this is not enough, the suspension can convert from dual to single axle configuration (active either the front axle or the rear one).  And all these extraordinary features can be activated "on-fly" by a driver thanks to electronic control ("hardware button" or "Soft-Key" on a smartphone thanks to Bruder's proprietary application).   
While the mentioned suspension modes are factory optimized for driving conditions, all of them can be re-adjusted to adapt to the towing vehicle.  
Massive but very flexible (adaptable) suspension is a very strong factor of Bruder's  AT-capabilities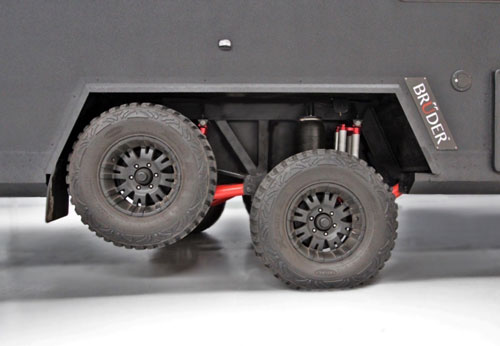 Single axle configuration! It can be set when in movement ("on-fly")
Chassis
      The chassis made from rounded steel profiles is fully welded and sealed (airtight) preventing penetration of any corrosive agents that with time may deteriorate its strength. In fact, the chassis is engineered to withstand the load 11 times exceeding its own weight. This overload factor is especially important for off-road vehicles due to extreme dynamic loads it will be exposed to. The chassis is galvanized and covered by chip and scratch resistant protection layer. 
One of very important features built-into the chassis is a rear-mounted electric winch and two (18,000 lbs each) recovery points. This is a kind of "Guarantee & Insurance Policy" that when you get stuck somewhere in the middle of nowhere, you have big chances to get out of troubles! 
Shell
       Shell is built from 0.8" thick (some sites report 1.15" thickness?), honeycomb German-made composite materials (company claims it is much lighter than traditional fiberglass). The characteristic tapered shape shows substantial departure angle, necessary to smoothly navigate through rough, steep terrain. 
One of the most important parameters of Bruder's shell it is narrow width (only 75,6"). The narrow body makes towing (especially down the narrow trails) easy and almost stress-less. First of all, as the driver you know that whenever your vehicle can go, the Bruder EXP-6 will follow. Also, you will not need extended side mirrors to keep an eye on the trailer. It is the best possible scenario, because usually we have quite good feeling about what our vehicle can do and what not, but not so when it comes to towing wider trailer. While it does not matter that much on the highway, it is very precious characteristic when driving in the wilderness. But the narrow body also offers some benefits on highways. It is lower dragging force (so better fuel efficiency), because the trailer's body stays within the "aerodynamic profile" of the towing vehicle.
The shell is separated from the chassis by "rubber absorption" mounts. They greatly reduce the transfer of vibrations into the body and as the end effect significantly increase durability of the camper. 
The pop-top roof increases the headroom, but also thanks to numerous windows allows natural light to penetrate interior.
Interior is quite roomy and bright thanks to numerous windows including those in Pop-top roof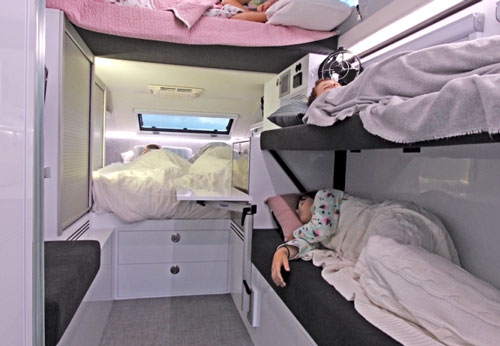 Bruder EXO-6 easily sleeps 4 adult persons and amazingly even in this "night" configuration, the interior still offers an open space. free to walk...
Interior
      Setting-up the Bruder EXP-6 to "Camping Mode" couldn't be easier. At the touch of the "Button" the camper self-levels, the rear hatch unlocks upwards-up opening access to the entrance door and the pop-top roof smoothly raises up increasing the interior headroom to almost 7 feet. You may also adjust suspension level to your needs (sorry, you have to touch another "button" – this time on your phone :-). This is a very practical feature because of exterior kitchen (adjusting the level of working space, sink, cooktop and table to comfortable height will certainly help to prepare delicious meals).   
      Interior is quite roomy with queen-size bed at the front. Innerspring mattress as well as bed's lengthwise orientation (you do not have to jump over your partner to claim you place) makes it a comfortable space to sleep. And with the blessing of the Mother Nature (weather) the ceiling window located right above the bed will open to you magical spectacles of the starry sky….
In the standard version, the Bruder EXP-6 can sleep 4 adults. The sofa along the side of the camper converts to two (seemingly a bit narrow) bunk beds. Thanks to the vertical arrangement (basically sofa's back-rest is pulled-up, so one bed is located above the other) campers' middle section is kept open allowing to freely move around. 
If necessary, you can also install an optional bed under the ceiling (thanks to Protection Net it can be great sleeping space for 2 kids, although they will have to climb the ladder).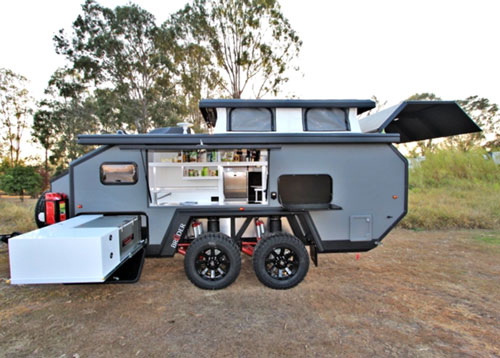 Can it be better? Here exterior kitchen and living room  (all under the "umbrella" of an awning)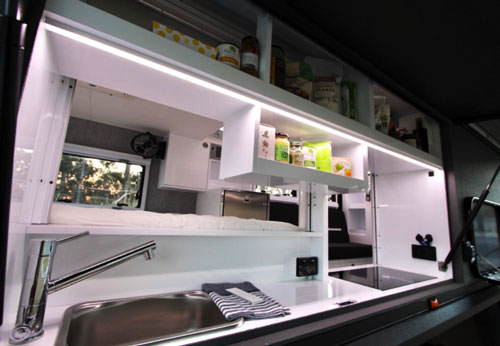 ... and the close look at the galley
       Interior houses sort of galley with limited working space, fridge w/freezer, sink w/hot & cold water and induction cooktop. But frankly, it is rather good for preparation of morning breakfast, coffee (as the matter of fact you may have optional coffee-maker), and mostly "ready-to-eat" dishes. In fact, the interior "dinette" with extra bench and small swivel table will not support more than that especially for crew larger than 2 persons.
The totally different story waits for you outside. Large pull-out galley offers a lot of working space, storage and even an optional second fridge w/freezer as well as the large pull-down table (now actually it is clearer why the ability to adjust camper's suspension is so precious). Magnetic silverware holders keep essentials at the reach of your hands. 
But the cleverness of Bruder's design is even more evident when you realize that the previously mentioned interior cooktop, sink, storage and pantry are accessible from the outside. In other words, major part of kitchen's features can be shared! Large awning (I guess by now you know – one more "button" or soft-key on your smartphone will do the job), protects the whole area including outdoor U-shaped kitchen and dining space from "excessive" weather– be it rain, or scorching sun.
The full bath including shower, flush-toilet and retractable sink is located at the rear end of the camper. It is "tight" but functional. Cabinet for toiletry and towels is handily placed just next to the cabin.  However, in good weather an exterior shower located under the pulled-up rear hatch (sort of firm awning) seems to be a better option.
Bruder EXP-6 holds 53 gallons of the fresh water (in 3 tanks). Weabo diesel water heater makes shower a "pleasurable event.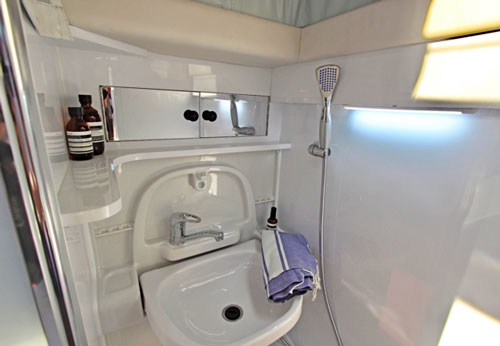 Full bath (the sink folds-up opening access to the toilet below)
Storage
     Ample storage is one of the most critical parameters of a "go-anywhere" camper. The truth is that in the "middle of nowhere" (most likely your travel destination) you must have with you all you may need an it should be done in an "organized" way (in other words easy access, practical design …). The Bruner EXP-6 is not short of storage. Starting from interior (mostly deep under-bed and under-sofa drawers) but also spacious tongue-mounted box, and numerous side and rear storage compartments. 

Extended seasons
      It will be tempting to adapt an All-Terrain RV to "All-Weather" conditions, so basically "only the sky" will be limiting your plans. Well, Bruner EXP-6 is almost there. The shell thanks to its 0.8" thick honeycomb walls provides R-5 equivalent level of thermal insulation (an optional Arctic Package may boost it to R-10). Dual-pane windows are somehow matching these numbers, but frankly this is not good enough for extreme temperatures. For summer, two interior fans can offer some breeze (but it will be a warm one). Much more you can expect from a roof-mounted, low profile AC unit. It will do well, provided you have enough of energy to feed it (see below).
       Designers of Bruder EXP-6 provided also solution for low temperatures: a diesel heater. The air outlets are located close to the floor level so you may expect "comfortable" temperature's profile across the camper. The major problem however is the plumbing system. It does not look like the Bruder EXP-6 is factory equipped with tanks heating mats nor pipes have an extra insulation. So all-in-all, while you can comfortably keep RV-ing across major part of the year, it will be suggested to avoid prolonged below-freezing temperatures. Crowd will certainly survive this "inconvenience", but not sure about camper's plumbing system.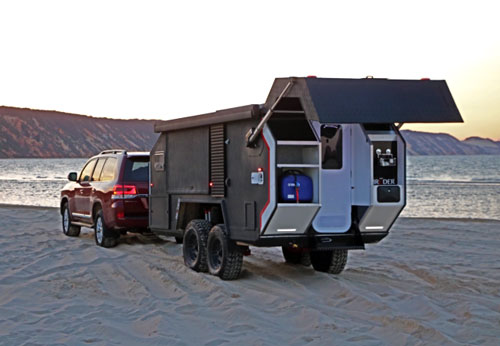 Once the rear hutch opens upwards it creates a sheltered area on the back of the trailer. It also opens access to the entrance door (center), exterior shower (right) and storage space (left)
Energy
       As expected from a "go-anywhere" RV, Bruder EXP-6 is designed for longer out-of-civilization trips.  This requires quite convincing energy self-sufficiency (especially when you may have power-hungry appliances like cooktop, AC or (optional). washing machine. Standard features include 225Ah battery and 400W of roof-mounted solar panels. Optionally, you can double the capacity of the batteries to 450 Ah and increase the solar power to 600W. 
Camper's batteries can be charged by the towing car (thanks to Anderson plug), optional diesel generator and obviously solar panels. It seems that under normal circumstances (AC not in use) it should be sufficient. Diesel is needed for water (and at low temperatures for air) heaters. Cooktop is either inductive (so needs electrical energy) or Weabo run on diesel, so depending on your cooking habits and needs you will have to include it into the energy budget. Lights, small kitchen appliances (coffee maker etc… ) and power actuators (awning, rear-hatch, pop-top roof, suspension etc…)  given the very limited time of activation are not the major factor in the energy budget. 
Manufacturer does not specify any diesel tank, so most likely you will have to use Jerry-cans for that purpose.
Dust
       "No-road" means dust, and actually quite often clouds of dust. To mitigate this problem, Bruder EXP-6 is equipped with snorkel system. In few words – it slightly "pressurizes" the shell and storage compartments with clean filtered air and this way prevents penetration of interior by small dust particles. This, combined together with shell design makes Bruner EXP-6 waterproof (well, at least you can securely cross rivers without being "flooded").
Before going further let's see the Bruder EXP-6 in action :-)
--> Continue on the next page (Specs and Features)
All pictures are courtesy of Bruder
Note:  Check with the manufacturer and / or authorized RV Dealer for the up-to-date list of features, options as well as latest specifications. These written above may not be accurate and certainly are subject to change by the factory. We are not responsible for any inaccuracy, the above text is provided only for the general information.
This review was written based on publicly available information for the benefits of the community of RV-ers. We do not receive any gratification or financial benefits from RV manufacturers, dealers, and any other promoters of RVs. 
We are NOT involved in sale and/or retail of RVs!