Camper Van Awnings
Whether you want to add some extra seating or dining space to your camper van, or you just need some extra storage space, awnings for camper vans are ideal solution

It is very important to choose the awning that is strong enough to withstand the natural elements and of course it is also very important to choose the awning that is easy to set up.
Generally, there are three types of awnings on the market for camper vans-drive away porch awning, the slide out awning and the sun shade awning.
However, there are many variations of these types of awnings. When deciding which awning you will buy, first you have to choose the fabric you want, the type of poles you want, and whether you will need a ground sheet.
Most awnings fit all types of camper vans, nevertheless it is important to choose the awning style that will perfectly match your camper van.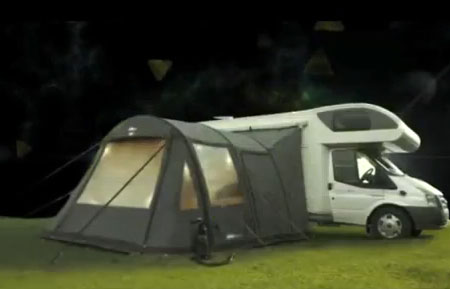 Vango AirAway™ driveaway awning from www.driveaway-awnings.co.uk. are available in 4 Models to suit both Camper-vans and Motor-homes.
The drive-away porch awnings are actually self-supporting. They come in many shapes and sizes. They attach to the camper van awning rail; however, they can be slipped off. This allows you to leave the tent-like awning and take your vehicle out for the day. This type of awning is good because it will keep the worst of the rain and wind away from the door and it also provides the space for storing bikes. Most of them provide plenty of space for sitting at a table.
Demonstration of Drive-Away awning

The sun-shade awning is a large piece of polyester or similar material which slides into an appropriate profile rail which is attached to the roof edge of the camper van. It needs couple of poles, few strings and pegs in order to stand erect. The sun shade awning comes in many different sizes and shapes and they fit almost every model of camper van. It is fairly cheap but it is not good for harsh weather. But it gives protection from the sun, light rain and the morning dew.
The slide-out awnings are the most practical awnings on the market today since they are permanently mounted to the camper van and they are available at all times.
They come with supporting arms and adjustable legs, they are made of high quality polyester, and they are washable, water proof and will not rot.
They are very useful because they can be slide out as much as you need.
The slide out awnings are a bit expensive but their practicality worth every dollar you pay.
Fiamma is a well-known manufacturer of awnings for camper vans. it has reputation to produce lightweight, easy to put up and easy to fully extend in a very short time. Fiamma camper van awning has some conveniences. For example, its doors and windows can be opened even in rainy weather, allowing air to circulate through the camper van. And in hot days it can reduce the temperature significantly.
SunnCamp is another great brand of awnings for camper vans offering quality awnings at very affordable prices. Their awnings are lightweight with innovative design. They provide reinforced pegging points, taped seams, ventilation, heavy-duty zips. They have two side windows with internal curtains and two side doors with secondary mesh panel.
Let's see the elegance of a  Kampa Rally Air 260 Inflatable Porch Awning

---
Visitor's story....

Once you have a van camper you will want to attach a camper van awning for added shade from the sun and rainy conditions.
When you are camping, it is nice to have an awning so you can step outside when it is raining and not get wet.
A 1998 camper van that acts as a camper can have an awning that fits the body style and attaches to the outside without any problems.
Campgrounds are filled with people driving camper vans, some brought and some are conversion vans, designed and built by the owners.
Many of these vans also tow a trailer behind them with grown up toys and toys for the kids as well.
I have to say, people are leaning more towards the van campers because of the ability to travel to different parks with the ability to move about in the confinements of the camper van.
Unlike a pop up camper, the vans that I have seen have awnings that roll out and set up easily enough anywhere. If you think about the years of the van campers, you know they had to replace the engine in order to keep running, but the price for an engine for a 1999 van, is cheaper than a new van.
When you travel to the campgrounds of New Jersey or maybe New Hampshire, you will see many van campers with camper van awnings, and people having fun and sitting around laughing and sharing experiences.
The best thing about the van camper is the fact that you have all the comforts of a pop up camper and the makings of a mini motor home. Sounds good to me, how about you telling me if you have ever seen a nice conversion van or ready make camper van with the attached awning.
 About Us / Privacy Policy / Resources
Go from Camper Van Awnings to Pop Up-ing Home