Directory of Campgrounds: Tent and RV Camping Parks Ohio (OH)
Tent and RV Camping Parks Ohio (OH)
Ohio State is part of the Midwestern USA.
The name "Ohio" has roots in Iroquois' language and means "Great River".
The biggest cities in the state are Cincinnati, Cleveland, Columbus, Akron, Dayton…..

If you are interested in history and culture, then it is suggested to visit the Cleveland Museum of Art, Cincinnati Museum Center and Cleveland Museum of Natural History.
Many will also enjoy visiting the Rock and Roll Hall of Fame. If you travel with your family don't miss the water parks and amusement park in the state: the SeaWorld Ohio, Jungle Jack's Landing, Cedar Point and Zoombezi Bay. And do not forget to take your kids to the Children's Museum of Science, or the Apollo Observatory.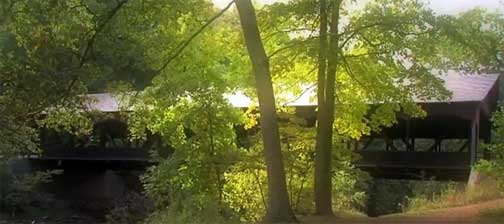 Road to the past - Covered Bridge in the Mohican State Park

Berlin RV Park
5924 State Route 39
Millersburg, OH 44654
(330) 674-4774

This RV Park is located in the beautiful Amish Country. Campsites are equipped with full-service hookups including 30/50 amp electricity. Private clean showers are included in the price, similarly the dumping station. For all guests campsite offers free wifi Internet.
Berlin RV Park is suitable for children; it has a playground and a horseshoes pit as well as volleyball court. There are wooded nature trails for pleasant walks The Park is pet friendly.
Downtown Berlin is perfect for shopping, flea markets and other attractions. Charm, Walnut Creek, Mt. Hope or Millersburg are also very close to the park.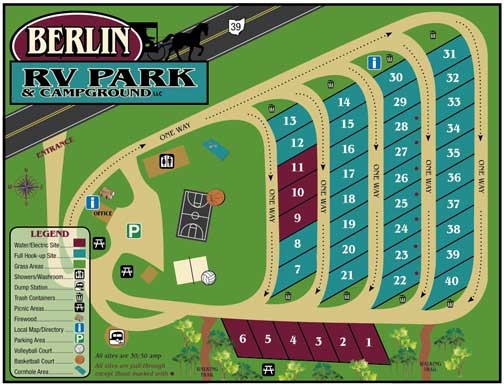 Berlin RV Park and Campground map
Source: www.berlinrvpark.com

Cedarlane RV Park
2926 NE Catawba Rd. (Rt. 53N)
Port Clinton, Ohio 43452
19-797-9907

This RV Park is seasonal. It is located right in the heart of Vacationland. It offers 300 sites for RVs and tents. There are modern restrooms and shower houses and 4 heated pool areas. Laundromat can be used by guests. The camp store has groceries and other relevant items.
You can play sports here such as basketball and shuffleboard. It is a family friendly park. Picnic tables & fire rings make camping more fun. The price includes usage of the dump stations & sewage disposal.
The park is only one mile from Lake Erie, offering opportunities for water-sports and activities such as swimming and fishing. Pets are welcomed!


Lakeview RV Park
2715 Sugar Grove Road
Lancaster, OH 43130
(740) 653-4519

Located in a country setting and like the name suggests with a lovely view on the lake, this park is family oriented. It is a seasonal campsite opening in spring and closing in the fall. There are 70 sites with 30 and 50 Amps electricity. Fire rings and picnic tables can be used at each site. Laundry facilities, bath house and toilets are all modern and clean. The price includes wireless internet.
There is an RV storage place, and at the front office you can find firewood and ice. The Propane Fill Station and the dump station are available for guests guests.
Possible activities include fishing, swimming and boating. Worth to check local attractions are the Hocking Valley Canoe Livery, Valley Zipline Tours, Hocking Hills State Park….


Evergreen Park Resort
16359 Dover Road
Dundee, OH 44624
(888) 359-6429

The Evergreen RV Park is located in the heart of Ohio's largest Amish Settlement. It has 30/50 Amps sites with pull-thrus. You can enjoy volleyball, basketball, game room and for kids - buggy rides (no wonder, you and in the Amish country), horseshoes and a playground. There is an exercise room if you prefer to stay indoors. Similarly, the indoor heated pool can be enjoyed even during bad weather.  Free Wi-Fi and Cable TV is available for all guests.

The campsite is great for groups since it offers a large conference room. The picnic pavilion with grills is also a place where more people can hang out. Sweets and other "stuff" you can buy at the Concession Snack Bar, while vending machines offer can satisfy more "down-to-ground" needs. The area attractions are: Wilderness Center, Amish Door Restaurant & Village, Walnut Creek Flea Market and Riceland Golf Course.


Scenic Hills RV Park
4483 TR 367
Millersburg, OH 44654
(330) 893-3607

This beautiful park surrounded by green hills of the Northeast Ohio is perfectly centered in the Amish Country.
It has 112 full hookup sites with water, sewer and electric, including 30 and/or 50 amp. Fourty sites are pull-thrus.
The park is perfect for groups, offering large meeting room. 
Fire rings and picnics tables can be used for lovely outdoor dinners. Nearby attractions are: Holmes County's Amish Flea Markets, Boyd and Wurthmann Restaurant, Troyer's Country Market, Der Dutchman Restaurant , Rolling Ridge Ranch and Chalet in the Valley Restaurant.


---
Visitor's story.....

Visiting The Rock and Roll Hall of Fame or some other attraction in Ohio does not have to mean staying in a hotel.
A directory of campgrounds: tent and RV camping parks Ohio (OH) gives you a handful of listings in order to find a beach camp or any other campground.
Since most people try to save money, traveling and staying at a campgrounds saves money and offers more to do.
A pop up camper, motorhome trailer or a 5th wheel recreational vehicle offers comforts of home while enjoying the outdoors.
Use a directory of campgrounds: tent and RV camping parks Ohio (OH) to find a campground to place a mobile home so you have a place to get away from the daily hustle and bustle of the city.
If you light the motor home, you might find some more remote locations enjoyable and still have the luxuries of home.
See some of the area campgrounds:
Clare - Mar Lakes Campground & RV
47571 New London Eastern Rd
Wellington OH 44090
440-647-3318


Riverview RV Park & Marina
1270 Vermillion Rd
Vermillion OH 44089
440-967-3962


Babington Camping & Mobile Home Park
11993 Spruance Rd
Hillsboro OH 45133
937-466-2323


Blue Lagoon Campground
1597 State Route 97
Butler OH 44822
419-883-3888


Woodland RV-Mobile Home Park
7631 Daly Rd
Cincinnati OH 45224
513-931-8845
 About Us / Privacy Policy / Resources
Go from Directory of Campgrounds: Tent and RV Camping Parks Ohio (OH) to Pop Up Campers Trailer Home
Find here 250+ Beach Camping Parks