Chinook Vintage Campers
Chinook RV Camper Vans originated in the garage of Don Lukehart Sr. in the spring of 1961, the rest is the history and quite successful one….

Mr. Lukehart, an avid enthusiast of outdoor camping, was frustrated with the shortcomings of existing mobile campers that were offered by manufacturers.
Working at night in his garage with his son Gary, Mr. Lukehart converted a Chevrolet Corvair into a mini-camper.
The results of this work started a trend that would revolutionize the RV industry. 
The company produced campers that looked like a cross between slide-in camper and a motorhome.

Custom Camp Coach

Chinook introduced this model in 1963. It was meant to be mounted on Chevrolet pick-up trucks. The outside width was 84 inches and the interior height was 75 inches. The 12' and 13' models were 90 inches wide. The length of its pick up base was from 8 feet to 13 feet. For safety, there was a large exit window in the sleeper. The wall of the trailer was 1 and half inches thick with fibreglass added for additional strength. 
The water tank had capacity of 25 gallons. The interior of 10 feet, custom side kitchenette was tastefully decorated. There was double sliding window over the 5 feet long window near dinette. The trailer was fitted with 12 volt and 110 volt lighting system. Great care was given for making the stay comfortable with plush mattresses and foamed seats.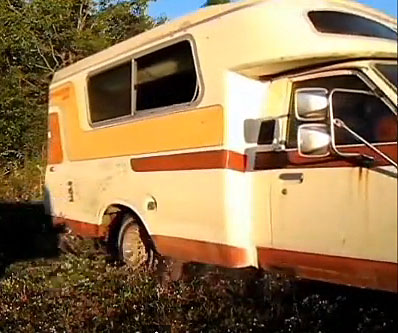 This is a 1978 Toyota-Chinook camper

New 1969 Custom Pickup Camp Coach

This coach was introduced in two model series namely Custom and Deluxe. There were trailers of multiple choices and sizes within both these categories. Sizes ranged from 8 feet 6 inches to 11 feet slide-in model. The coaches came in attractive wood-grain trim which beautifully blended with pickup colors. The tinted windows glasses added to the looks in addition to providing privacy to the occupants.
The functional design of the coaches such as rounded roof edges and rounded front section greatly contributed to the style and "roadability" of the trailers. Single piece fiberglass roofing provided better weight balance, strength and weather tightness to the camper. This model was fitted with many safety features like frost emergency exit window in the sleeper and safety glasses in all windows. Interiors included wood grained wall panelling, colour toned appliances and colour matched drapers.

Chinook Travel Trailer
Source: http://amysvintagetrailers.blogspot.com

Chinook Mobilodge

The length of Mobilodge model was 21 feet and overall width - 90 inches. The exterior height was 9 feet 10 inches and interior height was 6 feet 4 inches. The trailer was fitted with power brakes and power steering. Hot water, heater, defroster and electric windshield wipers were standard equipment. Other features included safety glass in all windows, refrigerator, 7 gas lights, multiple burner stove, 12 volt power with battery charger, shower, toilet and water pump. Mobilodge had the provision to sleep four.

Chinook 1400 Chassis Mount

This was a versatile motorhome from Chinook. It fitted well to all types of vehicles. The fiberglass used extensively in the model gave lightness and sturdiness to the motorhomes. This model was built to provide toughness with taste to the buyer. 

 About Us / Privacy Policy / Resources
Go to: Pop-up Travel Trailers and RVs

or: Top 10 Vintage Travel Trailers,   Popular Vintage Travel Trailers