Class A RV Motorhome Diesel
Class A RV Diesel - something to have a look at and thought about...

1.      Description


When it comes to class A motorhomes, there are the gas models and the diesel models. Whichever you decide to choose, you have many further options. There are a lot of manufacturers who make both gas and diesel versions of their class A motorhome models.
2.      Benefits of a diesel Motorhome


Fuel Efficiency


While a diesel motorhome has a higher price (sometimes double) than a gas motorhome, it has also a lot of benefits that the other type lacks. First of all, vehicles with a diesel engine are more fuel efficient. A diesel motorhome can go about 8-14 miles on a gallon, while a gas RV only 6-10 miles per gallon. That makes quite a big difference when you are traveling all around the world. If you have spent a lot of money to buy a diesel RV, you can get some money back by saving on fuel.


Power


A diesel RV will always have a stronger power when it comes to towing or driving. It can carry heavier loads and while you drive it will feel much smoother and easier. Such vehicles can reach a higher horsepower than the ones working with gasoline.


Comfort


While you pay a higher price for a diesel class A motorhome, in the end you pay for a more comfortable vehicle and home. Since RVs that work with diesel have raised rail frames, they offer more storage space. This way you don't have to think about what to bring along to your travels, because there will be plenty of space for the whole family and everyone's stuff.
Even driving is more comfortable in such a vehicle, because it has air ride suspensions which make driving much smoother.
Cost


Maybe it is surprising, but keeping their high prices in mind, it is better to invest into diesel class A motorhomes than into gas ones. They require major engine work much less frequently than RVs that work with a gasoline engine do.  If you would like to use your RV for a long time, this is an essential point when making a choice.
3.      Manufacturers



There are several popular manufacturers that are experts in making class A diesel motorhomes, such as Fleetwood, Monaco and Newmar.


a.      Fleetwood


Providence model


Main Features:
Complete PEX Plumbing System
3 Roof-Mounted, High-Efficiency A/Cs
84" Interior Ceiling Height
Rear Wardrobe w/Cedar Lining, Carpeted Floor & Wire Organizer
Remote Generator Start Switch
Fan-Tastic Power Roof Vent w/Wall Switch
Halogen Light Over Sink
Specifications:
Overall Length 43' 6"
Overall Height 12' 10"
Interior Height 84"
Interior Width 96"
Fresh Water Holding Tank 100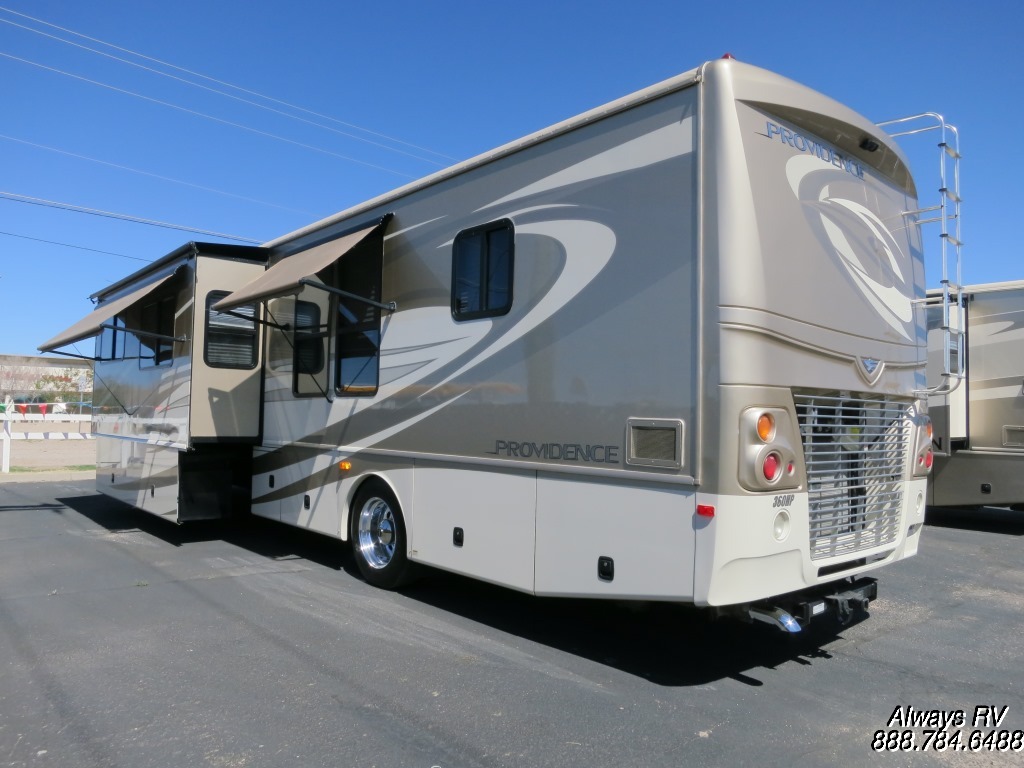 b.      Monaco


Diplomat model


Main Features:


Custom built Roadmaster chassis with 8 or 10 airbag suspension
42" LCD living room TV, 32" LCD bedroom TV.
Stainless steel appliances
King bed standard with optional air mattress
Side swing aluminum storage doors
Full body 4-color paint with clear coat and
Diamond Shield mask
Specifications:


Overall Length 37' 4"
Overall Height 12' 7"
Interior Height 84"
Interior Width 94.5"
Exterior Width 100.5"
Fresh Tank  100 gallons
c.       Newmar


Mountain Aire model
Main Features:


Comfort Drive™ Steering With Adjustable Control
Two 15M Penguin™ Heat Pump Central Air Conditioners
Norcold 12 Cu. Ft. 4-Door Refrigerator with Icemaker and Water Dispenser
Compact One-Piece Washer/Dryer Prep
Rearview Color Monitor System with Audio
Microwave 30" Convection with Two Burner Recessed Gas Cooktop
Hidden-Leaf Dinette Table with Four Chairs
Polished Solid Surface Countertop in Kitchen, Bath, and Bedroom Areas
King-Sized Bed with Radius Cornered Mattress with Quilted Bedspread and Accent Pillows
Specifications:
Overall Length 42' 09"
 Width 101.5""
Overall Height 12' 9"
Interior Width 95.5"
Interior Height 84"
Water tank 105 gal.
 
Visitor's Story:

You have decided that you want a 2008, luxury class A, RV and now you need to decide whether to get a gas powered or diesel class A RV motorhome. A diesel pusher is an RV with the diesel engine in the back of the rig. This makes it run quieter,, you can haul more cargo, and a super transmission and PAC brakes, makes driving in the mountains a piece of cake, which is a blessing when you are Rving in the Colorado ski country.
Diesel motorhome are more expensive than gas units, but give you better mileage than gas. Oil changes for a diesel can cost more than $200.00. Why not attend the 2007 Fall RV show in Tampa, Florida, to talk to other RV'ers about their diesel rigs? Most will tell you that for a big motorhome diesel is the better choice. Maybe we will meet you there.
 About Us / Privacy Policy / Resources
Go from Class A Motor Home RV to Pop Up Campers Trailer Home