Class B Camper Vans
Class B camper vans are type of a small motor homes and are highly popular among couples and small families who don't need large space.
They provide perfect option for those who are not fond of the idea of towing a travel trailer or driving a large coach.
Class B camper vans have some advantages over other types of recreational vehicles.
The main benefit is that these camper vans are very easy to operate which means that the owners of these vehicles won't have to worry about the parking. They can park it on a regular parking spot. Also Class B camper vans are easy to maneuver which gives the owners confidence when driving. Another benefit of these vehicles is that they are fuel efficient and stopping at campgrounds is quite less costly.
There are different models of Class B camper vans depending on the amenities included in the vehicle. But some standards feature these affordable vehicles such as shower, air conditioner, television aerial, satellite dish, water tank, water heater, awning, microwave, shower, living room, sleeping area. Amenities can vary significantly from one model to another.
However what is the best part of these vehicles is the space they provide. Many people may surprise how much room these small vehicles have. Most Class B camper vans may sleep up to 2 to 3 people while some models can accommodate even 4 people to sleep.
The most popular models of Class B camper vans are: Great West, Roadtrek.
Picnic side galley in Great West's Legent Class-B Camper Van
Courtesy of Great West - http://www.greatwestvans.com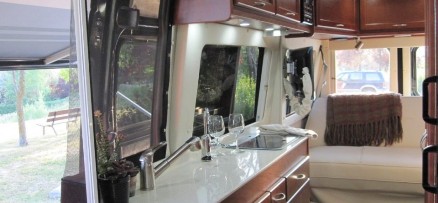 Great West camper vans are considered as luxurious small campers, which provide all of the features and comfort of a luxury motor home. All Great West Class B camper vans models come with a built-in programmable coffee maker, fridge, power tri-fold rear sofa bed, solid wood cabinetry, and luxurious finishes.
Thanks to their extraordinary features and high quality efficient engine from Mercedes Benz, Great West Class B camper vans are mostly adorable among many camper enthusiasts.
Roadtrek is the best selling Class B camper van in North America. Its vehicles give campers all the amenities you may find in a large motor home. Roadtrek camper vans offer bathroom, kitchen, bedroom, place to relax and driving are. Some models of Roadtrek camper vans have four seats in the driving area providing more space for eating or relaxing with friends.
Bathroom inside the vehicle is very spacious with a stand-up shower. It sleeps up to four people and include one or two single beds up front and a king size bed in the rear. Also this model offers plenty of headroom without an exceedingly high roof.
---
Visitor's story...

Class B camper vans are just amazing. They have a kitchen, bathroom and shower, and can sleep four people at a time.
If you want to take anywhere, anytime of the year, they are ready. There compare to a small RV motor home. With all this in a van camper what more could you possibly ask for?
You can even tow a trailer behind the van if you need to take a pop up camper trailer for extra sleeping room. Anything is possible with this unit. I can honestly say these little units are exceptional for their class. Camping and traveling has never been easier.
The campgrounds have many of these campers and the parks actually have many different sizes, so if they bring an extra trailer along, there is room for both. The parks have nice size lots that you can usually fit up to three camper types on if you do it the right way.
I think the last one I saw that was similar to these was back in 1992 or 1993. That was along time ago, but they have come along way since then. I know of a family up in Minnesota who travels between there and Mississippi with their camper and it does not matter what time of year it is, they just keep traveling and stopping at the campgrounds in between.
The class B camper vans are easy to drive and control, but not only that, they are quite contained making them a nice ride. If you ever decide to move on to a new camper I would recommend looking at the van campers they have around, some of them have all the makings of a nice and enjoyable camper with the quality of an RV. You cannot go wrong with this type of camping van.
 About Us / Privacy Policy / Resources
Go from Class B Camper Vans to Pop Up-ing Home