Class B Motor Home RV
1.      General information
A class B motorhome is a type of RV. Like their names suggests, these vehicles are not made of two separate parts like some RVs are. The vehicle and the home are all in one unit.

This makes such RVs very convenient and comfortable, since it is easy to move from the drivers area to the living space of the unit.
Class B motorhomes are the smallest types of motorhomes. They resemble a van, and they are quite spacious compared to their size.


2.      Characteristics
Class B motorhomes have many benefits. Though they are often considered smaller and less comfortable or luxurious as other motorhomes, they have many pros and in fact they are perfectly fine for traveling.


Convenience


Class B motorhomes might have an everyday look, but they offer almost the same comfort as any other motorhome does. Their best characteristic is that when you don't use them to travel, they serve perfectly as your everyday drive to work or to school. They have smaller living space and no separate bedrooms, but there is a small bathroom and a small kitchen area, providing the necessary comforts for a shorter trip.
While maneuvering and driving a class A and a class C motorhome can be a challenge, you won't have such problems with a class B motorhome. Not to mention parking: this type of RV will not make it more difficult for you to find a parking space and park successfully.


Comfort


A class B motorhome cannot be called luxurious, but it gives you a dry, warm place and a nice bed to sleep in when you are on the road. Some of these vehicles also come with rooftops that can be extended for more standing space. These units, just like the class A ones have TVs, water heater, and gray water holding tanks as well.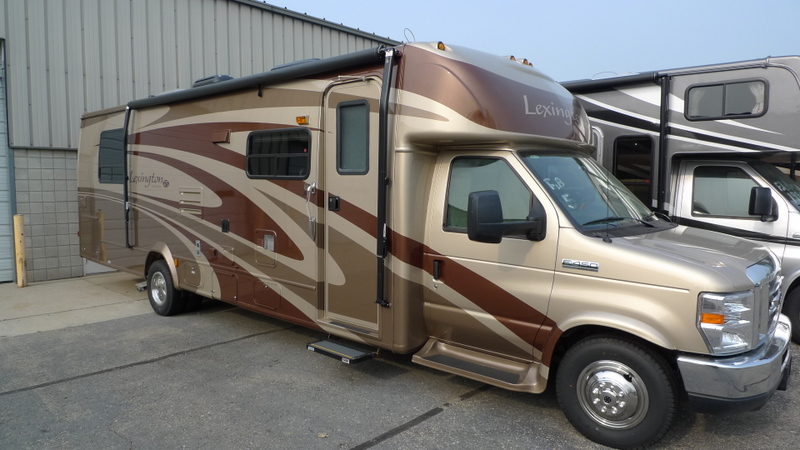 Space


Space is one of the downfalls of a class B motorhome. It is perfectly fine for two people, but not more, except certain less frequent models that provide sleeping space for four people. While living space is shared, there is enough room to spend a nice evening together with friends and family even if the weather is not so nice outside. However, for sure you cannot have the same level of intimacy and private space as you can in a class A or class C motorhome.
Price
These vehicles are the cheapest from the three types of motorhomes, due to the lesser comfort they offer and the smaller space. However, they are still quite costly. The price of a class B motorhome varies between $40,000 and $100,000. You will also save on gas if you drive such a car.
3.      Manufacturers
 
a.      Thor Motor Coach


Citation Sprinter model
This class B motorhome has a diesel engine, making it very fuel efficient. It is a Mercedes-Benz Sprinter based Rv with the following features.


Main Features


Fully welded tubular aluminum roof and sidewall cage construction
Slick fiberglass exterior sidewalls
Pioneer™®™ Touch Screen AM / FM / CD / MP3 Dash Radio (iPod™ & Sirius™ Satellite Expandable)
Black Leatherette driver and passenger captain's chairs
Ceiling ducted air conditioning system
Leatherette hide-a-bed sofa with air mattress and pedestal table
Large Stainless steel single bowl sink with goose neck faucet
19" LCD television over the door DVD entertainment system - Ipod ready
19" LCD television in bedroom - can be removed and mounted to exterior hook-ups
Specifications:


Exterior Length           24' 6"
Exterior Height           10' 10"
Exterior Width            90"
Interior Height                        80"
Fresh Water               40 gal
b.      Winnebago
Era model
This company is a well-known name in the industry of motorhomes. The Era model of class B motorhomes was voted one of the best in North America.
Main Features
Corian® countertops and contemporary cabinetry in a new Sunset Cherry finish
22" LED TV 
Ultraleather cab seats
Jack Digital HDTV Antenna
Glass covers for the sink
Bath cabinet and flexible showerhead
Mercedes-Benz® turbo-diesel engine
Infotainment Center with GPS, voice guidance, CD/DVD player and a 7" touch screen
Specifications
Exterior Height1         9'11"
Exterior Width            6'4"
Interior Height                        6'3"
Interior Width             5'10"
Length                        24'1"
Freshwater Capacity(gal.)       30
c.       Airstream


Interstate model


With a Mercedes Benz chassis, this class B motorhome is innovative, safe and with a  great design. Its high quality diesel engine is capable of towing up to 5,000 - 6,400 pounds.


Main Features


Front and Rear Parking Sensors
Includes 6 safety airbags 
Belted seating for up to 9 adults
Comfortable sleeping accommodations for 2
Black Ultraleather Option
Interstate Front in Brilliant Silver Metallic
Second LED Widescreen HDTV/DVD Combination (19") 
Flush-Mount & Solid Shut Cabinet Hardware
Sink with Integrated Cover & Fold Down Faucet
In-Dash 7" Touch Screen Multi-Media System
Specifications:
Overall Length 23' 1"
Overall Height (w/ A/C) 9' 8"
Overall Width 6' 7.7"
Interior Height 6' 2.25"
Interior Width 5' 10"
Fuel Tank (gal.) 26.4
Fresh Water Capacity (gal.) 32
4.      Buying a class B motorhome


If any of the manufacturers and models described above sound appealing to you, you should simply visit the website of the brand where you can easily locate dealers in your area. Since these companies are some of the most well-known ones making Class B motorhomes, you shouldn't have any trouble finding a dealer that is close to you.
Before you visit the dealer that you have found, make sure you check out all the information about the RV online. It is much easier to make a decisions and choices in the comfort of your home without the stress of being in an RV store. If you have any questions, then you can write them down and ask the dealer, he can help you out and make sure that you know what you are buying.
There are many other models of class B motorhomes for sale, and if you prefer something cheaper, then you can always check the newspaper and websites such as Craigslist for second hand RVs. Often buying a used motorhome can save you a lot of money and you end up with a good vehicle for traveling and camping.
Visitor's Story:
If you decide to go for it, you will love your Class B RV. Now I want to talk about my favorite type of mobile home, the Class B motor home RV (camper van). We bought ours new, about six years ago and we love it. We took it on the road for a prolonged vacation of 3-4 months and spent the better part of four years traveling throughout the U.S. and Canada. The Class B motorcoach looks like a somewhat stretched out family van. The beauty of this kind of camper is that you can park it in a regular spot anywhere. So there is no need for two cars.
Campground fees are much less expensive than hotels. They are ranging from $20.00 to $50.00 a night for two people.
We checked in Iowa, California, New York and Louisiana. Fees for recreational vehicles campsites are obviously more expensive than for tents. If you have never been Rv-ing before I would suggest a Class B mobile home rental for your first trip. That way if you don't enjoy Rving or feel you need a larger RV you aren't stuck with the camper.
Another advantage of this class of RVs is that they drive just about as easily as your family van and many of them can be kept in a normal size garage. Proportionally they don't burn any more gas than your S.U.V. A friend of ours, that we met in Canada, uses his class B motor home RV as his everyday family van.
If you want to buy a Class B motor home RV new, it can cost upwards of $58,000. There are loans you can get, some with a term of 15 years. You may also want to look into a used Class B motor home. Depending on the age and condition of the recreational vehicle, you can save quite a lot of money. You can do a web search for a class b motor home manufacturer. Some of them will build van campers to customer specifications. The web is also a way to find a Class B motor home RV for sale both by corporations and private parties.
A B Class for motor home used can be a bargain but do not buy it sight unseen. Have it checked out by a mechanic and check to be sure all the appliances work. Next you need to decide on whether you want a gasoline powered Class B mobile home or a diesel Class B motor home. A diesel will get much better mileage, which is very important when you are traveling long distances.
Another type of Class B mobile home is called a B Class home motor plus - which is a more luxurious version of the camper van. It is often called a B-C class home motor camper since it has features of both. The motor home plus is a little less luxurious than a motor coach but more elegant then a camper van. A B Class RV motor home is probably best for a small family or a couple. Whether you show up at a campground with a Class B mobile home or a top of the line motor coach you will find a warm welcome from your fellow Rvers.
 About Us / Privacy Policy / Resources
Go from Class B Motor Home RV to Pop Up Campers Trailer Home

Motor Home RV Manufacturer