Class B RV Motorhome Diesel
1.      Diesel vs gas motorhomes
If you want a small, economical motorhome consider looking for a class B RV motorhome, diesel.
Now that you have decided to buy a class B motorhome, there is another important decision to make. Should you choose a motorhome that works with gasoline or that works with diesel? There are many things to think about when you have to make this choice, including efficiency, price, and overall costs. Strangely enough, a difference in the engine can have a great effect on the vehicle and thus on your travels as well.
2.      Characteristics


Additional torque


Diesel engines have an additional torque that makes a great difference when driving on a highway. They also have a stronger towing capacity and they will go so smooth that you won't even notice the heavy loads. It will be noticeable especially when you have to drive up a mountain that the vehicle has more power.
Fuel economy
Only Diesel engines can use biofuel. If you want to save energy and money as well, you are better off with a class B motorhome that has a Diesel engine. It will consume less and you can also protect the 
environment.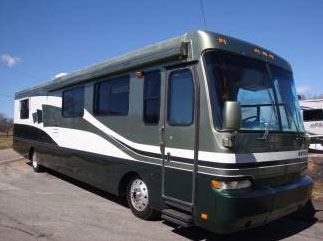 Price
There can be quite a big gap between the price of a class B motorhome with a Diesel engine and a gasoline one. If you don't plant to travel too long, purchasing a gas engine will be good enough. Since Class B motorhomes are smaller, they don't require as much fuel as other RVs. However, note that the gas engine will consume more fuel than the Diesel one.
3.      Manufacturers of Diesel class B motorhomes
a.      Leisure Travel Vans


Serenity model
Main Features
 Mercedes Benz Sprinter 3500 Cab Chassis
Solid Wood Curved Cherry or Sierra Maple w/ Positive Locking Upper Cabinets
Wood Look Vinyl Flooring Throughout
55" x 82" Bed, Residential Quality Mattress w/ Easy Access Storage and Decorative Bedspread
Private Bath w/ Toilet, Vanity, and Sink 
TV -22" on Swing Out Arm
Rear Power Trifold Sofa/Bed (optional)
Specifications


Length - ft. (mm)        24'6" (7467)
Width - ft. (mm)         8'0" (2438)
Height Inc. A/C - ft. (mm)      9'7" (2921)
Interior Height            6'3" (1905)
Fresh Water Cap. - Gal. (L)    30 (114)
Free Spirit Model
Main Features
Electronic Smoke, LP and CO Detectors
Solid Wood Cherry or Sierra Maple Curved Interior Cabinets w/ Positive Locking Uppers
Rear Power Sofa - Converts To 68" x 73" Bed - c/w 2 seatbelts
22" LED TV on Swing-Out Arm c/w Antenna
 European Flush Mount w/ Hinged Glass Cover  countertop
Non Reversible Thermal Controlled Fantastic Fan in Galley
Generator - 2.5 KW LP w/ Auto Changeover Switch (optional)
Specifications
Length - ft. (mm)        22'9" (6945)
Width - ft. (mm)         7'2" (2184)
Height Inc. A/C - ft. (mm)      9'10" (2998)
Interior Height            6'3" (1905)
Fresh Water Cap. - Gal. (L)    **24 (91)
b.      Pleasure Way
Excel model
Main features
Corian Countertops With Stainless Steel Sinks
Private Bathroom With Shower, Sink & Vanity
Passenger Side Single Bed 72" X 29"
Electric Rear Sofa Bed With Seat Belts
Thetford China Bowl Flush Toilet
External Park Cable, City Water & Shore Power Hook-Up
22" Lcd Digital Flat Screen Tv With Dvd Player (Optionl)
Specifications
Interior Height 74"
External Length 20' 4"
External Height With Roof Air 9'
External Width 7' 10" Including Side Mirrors
Fresh Water Capacity 30 Us Gal / 113 L
Grey Water Capacity 26 Us Gal / 97 L
4.      Where to look for a class B Diesel motorhome
Besides the manufacturers mentioned above the following brands have class B motorhomes with Diesel engines: Great West Vans, Airstream, Custom Vehicles, Sportsmobile, GTRV, Safari and more. You can find a number of options from these manufacturers to choose the motorhome that is the best for you. If you have already looked at dealers of these brands, you can also check out website like Yakaz for used motorhomes of the kind.
Visitor's Story:

While initially more expensive than a gas powered recreational vehicle, a diesel burns less fuel than a gas powered camper van. Diesels also have more power than gas when climbing through the mountains, which we did in 2004, in the Adirondacks of New York State. The class B camper van is built on a slightly stretched van chassis, with a raised roof, and sometimes a dropped floor.
The advantages of a Class B are: they are easy on fuel, can be parked anywhere you can park a car.They are easy to drive. Most sleep four comfortably. We love our van camper and like the idea of not having to tow a car, especially when we drive through cities when we visit cities like Chicago, Illinois, to visit friends and relatives.
 About Us / Privacy Policy / Resources
Go from Class B RV Motorhome Diesel to Pop Up Campers Trailer Home

Motor Home RV Manufacturer