Class C RV Motorhome Sales
The class C RV motor home is the middle ground of motorized RV's
When it comes to buying motorhomes such as class C units, you have a number of options.
Should you buy second hand or new RVs? It is better to shop online or from an Rv store?
You will find out from this article what ayour best options are if you are looking for a class C motor home.
1.      Dealers
Dealers are probably the safest and easiest links towards a good quality class C motor home. You can talk to them in person and they can show you what they have to offer. There are dealers of various types and models of motor homes in all big cities, so you shouldn't have trouble finding one. The downfall of buying from dealers is that you will have to pay extra since you are not buying from the manufacturer.
If you are looking for dealers of a specific brand, you can locate them by first looking online. Most manufacturers list the dealers that sell their products on their websites.
2.      Online stores


There are several online stores that specialize in Rv and that also have class C motor homes for sale. The benefits of online stores are that you have plenty of time to look through all the models, their features, their specifications, and compare them easily. It is also easer to do this from the comfort of your home. Here are some RV stores that you should visit if you are looking for a class C motor home.
RV Trader
This is a reliable store selling thousands of vehicles including class C motor homes from Coachmen, Forest River, Gulf Stream, Jayco, Thor Motor and more. They have a great system where you can easily select the price range and the model you are interested in. You can also make searches according to the state the motor home is located in, so you don't have to drive too far if you want to see it.
Camping World
Camping World is one of the most popular websites for all kinds of RV from pop up campers to class C motor homes. They also have parts for sale for these units. They offer both used and new RVs and have many great special offers, so it is worth to visit this website from once in a while.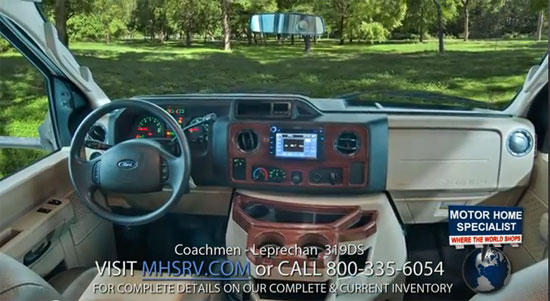 Classy RV
This online store is less fancy with a less convenient search system as the other two, but it also has a large collection of class C motor homes for sale. If you cannot find the Rv you are looking for in the other two online stores, maybe you will find it here. They have models from Winnebago, Coachmen and other well-known manufacturers.
3.      Private sellers


Some of the web pages mentioned above have some used class C motor homes for sale. Buying used RVs from private sellers has a lot of benefits, because if you are lucky you will end up with a high quality motor home for a very fair price. There are many people out there who want to sell older models or even newer ones because they are not using them anymore. If you visit websites such as eBay or some online magazines, you can find ads for used motor homes. On eBay you can especially make a good deal if you have patience to look and to wait for something unique and cheaper than in the stores.
Visitor's Story!

If you are thinking of purchasing a new motor home and would like something a bit luxurious you may want to do a web search for class C RV motor home sales. You will get links to dozens of dealers that sell new and used recreational vehicles. You are sure to find a few that offer you a good deal.
Consider a 2007 leftover instead of a new 2008 model, you can save a good bit of money this way. If you know the make and model that you want see if the company does direct selling to individuals. There are dealers from New York to Texas.
The class C motor home is the middle ground of motorized RV's. It is bigger and has more amenities than a camper van but isn't as large or luxurious as a class A coach.The cost is also somewhere in the middle. You can't go wrong if you

 About Us / Privacy Policy / Resources
Go from Class C RV Motorhome Sales to Pop Up Campers Trailer Home

Motor Home RV Manufacturer