Coleman Camper Accessories
Various Coleman camper accessories

Coleman is one of the biggest companies that manufactures RVs of all kinds as well as parts and accessories for your campers.
While their campers are known for their comfort, often luxurious and with many accessories, there are extra accessories manufactured by this company that make traveling even a lovelier experience.
1.      Coleman lanterns
There are various lanterns manufactured by Coleman that can be used both inside and outside of the camper. They are useful on dark nights in tents, campsites, and in the camper as well if your power goes out for some reason. Having a lantern with you while you are camping or traveling is essential. Some of them come with a carrying case for safety. Most Coleman lanterns operate on Coleman fuel or unleaded gas for up to 7 hours on high or 14 hours on low setting. Their price is between $30-$100.
One of the most popular lanterns made by Coleman is the North Star Perfect Flow Insta Start Propane Lantern with soft carry case. This accessory has various levels of brightness, and it can run up to 9.25 hours on low setting. It is lightweight and it comes with a carrying case for easy storage and handling.
Other lanterns manufactured by this company work with batteries instead of propane or gars, so if you prefer battery operated lanterns, Coleman has them too.
 2.      Coleman coolers
Coolers are great for hot summer days when you go out camping and you want to enjoy a cold beer and fresh food. Since this company cares about the environment, their coolers are made with environmentally friendly Thermozone insulation. Coleman coolers come in many sizes. From 9 quart to 100 quart, you can surely find the size that will fit your needs. Many of their coolers come with wheels for easier handling. This way you won't have to lift heavy loads of drinks and food, you can simply just roll them. Their 62 Quart Xtreme 5 Wheeled Cooler can hold 85 cans, it has a lid with beverage holders, it is rustproof and comes with a leak-resistant channel drain. The largest cooler manufactured by Coleman can hold up to 160 cans.
 3.      Grill tools
Grill tools made by Coleman include grill stands, tool sets and inside grills. Inside grills have a nonstick surface for an easier cooking, and a matchless lighting system. They can be connected to a propane gas source and you can cook with them immediately when it is raining outside and you cannot make a campfire. Barbecue stands are for those who love having a nice barbecue in the fresh air.
 4.      Portable toilets
Portable flush toilets are the most important accessories for those campers where there is no bathroom. These toilets are perfect for camping and they are necessary especially at night when you don't want to go out from the camper. Coleman manufactures both small and large size toilets that can be flushed. Their regular sized portable toilet comes with a 2.9-gal. fresh water tank, and a 3.5 gal. Self-contained holding tank. It has a snap down lid and it is perfect for traveling and camping.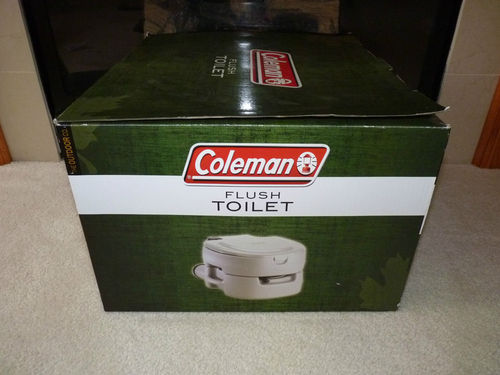 Buying Coleman accessories
Some of the Coleman products are available online only. This means that they are limited items manufactured by this company that you cannot find in RV stores or from dealers. You can buy original Coleman accessories from online stores such as Camping World, which is a large online RV store. You can also purchase Coleman accessories directly form the Coleman website. They have their products in categories so you can easily find what you want. Whether you are looking for Coleman camping accessories, camp kitchen accessories, tools, survival and first aid kits or hygiene accessories, you can find them all there.
Buying Coleman camper accessories at the end of the camping season is another opportunity to buy some product at very reasonable prices.
Another view....

Camping is very fun and enjoyable outdoor activity and in order to enhance the camping experience it is crucial to invest not only in camping gear and equipment but also in camping accessories which may make your camping more fun, easier and more comfortable.
There are many different types of accessories and their manufacturers. However, Coleman is a trusted and reputable brand that offers a wide variety of camping accessories. The Coleman has been in camping business for a long time and maybe their products are a bit expensive than other but since they are quality they worth all the money.
Coleman camper accessories include the ones that are suited for the serious campers who like to spend several days in the outdoors. Their accessories include tent accessories, camp kitchen accessories, bag, storage and organization, tools, lighting accessories, compass, binoculars and instruments, survival and first aids, fire starter and propane accessories, fastener, links and cords, portable toilet, hygiene and personal care.
When it comes to Coleman tent accessories, they include tent fans which are great to stay comfortable and cool while camping specially during summer, tent lights which are important because it provide you the light to see around the camp. Not to forget a whisk and dustpan to keep your camper clean.
Camp kitchen accessories means different types of pans, cook sets, grill stoves, camp ovens, coffee pots, dishes and utensils, bottles and flasks, tables which will make your camping experience on the top thus making you feel like home as Coleman camp kitchen accessories make your cooking much easier.
Another very important camper accessories made by Coleman are different types of bags, storage bags and organizers. These products by Coleman are ideal solution if you have problems with storage.
Coleman also offers a vast range of lanterns with hard or soft shell carry cases, lantern hangers, lantern stands.
Although Coleman camper accessories are rather expensive, they are known for their durability and high quality. For this reason Coleman camper accessories are especially popular among experienced campers and very often you may see lot of Coleman camper accessories on the campsites. While Coleman camper accessories are mainly aimed for the camping market, they also can be used all others who enjoy outdoors.
---
Visitor's Story:
Sometimes having an older model of a camper can bring up some problems, especially when some of the parts and accessories need to be replaced and you can't find the replacement anywhere. In this case looking at the flea market is a good idea, but it might take a long time, so what you should do is rather look online for spare parts for Coleman campers. People are looking most often for Coleman mesa pop-up camper awning, Coleman camper trailer switchback and Coleman pop up camper awning bags.
All of these can be found both new and second hand in a lot of shops but also online. Perhaps buying them online is cheaper and at the end of this article you will find two links that will take you to websites that sell various Coleman camper accessories. Some more rare things like a 2000 Coleman bayside camper replacement canopy, Coleman pop up camper awning parts and Coleman pop up camper rubber seal require more search, but the internet is vast and you can always find something suitable for your needs.
If you want to buy parts for Coleman campers, this article will help you find them on the internet. Bedsides the things mentioned before you can find on these websites Coleman camper battery, Coleman camper cables, tire supports, backrest covers, camper curtains, Coleman camper water tanks and more. You can also find detailed description and photos of the accessories and parts. The second website has other types of accessories that you will find useful if you have a Coleman camper.
 About Us / Privacy Policy / Resources
Go from Coleman Camper Accessories to Pop Up Campers Trailer Home

Coleman Pop Up Campers Trailer