Comet Vintage Travel Trailer
Comet Trailers operated from 1947 till 1981 offering a wide range of travel trailers from 16ft to 28ft long; today few still existing units have status of vintage trailers

The production of Comet Trailers was started in 1947 in Wichita, Kansas.
The business continued at that location until 1956 when it was moved to Coffeyville, Kansas.
Comet Trailer Manufacturing Company was operating till 1981.
It was a family owned and run business all of those but the last 2 years.
Unfortunately, today there are only a handful of the trailers among the enthusiasts.

Models
Comet offered 16, 18, 21, 22, 23, 24 and 25 feet long models of travel trailers. Only much later the longest in Comet's family - 28 feet long unit was rolled-out by the factory.  Comet also manufactured park models and fifth wheels. The company then experimented with production of mini homes. But after making the first 30 - 40 units the company folded up.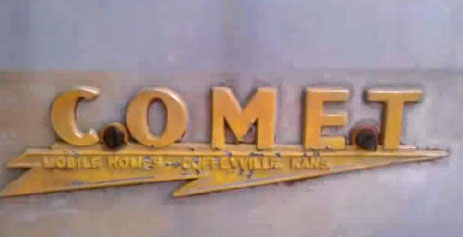 Iconic "signature" on Comet travel trailers

Interiors

Interiors changed over the years. Some had gauchos, which is a type of couch that could be converted into a bed. There were also models with dinettes similar to a booth that also would convert into a bed. Finally, some had an overhead bunk. Linoleum was a standard option for the floor but one could get optional carpet in later models. Interior included wood paneling on the walls as well as curtains and sheers on the windows.
Original, wonderful red paneled birch cabinets, ample storage in draws and cabinets, closets all with original and operable hardware greatly added to the comfort and elegance of the trailer.
The special features included the original and unique wrap-around front windows providing ample light for interior of the trailer and great exterior look. This new design was introduced in 1956. Prior to that the window arrangement was a more standard 3 ganged in the middle front.
Shiny aluminum exterior with striking red chevron pattern after the early '50's Chevy cars became the signature of "Comet" trailers.
Dinette boasted brand new quality custom made cushions with (guess what)  -chevrons and new formica table top. Cushions were folding to a bed.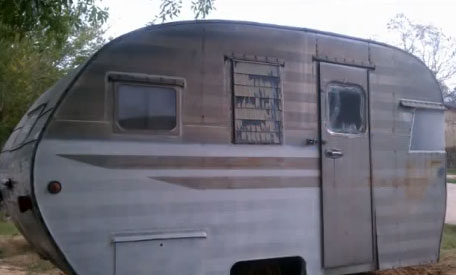 !958 model of Comet travel trailer

Model 14S
This model was rolled out in 1955. The trailer was 16 feet long and it could sleep four. There was wood panelling on the walls. The interior looked pleasant with birch wood work. Dinette was located in the front of the trailer. There was ample storage space with floor and overhead cabinets. The kitchen, located on the street side included multi-burner stove, sink and refrigerator. Trailer was also equipped with navy-type toilet. Front side had three panelled windows while on each side there were two windows.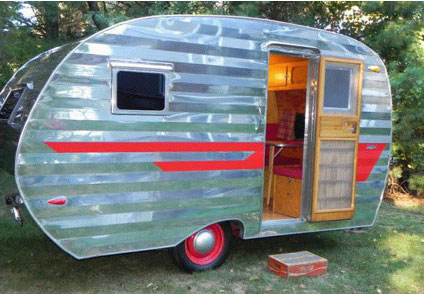 ....and another one, "older" but in better shape....
Source: http://rvs.oodle.com

Corner Window
In 1956 the manufacturers introduced the exclusive corner windows in their different models featuring lengths of 15, 16, 18, 21 and 27 feet. The trailers were wired for 110 volts. Standard features included shower and stool, water tank, 17 cubic feet storage space, 12V and gas lights and many others.  The trailer had aluminium exterior and a fully insulated floor. The dinette with adequate sitting space was at the front of the trailer while the double bed was at the rear side.

 About Us / Privacy Policy / Resources
Go to: Pop-up Travel Trailers and RVs

or to: Top-10 Vintage Travel Trailers,  Popular Vintage Travel Trailers