Curtis Wright Vintage Travel Trailers
The trailers were made by Curtis Wright Industries' Aircraft & Trailers which is not to be confused with the Curtiss-Wright Corporation, manufacturers of aircrafts.

Wally Byam went to work in the aircraft industry and at the war's end he forged an alliance with Curtis Wright Industries, Aircraft & Trailers to continue production of Airstream's pre-war Clipper model.
The relationship dissolved in 1947 and Byam and Curtis Wright went their separate ways, though both continued working in the trailer business.
In 1949 Curtis Wright business was sold to three investors, who renamed the firm 'Silver Streak Trailer Company' and continued building what had been the Curtis Wright Clipper at a new factory in Los Angeles, California.

Curtis Wright Clipper

Clipper is the most celebrated model of this manufacturing company. As mentioned earlier - it was initially designed and produced by Airstream. The length of the trailer was 20 feet and body weight was about 1500 lbs (the shell weight was 1240 lbs). It was streamlined and extremely lightweight especially for those times when large, heavy gas-guzzlers were the norm and no one was seriously concerned about environment.
The décor was smartly modern. The interior furniture was carved out of stately mahogany and contoured aluminum. The beauty was enhanced by colorful drapes, modernistic plastic lights and shades. The trailer came with colourful plastic dishes for the galley. Full vision was ensured on all sides of the trailer with glass windows around the body and plexiglass front and back. There was three sleeping option available with the model namely a fixed, double bed with a box and inner spring; a davenport that is either a seat or a double bed; and lastly a special davenport that converts to a double bed or two singles. 
Clipper came with two floor plans. Both plans provided for spacious interiors comprising of one clothes closet, galley with two-burner stove, large storage compartment, 50 lbs icebox as well as one davenport, two chests of shelves and vanity in the rear. 

Fully restored slick looking bullet - 1947 Curtis Wright Clipper

The highlights of specification of the trailer included:  plasticized spun glass insulation, heat treated aluminium tubing, half-inch plywood flooring, running gear and drop axle. Structurally Clipper was built like a fish. Steel tubular bumpers were fitted in the trailer both front and rear. Faucet and sink were standard equipment. The special insulation and flooring not only made the trailer lightweight - they also kept the interior exceptionally cool in summer and warm in winter.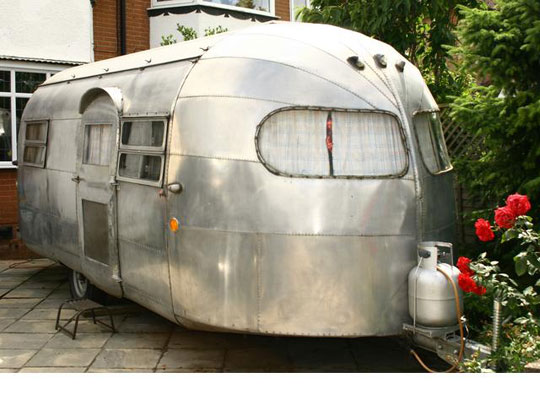 Curtis Wright Travel Trailer - 1948 silver bullet
28' Curtis Wright

This is a typical Curtis Wright trailer, built in the late 1940s but the particular name of the model is not certain - it could be either "Flagship", "Cruiser", or "Sleeper". The trailer was built on steel ladder frame. It had an overall length of 28' (hence the name) and width of 7'-10". Interior height was 6'-4". There were two doors on opposite sides.

Model 2

Model 2 had a length of 16 feet. The exterior was aluminum panelled.

Model 5

Model 5 came in lengths of 22, 27, and 31 feet. These models had front or side galleys. The weight of the 22 feet model was under 1500 lbs – what was making it towable by most family sedans.


 About Us / Privacy Policy / Resources
Go to: Pop-up Travel Trailers and RVs

or to: Top 10 Vintage Travel Trailers,  Popular Vintage Travel Trailers