Review of Off-grid RV models Full-time Living 
Find the best RV models for "Boondocking" – a way of off-grid living and working, popular among young generations of Digital Nomads.
       Off-grid RVs are gaining traction, as more and more (especially young people) turn back to nature consciously choosing Nomadic life-style. This new trend is actually not that much surprising, given the fact that the technological progress allows us to set-up an office in the middle of nowhere (provided we can stay "connected" to the Net). While on the market there are many models of off-road RVs designed for short off-grid adventures, they are not suitable for long term (let alone full-time) off-grid living. Unfortunately, it seems that the RV industry still did not fully recognize the growing demand for models supporting such life-style.
      It is true, that designing an off-grid RV for long-term living is not an easy task. The main limits are set by need for "decent" energy, fresh and waste water autonomy as well as comfortable living conditions.   
Below, we would like to make presentation of some of the best, currently available on the market  (or just coming to) RVs that can support long trips into an off-rid environment.
Living Vehicle
Off-grid Living Vehicle
Source: Living Vehicle
    The Living Vehicle is one of the first affordable and comfortable mobile residences designed for longer off-grid adventures. According to the manufacturer, the LV can support comfortable off-grid living for 2 people over almost one month. In practice, thanks to generous amount of installed renewable power, the main limitation is determined by fresh water and food supplies. However, the company is intensively working on the former to extend water autonomy. 
It all started in 2010, when Mr. Hofmann - already well-recognized architect for his designs of mobile homes as well as remodeling of vintage RVs decided to put to work his years long experience from countless interactions with customers of let's face it – usually luxurious mobile homes that he was designing, but also from his own experience of boondocking….
See details at: --> Living Vehicle: Modern off-grid RV

sCarabane Travel Trailer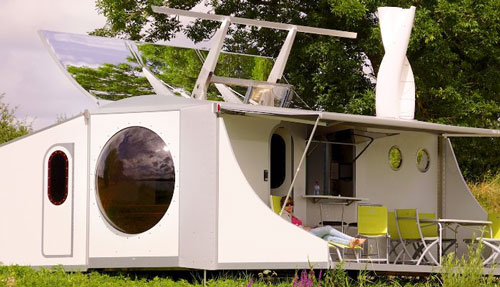 Scarabane: view on the deck 
sCarabane is a French-designed "futuristic" RV model that brings us to the new realm of energy self-sufficient, eco-friendly, comfortable and intelligent "Mobile Smart Houses".  Its three independent energy harvesting systems, correspondingly solar panels, wind turbine and collapsible parabolic mirror acting as a heat concentrator warming the water seem to guarantee RV's continuous 24/7 operation over extended period of time. They are all roof-mounted, automatically deployed, offering almost "hassle-free" operation.
But this is not all.  Very modern living, kitchen, bedroom, bath and utility areas with premium home appliances, large outdoor patio-deck extension into the nature – it all makes the sCarabane a true "home-on-wheels". It has all attributes of a Residence, however the one with amazing flexibility for changing its physical address so characteristic of RVs….
See details at: --> sCarabane Futuristic Travel Trailer