Review of Off-grid RV models Full-time Living 
Find the best RV models for "Boondocking" – a way of off-grid living and working, popular among young generations of Digital Nomads.
       Off-grid RVs are gaining traction, as more and more (especially young people) turn back to nature consciously choosing Nomadic life-style. This new trend is actually not that much surprising, given the fact that the technological progress allows us to set-up an office in the middle of nowhere (provided we can stay "connected" to the Net). While on the market there are many models of off-road RVs designed for short off-grid adventures, they are not suitable for long term (let alone full-time) off-grid living. Unfortunately, it seems that the RV industry still did not fully recognize the growing demand for models supporting such life-style.
      It is true, that designing an off-grid RV for long-term living is not an easy task. The main limits are set by need for "decent" energy, fresh and waste water autonomy as well as comfortable living conditions.   
Below, we would like to make presentation of some of the best, currently available on the market  (or just coming to) RVs that can support long trips into an off-rid environment.
Retreat Hyper ERV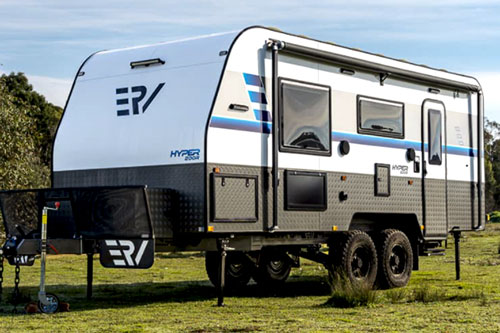 Australian Retreat Hyper ERV
           The Hyper (20ft model) was designed for Australian travel conditions characterized by large swaths of wilderness. It's an environment where if one day you will see an electrical outlet, or LPG refill station, most likely it will be a dream or fata-morgana. However, what you will certainly see (and feel) will be the sun (actually, often a lot of it). Well, perfect condition for "trouble", but if you are "innovative" you can turn it into a "blessing"....
See details at: --> Retreat Hyper ERV
Living Vehicle
Off-grid Living Vehicle
Source: Living Vehicle
    The Living Vehicle is one of the first affordable and comfortable mobile residences designed for longer off-grid adventures. According to the manufacturer, the LV can support comfortable off-grid living for 2 people over almost one month. In practice, thanks to generous amount of installed renewable power, the main limitation is determined by fresh water and food supplies. However, the company is intensively working on the former to extend water autonomy. 
It all started in 2010, when Mr. Hofmann - already well-recognized architect for his designs of mobile homes as well as remodeling of vintage RVs decided to put to work his years long experience from countless interactions with customers of let's face it – usually luxurious mobile homes that he was designing, but also from his own experience of boondocking….
See details at: --> Living Vehicle: Modern off-grid RV

sCarabane Travel Trailer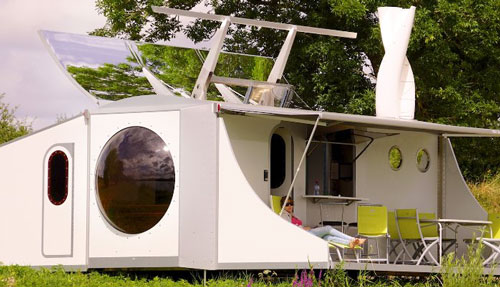 Scarabane: view on the deck 
sCarabane is a French-designed "futuristic" RV model that brings us to the new realm of energy self-sufficient, eco-friendly, comfortable and intelligent "Mobile Smart Houses".  Its three independent energy harvesting systems, correspondingly solar panels, wind turbine and collapsible parabolic mirror acting as a heat concentrator warming the water seem to guarantee RV's continuous 24/7 operation over extended period of time. They are all roof-mounted, automatically deployed, offering almost "hassle-free" operation.
But this is not all.  Very modern living, kitchen, bedroom, bath and utility areas with premium home appliances, large outdoor patio-deck extension into the nature – it all makes the sCarabane a true "home-on-wheels". It has all attributes of a Residence, however the one with amazing flexibility for changing its physical address so characteristic of RVs….
See details at: --> sCarabane Futuristic Travel Trailer
Sonic-X : Concept of Off-grid RV
Sonic X: K-Z's concept of an Off-grid RV

     RV's like the futuristic Sonic X, sCaraban, or Living Vehicle seem to be creating the right trend towards environmental sustainability. These are "Forward-Looking" designs stuffed with a lot of eco-friendly, technologically advanced components and systems. Sonic-X for example comes with roof-mounted array of solar panels combining 1kW of installed power. It feeds the 1,000 Ah bank of nine lithium-ion batteries. It's serious power, certainly highest installed as standard, fixed power in commercial RVs. 
The camper is also equipped with "Secondary Infinite Water System" designed to pump water from natural sources (streams, lakes), filter it to "drinkable" form and then store in a "gigantic" (100 gallons) tank. The system comes with heavy-duty water pump and 25 ft long hose (the latter will certainly need extension).
Off-grid also means off-road: To accommodate "no-road" environment, the Sonic X is built on strong Huck-bolted frame. Its shell is made from lightweight, carbon-fiber composite material, promising not only always sought elegance, but also robustness and more importantly - fuel-efficiency
Certainly, the Sonic X it is the good news for boondocking aficionados although still, we must wait till it materializes. See details at: --> Concept of Off-rid RV- Sonic X
Lotus Off-Grid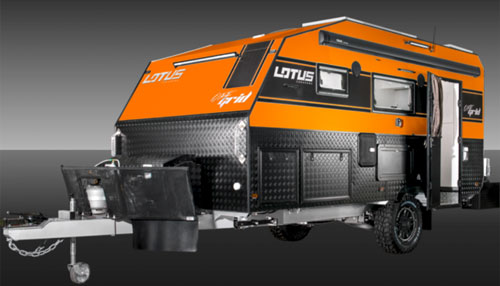 Lotus Off-grid caravan
       It should be not surprising that Lotus (an Australian, Melbourne-based company founded in 2004) is specializing in design and manufacturing of off-road travel trailers. After all (with all respect for Aussies), the major part of the Australian continent is a vast, arid and roadless territory you can only venture to in well-equipped 4WD off-road vehicles. To make Outback exploration even more enjoyable (and certainly lasting longer), Lotus to its existing series of "almost-luxurious" series of off road travel trailers like Trooper, Freelander and Tremor introduced the new one commercialized under the name "Off-Grid". 
See details at: --> Lotus Off-grid Caravans
Dethleffs: E.Home Concept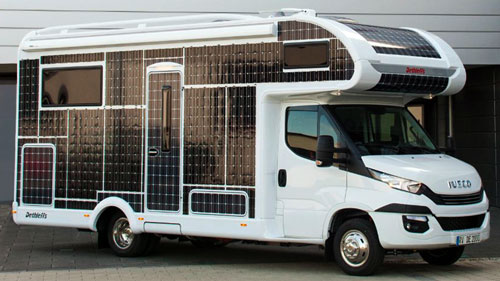 Dethleffs' all-electric C-class Motorhome 
      Dethleffs e.home is an all-electric C-class motorhome with 3kW of installed solar power. Thanks to its electric powertrain as well as electrical appliances and heating, the fossil fuels (gasoline, diesel and LPG) were fully eliminated. That's why Dethleffs e.home offers zero-emission and very low environmental footprint (you will still have to dump grey and waste tanks as well as dispose garbage). The company implemented several new technologies helping to improve RV's thermal efficiency (phase-change materials (PCM) that can capture and release heat, foil-based materials controlling windows transparency etc…).
The prototype was built on Iveco chassis and includes more or less typical Dethleffs' finishing promising comfortable and warm living space and atmosphere (it includes spacious cabover bedroom, dry bath, and large living area with U-shaped dinette).....
For details see: --> Dethleffs Solar e.home 
Taxa Mantis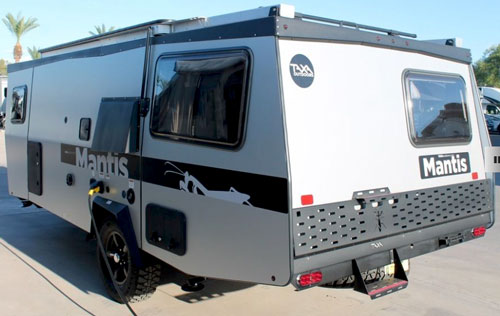 Taxa Mantis Off-grid travel trailer
         As an off-the-grid travel trailer, Mantis is designed for all-terrain conditions with everything necessary not only to travel across a no-man land but also to provide comfortable RV-ing conditions, as well as energy, water, supplies and gear autonomy for few days in such environment. These demanding design goals require larger size RV what automatically sets challenges to keep within reasonable limits not only its length but also weight. As if this was not enough, company also wanted to make the design practical, and one of the most important aspect of practicality is the ability to store the RV in a typical, residential garage. That's how Taxa Outdoors came with the Mantis.....
See details at: --> Taxa Mantis travel trailer
---
Note:  Check with the manufacturer and / or authorized RV Dealer for the up-to-date list of features, options as well as latest specifications. These written above may not be accurate and certainly are subject to change by the factory. We are not responsible for any inaccuracy, the above text is provided only for the general information.
This review was written based on publicly available information for the benefits of the community of RV-ers. We do not receive any gratification or financial benefits from RV manufacturers, dealers, and any other promoters of RVs. 
We are NOT involved in sale and/or retail of RVs!