Eagle Cap 1165
ALP Truck Campers
Eagle Cap 1165 triple-slide truck camper in this class of RVs is one of only few residential-style models available in the market these days.

       Most of us (including many RV-ers) have perception that truck campers are nothing more than a sort of "Mobile huts". Practical (when you already own a pickup), easy to maneuver, store for winter but when it comes to comfort – serving just basic needs. Well, these days such assumptions reflect rather the past. Integration of slide-outs into truck campers completely changed the game. These modern designs, initially with one, followed by two and finally three slide-outs, made physically possible to design luxurious, residential-like truck campers – something that for long was incompatible with this class of RVs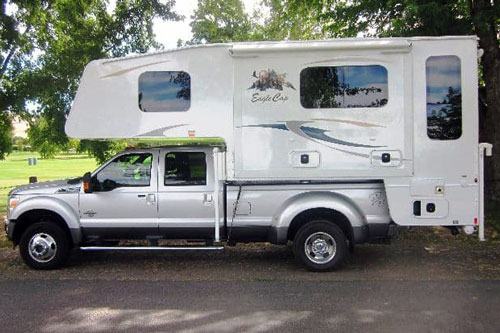 Eagle Cap 1165 Truck Camper

      One of the pioneers of this modern concept in RV industry was the Canadian company Adventurer Truck Campers (Adventurer Limited Partnership or simply ALP). Founded by Erdman Epp in 1969, the company initially combining Fraserway RV an Adventurer LP had just five employees. With time (and obviously successful operations) they purchased Trav-L-Mate and then Okanagan. This also marked personal changes as owner's son Mr. James Epp took over operations growing the business to the leader of industry and innovation establishing also operation in US (Yakima, Washington)
Today, the company offers several models of truck campers. The series Eagle Cap includes three models:
811 - One-slide unit designed for short and long bed trucks
1160 - Dual-slides unit for long bed (8ft) trucks
1165 – Triple-slides unit for long bed (8ft) trucks
1200 - Triple-slides unit for long bed (8ft) trucks
The product line also includes models 80RB, 86FB, 89RB and 901SB (standard units w/o slides, all designed for short and long bed trucks) and correspondingly 1-slide models 89RBS (for SB and LB trucks) and 910DB (fitting LB trucks).
For this presentation we selected the top of the line triple slide model Eagle Cap 1165. It's one of only few 3-slide-outs models available on the market, but also one of the first (what gives it advantage of "maturing from infancy"). Just for completeness, Northwood Manufacturing recently introduced its own triple-slide truck camper - Arctic Fox 1163.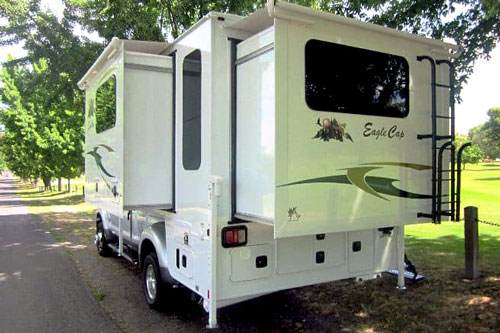 Eagle Cap 1165 Truck Camper (below its floor-plan)

     The Eagle Cap 1165 (similarly as all other models from this series) is a hybrid aluminum/composite superstructure. These modern construction materials guarantee low weight (although here "low" is in reference to similar-size "classic" steel/plywood-based structures). We underline this fact, because triple-slide units are not "feather-lite" campers and potential buyers must do an extra homework to make sure that the camper will fit into payload limits of their truck.
Spacious interior thanks to wide body (102") and triple-slides, offered opportunity to design camper's floor plan with clearly defined areas like galley, lounge, dining space. It also made possible to include walk-in dry-bath (importance of which does not need to be justified) and a lot of cabinetry, wardrobes and in general storage space.
      From the practical point of view – all three slide-outs operate by switches or wireless remote-control application (full swing requires few minutes). In the case of failure of the power system or battery, the slides can be extended/retracted manually.
Bedroom
Cabover Bedroom
       Queen-size (60" x 80"), fabric covered, double-density foam mattress promises comfortable sleeping place. Understandably, cabover bedroom is not a walk-in bedroom, however it is quite spacious, and the feeling of spaciousness is also greatly "amplified" by two side windows, large Heki skylight above as well as sizable wardrobe's mirrored sliding doors. Night table, small corner wardrobe and long (across cab's front) shelf complete standard futures. Two reading lights and optional TV screen make the cabover bedroom also a recreational area for reading books or watching favorite TV programs. Needless to say that thanks to skylight you can also look deeper into the starry sky (weather permitting). For privacy, the cabover space has curtain separating it from the main camper's box.
Bordering the cabover bedroom (but still in the full-headroom box – actually in a "dinette slide-out) there is a large, deep, double-door wardrobe with ample hanging space and two drawers on the bottom.
Galley
Dinette
Galley
     The galley is located in passenger's side slide and partially in the central part of the "box". Slide houses cabinetry and stainless-steel appliances: 3-burner stove with elegant cast-iron grate and oven (both w/auto-ignition) microwave, high-end power hood w/went and LED lights and double door, 8 cubic-feet refrigerator and freezer.
The semi-island ("peninsula") cabinet across the slide offers kitchen's main working space with enough room to enjoy cooking. The granite-looking thermo-formed countertop also houses an under-mounted, molded, stainless-steel double-bowl sink and pull-out faucet w/spray. In order to increase the working space, the sink comes with a cover that also serves as a cutting board. On the wall between the cabinet and slide-out with appliances there is a shallow pantry with shelves.
It may be worth to note that water system includes an optional in-line filter (one more example of residential touch).
       Across from the kitchen's cabinet (on the driver's side) you will find a spacious dinette. It is housed in a largest of all 3 slides and basically it is designed to offer much more than just space for eating. That's probably why it comes in few styles to choose from. U-shaped dinette with an oval-shape table on one leg, "face-to-face" "Dream Dinette" with a folding table attached to the wall (so no annoying table's leg) which can be customized the way to also serve as a sofa. In any of its versions, dinette can be converted to a dual bed for 2 persons.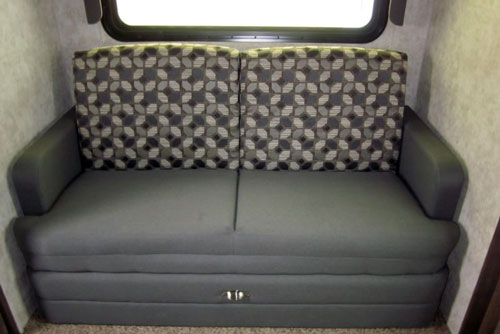 Standard feature: Sofa w/storage (drawer)
Clearly residential lounge (option): two recliners wit very useful swing-away tables
Lounge
      Lounge is located at the rear-end of the camper. Its most important part is housed in the 3rd (rear) slide. You will find here (depending on your choice) either a standard, convertible to dual bed sofa with storage or two optional theater seating recliners with 2 small swing-away tables. The lounge faces a large open space with entrance on the right side and an "Entertainment Center" in front on the kitchen wall. Well, this time it is not a piece of extra furniture but just the TV screen and Jensen Stereo system (AM/FM/CD/DVD/Bluetooth/HDMI/USB and so on…) attached to the wall. Recliners seem to deliver what they promise, while open space allows you to feel and enjoy relaxing atmosphere.
    Here we may underline the beauty of the design. In Eagle Cap 1165, all three basic sections of any RV: Galley, Dinette and Lounge were moved from the center out thanks to the availability of slide-outs. This created an open central/rear space efficiently eliminating crowded environment so typical for most truck campers (but not only). The luxurious (flame-treated) upholstery, "mood"- style, dimmable LED lighting cleverly accentuates otherwise very elegant interior design. Wooden cabinet doors and face frames, stainless-steel appliances – they truly represent the high-end "world" making this camper as "residential" as it can be (given all other limitations). Suddenly, the whole new world opened for the community of RVs owning pickup trucks (well, nothing is "free" so yes, there are also some limitations we will discuss later).
Open space as rarely seen before in truck campers, can be also extended to the outside. The Eagle Cap 1165 can be equipped with an optional power awning (patio-side) providing weather protected "living space" in close touch with nature.
Bath: shower cabin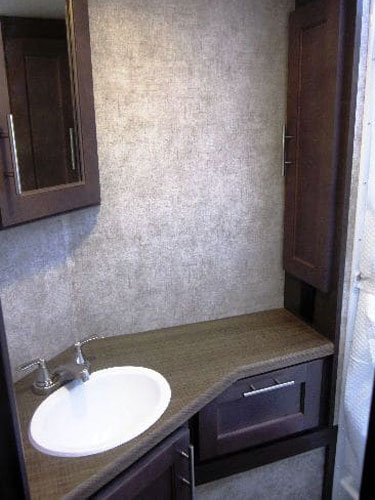 Dry bath: Vanity
Dry Bath
    The spacious dry bath is located in the central part of the camper, between the cabover and the kitchen. It includes shower cabin, foot-flushed toilet, vanity with stainless-steel sink, medicine cabinet w/mirror and a large pull-out storage. Yes, it seems to deliver what most of us will expect to find in a modern RV. The large skylight just above the shower cabin makes it (at least during the day) a bright area flooded by sun. It's a nice accent, but let's be clear – the feeling of spaciousness does not come as a "visual effect". It's real, you can move here (and comfortably take sitting "position") when needed so this will certainly be highly appreciated by users.
 Practical note – the bath (like the whole camper) is heated by ducted air while the big, roof-mounted power vent helps to evacuate humidity. That means – the dry bath (and everything inside it) stays "dry" regardless of the season.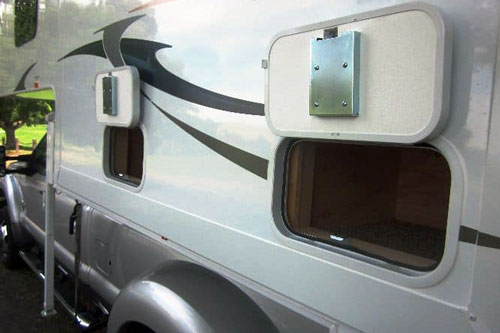 Exterior storage compartments have insulated, slam-latch doors
Storage
     On top of abundance of interior storage space (obviously here "abundance" expresses reference to truck camper standards), the Eagle Cap 1165 also offers plenty of exterior storage compartments. Some purely dedicated for whatever "stuff" you would like to take on the road, some pre-wired for special use (like one large compartment dedicated for optional Onan 2500W Generator), but still available if you do not take this option, and some clearly dedicated for LPG tanks, batteries, sewer hose, water tanks and valves etc. The latter is very practical as all water & plumbing components as well valves are easily accessible from the outside (but still thermally protected inside of heated and insulated compartments).
Four Season Design
     The Eagle Cap 1165 (similarly as remaining models from this series) comes in "4-Season" version (it's built-in, so you cannot refuse it or reject, it's part of the deal). With 4-Season "package" comes thermal insulation (R13 walls, R19 ceiling and R22 floor), heated and insulated basement (including thermally insulated exterior compartments' doors, all water tanks, pipes and valves). Add to that thermal-pane insulated (gas-filled) windows and you have pretty good picture. As expected from manufacturer offering these campers on local (northern) markets, all seasons or at least "extended season" is a matter of life or death (in this case success or bankruptcy) in Canada. The bottom line – it is well-engineered design so you can count on it and freely expand your RV-ing plans well beyond the typical summer season.
For sure, you will also find bypass valve for convenient winterization when the time comes for it as well as low point freshwater drains.
LPG tanks compartment
Energy
        The electrical system includes 30A shore service w/power converter and battery charger as the main source feeding lighting system and appliances (some of them like microwave and an optional A'C unit are really power hungry so to run them in Off-Grid environment, you will need the Onan (or similar) generator). Some help can come from solar panels (up to 300W is available from the list of options), but this is a "cosmetic" amount of energy able to support LED lights and "electronics" (computers, phones, TV, stereo etc…).  One standard deep-cycle battery (plus one optional) can buy a few more hours but cannot change the inevitable!
Regarding LPG - two 30lbs tanks offer quite good energy autonomy (especially when there is no need for heating).
Please continue at --> Eagle Cap 1165 Specifications (Next Page)
where you will find specifications, construction details, standard and optional features as well as  info regarding truck requirements
All pictures: Courtesy of Adventurer LP
Note:  Check with the manufacturer and / or authorized RV Dealer for the up-to-date list of features, options as well as latest specifications. These written above may not be accurate and certainly are subject to change by the factory. We are not responsible for any inaccuracy, the above text is provided only for the general information.
This review was written based on publicly available information for the benefits of the community of RV-ers. We do not receive any gratification or financial benefits from RV manufacturers, dealers, and any other promoters of RVs. 
We are NOT involved in sale and/or retail of RVs!