Eriba Touring 820
Specs and Technical Details
If you did not see the presentation of Hymer's travel trailer Eriba Touring 820, it's strongly suggested to first see its description accompanied by several photos to have better idea about this luxurious camper.
See: --> Eriba 820 Presentation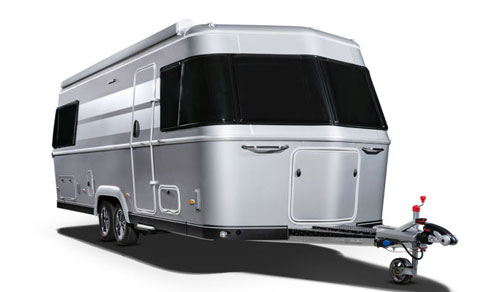 Eriba Touring 820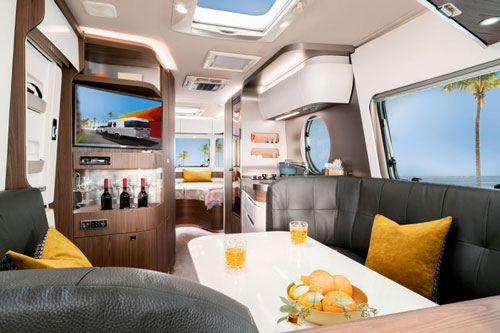 Eriba 820: Living quarter
Otherwise, please continue to see the Eriba 820's technical specifications, construction details, standard features and options below. 
Specifications (1)
---
Overall length

Exterior width

Exterior height

Body length

Interior length

Interior headroom

Dry weight (2)

GVWR (3)

Cargo capacity

Freshwater tank

Greywater tank (4)

Blackwater tank

LPG

Awning

Sleeps

27.82'

7,74'

9.15'

23.2'

22.6'

6.6'

4,520 lbs

5,512-6,173 lbs

992-1,653 lbs

13.2 gals

8 (13.2) gals

cassette

2 x 5 gals

Optional

4

8.48 m

2.36 m

2.79 m

7.08 m

6.88 m

2.03 m

2,050 kg

2,500 – 2,800 kg

450 – 750 kg

50 l

30 (50)




2 x 11kg
---
1. Values in imperial units represent approximation (conversion from metric system)
2. Defined as "weight in running order", what assumes full tanks of fresh water and LPG
3. Higher GVWR is an option
4. Larger capacity is an option (smaller tank is removable, the larger one is fixed)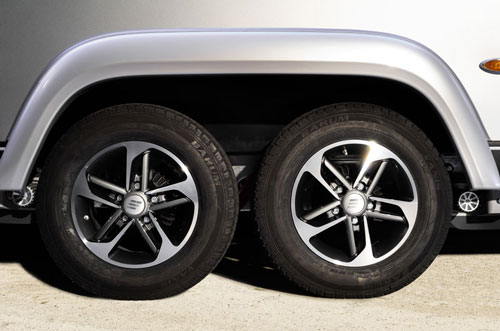 Twin axle (note stylish rims with twin spokes)
Construction
Chassis: fully galvanized steel
Body: Steel-cage w/Cristal Silver aluminum sidewalls  
Roof: Cristal Silver Aluminum w/optional Glass-Reinforced Plastic (GPR) for hail-protection,  
Roof Spoilers: Cristal Silver GRP technology 
Tongue: Galvanized steel w/wheel jack and built-in load indicator
Floor: Glass reinforced Plastic (GRP) w/Styrofoam insulation 
Insulation: PUAL (Closed-cell Polyurethane foam (PU) sandwiched between aluminum sheets (AL)) (thickness correspondingly floor/walls/roof:  2.0"/1.18/1.18")
Axle: Tandem (fully galvanized steel) w/independent suspension
Windows: Tinted, 180 deg panoramic (front and rear)
Wheels: alloy rims w/twin spokes
Brakes: Automatic adjustment
Coupling: Anti-sway w/automatic overrun and reversing mechanism 
Electrical Interface: 13-pin Jaeger 
Leveling: Hydraulic lift system with automatic leveling front and rear
Layout: Front lounge/rear bedroom
Interior
Walls covered with imitation of leather
Ceiling coated with microfiber fabrics
High-quality leather upholstery (Tortora/Grigo)
Velvet-ash Furniture finish (w/super-matt fronts)
Dark-tinted windows (panoramic front and rear, and porthole-style one on the driver's side)
Panoramic double-glazed skylights (31.5' x 19.7") w/LED-illumination (living area and bedroom)
Blackout blinds and mosquito nets
Double floors in the storage space under the bed and sitting area for better air circulation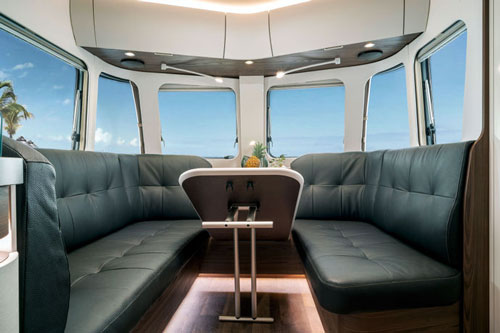 Lounge can be converted into sleeping room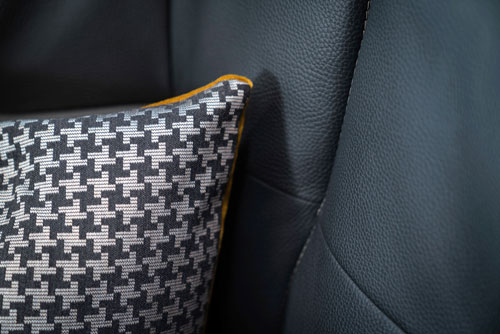 Extra cushions for your comfort ...
Lounge/Living Area
Dining table w/scratch-resistant surface (convertible to queen-size bed)
Illuminated glass cabinet/bar compartment w/space for 32" TV (next to the entrance door)
Floor-to-ceiling wardrobe w/interior light
High-backrests sofas w/2 cushions (19.7" x 19.7")
Privacy curtain separates the bedroom from the remaining part of the camper
Bedroom
2 x metal-frame beds w/ wooden slatted-frames folding upwards for easy access to the storage space underneath
2 x Muliti-zone cold-foam EvoPore mattress w/removable, washable covers
Folding privacy curtain separating the bedroom from the living area
2 cushions between longitudinal single beds
Bedspreads
Large Skylight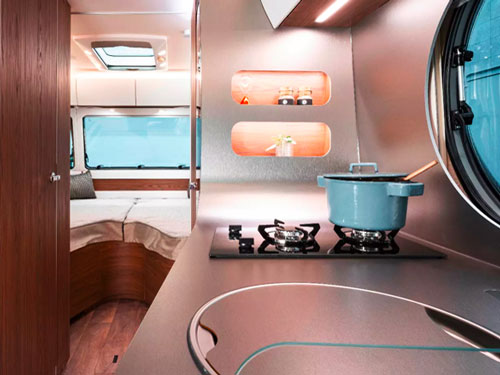 Sink's lid serves as a cutting board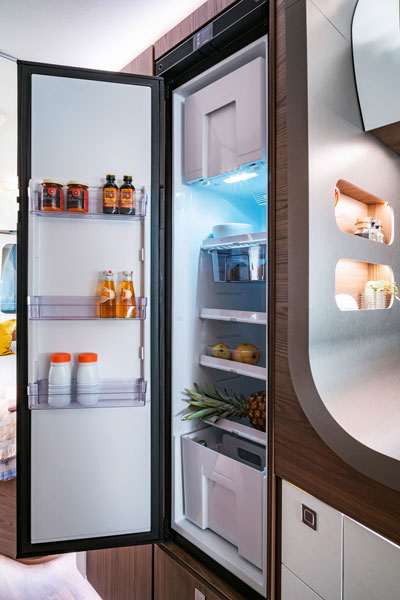 Fridge with freezer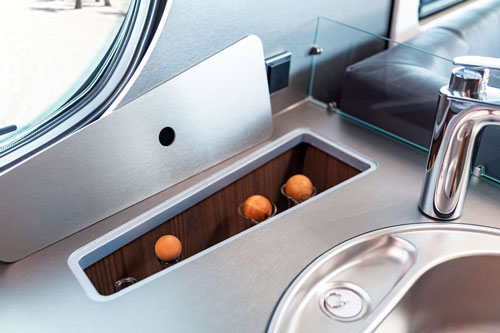 One more "hidden" storage in the kitchen
Kitchen
Compressor-based fridge & freezer (40.2 /4.6 gallons) w/night mode)
Thetford dual-burner stove
Stainless-steel sink w/cover (including cutting-board)
Main wall and the left-side separation wall in brushed-aluminium look
Cabinets (drawers w/ roller-mounted "soft-touch" closing and push-lock mechanism)
Overhead cabinets
Pull-out tray w/integrated coffee machine and capsule dispenser)
Integrated (wine) bottle storage
Pantry for cooking utensils
Electrical sockets (overhead cabinet)
Large porthole window
Bar with an Entertainment Center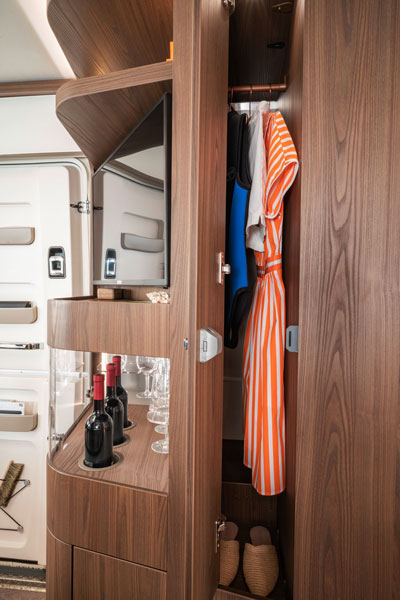 One of wardrobes (this one next to the entrance door) 
Dry Bath
Bench toilet w/level indicator and cassette on wheels
Separate shower w/folding doors and wooden slats-panel
Acrylic washbasin w/recessed sink
Wall cabinet w/mirror and trays
Toothbrush holder
Skylight (15.7" x 15.7") w/blind and mosquito net
Ventilation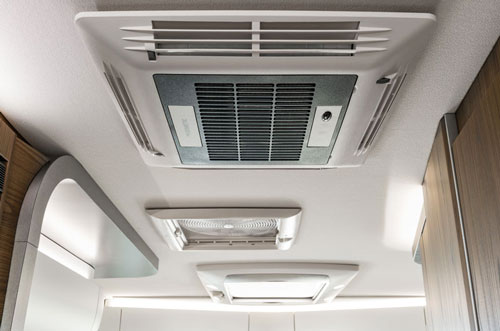 Roof-mounted A/C unit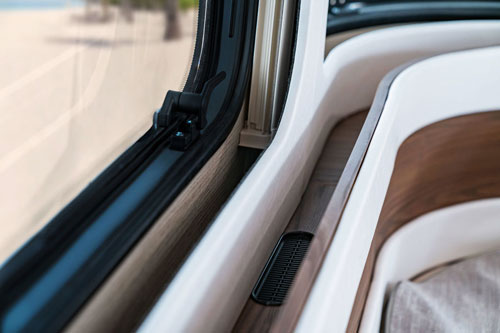 Ventilation behind sofa's backrests 
Climate Control
Roof-mounted, 2,05kW A/C unit w/remote control
3kW Floor-heating system
Ventilated backrests (Lounge) 
Ventilated storage boxes
Frost-proof water installation (includes insulated and heated water tank)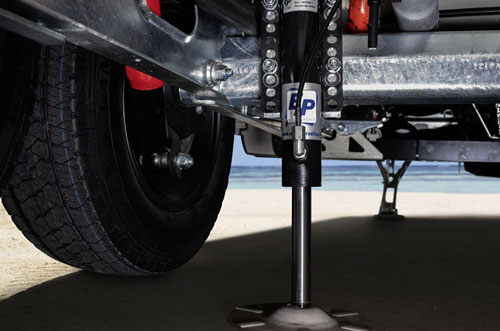 Automatic levelling system
Exterior Features
4 x Self-levelling stabilizing jacks
Integrated locker (houses LPG and grey-water tanks, spare wheel, and chocks)
Lighting belt strip
Electric, illuminated pull-out steps
Entrance door: w/electric closure assistant, 2-locking points, dustbin and insect net
Stainless-steel bumper, skirting and manoeuvring handles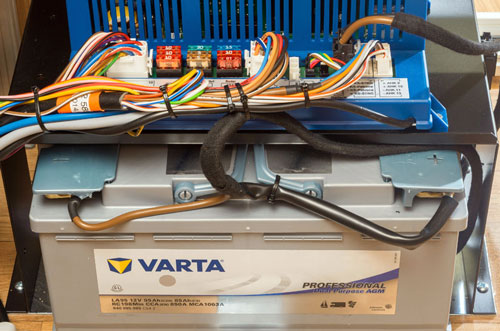 Standard AGM battery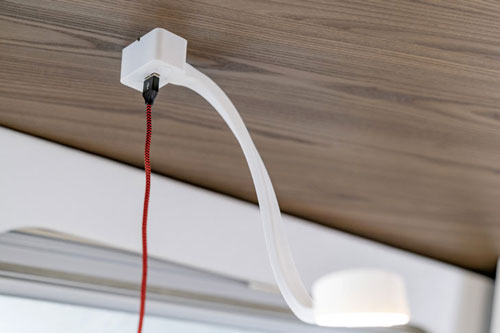 USB ports integrated with reading lights
Electrical
95 Ah AGM battery w/space for 2 optional batteries)
Battery charger (230V/12V) w/automatic changeover to towing vehicle
All LED lights including: 
Dimmable indoor/outdoor lighting
4 x Gooseneck reading lights with integrated USB sockets (lounge and bedroom)
Smart-Home System (interior control panel and smartphone application) for monitoring and control of water heater, temperature (A/C or heating), tanks fill level, battery etc…
LED awning light w/motion detector
230V double sockets (kitchen, living area, bath and bedroom)
3kW floor heating system
2.2 gallons water-heater
Shore connection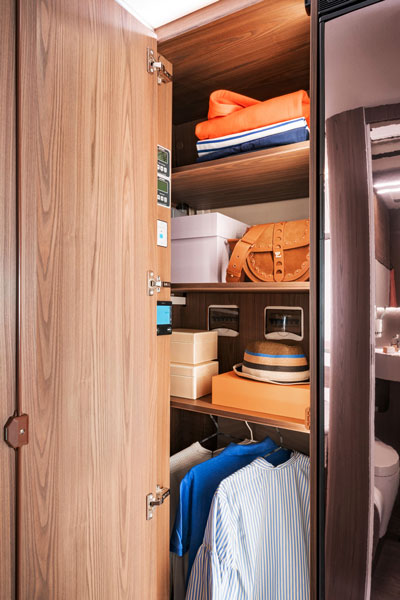 Main wardrobe (next to the bedroom)
Storage
Exterior locker
Under-bed storage (bedroom)
Under seating storage (lounge)
Wardrobe
Kitchen and overhead cabinets
Safety
Smoke detector w/alarm
Spare tire (option)
Tongue-mounted bike rack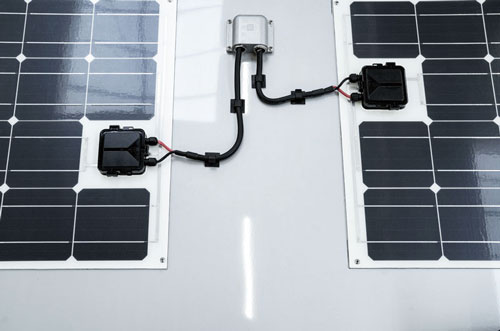 Roof-mounted solar power
Options
32" TV or
Multimedia package (includes 32' TV, DSP box, 2-speaker DAB+ radio and a digital antenna)
Tongue-mounted rack for 2 bicycles (51" x 33.5" x 19.3", 132 lbs)
Roof awning (16.4'-L x 9.8'-W) w/ anodized aluminum housing
Solar System (2 x 90W panels, controller)
Electric Mover for tandem axle w/remote control
Anti-skid system
Spare wheel w/lockable underfloor bracket
Upgraded chassis and wheels for 6.172 lbs GVWR (tire size 195 R14 C 101 L)
GRP roof protection (for reduced hail impact)
Exterior storage compartment 
City water hookup
13.2 gallons underfloor grey-water tank (insulated and heated) w/heated hoses
External gas socket with shut off tap
LPG pressure regulator w/automatic changeover
Monitor of LPG tank levels w/heating control against icing)
Exterior sockets (230V, 12V, TV)
External water pump (not possible in combination w/ city water hook-up)
2nd and 3rd battery (95 Ah AGM and/or 135Ah Lithium) with additional 18A charger
1.8kW inverter w/main priority circuit)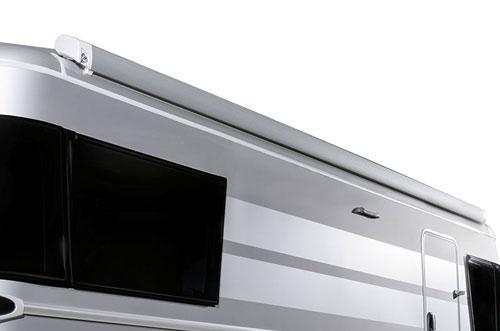 Stylishly integrated awning
Will we see Eriba's Touring 820 on the North-American market?
       Undeniably, for most RV manufacturers, the North-American RV market is the "place to be". No wonder, the German international was represented there by Ervin Hymer Group North America. However, recently the Ervin Hymer GmbH was acquired by Thor Industries (by now the world's largest RV manufacturer) and this may limit the possibility to launch the Touring 820 in the US as it will be direct competition to Airstream (also part of Thor Industries). Well, obviously, it's too early to jump to the final conclusion. As usual, time will give answers…. 
Pictures courtesy of Ervin Hymer GmbH 
---
Note:  Check with the manufacturer and / or authorized RV Dealer for the up-to-date list of features, options as well as latest specifications. These written above may not be accurate and certainly are subject to change by the factory. We are not responsible for any inaccuracy, the above text is provided only for the general information.
This review was written based on publicly available information for the benefits of the community of RV-ers. We do not receive any gratification or financial benefits from RV manufacturers, dealers, and any other promoters of RVs. 
We are NOT involved in sale and/or retail of RVs!