Four Wheel Pop up Camper Trailer
About Four Wheel Pop up Camper Trailer
Four-wheel pop-up camper trailers are lightweight trailers ideal for the travelers who need a trailer that can hold out the toughest off-road conditions yet offering all the comforts of the camper.
They come with trailer frames, a hard roof, pull out banks, and soft walls that come in a box.
Usually they are equipped with all the needed amenities such as folded tables and benches, a water tunk, stove, fridge and other gadgets for comfortable camping.
Some more expensive models may include air-conditioning and washrooms. They are constructed of flexible materials. Since they are very light, they can be towed literally by any vehicle.
The basic units have two foldouts, which can be used as sleeping areas. Cheaper models don't include toilets so many campers use portable toilets while expensive ones often have cassette toilets, a shower, better cooking facilities and even a slide-out extra room to give you extra living space.
Advantages of four-wheel pop-up camper trailers
Four-wheel pop-up camper trailers have several advantages over the bigger and more luxurious motor homes. The first and the most important is the price. They are far less expensive yet offering all the comfort you need while traveling. The next but not less important advantage is that four-wheel pop-up camper trailers are easier to maintain and store. Another benefit of these camper trailers is when you get to the campsite and when you set up your camper, you can use your tow vehicle to go sightseeing, shopping, or visiting local attractions.
 Four-wheel pop-up camper trailers may be found in many lengths and different options. The most used four-wheel pop-up camper trailer brands:
-          Jayco is one of the most popular pop-up camper trailers. It is very easy to bring along, easy to use and doesn't require plenty of space when not in use. Also it can be set up in any campsite you like. This pop-up can accommodate lot of people along with their stuff thanks to its large space. All Jayco models are equipped with bed, sofa, sink, fridge, stove, slide-out dinette, as standard equipment while some models may include bath or shower. They also come in various sizes and styles that people can choose from such as: Jay Series Sport, Jay Series, Baja.
Jayco Sport camper trailer
-          Coleman is one of the renowned brands in the camping world. Coleman four-wheel pop-up camper trailers have facilities such as kitchen, refrigerator, stove, oven, air-conditioner, bathroom, bed and TV set. There are numerous models of Coleman four-wheel pop-up camper trailer. The most famous are: Highlander Series, Evolution Series, Americana Series, Americana LE Series, Destiny Series.
Coleman Americana camper trailer

-          Fleetwood pop-up camper trailers have been present in the camping market of North America for over 40 years. They are very famous for their lovely design, extra quality, and reliability. All their models are built to last long with full comfort they offer you while camping. They feature easily converted dinette area, cooking stove, fridge, sink area, counters, and cabinet storage space. Some models include built-in bathroom with or without a shower. Fleetwood four-wheel pop-up camper trailers are constructed out of the highest quality materials. Popular Fleetwood models are: American, Destiny, Element, Evolution, Scorpion.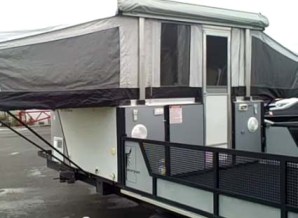 Fleetwood Scorpion Toy Hauler

Visitor's Story:

A truck pop up camper is another way to enjoy traveling and camping for the entire family. Now the van conversions I have seen lately are also becoming quite common for people wanting to travel and have a driving vehicle at the same time.
Some of the vans are beautifully decorated and accessorized like the four wheel pop up camper trailer. The pop up 2 wheeler tent camper is more suitable for myself and my wife. Everybody has a different taste in campers. Whether it is a 5 wheeler, a four wheel or a 2 wheeler, you are sure to enjoy traveling the countryside.
The campgrounds provide a relaxing and enjoyable time. The back woods of MN all the most enjoyable to explore.
Mississippi is another great time for camping. The campground has spots available that actually fit different types of campers quite well. In fact the four wheel pop up camper trailer fits nicely on a site with a pop up tent camper trailer such as a 2 wheeler. There is enough room for both and still plenty of room for fun and games. Four wheel pop up camper trailers are nice for long trip, as you can just stop and climb in the back for a night rest at a wayside or another area where campers are allowed.
The camper still has many accessories that provide for relaxing and comfortable at home feeling. With the four wheel pop up camper trailer one might be able to adjust to just leaving home traveling all around without a stop at home, except for a holiday or two.
 About Us / Privacy Policy / Resources
Go from Four Wheel Pop up Camper Trailer to Pop Up-ing Home