Four Winds Motor Home Campers
So what's so crazy about four winds motor home campers?

Manufactured by Thor Motorcoach, these campers will take you anywhere you want.
The Four Winds RVs are class C motor homes, which are some of the most luxurious ones with lots of living space.
They are not only easy to drive, but also easy to afford, since Thor has created their lines of RVs to make sure that they are not too expensive and they still offer as much comfort and luxury as possible.
This is one of the reasons why in the last decades the Four Winds motor homes have always been considered one of the best choices for travelers.
Description and benefits
              Thor Motor Coach is one of the most well known manufacturers of campers and class C motor homes in North America. They are known to be innovative and combining new ideas with great design. They make sure that they create just what people are looking for and this far they have succeeded. Their campers have extensive features and an attractive style, both inside and outside.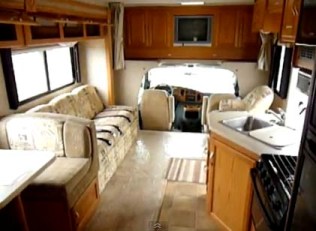 Four Winds Motorhome - interior view

Not only that these campers come with a great structure, but they also have many extra options and several floor plans. This allows you to have your future mobile home jus the way you want it to be. They come in various colors as well, so you can enjoy the innovative and beautiful design of the camper just the way you like it.


Specifications of the Four Wind motor homes
Parameter


Chassis

Exterior Length

Exterior Height
Exterior Width
Interior Height
Fresh Water
Black Water
Gray Water


Model 22E

Ford E-350 or
Chevy 4500
Ford 23' 11"
Chevy 24' 6"
10' 10"
8' 3"
6' 10"
50 gal
24.5 gal
37 gal


Model 28A

Ford E-350,
Chevy 4500
Ford 29' 9"
Chevy 30' 3"
10' 10"
8' 3"
6' 10"
40 gal
25 gal
22 gal


Model 31A Bunkhouse


Ford E-450
32' 2"

10' 10"
8' 3"
6' 10"
40 gal
26 gal
31 gal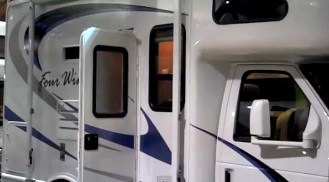 Four Winds Motor-home camper

Main Features
Smoke, LPG, Carbon Monoxide Detectors
Residential Linoleum Throughout and Carpet in Bedroom
Ceiling Ducted Air Conditioning System
Hardwood Flat Panel Cabinet Doors
Leatherette U-Shaped Dinette
6 cu ft Double Door Refrigerator
3-Burner High-output Gas Range Top
Flip-Up Countertop Extension
Laminate Countertops
HD Television Antenna & Booster
Queen Size Bed
China Bowl Toilet
Further Options
3-Burner High-output Gas Range Top w/ Oven
22" LED Television w/ DVD Player on Swivel in Cabover
Automatic Shoreline-to-Generator Transfer Switch
Child Safety Seat Tether Anchor in Dinette
Fantastic Fan in the Overhead Bunk


Four Winds super C
This version of the Four Winds campers comes with a diesel engine and a Ford F-550 Super Duty chassis. It has a single full-wall, lengths of 34 ft. 4 in. and it is about     10,000 lbs. If you want a motor home with an engine that will never leave you in trouble, then this is the right choice. The features and options of the Four Winds Super C are similar to the ones of the classic Four Winds motor home.

Where to buy your Four Winds motor homes
1.    Campers Inn
This company sells both new and user motor homes, including Four Wins campers by Thor Motorcoach. They have an online store where you can look at what they offer for sale, and they have several locations that you can visit. It is easy to find something that is close to where you live thanks to their directions online.
Each motor home that they sell comes with a detailed description and everything basically that you need to know before making a purchase. Camper's Inn is a quite large and well known website that is reliable and easy to use. If you are looking for a used motorhome, this is also one of the first places to look.

2. General RV Center
If you want a company that is easy to communicate with, try this one. You can simply visit their website and call them, and they will help you find the motor home that you are looking for. They usually have all kinds of class C motor homes for sale, including the Four Wind motor homes by Thor. They also assure their customers that they will have the best price if they buy the RV from their RV Center and not from somewhere else. The inventory of General RV Center changes daily, so if you are looking for something, you will surely find it there.
And now it's time for the tour of the 2012 31F Four Winds RV by Thor Motor Coach

---
Visitor's story....

EBay has many Four Winds motor home campers for sale and some actually look great.
I recently looked at a Majestic class C motor home with awnings and an air conditioner.
The mileage was low, somewhere around thirty-seven thousand, I believe.
It had a TV, an alarm system, bathroom with shower and a queen size bed.
It looked to be in great shape, but I was a little leery because it had low miles and an E-350 chassis.
Although there is nothing wrong with the chassis, I still prefer something a little better.
The interior was actually plain, not something that sticks out in ones mind, but you do not always go by looks as long as it travels good and has the comforts you need to travel in a home away from home.
I believe the price was seventeen thousand, which is a good price if it has good tires, no rust and regular engine checks along with oil and transmission changes. The brake line quality needs to be of extreme important and unfortunately, you cannot tell by pictures if everything is in tiptop shape.
I have seen many motor homes and popup campers on eBay as I browse around looking at what people have for sale and how much they ask for these campers. I am sometimes amazed at the prices people try to get for campers.
Although most are fair prices, there are some that you might be better off buying something newer for the same price. I guess it is all a matter of how much you want the camper in choice.
If you find a Four Winds motor home camper, you might want to check the bluebook prices if you are looking at new or used campers. This holds true for any camper even a popup camper.
You always want to pay a fair price and this helps to guide you.
 About Us / Privacy Policy / Resources
Go from Four Winds Motor Home Campers to Pop Up Campers Trailer Home

Motor Home RV Manufacturer