Georgie Boy Motor Home Campers
Did you see recently Georgie boy motor home campers?

History and characteristics
        Georgie Boy campers have been manufactured first in 1968, and in the time they were the most innovative and modern caravans for sale.
The experienced production teams and the vision that they have created still survives until today.
The manufacturer of these great motor homes is a subsidiary of Coachmen Industries.
Coachmen Industries was a large company that founded brands such as Coachmen, Sportscoach, Viking and Georgie Boy, all of them well known for both high quality and great design.
Georgie Boy is not only known for their great designs, but also for their large selection of both interior options and exterior features. They have a great motor home for almost every budget, which is another reason for their popularity both now and in the past.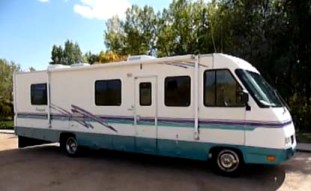 Georgie Boy Pursuit 32 motorhome Class A

Coachmen and Georgie Boy
         Following the lines of brands created by Coachmen can be sometimes confusing. This company started up in 1964 as Coachmen Industries, and they became popular almost instantly. However, just recently Coachmen became the brand and subdivision of Forest River, another extensive RV company.
This is why many of their models are no longer manufactured and are difficult to find, such as the Georgie Boy class C and class A motor home. Most of the models are only available second hand nowadays, and even used they are not so easy to find.
When it comes to used motorhomes, sometimes you can make even a better deal buying an older used model than a new one.
New motor homes tend to be very expensive, and often a high quality older model is just as good as a new one, plus you can afford it. If you are looking for a motor home that is comfortable, reliable and durable, but you don't want to spend a fortune on it, the Georgie Boy motor home is a good choice for you.

Features and options
          Georgie Boy motor homes have several features and further options that make them stand out in the RV world.
Here are some of the main features of these campers.
pull-out computer station
dinette table with wood and upholstered chairs
halogen lighting
Corian countertops in the galley
full galley kitchen
full, glass-surround shower
birch wood cabinetry
separate bathroom and bedroom


Models of Georgie Boy
Georgie Boy is mostly known for their class A motor homes, but they also produce class C motor homes. They have several models that you can still find through dealers. Here are the models of Georgie Boy: Bellagio, Cruise Air, Cruise Master, Landau, Maverick, Pursuit and Swinger. Many of these models come from years as old as 1985.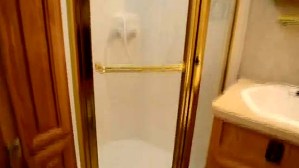 Georgie Boy motor-home: Bathroom with the shower cabin
Finding Georgie Boy motor homes
1.    Motorhome and Caravan Trader
If you are looking for used Georgie Boy Motor Home Campers, try here. Motorhome and Caravan Trader is a safe and secure place for purchasing RVs. Anybody can sell a motor home through this website, and you as the buyer have lots of chance to find something affordable and in good condition.
You can reach here many motor home sellers in an easy and quick way. You can use the search system to find the motor home you are looking for. You can also see how many RVs they have in stock at the moment that you visit the web page.

2.    Pedata RV
This company is a dealer of Georgie Boy motor homes. They are one of the few companies that have a lot of models to choose from, even when it comes to older motor homes and RVs. This dealer is located in Arizona, but they have a website that will help you find the right Georgie Boy motor home.
They have one of the largest selections of new and used motor homes online. They also have an online sales showroom and an impressive inventory. You can call their toll free number if you have any questions about their used and new motorhomes.

3.    Camping World
This large company selling new and use RVs surely has several models of the Georgie Boy campers. Having one of the most convenient search systems, it will be easy to narrow down your search if you visit the website of this company to look for your future motor home. Each of their motor homes comes with detailed description and options to help the buyers find exactly what they want.
And now it's time for presentation - tour of the 2004 Georgie Boy Landau 34' Class A Motor-Home presented by Craig Thompson...

---
Visitor's story.....

I can honestly say I have not seen Georgie Boy motor home campers around for a while.
Sometimes that is all you see, and then they seem to disappear for a while. These campers are real nice motor homes.
The popular Landau is loaded with everything you could possibly need when camping. I have to say though they have some beautiful interiors.
The woodwork shines and the lights shimmer off the walls and floor. For the most part, every Landau has a t least one slide out and adds to the spacious interior.
I looked at a 2002 Landau and it made me want to cry. It was beautiful with the cherry cabinets and woodwork. The area was so big, I felt like I was in someone's homestead living room instead of a motor home. With all the features available, you will never want to return home.
All of Georgie Boy's campers are made with quality materials and only the top accessories are installed. The bed I hear is also very comfortable for sleeping, even when driving down the road. Now could you get all this in a popup camper?
With all the accessories and the comfortable cockpit, even the driver will have a great time even when driving. The chairs are swivel recliners with armrests. The beverage holders come in handy for hot and cold beverages. You have all your controls readily available with defrosters, lights and trip meters. The most important thing about motor homes is the comfort.
Georgie Boy motor home campers always amazed people who look through them. If you want a camper made to last, you might consider the Landau motor home for style and design.
Another good reason is that they are affordable. Look around at some of the camper shows and you will see everything, even a Georgie Boy camper.
The time is always right to trade in your popup camper.
 About Us / Privacy Policy / Resources
Go from Georgie Boy Motor Home Campers to Pop Up Campers Trailer Home

Motor Home RV Manufacturer