Hiker-Trailers
Ultralight Off-Road Models
Hiker trailers represent an affordable upgrade for backpack hikers, thanks to their light weight and maneuverability they are ideal for extreme off-road conditions.
      Hiker Trailers were founded by Robert Reeve (electrical engineer) and Wes Henry (firefighter) in 2014. Combining their rather distinctively dissimilar professional knowledge and experience with a common love for escapades into nature, they came up with a unique design of a "square teardrop" (square-drop) travel trailer. Its shell is derived from a traditional teardrop trailer, but it is squared off to increase interior space.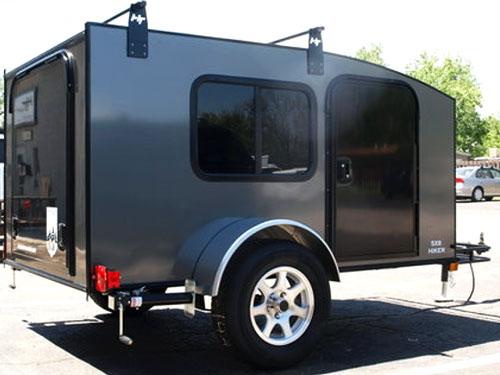 Hiker Trailer - Highway Deluxe w/characteristic round fenders 
Hiker Trailer: Extreme Off-Road model
The main design goals of Hiker Trailers' co-founders were:

An affordable travel trailer, available at a significantly lower cost compared to the competition (simplicity, as well as full "in-house" production and control from the start to finish, helps to achieve this goal)
Large choice of models with various dimensions, interior/exterior finish, and targeted use (from the highway to extreme off-road)– all based on a standard basic unit.
Lightweight and simple design making it reliable as well as towable by most cars.
Now, almost 10 years later, with two manufacturing plants located in Denver (CO) and Indianapolis (IN), it seems that the co-founders of the Hiker Trailers business have something special to offer in the crowdy RV industry.

Family of Ultralight Hiker Trailers
The company offers 3 versions of square drops:
Highway Deluxe,
        As its name suggests, it is designed for paved roads and comes in 3 different sizes, correspondingly 5 x 8, 5 x 9, and 5 x 10ft. The earlier available smallest model 4 x 8ft now seems to be obsolete.
Mid Range (Deluxe and XL)
     These models are designed for unbeaten paths (gravel, dirt…). Version XL has bigger tires and higher ground clearance allowing it to go on coarser paths. They come in 3 sizes: 5 x 8, 5 x 9, and 5 x 10ft
Extreme Off-Road.
      Designed to go whenever your towing car can go. They come in 2 sizes, correspondingly 5 x 8 and 5 x 9ft. The smallest model 4 x 8ft now seems to be obsolete, while model 5 x 10ft was never available.

Highway Deluxe with optional portable solar panels 
In this article, we will focus on two particular models – the Highway (Deluxe) as the simplest and least expensive one as well as the Extreme Off-Road representing the most advanced and complex model from the series of Hiker Trailers.
Hiker Trailer: General Concept
       Frames of Hiker Trailers are made from powder-coated steel. The A-frame-shaped tongue offers a much-needed Front Storage Platform convenient for hauling bulky gear (available options are Fridge Box, Toolbox, and Front Rack, but you may have your ideas on how to use this space).
Shells are made from plywood covered by an aluminum skin. It's not the most advanced design, but rather a proven classical one. The pros are simplicity, matured technology, and low cost. The cons - potentially lower durability of Extreme off-road models. Note however, that to minimize the impact of vibrations and mechanical stress on the structural integrity of the trailer in an off-road environment, the aluminum skin is not glued to the wooden shell. Another important factor increasing the durability is the simplicity of the design (fewer components means fewer elements to break)!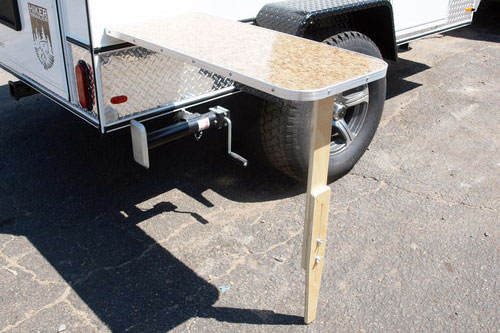 Hiker Trailer: Optional side-table
The interior cabin dimensions of the 5ft x 10ft trailer are correspondingly 58" (W) x 44" (H) x 98" (L). However, the shell itself is slightly longer (full length of 120") to accommodate a rear galley with access from the outside (note that the Hiker Trailer square-drop keeps the traditional layout of teardrops – rear galley and sleeping space at the front.
         It's clear that while the interior offers a reasonably spacious sleeping space, the 44" headroom will not allow you to stand up. Note, however, that Hiker Trailers are designed as an "upgrade" from hikers' tents (hence their name). As such, they offer most (if not all) of what a "seasoned" hiker, biker, or hunter may need on his journey – namely:

Maneuverability to get to remote locations.
Weather-protected, ready-to-use sleeping space.
Camping gear (and here of importance is a storage space and available options)
Of equal importance (although not directly related to your exploration journeys) is also the overall trailer size allowing you to easily store it for the winter (obviously, this upgrade will need more storage space than a backpack and tent).

Highway Deluxe
       The beauty of the Hiker Trailer's design is that it covers the whole spectrum of hikers' needs. In the simplest "entry" version, it will be just a towable, DOT-approved "box on wheels" w/door and windows (estimated cost of a few k$). The basic 5ft x 10ft Highway Deluxe w/standard features costs 8k$ and weighs about 1,000 lbs (version 5ft x 8ft correspondingly 6k$ and 800 lbs). Box's standard features include:

Highway Deluxe: here beautifully arranged custom-built interior 
White Aluminum Exterior Color
Solid, passenger-side door and rear-side swing door (both w/locks)
2 x Side sliding windows w/screens
Roof Vent w/hand crank
Standard Front Jack
2" Ball Hitch
Safety Chains & Wiring Harness
110V AC Shore Power Plug (rear galley)
Rear Galley with two (17"-deep) shelves and pass-through to the cabin w/door
Top shelf cubby pass-through to the cabin
Front cabin Fuse Block, 12V wiring, USB, and Voltmeter
Cabin Dome and rear galley lights
2" rear receiver (for bike rack)
Highway Deluxe: Standard Galley w/Formica and w/standard pass-through doors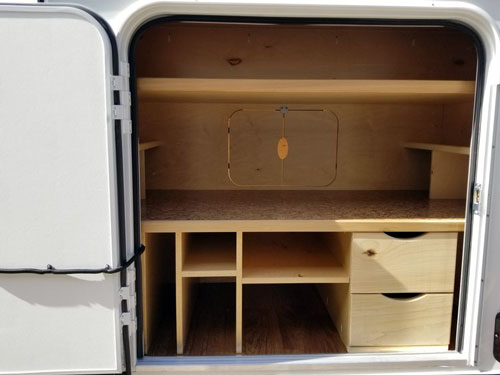 Galley: Upgraded version w/drawers, dividers and side shelves
         The "box" itself comes with a 2,000 lbs axle, short leaf-spring suspension, 205/75/R14 (14") wheels, 9" ground clearance, curved aluminum fenders, vinyl flooring, and DOT-approved LED lights.
Well, these are just the basic features you can count on. The manufacturer rightfully assumes that as a Seasoned Hiker, you will have a lot of your own (already proven) camping gear so there is no need to include it in standard features (obviously at an extra $). However, the long list of options (see below) as well as the manufacturer's program "Build it Custom" can help to materialize your wishes. Even more, initially, you can order a simpler model (lower $), and then with time and experience gained "on the road", you will be able to upgrade it by adding needed features.

Out of a plethora of options, the recommended one is the Rhino Rack Batwing Awning. Thanks to 270 degrees opening, it protects the vital areas around the trailer (curb-side w/door and rear galley) from the weather.
On the long list of options (counting about 200 items), you will find heaters, electrical power systems (including solar), cargo racks and boxes, fresh water tank w/pump, LPG-based hot water, exterior shower, rooftop tent, MaxFan, bunk beds for small children, and more.

Highway Deluxe - here with the optional rooftop tent and side table
Hiker Trailer: Extreme Off-Road
          The Extreme Off-Road Hiker Trailer is an "older brother" of both – Mid Range and Mid Range XL trailers. After all, only off-road trailers can follow hikers along unbeaten paths, leaving behind new trails (from this point of view, the Highway model is rather a "hitchhiker" on the road).
The Extreme model is based on the same initial concept of an "entry box", however, for obvious reasons, its frame, suspension, wheels, ground clearance, and standard features are designed for a much more demanding environment. While the Highway trailer must bring you from point A to point B over smooth paved roads, the Extreme Off-Road one must accomplish this task over rugged terrain and still arrive at point B in good shape.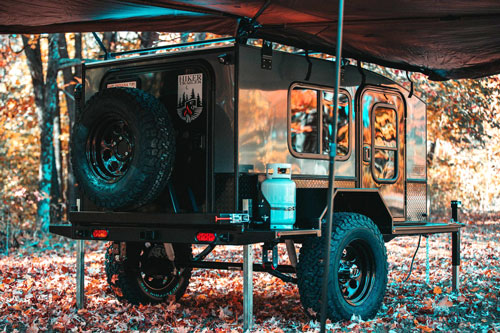 Extreme Off-Road: here with Rhino Rack Batwing Awning
That's why the Extreme Off-Road "entry box" comes with a more robust set of standard features, (on top of mentioned above basics) including:

Reinforced (2" x 3" tubes), powder-coated frame,
3,500 lbs axle,
Long, soft leaf-spring suspension w/shock absorbers,
17" wheels w/285/70/R17 (33") off-road tires
14" of ground clearance,
Reinforced, square stand-on fenders,
2 x front stabilizing jacks and 2 x rear drop-down legs,
Large rear galley swing door
Integrated Front Storage Rack w/Storage box
Extreme Off-Road model - here in "no-road" environment ...
       The mentioned 33" tires create a safe clearance (14" under the axle and 24" under the frame) to navigate bumps, rocks, and in general "no-road" terrain, while the suspension greatly helps to absorb and smooth shocks and vibrations.
The higher ground clearance allows for an optional under-the-floor storage compartment (49.5" x 27" x 6"). The large access from the cabin makes it an ideal place for larger camping gear like folding chairs, table, but also solar panels, etc…
         Another highly recommended option is a Max Coupler Articulating Hitch. It handles large swings of the trailer, "decoupling" it this way from the swings of the towing vehicle. It costs some extra $, but it seems to be an essential component when towing the trailer on rugged terrain.

Cabin - Custom arranged interior
         Extreme Off-Road adventures imply Off-Grid journeys. No wonder then, that some optional features may be imperative. It's impossible to mention all of them in detail, (for that, please see the Hiker Trailer website --> Hiker Trailer Options.
Below, we will rather provide the list of optional "Packages" offered by the manufacturer:

Shell (colors, door w/window & screen, driver-side door, diamond plate protection …)
Cabinets (include shelves, drawers, dividers, pass-through and latched doors, slide-out trays, deep cabinets, bunk beds).
Storage compartments (under-floor, frame-integrated boxes, racks, medium, large, and extra-large tongue boxes, fridge box w/top rack)
Electric Power (wirings, lights, power outlets, USB ports, solar power, battery, inverter, control system)
Water (freshwater tank w/mount, fill port, water pump, hose, shower, on-demand water heater..)
Miscellaneous (MaxFan, heater, AC, LPG tanks w/mount, electric brakes, awnings, spare tire w/mounts, Max Coupler Hitch, side-table, rooftop tent, …)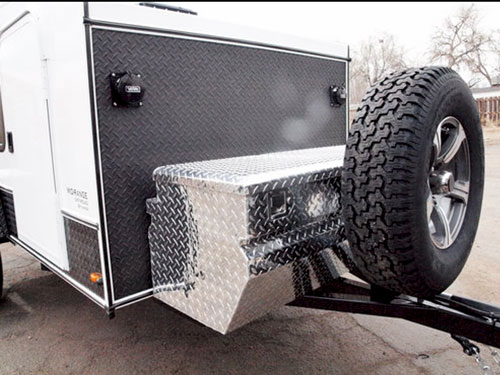 A-frame mounted medium-size (47") toolbox and spare tire
Rear Galley - equipped with extra accessories
      Note that some of these packages can't be installed on all models of Hiker Trailers (most restrictions are related to Highway and to a lower extent – to Mid-range models). It's because lower ground clearance makes it impossible to install underbelly storage and water tank….
Despite the robust structure and an "up-to-the-task" set of standard features, the largest basic Extreme Off-Road Hiker Trailer (dimensions 5ft x 9ft) weighs only about 1,350 lbs! Equally impressive is its cost - about 15k$.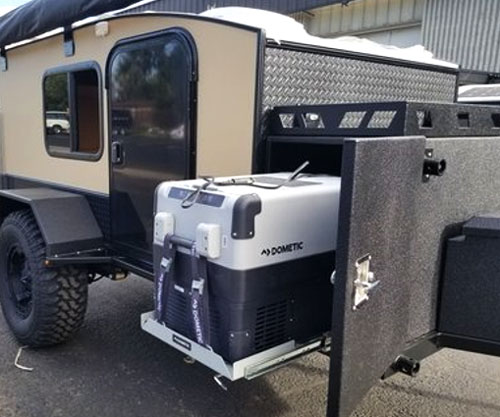 Hiker Trailer Extreme Off-Road: here Fridge Box with the top rack  
         Following the spirit of the design goals, the manufacturer of Hiker Trailers does not offer in its list of Optional Packages such items as mattresses, camp stoves, or coolers. It is assumed that you already have your favorite models. However, by choosing the "Build it Custom" program, you may be able to put your individual touch on the final design. A good suggestion is to opt for a folding mattress that during the day can be used as a sort of sofa, creating this way easy-to-clean "lounge" area and access to the underfloor storage. And good news for tent lovers - the manufacturer offers a rooftop tent option leaving this way the whole cabin for other purposes. Knowing the ingenuity of nature lovers, I'm sure you will always find at least a few ideas.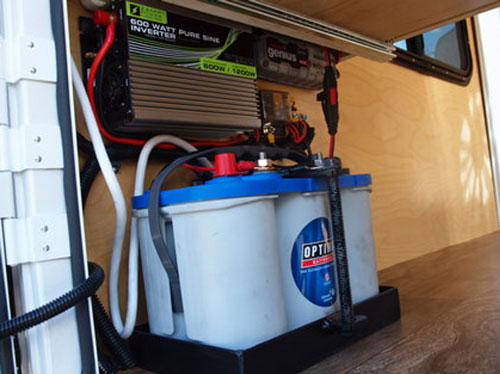 Hiker Trailer: Battery with Inverter
Note: Hiker Trailers belong to the class of ultralight travel trailers. Based only on dry weights, they can be towed by many crossovers and SUVs, and certainly, it is true when it comes to Highway models. Keep in mind, however, that extreme off-road conditions create equally extreme dynamic overloads, largely exceeding those nominal. The towing vehicle must be able to accommodate not only the roughness of the "no-road" environment on its own but also the stresses and dynamic overloads imposed by the towed trailer.
Hiker Trailers: Specifications
---
Parameters

Exterior length (1)
Exterior height
Exterior width (2)
Shell Length
Shell height
Interior length (3)
Interior Headroom (4)
Interior width
Dry weight (5)
Dry tongue weight (5)
GVWR
Ground clearance


Highway Deluxe 

15 ft (168")
68"
80"
120"
48"
118"
44"
58"
1,000 lbs
114 lbs
1,900 lbs
9"

Extreme off-road

171"
78"
86"
171"
48"
106"
44"
58"
1,350 lbs
198 lbs
2,900 lbs
14"

---
1. These are specifications for the largest available Highway model (5ft x 10ft) and the largest available Extreme Off-road model (5ft x 9ft)
2. Including fenders
3. With galley (Cabin only - correspondingly 98" and 86")
4. The highest point
5. Basic versions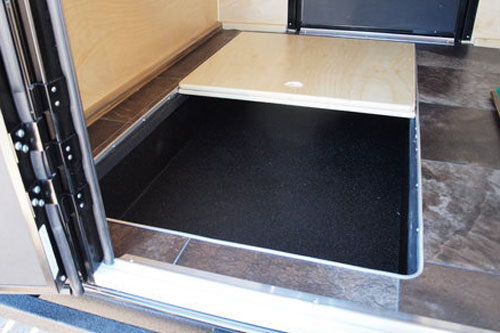 Hiker Trailer: Extreme Off-Road - Underfloor storage 
Extreme Off-Road: Underbelly-mounted 21 gallons fresh water tank
Construction: Highway Delux (HD), Extreme Off-Road (EOR)
Frame: 
Black powder-coated frame with A-type tongue (HD)
Black powder-coated 2 x 3 tubes frame with A-type tongue (EOR)
Shell: Wood with aluminum skin
Suspension:
Short Leaf Springs, 2,000 lbs straight axle (HD)
Long, soft leaf Springs w/shock absorbers, 3,500 lbs (EOR)
Doors: passenger side solid door, rear galley swing door
Windows: 2 x sliding doors w/screens

Wheels:
205/75/R14 tires (HD)
285/70/R17 tires (EOR)
Floor: Vinyl
Hitch: 2" ball
Connector: 7-pins
Exterior colors: White (standard for basic models), Options: Charcoal, Pewter, Silver, and Slate w/trims

Extreme Off-Road: Visible LPG tank w/mount and characteristic fender serving as the access platform to the roof's rack.
And here is the bonus: A video made by one of nature (and Hiker Trailers) enthusiasts - Mr. Brian Rogala
Summarizing: Hiker Trailers (as their name suggests) are designed for hikers that want to continue exploring Mother Nature along unbeaten paths but need better protection from weather than a tent can offer and more camping gear than the backpack can hold. With these goals in mind, they were designed and built as very affordable, lightweight, and maneuverable!
Go back to:
All pictures are curtesy of Hiker Trailers
Note:  Check with the manufacturer and / or authorized RV Dealer for the up-to-date list of features, options as well as latest specifications. These written above may not be accurate and certainly are subject to change by the factory. We are not responsible for any inaccuracy, the above text is provided only for the general information.
This review was written based on publicly available information for the benefits of the community of RV-ers. We do not receive any gratification or financial benefits from RV manufacturers, dealers, and any other promoters of RVs. 
We are NOT involved in sale and/or retail of RVs!