Black Series HQ15
Off-road Travel Trailer
       Black Series HQ15 off-road travel trailer is an example of robustness, ingenuity, quality and elegance difficult to match by competition.

                       It shouldn't be surprising (at least to hard-core RV-ers) that Australia is a leader in the design and manufacturing of off-road RVs. In sharp contrast to American RV market where the demand for off-road RVs is well behind that for conventional ones as well as "big and luxurious" rigs, in Australia, the off-road segment is dominating the industry of recreational vehicles. Obviously, there is a valid reason for that, because the major part of Australian territory is accessible only by off-road RVs
As a result of necessity, long years of experience and ingenuity, today Australian off-road RVs with their advanced concepts, technologies and manufacturing processes are well "ahead of the pack" (the closest are probably South-African models).
Above: Original Australian (left-side driving) version of HQ15 off-road travel trailer
Below: Floor-plan of an American version (right-side driving). Dimensions i black metric) and red (imperial)
          By all accounts, Black Series with its just about 10 years of operation is a newcomer on Australian and international RV markets. It doesn't mean however, that the company came out of nowhere; in contrary, their HQ-series of off-road travel trailers including models HQ12 (w/pop-up roof), HQ15 (smallest hard shell model) and correspondingly HQ17 and HQ19 (biggest luxurious model) combines the best of few worlds – namely:
Robust structure designed to last even in very rough off-road environment
Elegant interior with modern, high quality appliances and features
Ready for longer off-grid escapades
Safe for highway and off-road towing
Affordability (in terms of "bang for the buck")
For the purpose of this presentation we selected the model HQ15 – the lightweight, single axle trailer with 15ft shell designed for 2+1 family with rear dry bath, front sleeping area and packed with luxurious appliances and furniture.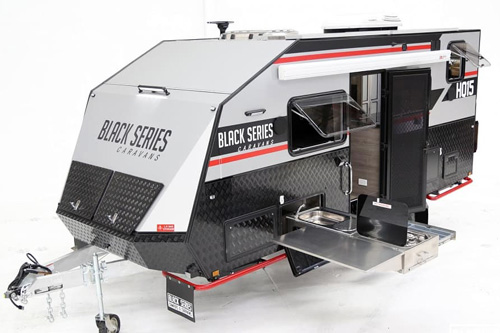 HQ15 - here with pulled-out outdoor kitchenette (Australian model)
Robust Structure
            The HQ15 was designed for Australian Outback (for those unfamiliar, Outback is an imposed by nature "no-go" zone for traditional RVs). The chassis is made from hot-deep galvanized 2 x 6 steel. All chassis components are welded, however for better durability in such a demanding environment each of two main longitudinal beams (drawbars) is made as one continuous piece from the front to the rear end. While the trailer's underbelly is not enclosed nor noticeably protected, the shell in exchange is well defended against the forces of nature. The lower parts of the walls are fully covered by an aluminum diamond plate. Additionally, the front's nose cone includes rock deflectors. Strong guard bars along both sides of the trailer provide additional protection from lateral obstacles (narrow passages, trees' trunks etc…).
The shell (walls and roof) is made from composite material (including foam insulation) sandwiched between aluminum sheets. Obviously, it's a lasting no rot, no mold, now corrosion solution with elegance underlined by graphical design and frankly, stylishness of black, diamond plate panels.
            The successful design being able to face challenges imposed by a "no-road" environment must also include up to the task suspension. In this aspect, Black Series' HQxx models went ahead of competition. Each section of independent suspension includes twin arms and is supported by two coil springs and two shock absorbers (according to the manufacturer each section is load tested at 20 tons, what offers a very large margin for any possible dynamic load). It's a sharp contrast to traditional (and inexpensive for producers) torsion-type axles with leaf springs! To make it clear – they are good enough for highways, but significantly inferior on rough trails.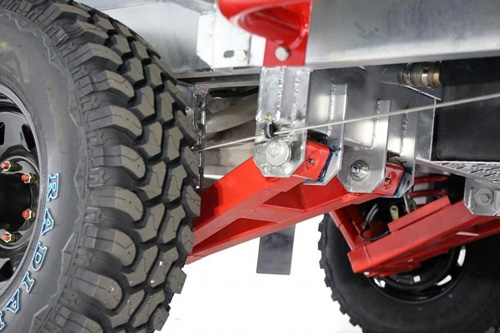 Quad-Shock independent suspension
Modern Interior
           The dual-size bed with innerspring mattress seems to offer good sleeping comfort. The "quasi" walk-around layout prevents from climbing over anyone when getting up "too early". Two overhead and two tall and deep side cabinets with hanging bars is all you will find as storage for handy personal cloths. Two individual reading lights with dimming function, ceiling-mounted speaker and TV screen in front promise a relaxing environment for reading, listening to favorite music and (if really needed in wilderness) – entertainment. Just in case when you get deep out of civilization, the TV is equipped with DVD and USB drives so you can choose what to watch possibly in some "harmony" with surroundings. 
Both side windows are opening but thanks to fly screens and shades you will have your privacy and protection from insects. The skylight just above the bed is not so large to offer panoramic views of the starry sky but at least offers safe "opening" into the outdoors. Well, here comes the entrance door. It was designed as a split door with detachable screen section (one may say nothing new, but actually it is a very unique design. The screen door is "armored" by a diamond-shape grid. It not only protects the insect screen from accidental destruction, in fact, thanks to three-locking points the screen door also offers protection against other intruders. Left open, it offers deeper contact with Mother Nature's nocturnal life.
HQ15 Bedroom
HQ15: Interior with open sliding door to the bathroom
          Central part of the trailer is dedicated to the kitchen and dinette. Large, stainless steel sink and 3-burner stove take up almost all area of the countertop however, when the stove is not used, its glass lid offers an ample area for preparation of food. Interestingly, the microwave on top of traditional functions (warming up and defrosting) also offers two typically reserved for traditional stove functions: cooking and grilling. Large window all along the galley makes it sunny and "connected to outdoors".
The dinette across the galley is relatively small (well, this is 2+1 trailer). But on top of traditional "eating corner" (and bed for one child when folded), the dinette seems to have most of what is needed to play the role of comfortable lounge area. Both benches are made from genuine leather stylishly stitched in diamond pattern. The lateral leg-rest panels won't make from them recliners, but will considerably increase the level of comfort when the dinette is used for leisure (leather-pockets on the wall are ideal for keeping books & magazines handy, while half-horizontal position with large window along and reading lights for evenings is really inviting….).
              Well, this is not all when it comes to interior ambiance. The overwhelming feeling is a soft, warm elegance largely enhanced by glossy Malaysian veneer finish (all cabinets) and mood lights throughout. But there is also one more important aspect of interior "Elegance & Warmness" – it's the quality, promising it to be a lasting effect. Simply speaking, in this trailer you wouldn't find cheap components. It seems that behind every detail there was a lot of thinking and care. Good example may be cabinetry. It's made from honeycomb-structured wood finished with gloss timber veneer to achieve elegance but also lightness. Doors and soft-close drawers are all equipped with latches.  It's especially important for all off-road RVs which inherently undergo "baking & shaking" stress in their journeys across the wilderness. To open any cabinet's door or drawer you have to push the "unlock" button integrated with the handle. It's a guarantee that at the end of a day, "things" stay where they started that day. Piano hinges on all cabinet's doors and gas struts assisting doors in overhead cabinets are other examples of how much effort was put on quality!
Dinette with unfolded leg-rest panels
          Finally, time for the bath – separated from the main area by the sliding door it occupies the rear end of the trailer. It's a walk-in, dry bath with a one-piece fiberglass shower cabin (bluish sliding doors not only protect from spilling water across but also create some soothing ambiance). Large vanity with mirror, cabinets, extra shelves and porcelain sink will probably satisfy most users. Porcelain toilet follows the rules – nothing is cheap here including towel bars that are made from stainless-steel. Skylight with a vent above the shower and large window on the side wall promises efficient evacuation of vapor and infiltration of Scents of Nature….

Above and below: Dry bathroom
Off-grid versus Campground 
            Obviously off-road capabilities imply also at least limited off-grid operation (otherwise you will leave your traditional RV on the campground and make one day exploration trips using your 4WD Jeep). Well, the HQ15 is cleverly designed for both scenarios – campground and "of-grid" journeys. Designers rightly recognized the fact that energy and water resources must be managed according to circumstances. For example, in off-grid conditions the main limits are drinking water and electrical energy.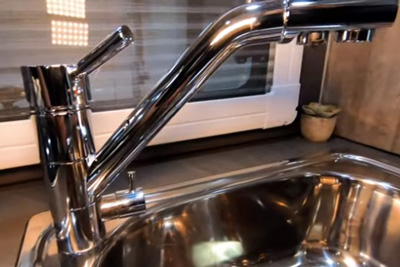 Dual-faucet for drinking and utility water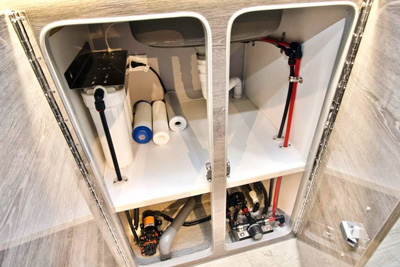 Under-sink cabinet: Water filtering system (upper level) and both water pumps (lower level)
To maximize the length of off grid journeys the HQ15 is equipped with two freshwater systems. The larger one (50 gallons tank) provides utility water (shower, toilet, sink etc…). It has its own water pump and can be filled from any stream or lake! The smaller one (16 gallons tank) is designed for drinking water, it has its own water hook-up, pump, three-stage filter and an independent faucet (integrated into the main kitchen faucet). It's a very unique (and frankly so far unknown to RV industry) water system that greatly extends the water autonomy on off-road journeys. The existing alternative (drinking water canisters) seems to be "light-years" behind!
When it comes to energy, HQ15 is equipped with dual-energy appliances and solar power. On campground (with access to shore power) the microwave (with its convection cooking and grilling functions) can replace traditional stove and so spare the LPG tanks for future off-grid needs. The dual heating system allows you to choose either the electrical energy (Thermo-pump function of A/C unit) or the propane gas (independent 16 kBTU LPG heater). At the end, its all about properly managing the available energy resources.
300W solar panels permanently installed on the roof feed four 100Ah AGM gel batteries (whenever needed, pure sine-wave inverter converts 12Vdc to 110Vac). It's quite a lot of electrical energy, most likely giving you about one week of autonomy in cloudy/rainy weather. Note that the standard Anderson plug allows you to charge trailer's batteries when on the road (even if the "road" means "no-road" environment.
Large, rear-mounted basket-type storage is designed for wood (note that in national parks you cannot harvest wood for your needs so either you carry it with you or forget about natural grill and pleasures of fire). On each side of this basket-storage there are Jerry-can holders. You can use them either for extra gasoline or drinking water (whatever necessary).
2 x 150W solar panels are mounted on the roof
        Off-road and off-grid environment is all about nature. Having this in mind, HQ15 designers equipped the trailer with an outdoor kitchenette. It is a pull-out unit with stainless-steel sink and 3-burner stove, large "countertop" area behind and an extra lateral work-space extension, utensil and general use drawer. What you will need is to connect water and gas ("quick" connections) and place the bucket under the sink to collect the used water. The awning along the side protects the whole area from weather elements (scorching sun or rain). A large pass-through storage as well as a nose-cone compartment offer a lot of room for camping gear, non-perishable food and any stuff you may need on your trip….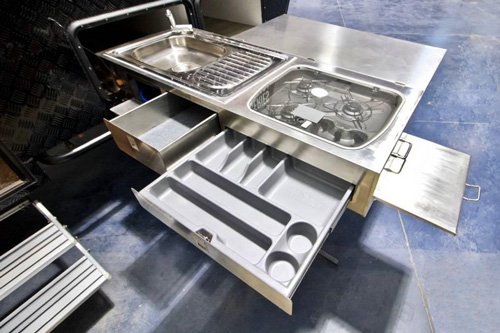 Fully-deployed exterior kitchenette
Safety  
           Hazard-monitors with alarm (propane, smoke and fire) as well as fire extinguisher are mandatory elements of every RV. We can also mention here the three-point entrance locking system, more durable Polycarbonate windows (compared to glass) etc.. However, when it comes to security, the HQ15 offers more than that. The mentioned earlier quad-suspension means better, safer and smoother handling in an off-road environment while omnipresent diamond plates, rock deflectors and guard bars offer protection from mechanical impacts. Other elements of the overall security system include:
Off-road certified articulated hitch replaced the traditional ball
          This feature may need more detailed explication. Traditional "ball-coupling" hitch is a good, proven solution for highways and campgrounds. However, in "off-road" environment with frequent and deep ups & downs along the path, the ball reaches its limits. It simply does not provide 180 degrees of free movements (up/down & left/right) as it may be needed for safe and secure towing. For this reason, the HQ15 (all Black Series off-road models) is equipped with an off-road approved Polyblock" coupling offering an amazing semi-spherical flexibility of movement, ready to confront most demanding trails. Do not worry – it also includes the necessary towing vehicle fixture replacing the ball).
12" electrical brakes with an ALKO active breakaway
Two rear-mounted full-size spare wheels 
Two rear recovery shackles (each rated at 4.75T)
Parking Handbrake w/tongue-mounted lever (practically eliminates wheel blocks) 
Aerodynamic shape (fuel-economy, but also better stability on highways)
Affordability
          With the price range of 45+ k$, the HQ15 is not a low-cost model (I knowingly avoided to use the words "not cheap", because HQ15 should not be associated with the word "cheap" in any of its meanings). However, given the fact that for this money you get a truly big "Bang" that otherwise will cost you tens of thousands more, we can say that it is priced below its real market value. 
Practical Aspects
This time shortly, just to bring some subjects to readers' attention:
Having a dedicated black-water tank flush greatly simplifies job! 
Notes
After all these well-deserved praises, it's time for let's call it – "constructive" feedback (it's not about trying to find "holes" where they do not exist, it's rather a short wish list). So here it is:
- Underbelly with its exposed tanks does not seem to be "off-road" ready. While all tanks have some metal protection, it's hard to imagine it is adequate for challenges of wilderness. Tanks also substantially reduce much needed ground clearance.
- The HQ15 has quite good thermal insulation (R-16 equivalent shell structure). While it is not an "all-season" model, it can be easily used during periods of freezing temperatures. The weak spot in this case are exposed water pipes and tanks. It's true that the optional winter package (wrapped pipes and heating blankets for tanks) can provide some protection against freezing, but as such, they are not matching otherwise formidable HQ15 off-road capabilities. It's hard not to see that everything underbelly-mounted will be exposed and very vulnerable to the roughness of the trail…. It also applies to handbrake's cables!
- Unlike extreme off-road RVs, the HQ15 does not have a noticeable (in other words making a difference on the road) departure angle at the back. While strong guard bars can provide some protection when negotiating "gaps" on the path, it may prove to be a risky solution.
- It is understandable that more "armor" will have an impact on the dry weight of the trailer, so yes, it is easy to say, but much more difficult to implement.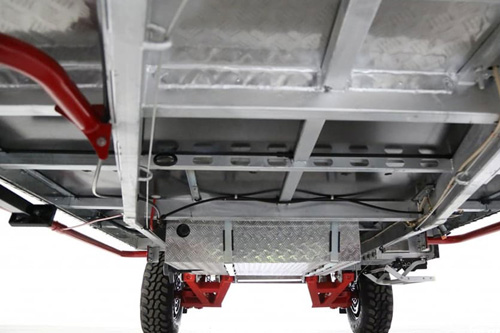 HQ15: Underbelly (visible grey water tank)
To keep it in the right proportions, let's make it clear - the Black Series HQxx travel trailers do NOT belong to the class of Extreme Off-road RVs, so they will perform very well in majority of cases you will find on your "less-traveled" uneaten paths!
Two full-size spares, wood basket-type storage and Jerry-can holder(s)
All pictures are courtesy of Black Series Camper (Australia) or RVsofAmerica (USA)  
To see technical details (specifications, construction facts, features etc.. please continue at: --> HQ15- Technical Details
Or go back to: --> Extreme Off-Road RVs
If it was not enough, I invite you for long but very technical and descriptive presentation of HQ15 by Rvs of America
Note:  Check with the manufacturer and / or authorized RV Dealer for the up-to-date list of features, options as well as latest specifications. These written above may not be accurate and certainly are subject to change by the factory. We are not responsible for any inaccuracy, the above text is provided only for the general information.
This review was written based on publicly available information for the benefits of the community of RV-ers. We do not receive any gratification or financial benefits from RV manufacturers, dealers, and any other promoters of RVs. 
We are NOT involved in sale and/or retail of RVs!