Interior Motor Home RV Salvage Furniture
Interior Motor Home RV Salvage Furniture may not sound that well, but for many it may be great opportunity to buy quality stuff for little money....

When we are speaking about used RV furniture, most people think of dirty and damaged furniture inside an old RV that has been used for years and is in very bad condition. However, there are situations when some RV owners upon purchasing a new RV wish to upgrade certain items inside their RVs. These parts usually end up as used although they are not and maybe they have been used only a year or two.


What is RV salvage furniture?


The pieces of furniture that are pulled out of motor homes and campers are called salvage furniture and often include couches, comfortable chairs, tables, beds.
Some campers accidentally damaged the furniture inside the RV and often want to replace the damaged furniture for a new one even though it had a very short life. Repairing such damaged furniture is fairly easy and afterwards this furniture is as good as new and is considerably cheaper than buying new.
Sometimes recreational vehicles are involved in accidents and are damaged or they may become leaky due to exposure to the elements or poor maintenance. Such vehicles usually are no longer in use but furniture inside them may be in very good or even excellent condition and can be taken from such damaged vehicles and be used in some other RV.
Buying interior RV salvage furniture may save you a great amount of money because you will have to pay significantly less for such furniture than if you order new RV furniture from the manufacturers or RV furniture retailer.
Interior RV salvage furniture may be bought at RV salvage yards at very reasonable price.
Of all the furniture in a recreational vehicle the driver's seat is one of the most commonly replaced. Beside driver's seat, all other pieces of furniture should be replaced if damaged. So why buy a brand new RV furniture when you can find salvage furniture and purchase it at low price and get a good items for your RV.
Where you can buy interior RV salvage furniture?
If you are searching for such RV salvage furniture for your RV, good place to find it is at your local RV salvage dealers. You may find these dealers by searching your local yellow pages, or at local auto trade publications. You may even ask at your local salvage dealer yards to recommend you some good salvage RV furniture dealers where you will find what you need for your RV. However, the best place to buy interior RV salvage furniture is online where you may find all kinds of salvage furniture for all types of recreational vehicles.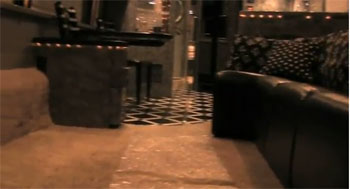 Visitor's Story

What is salvage furniture you may ask.
The majority of interior motor home RV salvage furniture us what salvage dealers call furniture that has been retrieved from RV's and motor homes that have been wrecked "junked".If you have an older recreational vehicle that can be considered a classic you may want to restore it to its original grandeur.

Some of the most frequently salvaged RV furniture are the front seats of drivable (motorized) mobile homes. We were able to locate "captain's chairs" seats for use in our camper van. The seller had salvaged them from a wrecked motor coach located in Virginia.
Friends of ours had bought a 5th wheeler shell dirt cheap and were in the process of re-furnishing it;. The found a seller from New York at one of the auction site stores, who had recently list a "lot" of RV sofa beds and dinette benches. They jumped at the chance and purchased a sofa-bed and two dinette benches. They are currently looking for kitchen cabinets.
Joe, a fellow Good Sam Club member, posted to the message board that he was looking for a kind size bed for his motor coach and got a reply suggesting he look for salvaged furniture dealers on line and he found someone selling just the bed he needed.

The Good Sam Club is an organization of Rvers from all over the U.S. They offer discounts on RV rentals, campground stays and RV insurance.  If you find the item you want on Ebay be aware of a few things. First look at the seller's ratings, this can give you an idea of the reliability of the person you are dealing with.
Also avoid getting involved in a bidding war, you could wind up paying considerably more than the interior motor home RV salvage furniture for sale is worth.
 About Us / Privacy Policy / Resources
Go from Interior Motor Home RV Salvage Furniture to Pop Up Campers Trailer Home

Motor Home RV Camping