James Baroud
Rooftop Tents
James Baroud hard-and soft-shell roof-top tents are specially designed to provide sleeping comfort and safety for aficionados of off-road adventures into wilderness...
      There is a popular saying: If you do not have what you like, learn to like what you do have". 

Well, while in many situations it is probably a good recipe for happiness, it's not always the case. And one of such cases is story of James Baroud. After trying several brands of roof-top tents in extreme conditions he concluded that he has no choice but to design his own models. The rest is history - in 1997 James Baroud with co-partner Tony Partenio started operations in Porto (Portugal). Since 2014, his company (James Baroud USA) is also present on North-American market.   
      Currently James Baroud offers several models of hard-shell roof-top tents including: Discovery, Extreme, Space, Evasion, Explorer/Grand Raid as well as two models of soft-shell roof-top tents, correspondingly Horizon and Nomad 160.
Let's start with this demonstration of James Baroud roof-top tent
Each of hard-shell models comes in two sizes: Standard - for two adults and XXL for three persons (basically 2+1 child). For unknown reason Explorer's larger version is not called Explorer XXL but Grand Raid!
      Shells (roofs and bottom platforms) are made from fiberglass-fortified polyester. Ribs on the outer side of the tent's roof are specially designed to improve aerodynamic profile and to minimize wind noise. They also add the extra strength and rigidity to the "box". The bottom platform includes integrated rails simplifying the mounting process to most of roof rack systems.
Here the Extreme Evolution roof-top tent installed on the family wagon car.
Side-walls are made from a proprietary aluminized polyester with acrylic coating. Sewn with double seams, they are waterproof, breathable (allowing for air exchange and moisture evacuation), UV-resistant (preventing discoloring), sun-reflecting (preventing over-heating) and no-perishable (no rot, mildew…). Windows are covered with insect nets. 
      Roof-top tents are much more exposed to wind than traditional ground-level tents. No wonder that the whole structure (shell, canvas but also shell's attachment to the rack and rack's to car) must be strong enough to withstand forces of nature. The tent itself is designed (and tested by manufacturer) for winds up to 60 mph. The attachment to car's roof is your responsibility!
Hard-shell roof-top tents are very easy to use. They can be set-up very quickly and ready to use in a matter of few tens of seconds. Thanks to the AL_KO gas-struts assisted opening system the tent "pops-up" to its final height once the holding latches are opened. And all essential features like mattress, pillows, sleeping bags (unlike in traditional ground-level tents)) are already in place!  
Upper shell of the roof-top tent (visible ventilation fan with built-in solar panel)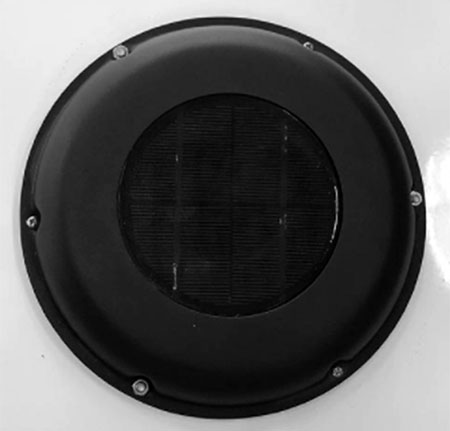 ... and the roof fan itself with visible solar panel section
Standard Features
All James Baroud's hard-shell roof-top tents are factory equipped with the following features:
moisture-resistant 3" high-density foam mattress is part of the standard features. It comes with heavy-duty zippered cover that can be easily removed for washing
ceiling-mounted fully waterproof ventilation fan. It runs on a rechargeable battery assisted by "built-in" solar panel, so practically fully autonomous (according to manufacturer it can run 24 hours on a single ("average" sunny/cloudy day) charge (Additional air vents with integrated dust filters are located on each side of the tent to provide air circulation inside of the "box" when the tent is closed.
removable storage pockets (can be used for small items like keys, but also for clothing). 
large ceiling storage net (for clothing) 
---
---
Telescopic aluminum ladder (it automatically adjusts to the height of the vehicle what prevents bending or even detachment from the tent while you are up there). Note that for travel the ladder is stored inside of the closed tent.
Bright 15-LED rechargeable flashlight. It's very handy especially when you have to climb-up/down the ladder in the darkness of the moonless night. Integrated belt clip helps to carry it out, it also includes the charge indicator and an USB charging port with cable.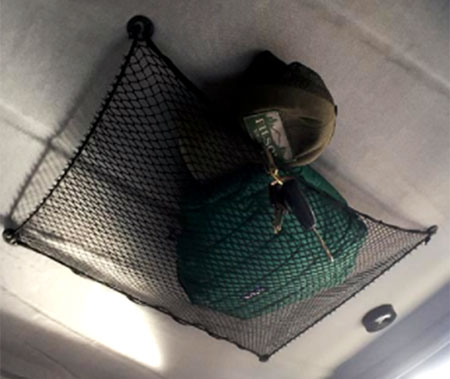 Ceiling cargo net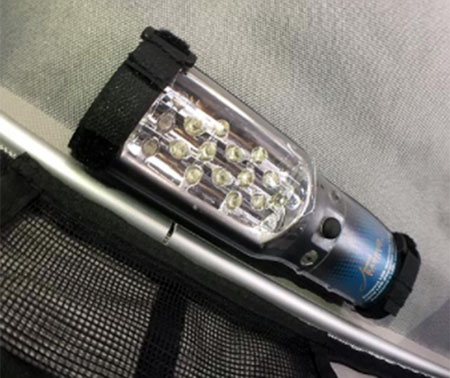 Portable LED flashlight
Options:
From numerous optional features we like to mention the following:
Isothermic (interior-mounted) insulation kit. It will greatly help to extend your adventures to chilly seasons. It will also reduce the noise and sun's infiltration. It can be left installed when the tent is closed.
Storage bag – this waterproof bag is designed to fit the storage tray on the tent's roof (It includes tie-down straps to make it easy). 
Awning and awning enclosure (side-panels attached to the awning by zips creating a completely sheltered room)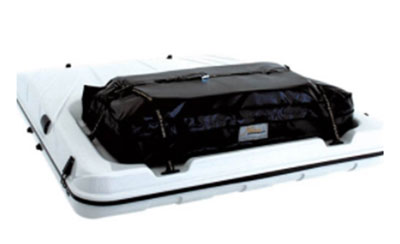 Optional storage bag (here installed on the upper-shell tray)
Extreme RTT
      Extreme's standard version is designed for two adults.  It is Baroud's smallest hard-shell RTT based on twin design Discovery. The only difference is an additional storage tray on top of the tent rated for up to 65 lbs of extra load. The tent has two entrances and large "wrap-around" window providing 270 degrees view.

Extreme (standard) represents the version of smallest James Baroud's hard-shell roof-top tents
---
Size

79" x 55" x 13" closed/44" open

Interior

78" x 55" x 41" (open)




Weight

145 lbs


Price

3.7 k$
---
Grand Raid is XXL version of the Explorer and is a largest hard-side RTT offered by James Baroud). It is designed to sleep 3 adults (practically it means good comfort for 2 adults + 1 child).
The set-up process is fast and takes no more than about one minute. Once all four latches are released, the Alko gas struts automatically lift the tent's roof (pulling the walls up) to the full height of 41.5 inches.  The front window and three doors (when open) offer almost 360 degrees panoramic view and obviously let daylight to flood interior. Two large mesh-pockets attached to sidewalls and one large cargo net suspended under the ceiling offer much needed storage space.

     Closing the tent takes a bit more time and largely depends on your skills and experience (you will get better with time, but nevertheless you will need few minutes to accomplish the task). First you detach and fold the ladder, then store it inside of the tent. Then pull down the upper shell, but this time you may have to spend some time tucking the canvas into the box to avoid pinching the fabrics. It's not that bad as it may sound, because sidewalls' elasticized seams provide sort of "mechanism" automatically pulling the canvas into the box. Once you secure four latches you are ready to hit the road (if there is one )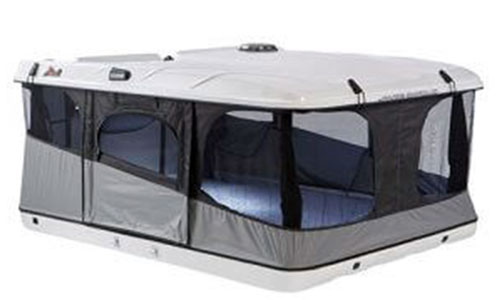 Grand Raid represents the largest roof-top tent in the series of James Baroud hard-shell models.
---
Size

89.5" x 64.5" x 13.5" closed/41.5" open

Interior

89" x 64" x 41" (open)

Weight

160 lbs

Price

4.5 k$
---
     It may be worth to note that James Baroud employs a former Paris-Dakar rally pilot. Obviously he brings into company's design team his first-hand experience from what really matters when you find yourself in the middle of more of less hostile "Nowhere".
All James Baroud hard-shell RTTs come with 5 years warranty.
Go back to: --> Roof-top Tents
or check the competition at: --> AutoHome Roof-Top Tents
Note:  Check with the manufacturer and / or authorized RV Dealer for the up-to-date list of features, options as well as latest specifications. These written above may not be accurate and certainly are subject to change by the factory. We are not responsible for any inaccuracy, the above text is provided only for the general information.
This review was written based on publicly available information for the benefits of the community of RV-ers. We do not receive any gratification or financial benefits from RV manufacturers, dealers, and any other promoters of RVs. 
We are NOT involved in sale and/or retail of RVs!
---