Jayco Fifth Wheel Campers
The new Jayco fifth wheel campers come with a standard option package.
If you have always been thinking about a motor home but didn't know which brand you should choose, there is a name that could be trusted completely and that is Jayco.
Jayco fifth wheel campers are among the most popular campers in America today. And if you are buying a motor home for the first time you can't go wrong with Jayco fifth wheels.
Jayco is the company that is well-known and worldly famous for manufacturing the most comfortable recreational vehicles. When we talk about Jayco fifth wheel campers we must mention that the company is producing fifth wheel campers that are lightweight and yet luxurious.
Here are Jayco fifth wheel models:
Jayco Eagle HT is a lightweight fifth wheel camper whose weight is under 7,200 pounds and is designed for smaller trucks. Its exterior length is 25'10", exterior width 96" and exterior height 143".
It has private bedroom, full-featured bathroom, and its standard equipment includes 26" LED HDTV, a refrigerator, sliding wardrobe in master bedroom, full-height kitchen cabinetry, glass shower enclosure, large, split kitchen sink, private bath and many more amenities which make this camper highly popular. With all these excellent features Eagle HT offers comfort that is hardly found in many other recreational vehicles.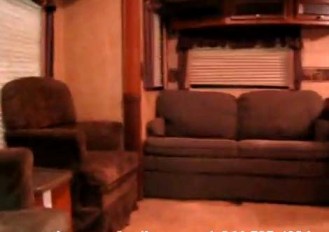 Jayco Eagle 5th wheel - interior seems to be very comfortable...

Jayco Eagle has a large space and is equipped with great amenities. While traveling and camping with Jayco Eagle you will not have the feeling that you are in a motor home. With all the amenities it offers you will enjoy every minute of the journey. Its exterior length is 30'10", exterior width 96" and exterior height is 151".
As far as interior amenities are concerned, Eagle  include 32" HDTV, a microwave, oven, a refrigerator, air-mattress hide a bed, bath skylight, ceiling fan and light, full height kitchen cabinetry, large split kitchen sink, Concord Cherry raised-panel cabinetry, and can sleep up to 6 people.
Jayco Eagle Premier offers more high-end livable features and more comfortable amenities, such as hardwood raised-panel cabinetry and residential-style furniture. Its exterior length is 35"5", exterior width 96" while exterior height is 152".
It comes with multiple slideouts, a private bathroom, roomy master suite, and family-friendly bunk rooms, which enables sleeping capacity up to 4-6 people. Its standard features are 40" HD LCD TV, a refrigerator, air-matress hide a bed, CD stereo in bunk room, deluxe bedding package, free-standing table and chairs, glass shower enclosure, sofa ottoman, washer/dryer, water heater and many other features which make the camping during all four seasons possible.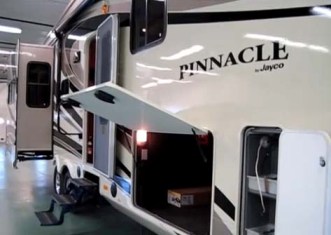 Jayco Pinnaple fifth wheel....

Jayco Pinnacle represents the revolution in the RV industry thanks to its luxurious ultimate package. An exclusive comfort and stunning design culminated in this motor home.
The kitchen in the Pinnacle features high-gloss LG kitchen counter-tops, decorative base accent panels and sliding trash receptacle, while in the bedroom it has exclusive Cloud Ten king-sized mattress. Its exterior length is 34'9", exterior width is 96" and exterior height is 155". Its sleeping capacity is up to 4 people.
---
Visitor's story...

It includes a six-gallon water heater, alarms for propane, carbon and smoke, 12 volt water pump, two pairs of stabilizer jacks and a one hundred-ten volt receptacle outside.
It also has twelve volt lighting, thirty-amp power shore cord and a thirty-pound propane tank.
This is a nice little unit. The length is 32 ft with a 8 foot width.
Not a bad deal for a 5th wheel. I had a chance to see some used models by Jayco in Utah that were a 1995 and a 1996. There was not that much difference except the length and price was different.
I guess the closer the years, you do not see so much of a difference as you do with a 1996 verses a 2007. Salt Lake City in Utah had a camp outing of 5th wheel owners a while back and then I had the chance to see many different makes and models.
The things I look at in fifth wheelers are the black, grey and fresh water tank sizes. If you have to small of a tank, you have more work to do sooner. I also look at the axels and tires, the air-conditioning and heater sizes. I also like to know the construction materials used for the roof and flooring.
When I know all these different things about Jayco fifth wheel campers, I can make a decision about the best one. Many places online want you to request more information, but personally, I like to see everything I want to know right up front. I do not need to email and wait.
I do like to look at all the 5th wheel campers and compare them to make my own opinions about specifications, standard options and upgrades.
This is something everyone needs to do before settling in for the final decision.
 About Us / Privacy Policy / Resources

  Go from Jayco Fifth Wheel Campers to Pop Up Campers Trailer Home
 Fontaine Fifth Wheel / Carriage Fifth Wheel Campers / Keystone Fifth Wheel Campers / Holiday Rambler Fifth Wheel / Jayco Fifth Wheel Campers / New Fifth Wheel Campers